Interview by Joe Montague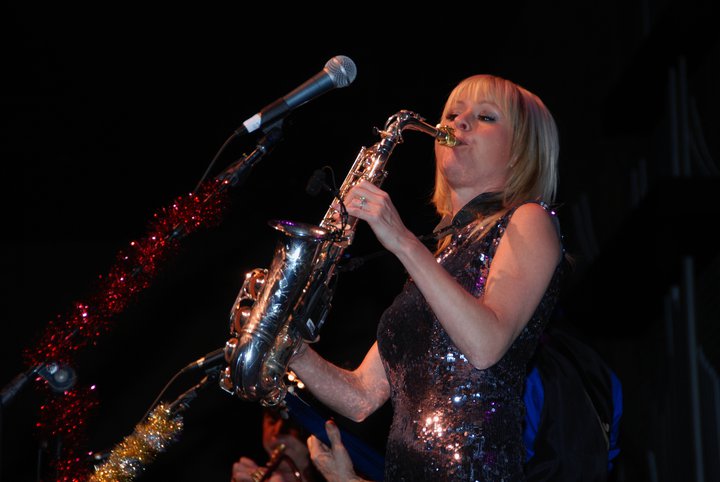 In mid March Mindi Abair's hit single "Bloom" peaked at number one on Radio and Records' smooth jazz charts, and by the end of the month was still solidly entrenched in the number three spot. Her current CD Life Less Ordinary reached number one on Billboard's Contemporary Jazz Album chart, fueled by the success of another single from the record, "True Blue." The song "True Blue" went all the way to number one on Mediaguide's JazzWeek Smooth Jazz Chart.
Despite the two monster hits, and the overall success of her current album, Abair has not been seduced by her notoriety and told me in a recent interview, "It is a fun thing to look at on a chart, but it doesn't really mean anything in the whole spectrum of things. In the true world, the mortal world, people don't care whether your songs are number ten, number fifty or number one, but as an artist, number one sounds really cool (she laughs) and we all love to go number one."
"The song "Bloom" is interesting, and I think that it has connected with a lot of people. It is a different sound than you are used to hearing on the radio for this genre," says Abair.
"Bloom" is a song that carries audiences on a wave, cutting deep grooves, fronted by Abair's sax and Matthew Hager's melodic pop oriented guitar riffs. "When we play "Bloom" live we just really romp it out, and it is fun to watch the audience as we go. It is a very pop oriented song, and I have made my career out of mixing pop and jazz," she says.
Abair and her band have come up with a new name for the style of music that she often plays, and into which she feels "Bloom" fits. "There is smooth jazz, contemporary jazz, and modern jazz, and now there is 'stadium jazz.' At certain shows we say, 'Get out your lighters and your cell phones. Get them ready because we are going to play "Bloom." We played it in my hometown of St. Petersburg Florida a couple of months ago, and there had to be fifteen thousand cell phones and lighters waving back and forth. It was just awesome," she says.
The CD Life Less Ordinary is aptly titled for this is an eclectic collection of tunes. The eighth track "Ordinary Love" is a laid-back track with hints of bossa nova and more ethereal vocals. Matthew Hager who produced the CD co-wrote "Ordinary Love" with Abair.
Abair talks about writing and recording "Ordinary Love," "I was singing along to it (the music) and this light summery song became a vocal song. It is very haunting but light hearted and fun. It has a light acoustic guitar kind of thing."
Then as she often does throughout our conversation Abair laughs, and as if to let me in on a secret she shares with me, "We had a huge space in the solo and we were thinking, 'How are we going to fix this space? What are we going to put in there?' I said, 'Quick wind the track back and put it on record.' He (Hager) put it on record and I hit this really large bell. He looked at me and goes, 'Yes!' I never knew that was it, but that was it! At some point in the song you hear ding!"
"We had a good time with "Ordinary Love" and had fun using percussion and guitar. Even the soprano (sax) solos are kind of quirky. It is fun, winds around and does all of these things. I think it turned out to be a really fun song," she says.
The opening track "Do You Miss Me?" from the current CD begins with an understated seductive vocal before breaking into a stronger vocal complimented with a saxophone offering. Hager's guitar riffs provide a strong accompaniment to Abair's playing.
Abair's notes are soaked in R&B and funk flavors due to influences from her childhood. Her father Lance played in a band. "They were great. They could really rock out but even more so, they were really funky. James Brown used to come in and sit with them. There is a bunch of pictures on my dad's studio wall of him playing with James Brown. His (her dad's) style was a lot like Mayfield Parker where less is more, not a notey player but just really funky. He would maybe dance with one or two notes instead of sixty-seven. It was fun to grow up with that kind of music," she says.
Abair's R&B / funk roots combine with her love for the music of bands such as Earth, Wind & Fire, Chaka Khan, Stevie Wonder and James Brown, to infuse "The Joint". As great, as "Bloom" and "True Blue" have been "The Joint", if released, as a single will likely be the song from Life Less Ordinary that will dominate the charts for weeks. This is a tune that to put a twist on an old song title will have people shouting, "Play That Funky Music White Girl."
In concerts, "The Joint" has already been a huge success. Abair observes, "When performed live "The Joint," has become an anthem. You can always judge what a song is, and how it is going to do by the way that people react to it. Boy, people just get on their feet with that song. There is something about the beat. The guitar and the bass get people up on their feet. Before we are through the song, usually everyone is in the aisles getting crazy, and I love that. I absolutely love having a song on the CD that makes people move. It is the song in my set that everyone gets to solo on, go out and show his or her personality. People just eat that up. The groove keeps them (the audience) going. They (her fans) don't want to stop dancing after that."
"I think any type of performance is a two way street and I have to say that it is so great when you have an audience that pays attention, responds, and is in the moment with you. That makes all the difference in the world for a performer because it is not just your energy. I could be up there putting out tons of energy, and the audience could be almost asleep. That is what you do not want to happen. Hopefully you put enough into your songs, performance or the pyro (technics) (at this point she laughs) on stage, whatever it take really to get them to pay attention and be part of this journey with you," she says laughing once again.
"Not only does the audience thrive off of what I am playing, but I thrive off of their reaction. If they get up and dance, we are on fire even more. If they put up their lighters and cell phones, and are waving them around then it becomes a rock concert. I think if it is a good show, you will have good camaraderie. You are supposed to be in it all the way with the audience. That is definitely what my band and I strive to do, and we have a blast," says Abair.
Mindi just where do all these hit songs keep coming from? "I think songs come from everywhere. I do find that a lot of things do come to me in the shower, driving a car or on an airplane, anytime the mind can go into that state of creativity where you are not having a thousand things on your mind," she says. At still other times, Abair will collaborate on her songwriting with people such as her principal co-writer Hager or others.
The multi talented Abair who also plays keyboards says, "It is interesting being able to play different instruments, and view the music from different sides. When you are writing a song obviously you have to figure out what is right for that song. If you have a melody in your head, you ask yourself, 'Is that a vocal melody that I hear? Am I going to sing this or would it be better as a soprano or alto sax? Sometimes it just takes sitting down and trying to sing to it or play one of the saxes to it. All of a sudden, it will come to life with one of the instruments, and I usually go from there. At other times, I will start singing a melody, and I will have words to it immediately. I will know what the song is about, what the title is going to be and hear the whole thing. When I can hear background vocals that is when I know I am going to sing a song. Otherwise, I usually sit down with one of the saxes and say, "Yeah', that's what I was thinking," says Abair.
While Abair's father Lance gets a lot of the attention because of his musical background she says, her mother Linda's influences are often overlooked by those not in the know. "I have to say that my mom is definitely a huge influence. She is not a musician, but I think she gave me all the tools to become a successful musician. She is a great person, and very mindful of responsibility. She taught me discipline, and the belief that if you are going to do something then you should do it well," she says. Abair says her mother instilled in her a work ethic that helped Abair to forge a successful music career.
Interview by Joe Montague, all rights reserved, protected by copyright © March 2007 Return to Our Front Page