Join Najee On A Musical Love Journey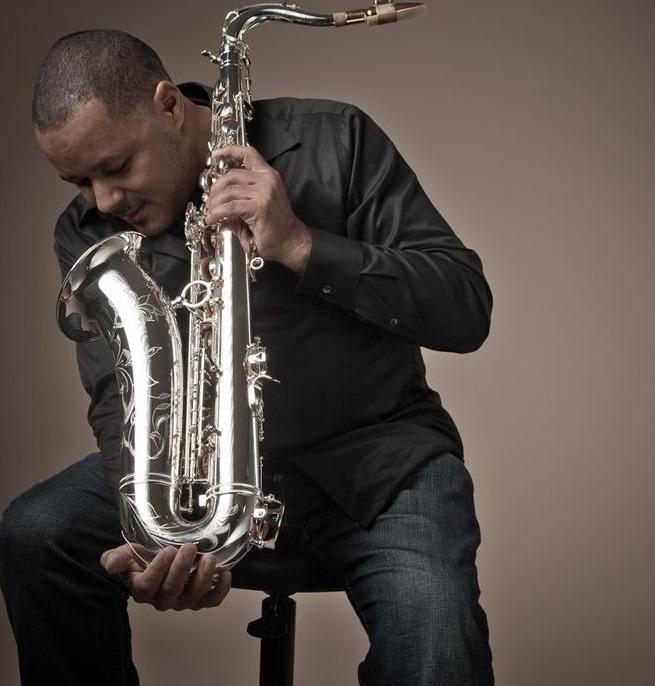 The album is called The Morning After: A Musical Love Journey and the artist is saxophonist, flautist and composer Najee. He has two platinum albums and two gold albums to his credit, as well as multiple Grammy Awards. He has worked on stage and / or in the studio with Chaka Khan, George Duke, Stevie Wonder, Prince, Herbie Hancock and Quincy Jones. The current album allows the listener to share in Najee's musical journey and his career, as well as the sights and sounds of some of his favorite places that he has visited around the world. The album opens with Najee talking to himself, as he waits at the airport for a friend to arrive, wondering what is keeping her and if she will make it to the airport on time to catch their flight. She does and we hear Taschi Lynell's voice, as she greets Najee at the airport.
Najee explains, "The idea was a couple is meeting at the airport to go on a journey. It starts with me at the airport waiting on somebody and finally they show up and the first song is "Rendezvous," and that's our rendezvous. We go to different places where I have been fortunate enough to visit throughout my career "San Tropez," (3rd track), which is in the south of France. We then go to different places around the world and we end up on West 72 and Broadway where I spent part of my childhood. Of course after that we have a morning after.
The whole idea was to just create a different angle. There are a lot of great records out there with instrumentalists. The one thing that I feel has been lost in the recording industry is a personal touch by the artist. That is the way records have been done over the years. George Duke until he passed away he did that. To me your music should connect with the audience, engage them and keep them interested. It is to have something personal by the artist and not just be a great musician. In my case, you have how many great saxophone players out in the world doing what I'm doing? You try to find an angle that sets you apart from everybody else."
The conversation that opens the album segues nicely into the first song "Rendezvous," that puts the listener in a romantic and relaxed mood. Nothing is overstated. Najee's tenor saxophone is subtle and sensuous, Demonte Posey is elegant on the keys, Bill Sharpe (bass) and Ray Fuller (guitar) exquisite and Daniel Powell's drums compliment well.
The songs on the album The Morning After: A Musical Love Journey are fresh and their moods are evocative, touching and teasing at the listener's senses as this musical travelogue unfolds.
"The recording only took three or four days and by the time we were finished with the mastering and the mixing and all of that stuff it ended up being about two and one-half weeks, but the actual recording was a four day process in California. I did things a little differently this time, I had a bunch of guys who I knew could play the music well and we went for it. I feel very fortunate that I had them (the group of musicians on this album)," he says.
He talks about why these musicians were chosen, "Number one they were available. The truth is the drummer, we call him Daniel "dpondrums" Powell is the drummer who plays with me live and he is a young guy from Buffalo New York. I wanted to give him an opportunity to play with some of the guys from the west coast, such as Bill Sharpe (bass) who toured with Dave Koz for many years and Barbra Streisand and a whole bunch of other people. It was a great thing for him (Powell), as a young musician to play with some more seasoned players. Then Ray Fuller, a guitar player who played with Whitney Houston and Anita Baker for a few years, then he was with George Duke. In fact, he played with George Duke and I over in Japan, so we brought him in (to record this album). Then Demonte (Posey) who was the keyboard player, was also the producer and he produces a lot of Eric Benet's stuff, Toni Braxton and Babyface. Meli'sa Morgan (vocals) is well-known in the R&B world and she had that one song called "In The Mood To Take It Slow," (performed a duet with Najee).
Turn down the lights and get comfortable baby is the mood, as the music starts to play introducing us to the song "In The Mood To Take It Slow," and Meli'sa Morgan's vocals are dreamy and sexy, suggesting that her lover should come a little closer. The conversation between Najee's saxophone and Meli'sa Morgan's voice is intimate and inviting, but always tasteful.
Although, the decision to include Meli'sa Morgan on the album now seems like an obvious choice we still needed to ask Najee why she was asked to record the duet.
"It was a personal commitment on my part. I knew Meli'sa. We first met playing in Chaka Khan's band on the Ain't Nobody Tour from 1983 to 1984 and she went on to sign with Capitol for her very first album. It was widely received and it was successful. I played on that first album. Throughout the years we have worked together in musical situations and most recently about two years ago we were together in Vegas. She was a special guest on one of the shows that I did and every time that she showed up the audience loved her. I said maybe we ought to make something out of this and we should get some spotlight on you. That is what happened. When Demonte wrote the song "In The Mood To Take It Slow," I knew she would handle it well and I was right," says Najee.
The sixth track, "Champs Élysées," is just as enchanting as we understand the Avenue des Champs-Élysées is in Paris, France.
"Paris is one of my favorite cities, because I love the culture. It is a fun place to go, historically speaking. When I go there I walk and I enjoy going places where I can walk and take the subway or take the train. On the three occasions that I have been there I have just enjoyed the city. For whatever reason that title just kept sticking in my head when we were playing the song and so I said let's call it that. So far there has been a great response to it (the song)," explains Najee.
"Shinjuku," the second last song on the album is a tribute to Najee's close friend George Duke who passed away on August 5th of 2013.
"We (George Duke and Najee) spent quite a bit of time touring in places worldwide and one of the places or areas that we stayed in Japan was called Shinjuku, which is a very lively area of Japan. That particular song, the groove as we would call it, reminds me a lot of the stuff that we would play together. I would hear his (George Duke's) keyboard over that. We had Ray Fuller who played with him for so many years playing guitar. It brought me back to that time and I said we are going to dedicate this to him and to that time that we spent together in Asia hanging out," he says.
Najee recalls George Duke producing one of his earlier albums, Songs In The Key Of Life, a tribute to the music of Stevie Wonder. "He was such a musical genius and he brought in all of the original musicians who played on the songs that Stevie had recorded. I was overwhelmed by it to be honest with you, because back then when we had Herbie Hancock coming in even though we had George Duke and I was; why do we need Herbie? He said, trust me, you need Herbie. (He laughs) For him to say that was incredible. There were so many great musicians, Stanley Clarke was on there, James Gadson (drummer), even Michael Sembello, "Maniac," (went #1 on the U.S. Hot 100) was playing guitar. We had everybody on that one and he (George Duke) did such a wonderful job of putting that album together. It has been my longest selling album, internationally speaking."
"Mafalala," takes us to Mozambique where Najee's friend and fellow saxophonist Moreira Chonguica, has taken him on several personal tours. On one particular excursion, Chonguica took Najee and his band to the city of Maputo and on a tour of the township named Mafalala.
Najee describes the scene, "When you go there, Maputo is a big city, so you have all the malls and all of that stuff, but in this township (Mafalala) the roads are not paved, sewage is bad, the running water is not healthy and some of the houses don't have electricity, running water or indoor bathrooms, but you don't get the feeling of people feeling sorry (for themselves). There is no MTV, there is no Xbox (he laughs), none of that stuff. The people impressed me to the point that when we were doing that particular groove, which is kind of a reggae groove, and as you know reggae is international, it just reminded me of our period of time there."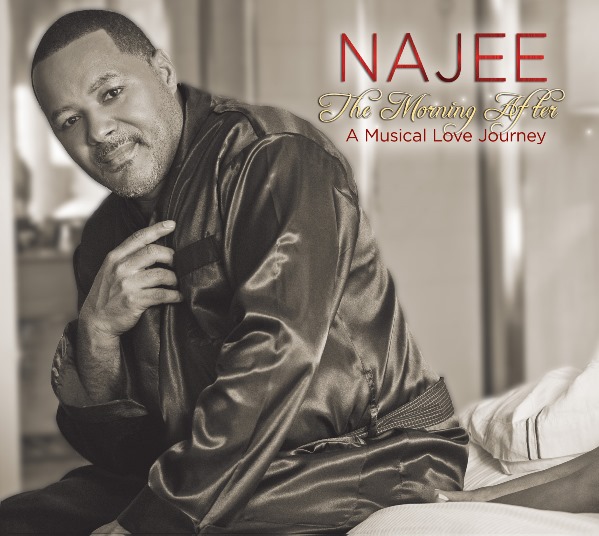 Early in 2013 Najee participated in a benefit concert in Atlanta, Georgia, produced by the How Big Is Your Dream Foundation, a non-profit organization that was created by Jorel "JFly" Flynn to assist musically talented youth, who otherwise would not have the financial means to pursue their musical dreams. Najee's participation and giving of his time represented coming full circle in a way, from his time growing up in Jamaica (a part of New York City not the country Jamaica), Queens New York City.
"I was asked to (do the concert) and a lot of times the artist doesn't participate, because nobody asks. The drummer Jorel Flynn, we call him "JFly" plays with everybody and he has been running this program every year. He told me about it and he asked me if I would participate and I said sure. I was very impressed with how he runs the whole benefit concert, because there are a bunch of kids who end up getting scholarships. I have to say that three or four of the children that I saw have the potential to go all of the way. Throughout my career, whenever I have been asked to participate, I have tried to become involved in the things that benefit youth. That is where I come from in New York City. I was blessed to be able to study with Jazzmobile and with great legends like Jimmy Heath and Billy Taylor. For five dollars a year a few of my colleagues and I were able to study with these gentlemen in workshop settings and that ended up benefitting quite a few of us. I hate to use that term giving back, because you are really just fulfilling your responsibility.
I am very grateful and sometimes you have to remind yourself and especially when you watch people that you love leave this world, you realize how finite and how short this life is. In my case, I look at where I started and where I am, where I have been and where I could have ended up based on the environmental circumstances and how they affected people. I am truly grateful.
I always tell people I am a product of New York City education (you can hear the pride in his voice). I am a product of our parents' tax dollars back in the day. When I was growing up music was prevalent in all of the schools. You had people like Billy Taylor who came to my high school at the time and he performed a concert. The school I went to was actually an aviation school and I went there to be a pilot to be honest with you. It had a strong music department and they invited us to travel up to Harlem on the weekends at PS 127 and we would play with these great gentlemen. At that time, all of that stuff was federally funded," he says.
When asked how he feels about the significant cutbacks to arts programs across the country he replies, "These programs have been robbed. We have cheated society out of great blessings, out of great future preservation of culture. I chose to go the Jazz / R&B route and there were other students who during my time went the Classical route. A couple of people from my school went to study at Juilliard and studied voice and they weren't successful in terms of commerciality, but they were successful in terms of their art forms, Opera and all of those other things. It really breaks my heart, but the good thing is there are people who have taken up the challenge to promote education in music, but also education in general. We are talking about music, but I see it even beyond that. There are still people who are dedicated to the cultural arts, as well as the scientific studies and all of those things that I think keep society with a positive future and not declining into the falling of the Roman Empire (he laughs). It is always a pleasure to talk to people who get it, they understand. We don't want to see our kids end up in a culture of disarray. Education is the only way to do that and we need to be committed to that."
Najee's grateful attitude extends to his children, "I have heard parents say to kids, just remember everything that I have done for you and everything that I have sacrificed for you. That's true, but the reality is in my case, if it wasn't for the fact that I had children, particularly very young I would have been a totally different person. The abstract things that children bring out in a person…mothers, it is readily accepted that they understand this, but for fathers too, if you are committed to your children, they bring out a certain element in you in terms of your development and your responsibility and your character, the decisions that you make, because of your responsibility to them. Sometimes we need to let our young people realize that not only is this their time, but that we really appreciate them. We need to give them a sense of encouragement and a sense of validation that is missing in a lot of our kids. Many of the things that we see our kids doing is a result of them looking for validation and people just telling them that they matter."
Life could have turned out very different for Najee and his music career could have taken a slightly different turn as well. In elementary school, "All the saxophone chairs were taken and none of them were left. When I was a kid I was, I don't want to be in the girls section with a clarinet, but my teacher said to me, everybody's got the saxophone, but if you learn to play the clarinet you will be able to transition into the flute. I took his advice and I started playing the clarinet and I began to have fun with it. I don't play the clarinet anymore. Then the opportunity came in high school to pick up the saxophone and I started in on that and I really began to get serious with it.
I (also) began to pick up the flute and then my saxophones were stolen. For a year I had nothing but the flute to play and to focus on. That is how I developed it honestly, because my instruments were stolen. I always hear people say how much they love my flute playing and I always have to attribute what I thought was misfortune ended up being a major blessing to me. What is really interesting to me is that it happened on Christmas Eve. I was a young kid playing with guys who were older than me and they had this New Year's Eve gig coming up and so we rehearsed for it on Christmas Eve. The guy said to me, listen leave your instruments here. I lived in New York and on Christmas Eve walking home with instruments, that wasn't a good idea for kids. I played the tenor saxophone and back then you carried those big coffin cases, so I would have been a target in my neighborhood. I didn't go home with the instruments, I left them at the rehearsal spot and the next, Christmas day they came to my house, rang the doorbell and they told me that they had bad news. I was like what, somebody died? They said, 'No, the studio that we were rehearsing in last night was broken into and all of the instruments were stolen.' I was devastated, so the thing that I feared the most ended up happening anyway (he laughs). Maybe if I had walked home with them that night, that wouldn't have happened, but one day I had to figure out that I loved playing what I was playing. I took lessons (in flute) with Harold Jones on the weekend. At that time he was the first flautist in the New York Philharmonic and I used to take lessons with him at the Manhattan School of Music in the program that they had for kids then. I studied at Jazzmobile (at the same time). I continued to study the flute in the master classes with Jimmy Heath. That ended up being a major blessing for me."
Looking back over the course of his career and the sixteen albums that he has recorded, Najee cites his first CD Najee's Theme and his third album Tokyo Blue as being extra special.
"Even though they aren't perfect records, the struggle that was involved in them I will never forget and I will always cherish. The first album, I didn't have a clue, but there was a certain honesty that came across in that record that people responded to and that broke my career. People signed on and a lot of my fans from that first record are still with me until this day. I always hear people talk about Tokyo Blue now. Obviously we've grown in the engineering world today and we are better and there are better producers today than there were then, but there is a certain level of honesty that exists in that record in its raw form and that I think will always remain with me. Over time we have produced better sounding records. I have gotten better as to how to play in the studio and those kinds of things, but there is just something about those early albums that will always stay with me and the collaborations with my brother Fareed.
It is different to me now than what it meant to me then. When I started I was hungry, just to get in the game at another level other than where I was. At that time, before I was able to get into the major leagues, we will call it that, I was pretty much a sideman and I needed to earn an income better than I was doing, so I was motivated by different things. Now it is something that I just love to do and it is fun. I get to choose what I want to do and what I don't want to do. I remember when I had the experience of working with Grover (Washington) on a couple of concert dates and he said to me, 'You remind me a lot of myself when I first started. You are always out there, all of the time. I am going to tell you something, if you go out on the road you need to go out for just two weeks and then come home for two weeks, because after two weeks you sound like shit, the band sounds like shit and you just need to come home (he laughs).' He had me laughing hard, but he was honest. I took that to heart and now it is more a part of my lifestyle and it just means something different.
Honestly, I think I was very lucky in the beginning to find what worked for me. I calculated that there was a market for what I did back then. I could go out to the Jazz world, because people were familiar with it, because I come out of the Jazz world, but I had also played in a lot of R&B settings, as a youngster developing in New York. When my time came, when the opportunity came, I didn't have a clue what I was doing, I just knew that there was a market and I pretty much went for it. Really my first few albums were R&B albums with a saxophone. The industry called them Jazz, because it was instrumental music, but my perspective was, I'm going after the people who bought records," he says.
As for The Morning After: A Musical Love Journey he says, "Sometimes when you try to mix too much on a record it can sound like it doesn't belong together, but the one thing I am happy about this record is I believe that it flows very well. There are Smooth Jazz elements and commercial elements, as well as the traditional elements, which have always lived inside of me."
Please visit Najee's website.
Interviewed by Joe Montague Published October 2013, protected by copyright © All Rights Reserved.
This review is protected by copyright © and may not be reproduced in print or on the internet or through any other means without the written permission of Riveting Riffs Magazine, All Rights Reserved