Lovesome is the name of Nancy Valentine's current album and we would love some more of that and if you are patient you are going to get more, because she has already recorded five songs for another album. On the cover of her album it says Nancy Valentine sings the music of Billy Strayhorn, to which we might add, she sings it pretty well.
The album opens up with Boris Kozlov's double bass introducing Ms. Valentine's exquisite vocals as she coos "You Better Know It," a song by Billy Strayhorn, Duke Ellington, with a new arrangement by John di Martino. There is a sultry tone to Nancy Valentine's vocals that is further enhanced by her "in the moment" phrasing. Harry Allen (tenor saxophone) and Joe Magnarelli (trumpet) take turns soloing. The song also lends itself to Valentine showing off her scatting chops.
The torchiness, if the readers will permit us to invent that word, is evident throughout Nancy Valentine's interpretation of Billy Strayhorn's "So This Is Love," as she is accompanied elegantly by John di Martino on piano.
"It (the album) didn't start as a tribute to Strayhorn. I like to get that out of the way. I am just an interpreter of this fabulous music written by the composer Billy Strayhorn and that has surrounded my life. I have tried to find as many of his songs as possible that resonate with me and to bring them to the public and to have him stand on his own separate from Ellington. This is what it grew into. We didn't have enough music to fill a CD (originally), so it was through research, study and meeting other people that I found all of this.
Now it is a bittersweet situation and it is also a tribute to the work and perseverance and love for the craft of engineering from Jim Czak, who worked with me meticulously on the vocals for this. He made sure we would talk about the intent of the song and the intent of what Strayhorn might have thought at the time that he was writing. He (Czak) made sure I got out of myself and into the composer. He and I worked wonderfully together for a long period of time as finances would permit (Editor's note – Jim Czak who served as the sound engineer for Lovesome passed away early in 2017).
There is also another tribute that happened along the way and that was the passing of Lena Horne. I found out that I have six songs of hers that she sang. I wasn't focused on doing that, but it occurred," she says and then recalls a time when she saw Lena Horne perform and describes her as "electric."
The title for Valentine's album is derived from a Strayhorn song, "A Flower Is A Lovesome Thing."
She explains, "I was working at the time and rehearsing with my music director, pianist and arranger John di Martino and he suggested that I do a CD, because he liked my voice very much. We were going through some songs, "Gentle Rain," "You're My Thrill," and stuff like that and he said try this song. I didn't like the lyrics. They spoke about flowers. I didn't hear the melody. I didn't know anything about Billy Strayhorn. The title of the song said "A Flower Is A Lovesome Thing." When I saw that word lovesome it immediately evoked and vibrated sensuality. Then he played for me the melody for these lyrics and I was hooked right there. I said really? What other songs has this composer written? Then he put "Something To Live For," in front of me and I said really? Then he put "Passion Flower," in front of me. I said wonderful and then "Pretty Girl." The music was so liquid that I had to do this. I said I have to do this and let's do as many songs as you know.
I had never done deep research on anyone in my life. He came up with "Just A-Sittin' and A-Rockin'" "Lament for an Orchid," and it evolved into "Take the "A" Train," (all three songs are destined for Nancy Valentine's next album.)"
What was it that attracted Nancy Valentine to the music of Billy Strayhorn?
"The thing that struck me about his music was how it perfectly meshed and extended the life of Duke Ellington's thought process and music. It evolved it into the future with his chord structure and melody. It was just like two people in one. It is a challenge for a vocalist. You can't sleep when you are singing Strayhorn, because he doesn't write in a pattern like other people. It doesn't repeat. There are chromatics in there that surprise people. It is amazing and you must keep awake," she says.
Nancy Valentine's musical career has traversed several genres, but her introduction to Jazz came early in life. As an eight year old she found herself listening to her parents' Sarah Vaughan album, Sarah Vaughan Live At The Blue Note.
"I remember looking at myself in the mirror and I lip synched back then all of the Sarah Vaughan songs that were on that album. I got to walk in her shoes. Even lip synching I had to know what to do and how the mind was of that person. That stayed with me.
My father took me to see her live at one of the first theme parks called Freedom Land U.S.A. (Editor's note: It was located in the Bronx of New York City). I sat at her feet and my father said tell her to sing "Poor Butterfly," I was yanking her dress and I was saying "Poor Butterfly," "Poor Butterfly." She would say, stop, stop, not now, not now. She would sing a couple of songs and I would yank her dress, I have got to have it now. Then she said okay. Then she did "Poor Butterfly," and her sweat was dripping all over me and I was in my glory. That was the singer who most affected me regarding the Jazz world. She was so sensuous and the sound of her voice drove me insane. I love it," recalls Valentine.
Nancy Valentine shares more memories from her childhood, "In the house that I came from when I was growing up there was a lot of yelling. If you were timid nobody really listened to you. I was the youngest person, so I didn't get very much respect. To be heard I had to be strong in what I did.
I didn't have any musical training. I always wanted to be an Opera singer when I was five years old. I would sing out constantly. It was my mother who kept telling me to sing out. Sing out Nancy. Sing. Sing. She loved it, so I would emulate the Opera singers and that is what I would do.
I always wanted to play the piano and they wouldn't get me a piano. Instead my father got me an old accordion. That didn't work out. I would run around to any neighbor to see if they had a piano and I would try to play it and sing with it. I would of course annoy them, so it would only be for a certain amount of time.
I was in fifth grade and in comes Mrs. Schwartz and she was going to give us a recorder. Wow a music book! I was never even given a book to read at home, but a music book. I took that book and I didn't play outside, I just kept working on that recorder. By the end of the school session in June I wound up giving a concert to the children from listening to a hit song "Michael Row Your Boat Ashore." With my ear I was able to pick it off of the radio. I was able to pick things up quickly and to give a little concert.
The next year in the sixth grade the music teacher wasn't that good. This person from the Junior High School came around and gave a music test. I failed the music test. In seventh grade nobody was listening to (being taught about) Bach and Mozart, except me. I would constantly raise my hand and he said to me how did you not make this music test? He said, well we have an opening in the music class. Would you be interested? He said you go home and tell your parents and come back to me the next day. I had no idea what this meant.
I went home and I told my father and mother and they said how wonderful. That night (on TV) Kirk Douglas came on with a young man and a horn. After I saw that movie I said that's what I have to do. My father said that is better than a French horn. It is smaller and you won't have to carry that thing around. I went in the next day and I told my music teacher, I would rather play the trumpet. He looked at me and he started laughing. This is 1966. There were no female trumpet players and if there were, there was not an internet to find out about all of this stuff. I had no idea what I was asking. I never saw the difference between men and women and that's for a man and this is for a girl. I didn't know. I didn't feel it. He laughed at me and he said alright and he gave me the trumpet with the mouthpiece and he said play the C scale. I didn't know any fingerings, so all I did was play and I stayed on one note. He was hysterical, because I didn't know I had to move my lips to make a different high note or whatever. That was my beginning and there were sixteen trumpet players, all guys and I was the only girl.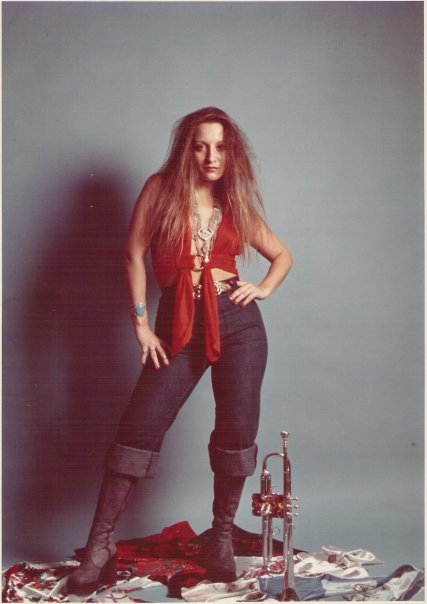 I would go out and play I would stay in the house and play my Easy Steps to the Band book. I went from cover to cover and I built myself up all the way to the first chair. The wind that I used to play the trumpet and to blow like a man allowed me to be forceful and to exercise my vocal chords. That helped me with power.
I took the test to get into The High School of Performing Arts (Editor's note: Located in New York City, this school inspired the movie Fame). I was one of four that made it. I was classmates with Warren Benbow (drummer for Nina Simone, Jimmy Owens and others), Harry Kim, the creator of the Vine Street Horns for Phil Collins and who also played with Earth, Wind & Fire, also Bob Berg (saxophonist for Horace Silver, Cedar Walton, Miles Davis and Steve Gadd).
It was the best experience. The problem is when you are in the experience you didn't even realize that you are in the experience. At lunchtime people used to go and hang out at the Metropol and at Manny's. Manny's was the preferred store not Sam Ash. Manny's was it."
The lights are turned down low, the club is quiet, but for Joe Magnarelli's trumpet, which introduces us to "A Flower Is A Lovesome Thing," as John di Martino, beautifully accompanies Nancy Valentine as she coos the words, each phrase falling from her lips like sweet nectar. Victor Jones drumming is understated and Boris Kozlov's double bass is subtle, yet wonderfully played.
Other musicians to guest on this album include bassist Jay Leonhart, drummer Tony Jefferson, Marco Panascia on bass, alto saxophonist Dick Oatts, Gary Smulyan on baritone sax and trumpeter Dominick Farinacci. Dave Darlington mixed and mastered the album.
While listening to Nancy Valentine masterfully interpret the music of Billy Strayhorn and Duke Ellington it might be easy to forget that some of her earlier musical endeavors were on the Rock side of the ledger.
"I was the only female trumpet player at The High School of Performing Arts back then. I played in original Rock bands, as a trumpet player, not as a singer. I wasn't happy with the girl groups that were out there. They were all doing the same thing. They just didn't do it for me. Something was wrong. (Then) a girl named Janis Joplin came out. When I heard "Maybe," from her and "Summertime," that blew the roof off and I said that's it, that's the way.
Another vocalist came out who was a more refined Janis Joplin to me and that was Robert Plant with Led Zeppelin. That was outrageous, that was it. That was refined, so you didn't have to kill your vocal chords with screaming.
I wouldn't want you to come and see me if I didn't make the hair on your arms stand up. I have to find my own way, not as a person who copies (others). In order to do that we have to step into other people's shoes and say hmm I like that tool. That resonates with me or nah that's not for me. That is how you mold yourself and grow yourself and you become unique. You cannot be a herd thinker when you are an artist.
You have to go and you have to know and go and do your thing. I recorded in the best studios, Electric Lady Land, Studio D at RCA. I recorded with and miss him so much, Lew Soloff. I did some studio work with a lot of different people. All of these people were part of the confidence that is coming from this album. I didn't just come out of the kitchen from making rice pudding.
I did road work with an original Rock group. I did it with a dance band, a cover band. In the original Rock group I opened for Bill Haley and the Comets, Sam and Dave at the original Cheetah Club, The Platters, The James Gang, the wonderful group The Chambers Brothers and the Grand Funk Railroad. There is nothing that can beat the old Rock and Roll feeling. Once you are giving that Rock concert to these people it is just incredible. The up, you don't need drugs, you just have to get on that stage and give it," she says.
Nancy Valentine also spent time in Los Angeles, securing some smaller parts in film and television as an actress, including an epic episode of Friends.
"A Flower Is A Lovesome Thing," and so are the vocals of Nancy Valentine.
Please take time to visit the website for Nancy Valentine.
Nancy Valentine will be performing at Birdland in New York City on July 2nd.
This interview by Joe Montague published June 1st, 2017 is protected by copyright © and is the property of Riveting Riffs Magazine All Rights Reserved. All photos are the the property of Nancy Valentine and all are
protected by copyright © All Rights Reserved.
This interview may not be reproduced in print or on the internet or through any other means without the written permission of Riveting Riffs Magazine, All Rights Reserved