The road to an acting career is not the same for everyone, some you read about living in their cars, before fame found them, some are discovered while they are children and others toil for years in obscurity, prior to getting their big break. For Spanish film, television and theater actress Natalia Fisac the pathway to becoming an actress was far removed from any of those scenarios. The very personable native of Madrid, Spain has a law degree and she obtained it while earning very high marks. She always had a passion for acting, but it was not until she came to a crossroads in her life with the death of her boyfriend after completing her fourth year of university that Natalia Fisac made the decision to pursue her dream of becoming an actress.
She explains, "I always wanted to be an actress. The first time I remember wanting to be an actress I was seven years old. I was playing at home all of the time. In school I participated in all of the plays. I even wrote and directed some of the plays. I was also a very, very good student and you know there is this idea that you have to study something if you are so clever. You are meant to get a degree in something and that was my mistake. I studied law and I could have studied communications or become a journalist or something that was more related to my skills and the things that I liked.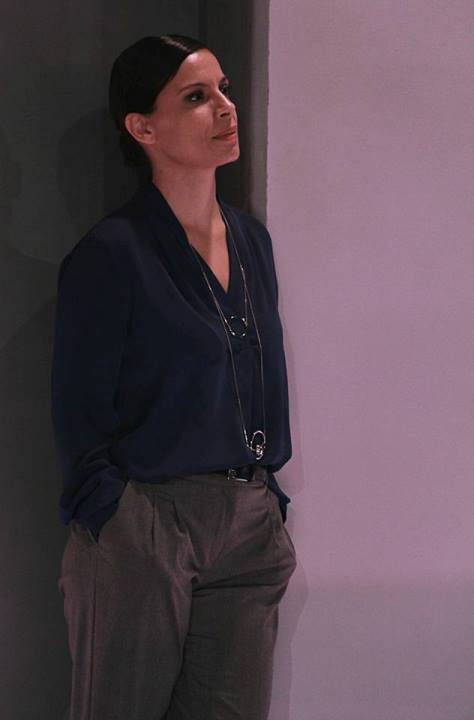 I had spoken to one of my uncles who and he was a lawyer who spoke very highly about (a career in law). That is why I ended up studying law. The good thing is I still have very good friends from that time.
When I was in my fourth year of the five years of university my boyfriend died of cancer. We went together for just nine months, but being at that age and with those circumstances you never forget that.
When he died I said okay Natalia what do you want? I had talked to him about this. He was a poet and he was also a magician. He said to me what do you really want to do? If you love the theater then you should do that. I said no I have to finish my studies blah, blah, blah. Well he died. I almost quit, but I decided to finish anyway. During my last year I joined an amateur theater group and after that I went to a private drama school for three years. I never practiced as a lawyer. I kept studying and I joined a classical theater company and I worked with them for eight years.
My boyfriend's death was the beginning and I opened my eyes. I said acting was my vocation. I thought I would go for it.
One of my friends said to me at that time about my boyfriend that I had been very unlucky, because of his death, but I thought just the opposite. I was really lucky, because he was a very special person. I was lucky enough to meet him, to love him and to be loved by him. Although, it was very painful, he is inside of me now and with no pain."
We are publishing this Riveting Riffs Magazine interview with Natalia Fisac in the midst of the COVID-19 crisis that gripped the nation during the first part of 2020 and like so many performing artists worldwide her regular gigs were canceled. She had been performing in and producing two plays per week at Madrid's Plot Point theater, Las Negras De Shakespeare, in which she co-stars with Arantxa Fernández de Moya on Friday evenings at 22:30 and Las Cuentoaventuras De Sherlock Holmes at 12:00 noon on Sundays. Both productions are seventy minutes in length.
When that was no longer possible, "The Council of Navalcamero in a small village (in the region) of Madrid contacted me to provide them with videos of my stories, because they met me last year and they loved my work, so I began to record at home. I am recording sessions of one-half hour with one or two stories depending on the length of each of them. Until today I had stories to record, but from now on I have to invent them, create them or find them somewhere. This morning I had two stories about Africa that I told many years ago for a special event. I had forgotten about that and I had to review the text and I had to invent some songs, because I always sing in my stories, even though I am not a singer and I am not a musician, I still always sing. Often a melody will come to me and I have to record it with my mobile. I have many melodies and when I do a story I listen to see which ones go with the stories. With these African stories I had to do that and I had to learn everything the day before," explaining that they fall under the greater title, "La Maleta de los Cuentos (Suitcase of Stories). The stories are always for children or as I say for families, because parents are usually with their kids. The parents have told me that they really enjoy the stories as well.
There are three things that I always use in my stories, songs and everybody loves that. Everybody loves music. Secondly, I use objects and sometimes it is many objects and sometimes only a few, but I always use something to help me tell the story and to give some color to the show. The third and most important thing is the participation of the audience. When I am in the theater performing I receive the feedback immediately and the (audience) interacts with the stories. At times I improvise. I tell them to come with me on the stage to do some little things or I ask questions. There are all kinds of participation, so in that way all of the family is in the show, not just the kids. All of a sudden the adults begin to behave as children. For them it is like going back into their childhood. That is happening even online. I try to imagine that they are answering and they are doing the actions. Parents have told me that they begin to jump and sing. Of course the stories are for children, but I know the (entire) family enjoys them," says Natalia Fisac.
The one thing you notice immediately about Natalia Fisac whether in conversation or watching her perform is the intensity and energy that she brings to her theater performances and her work on camera. There is little chance you are going to become distracted and start focusing on other people in the scene. Considering she juggles being a mother with an acting career the sheer amount of energy that accompanies her performances is quite an eye-opener.
She says, "I am really surprised sometimes and I have to confess that after every show I am exhausted and nobody can imagine how my body aches. The other day I was doing a recording and I was really stressed, because I wanted to do it well.
I do not have the time now to make some of the stories perfect, so I am worried and that creates stress, but when I start to record again that energy (returns). I am really enthusiastic and I love what I do. It is in my character (no pun intended). Everybody thinks that I am much younger. I am almost 48 and watching me you would think I am thirty-five or something. I don't know where that energy comes from.
I prefer to act with (an audience), to feel them and to talk to them. Whenever I finish I go to the theater door and I say goodbye to the people and I say to the kids high five. I love that the parents can share their feelings with me and the kids embrace me.
As for the online show that depends on the council. What I want to do is to organize that by myself. I love my job and I want to earn money with it. I am not thinking about doing it freely. I am thinking with these little stories I will put them on my YouTube channel and I will eave them there after everything is finished. After that I don't know if I will prepare things online unless the council wants to pay me to do that.
I know this can reach other people. For instance I have a friend who lives in Italy who teaches Spanish at university and the other day when he saw my recordings online he asked me if he could use it for his classes. He would add some questions in the bottom part of the video, so that the students could answer. That is so great. I loved the idea. I thought great more people can watch me and maybe someone in Italy wants me there and they want me to go there to perform. It is a great opportunity to reach more people thanks to technology."
We should also point out for filmmakers out there that Natalia Fisac is completely fluent in English and even though she is Spanish when she speaks in English her accent is very British. She could easily be cast for an English speaking role.
Our conversation circles back to the two plays that will hopefully resume soon at Plot Poin, "We will continue with Las Cuentoaventuras De Sherlock Holmes. It opened last September and we will come back on Sundays at the same time 12 (noon) and that is for families. I am very happy with this last production of La Maleta de los Cuentos, because the box office was going quite well. It was the best of the big three productions with La Maleta de los Cuentos, which were Alice in Wonderland and Around the World in Eighty Days, but told by Nellie Bly. Sherlock Holmes has been a real success, so we will continue. My guess is we won't come back until September, because the virus has affected the theaters a lot. I don't think we will come back earlier. Whenever it happens I will be there.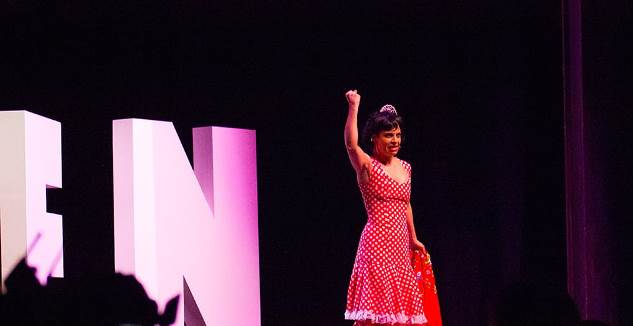 With the other production Las Negras De Shakespeare, I am not the director nor I am I the producer, I am just the actress. It is about Shakespeare's love affair. The (two women) meet after Shakespeare dies. Centuries ago people got together with candles to say goodbye to the corpse. Anyway, that night they meet for the first time and in the beginning they are angry. Little by little you find out they wrote most of the plays by Shakespeare. They gave him the stories and the characters. They begin to like each other and the end is really surprising. There is a funny scene almost at the end of the play.
That (play) is on Fridays at night. It is late at night, because the language is quite obscene at times and so that was the best time to program that play. I hope we will come back with those two productions and continue for a very long time with both plays. I am talking about years. (When we express our surprise she says) Why not? Sherlock is going very, very well and it is true that I should think more of marketing and a way to reach more people. I will think about that and I know I can do it better. Las Negras has just opened and why not stay there for two or three years with that. With that theater, Plot Point they do that. They trust and they bet. They say let's stay here even if there are bad days and of course there are always some bad days. Some of their productions have been there for eight years. They continue having a full house. It is a very small theater, so it is not the same as having a full house in a very big theater. Las Negras can be there for three years maybe," she says.
Our conversation segues into the two previous productions of La Meleta de los Cuentos that were presented at Plot Point, Alice in Wonderland and Around the World in Eighty Days.
"When I had my son ten years ago I decided to quit this kind of life (being an actress). I thought this is a very difficult life and I cannot live like this any longer. It was impossible though and when my son was almost a year I decided to start again.
Until the time when my son was born I used to play classical theater in a little company and when he was born I only had the energy for children. I never before thought about performing for kids and I didn't like it. Suddenly my body and my energy changed and I decided to create La Maleta de los Cuentos.
In the beginning it was just short stories that I made up myself or some popular tale. That was the beginning of everything. I had a very old suitcase that belonged to my grandparents and I also used objects and I began to sing. After threre years of doing that, suddenly a council phoned me and they wanted me to prepare either Alice in Wonderland or Harry Potter to celebrate The Day of the Book, which is the 23 rd of April in Spain the day that Miguel de Cervantes and Shakespeare died (Editor's note: Cervantes one of Spain's most famous playwrights actually died on April 22, but close enough). I said I can't do Harry Potter, because I would have to pay for the rights, so I said no I will do Alice in Wonderland.
I didn't like Alice in Wonderland from the time I was a little kid, because the story frightened me. It was something that the council wanted, so I began and it was the origin of that first long story with La Maleta de los Cuentos. It worked very well, so I thought let's do another one. In the online (presentation) of Alice in Wonderland I wear a red wig and I turn into the Red Queen. In the online (presentation) it is a very short version. It is a reduced version of my story, which (normally) lasts for seventy minutes and this one was only forty minutes.
The next one was Around the World in Eighty Days, but it all of these stories I am the narrator. In my storytelling I am myself or a character, such as Nellie Bly or Fibi a poor girl who works for Sherlock Holmes and I begin to narrate the story. Sometimes I turn into a different character to continue with the story and I use objects, dolls and costumes. With Sherlock I am a very funny character and I change my voice, as I change characters.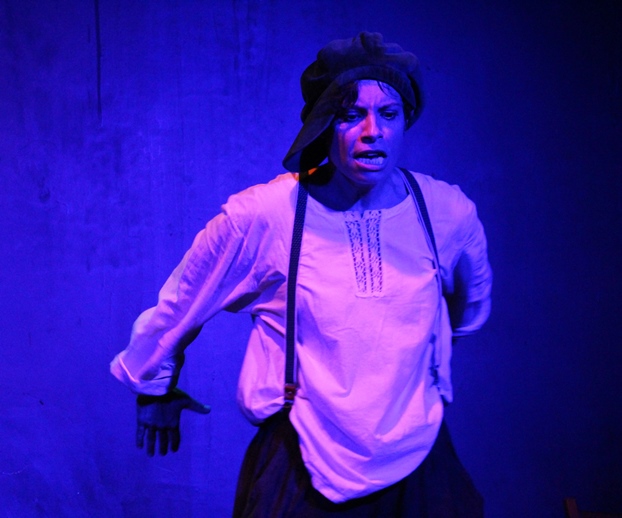 I am telling the story as the narrator and suddenly I change into Nellie Bly to tell the story and make it more interesting. It gives it more color and more variety. Nellie Bly is a historical person. She really existed and I was amazed when I found out who she was, because I didn't know. She was amazing. She was an American woman and it is surprising what she did. Just like many other women in history have been erased from history and I don't understand why.
I am a feminist, but not aggressive. I try to incorporate my feminism in my storytelling with little things like this with the narrator being Nellie Bly. She was a journalist and she was the first person, not only woman, but the first person to travel around the world in less than eighty days. She had that record. She made it in seventy-two days. In that time she was a celebrity all around the world and many people don't know that (today). She was also the first woman to go to the wars in Europe and report about them. She invented a new kind of (investigative) journalism. She was the first person who infiltrated certain places to report about them afterwards. She went into an (asylum) for women in New York for ten days, so she could tell later how horribly the women were treated in that place. She was really brave. It was amazing. At the end of her life she was an inventor and she worked in her husband's industry inventing things.
In my storytelling Nellie Bly is a little girl and in the future she will be Nellie Bly. Nellie Bly was not her real name, it was Elizabeth Cochrane. (Editor's Note: Nellie Bly was the pen name for Elizabeth Cochrane who later in life became Elizabeth Cochran and then Elizabeth Cochrane Seaman when she married). I tell the real story (Around the World in Eighty Days) by Jules Verne, the one that we know, but Nellie Bly is the one who tells everything. I don't talk about her life very much, just a little bit at the beginning and at the end. I suggest to kids to investigate about her. The rest of the play is the story that we have always seen in the movies or that we have read in the book," says Natalia Fisac.
As for any challenges that may have been faced in adapting books written in other languages and for other cultures into Spanish to be presented to audiences in Spain, she says, "I don't think the difficulty is the (two) cultures. For instance Alice I read it in English and I adapted it from the English and Around the World in Eighty Days I read it in French, because I can read French. I prefer to always go to the original language. The problem is not the difference in culture or language, but the difficulty for me is to turn a book into a play, because they are different languages. I am very happy that you put that question, because few people give a thought to the work of adaptation. It takes a long time to cut and to know that (some things) will not work on stage. First of all I know I have to cut some parts out, because it is usually very long. Imagine Around the World in Eighty Days is a long book, so it is impossible to put everything on stage. While I was reading I was thinking okay I like this part very much and this is a great adventure. This could be funny for the kids. I always think of the kids and what would be best for them to watch on stage.
When I adapated Sherlock Holmes I only took two of the stories, because Sherlock Holmes is huge. (At first) I performed for my son and some friends of his to test the adapation that I had. In one of the moments a character talks about printing photos and the kids were like what? They didn't know what I was talking about. Why is it necessary to have a dark room to print photos? They didn't understand and I thought oh my god yes for me that is not a mystery, because I have printed photos, but for these kids who were so young that is pre-history. You have to be aware of those things that kids nowadays can understand. Instead of talking about printing photographs I talked about mindfulness, because I needed to talk about a dark room. That they understood. It is fascinating. I have to be in their minds in order to rewrite the text. I love that part."
In 2019 Natalia Fisac was the cover (similar to an understudy in theater) for the character Blanca in the opera Carmen and then she received a pleasant surprise, "This was a project organized by a friend of mine, an opera singer. She is amazing. She used to work in Italy. In Italy they had this opera in Italian of course and she brought it to Spain with another singer. For this project different schools hire them to give workshops for three months in their schools, so the kids learn the plot and the characters. They make some of the costumes and they learn the songs, because the goal is to go to a performance of this opera where they will participate on stage in the chorus parts. They can be a chorus of gypsies or soldiers.
They prepare the kids to understand and to learn to enjoy the music and the story and at the end of the course is when I appear. This was my chance. My friend called me, because the actress was sick and it was not intended that I was going to be that character. I was the cover. When she phoned me I was available and I just participated in a double performance, one morning. I went to three rehearsals. In this performance the adaptation consists in cutting out some text and nothing else. They sing the same songs and the story is the same. There was an orchestra and a professional, high quality singer. It is incredible. My part was to join one scene to another like a narrator. It was great, because it was a very big theater in Madrid and it was filled with more than a thousand people. I felt at home with the kids. Wow, I was moved when I was backstage and listening to the kids or when I was on stage and they came on stage singing. It was amazing. It was lovely. I loved it.
Everybody likes music and the more music that you listen to the more open you become to listening to other kinds of music. I am really ecclectic with my music. I like many different kinds of things. For kids I think it is very important to let them approach music in a very playful way and (to learn) that it is not only for elitists and experts. Everybody can listen to an opera and if you listen to that when you are a child then you are very likely to keep on listening to it. It is great."
In 2019 Natalia Fisac also appeared in a lower budget film that had limited cinematic release, "The story was great and I liked the script a lot. I was a detective and my name was San Gil. I was the boss and really hard, but not angry. There are some very funny scenes, some of which I used in my videobook (demo reel). I am happy with the work that I did. You never know someone could see it and think oh this actress is great and hire me for a bigger film.
Many of my friends told me I was amazing. I know on the screen I am photogenic. It is just something that I have. I know when I act people keep watching me, because I have something. I know I work very hard, I am responsible and people are happy with me, but I never jumped to (the next level up)."
Natalia Fisac may not have jumped up to the next level yet, but it is only a matter of time. Earlier in her career she had a recurring role in the popular television series Hospital Central and she appeared on the television series, Centro Médico, Cuestión de Sexo, and En practicas, as well as in the films Mi Héroe, El Manuscrito Vindel and Azar.
You can view some of Natalia Fisac's work in film and on stage at her YouTube channel here.
Photos: Second Photo from the top by Esther Solo, Third Photo from the opera Carmen.
#NataliaFisacActriz #NataliaFisacProducer #NataliaFisacFilm #NataliaFisacTV #RivetingRiffs #RivetingRiffsMagazine #PlotPointMadrid #MadridEspanaTeatro #ActricesEspanola #ActricesDeEspana
This interview by Joe Montague published April 26th,2020 is protected by copyright © and is the property of Riveting Riffs Magazine All Rights Reserved. All photos are the the property of
Natalia Fisac unless otherwise noted and
all are
protected by copyright © All Rights Reserved.
This interview may not be reproduced in print or on the internet or through any other means without the written permission of Riveting Riffs Magazine, All Rights Reserved Aïda Ballmann