We have all at some point in life had hard lessons to learn and so we can relate to the title of Austin, Texas singer and songwriter Nick Pagliari's new album Hard Lessons, which was released on July 22nd. You have to dig much deeper into a conversation with this amiable musician to discover that some of his greatest influences come from his wife Carmen and the jukebox that was in his parents' home when he was a young boy.
Reflecting upon that jukebox he says, "That is where my early influences in music were from in general. I was probably six or seven years old when my father had that jukebox. We would sit in the living room and he would play little 45s on the jukebox and we would dance around and sing those songs. I was really fortunate and it was really, really cool. My brother who is about three years younger than me has that jukebox. I don't know if it still works, but I would love to hear some of those songs again someday.
There were all kinds of Motown music and I remember specific artists like The Four Tops, The Beach Boys' song "Fun, Fun, Fun," and "Uptown Girl," by Billy Joel. My mom was a huge fan of Huey Lewis, but that might have been later in her car.
All that music was an influence on me and it stuck with me as an artist. I think when you are that young, in that stage of your development you are like a sponge. Musically I soaked that stuff up and it stuck with me."
Just as he was about to embark on a month-long residency at Geraldine's in Austin, Nick Pagliari took time to talk with Riveting Riffs Magazine about his album Hard Lessons.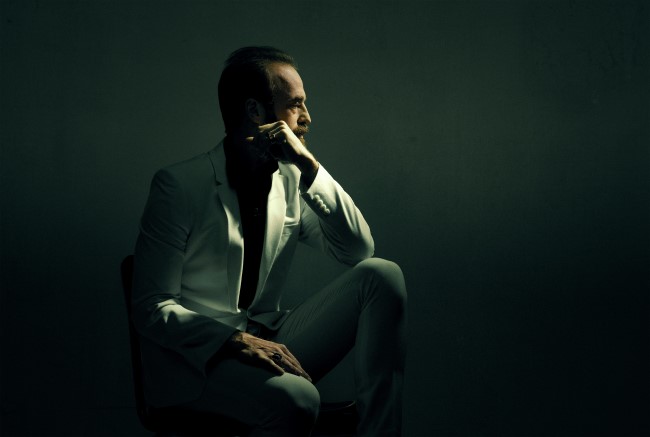 "The song "Down in a Rainstorm," from the new album (came about) when I was out for a jog one afternoon and all of a sudden, I was caught in a big rainstorm. I started humming that chorus part. I got really excited about it to be honest with you, as I was finishing up my run. When I got home, I took off my wet clothes and I took my guitar, while humming that song to myself. I figured out some good chords for it and I wrote the majority of it right there.
Things like that happen on a whim and I try to capture that when I can. It doesn't always happen that way. If I am out driving my car and I come up with a nice melody I will try and do a little voice memo, to capture it, so I can come back to it. The songs come in different ways. I have never been able to sit down and say I am going to try and write a song now. I have to have some sort of inspiration that excites me.
Sometimes I will go for months without writing a song and then I will spend two- or three-months writing songs. It just comes and goes. There are also songs that might take a few months to write and there are others that might take just a few days. It runs the gamut. I have gotten to the point when I try to focus on my lyrics more and I can come back to songs and redraft and rewrite. I really want each lyric to count and each lyric to mean something. I am a real stickler on that and it has really helped me, especially with these last two albums."
In listening to "Down in a Rainstorm," one has to wonder if there was just a little bit of Creedence Clearwater Revival in his parents' jukebox, because this song is pleasantly reminiscent of their music.
"This Time will Tell," possesses languid instrumentals that at times remind one of The Beatles' "Lucy in the Sky with Diamonds," only instead of a fantasy like, psychedelic lyrics, the imagery is stark, asking poignant questions about the world in which we live. What does the future hold? Are we content to accept things the way they are? Can we trust the images and what is presented as truth?
Nick Pagliari hints at more Beatles' influences on the somewhat reflective song, "Sweet Dream." "Lyrically it is interesting. I came up with the ending part one night, when my kids were really young. I was sitting in bed and rubbing their heads to soothe them until they fell asleep. (He starts to sing) The rest of the song came later. My youngest brother was going through a divorce and so a lot of the lyrics were focused on things I think he was going through. Sometimes I just put myself in the position of someone who is going through something and then those thoughts come out of how I might feel in that situation. The song was my interpretation of what he might have been going through in that particular time."
The song is introduced by Jon Estes on piano, who later adds a sense of loneliness and mourning with his cello. Although, the song is about the loss of a relationship, the latter lyrics point to hope for the future and healing, complimented nicely by Jeremy Fetzer's up-tempo electric guitar.
Two pivotal songs on the album are the second ("Flame) and fifth tracks, ("Here Comes a Woman"). The latter takes you back to the feel of some of those slower Eagles' songs of the seventies.
About "Here Comes a Woman," he says, "I wanted to give women a pedestal, because I don't think we do that enough. I think women are so much stronger than men. They are so much more compassionate. When you look at political leaders who are women and the president of New Zealand is a perfect example (Jacinda Ardern) of a woman in a strong political role and doing an exceptional job. I think it is fantastic that there are countries who are willing to lift women up and to put them in a position like that. Other women, little girls and teenagers can sit there and say wow this is who I want to aspire to be like. She is a great role model for me. I think we need more women like that. We need to have more women in powerful roles and we need to continue to grow that. I really like the song "Here Comes a Woman," and I feel like it turned out to be one of the better ones on the album."
Nobody is going to be sitting at concerts while listening to the song "Flame," this is a two-step song, inviting you to dance to it.
Is "Flame," another dance song or is it a portrayal of America? Maybe it is both. This song will resonate with many people. The tempo is quick and keeps it from becoming dark, but the lyrics are powerful. This may be the strongest song on Hard Lessons, because the message is so clear, so powerful and so honest.
Nick Pagliari says that he feels "Flame," has a reach that extends beyond the United States, "I feel that it also has a universal appeal, because there is a lot of instability that we are living through right now. There are a lot of changes and a lot of sad stuff."
What we as a society have gone through since the year 2020 dawned "has made me a better person, and (taught me) to be more understanding, more empathetic and more of an advocate for people who are suffering in this world. I hope when people hear the song, they feel like we have to make a right turn and get going in a different direction. If we continue down this path, I don't think it is sustainable. We can't pass it on to the next generation, because it is a mess," he says.
Nick let's talk about the title track "Hard Lessons," that opens up this collection of six songs. Who is the woman in the song and what is her story?
"I think (the song) walks that fine line between being a folky ballad and a Rock song. That song is based on a character who has had all of these events that have unfolded in her life that have not been favorable to her and she has gone through difficult moments. The older she gets and the further along in the story she gets you realize she becomes more guarded. She is less naïve and has more street smarts. She realizes the place is not the perfect place that she thought it was when she was younger. You go through those experiences and they shape you, but you come out on the other end and you learn to mold yourself to take on those types of things. When things happen to you later on, they are not as tragic or as difficult to deal with.
When I was writing that song, I wanted to take a character and see the transformation in the person as they go through life. The older we get we realize that the world is not as innocent and kind, as we all might have thought at one point. Unfortunately, there are people who learn that at a very young age, even younger than her (the person in the song). That to me is the gist of it.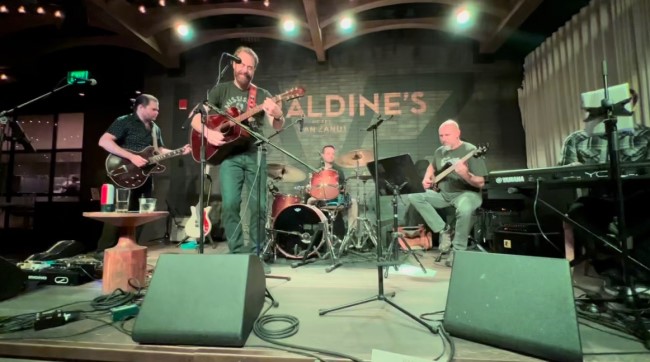 The reason I called the record Hard Lessons is all these songs that I wrote were during the pandemic and it was a time that was very difficult for most people in the world. Things were uncertain and there was a lot of fear. There was a lot of negativity and darkness in most people's heads, but maybe it is time for people to learn from it and move forward in some way.
Nick Pagliari is years removed from being that fifteen-year-old crooner in his first band formed with a couple of high school friends. One might say he was conscripted, because the other two bandmates could not sing, but played guitar and Pagliari did not play at that point in his life. They would rent a four tracks music recorder from the local music store and turn his parents' basement or his friends' homes into a studio.
He says, "The first song I wrote was about a girl I was crazy head over heels with and she wanted to have nothing to do with me (he chuckles). It was a story of heartbreak. I don't think I wrote the music. I think it was one of my two buddies and I just wrote the lyrics. I don't remember what we called it, but as horrendous as it would be, I can still probably remember a few of the words. I don't know if I ever played that song for that girl, but there were more songs that came after that, she certainly heard. We would record all of our songs and give these mixed tapes to our friends."
Well, that teenage girl may not have paid attention to him, but another lady did fall in love with him, later on, his wife Carmen, whom he describes as being his rock.
"I grew up in a middle to upper class family and I went to private schools. There wasn't a whole lot of diversity that I was exposed to as a kid growing up and it put me in a bubble. I wasn't really aware of how other people live in this world and how other people struggle or how other people deal with everything. I met my wife and I love her dearly. She really started to open up my eyes to a lot of those things. That was very transformative for me as a songwriter and a lot of that stuff has started to come out. I started to be aware of it and make observations. That is what we do as songwriters. I used to always have a little book with me, but now I have my phone with me and I can put whatever kind of lyrical idea I have into my phone. I can sit down with it when I am ready to write and go from there. I never knew what unconditional love was until I had kids. That expanded my palette when it came to writing," says Nick Pagliari.
If you want to listen to some music that you can sink your teeth into, visit your favorite online music store or visit Nick Pagliari's website and purchase a copy of Hard Lessons.
The album was engineered, mixed and co-produced by Jon Estes (Nick Pagliari was the other co-producer) and mastered by John McLaggen. In addition to the other people we have already mentioned, Jamie Dick is the drummer / percussionist, Steve Pardo (horns), Sadler Vaden plays guitar, as does Nick Pagliari (acoustic) / keys / percussion and Alexis Saski contributes background vocals.
You can follow Nick Pagliari on Instagram or on Facebook.
#NickPagliari #NickPagliariInterview #NickPagliariMusic #RivetingRiffs #RivetingRiffsMagazine #AustinMusic #MusicInterview #AustinMusicInterview #TexasMusic #EntrevistaMusica
This interview by Joe Montague published July 27th, 2022 is protected by copyright © and is the property of Riveting Riffs Magazine All Rights Reserved. All photos are the the property
of Nick Pagliari
unless otherwise noted and
all are
protected by copyright © All Rights Reserved.
This interview may not be reproduced in print or on the internet or through any other means without the written permission of Riveting Riffs Magazine.