Interview by Joe Montague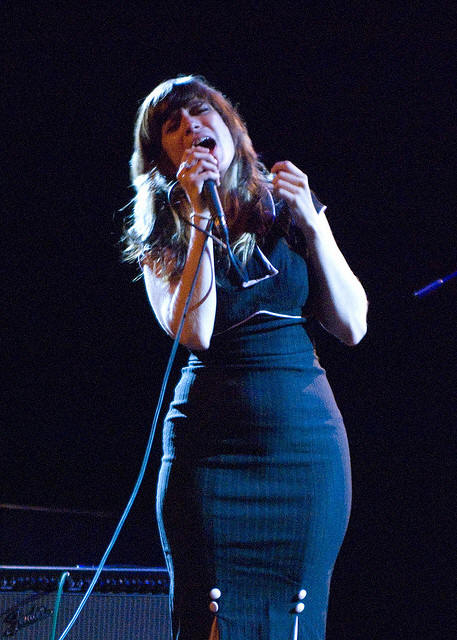 New Jersey rocker Nicole Atkins is one of the most intriguing recording and performing artists on the music scene today. Although she has been performing since high school, she is still relatively closer to the beginning of her career than she is to the midpoint, yet she and her band The Sea have appeared on The Late Show with David Letterman, The Tonight Show, Late Night with Conan O'Brien, and the Late, Late Show With Craig Ferguson. Earlier this summer, Atkins and her band The Sea, twice toured Europe, performing in festivals and promoting the current album Neptune City. In 2007, Nicole Atkins and her band were featured in a major commercial plugging the merits of American Express. Riveting Riffs Magazine caught up with the talented singer /songwriter / musician, with the stunning vocals, while her band was driving through the mountains, on the way to another gig. Our conversation covered a number of topics including her recent tour, her musical influences and her current CD.
Nicole Atkins possesses that gift that separates good songwriters from great ones, that being the ability to create images, that allow the listener to step inside her songs, walk around, and to absorb the sights, sounds, smells and emotions. She says, "This is the way that I have always been. Everything has a strong visual thing for me. I can't listen to music without seeing it; whether it is my own or somebody else's music. From the time that I was ten and started listening to Traffic, I would make videos in my head for every song. When I am making my own songs, all of the ones that make it to the people, are songs that unfold for me in a really cinematic way in my head."
"Maybe Tonight," and the companion video, which was produced by Josh Forbes, bring to the forefront, Nicole Atkins' creativity. Atkins was really juiced while talking about her video shoot, "It was completely exhausting and so much fun. Every time that we cut, the circus just kept on going," she says of the video which features clowns and a man riding in a unicycle. "The song, "Maybe Tonight," is about thinking of someone that you haven't seen in a while and all of a sudden they email you or call you. The producer Josh Forbes suggested that we do the video as though I was getting ready to do a Letterman performance or an old Ed Sullivan type show, where you would walk through the studio. I said, 'That's cool, but it's staged.' I am from Asbury Park and I live in Asbury Park, so I thought that it would be cool to have Coney Island boardwalk type carnies getting ready to do their variety show. He (Forbes) said that he would look into it. I thought that he was going to get, like one midget or a bearded lady, but he got the entire Lucent Dossier Vaudeville Cirque to do it for pennies. There are entire scenes that didn't even make it on there. They had the aerialists suspended from drapes on the ceiling. It was so cool. We did it completely off the cuff. The shadow puppet guy, we got that morning and the guy, who played the stage manager, is my friend Jim Turner, who is the actor who used to be Randy of the Redwoods from MTV, back in the day. He (Turner) used to be the hippie who was running for president. The dance moves at the end of the video were just old theater moves that I taught to everybody. When we did the video, it was so, on the fly," Atkins says, as she lowers her voice to mimic the encouraging comments others were making during the shooting of the video.
To say that Nicole Atkins' songs are personal would be a gross understatement. While chuckling to me, she admits that to this point in her career a large percentage of her songs have been based on relationships. When asked if it is fair to say that she is a romantic, she replies, "Totally, almost to a fault. It is awful."
One of Atkins' songs, "The Way That It Is," finds its roots in a conversation that took place between her father and her, while she was breaking up with an old boyfriend. "My dad didn't know him that well, and I told him that he didn't know him as well as I did, so I just wanted to figure it out for myself."
Those relationship influences will be felt on Atkins' next project as well, "Most of it is going to be about my boyfriend and I. He is in a touring band too. This is our first year doing this. It is an album about connection."
While touring, Atkins spends a lot of her time writing lyrics and generally developing concepts for new songs. "There is more than enough time to do that in a van. I have thirty-five ideas for songs for the new album, and now I am just using this time to fill in all of the lyrics."
Alluding to a statement that she made to another journalist concerning her fondness for, 'writing things that are really creepy, juxtaposed to really beautiful,' she says, "It is a lot of fun for me to do things like that. If I was going to write a song about falling in love, and sitting under a tree in the woods, I would want to figure out what is underneath the tree too. I like movies such as Pan's Labyrinth, things that are really scary, but which also have mystery and beauty. I don't like anything that I do, to be just black or white. I like things to have dimension, light and shadow.
Atkins points to her title track, "Neptune City," which talks about the New Jersey city in which she grew up, as being a good example of her combining the elements of the less attractive and beautiful in the same song. "It talks about this town that isn't pretty anymore, but it also talks about learning to appreciate its good points again. The beginning of the song is about death, but the end of the song is about hope."
Nicole Atkins' music is by no means retro, although many critics, in looking for labels with which to associate her, have drawn comparisons to many legendary female vocalists. It would be far more accurate to say that she is heavily influenced by classic rock bands such as Cream (Ginger Baker, Eric Clapton, Jack Bruce) and The Smiths. One of the first LPs that Atkins owned was Cream's Wheels Of Fire, which reached #1 on the American charts and # 3 in the U.K. She also says that Cream's song, "Tales Of Brave Ulysses," was one of the first songs that she performed with her high school band.
"I don't think that my music is nostalgic, I am just trying to continue a tradition of rock music. Rock music doesn't have melody anymore. Back then, people really cared about what they said and the melody was enticing," says Atkins.
As for the music of The Smiths, which featured Morrissey, she says, "I love The Smiths, I just saw Morrissey when we played with him at the Wireless Festival in London, a couple of weeks ago. The Smiths are a band that I fell in love with when I was a freshman in high school. He just seems to have such a romantic way, and he seems to mean it. They were just one of those bands that no matter how my life was going or how I was feeling about anything, I could just put on The Smiths and I would feel like I was myself."
There are a couple of things that you immediately notice concerning Nicole Atkins when she performs, one being that she is very theatrical, but in a very genuine sense, the second being that she brings passion to her performances. Some of those traits were developed in grammar and high school, when she was heavily involved in musical theater. In fact, once, when it was determined that there was not a boy whose singing voice could carry the part of Judas in Jesus Christ Superstar, she walked into the audition with a fake beard, sang for the part, and was awarded the role.
There are however other factors at play when considering Atkins passion concerning her music. "I'm Sicilian and we are very passionate people. I am from New Jersey and most of my friends are from New Jersey, we love really hard. When I sing a lot of my songs, I go back to the same spot where I was when I first wrote them. It is like method acting. I also think that if you are not going to get up on stage and play with passion, you don't deserve to be up there."
Interview in July 24th, 2008 Photo by Kirk Stauffer protected by copyright All Rights Reserved
All text protected by copyright and are the property of Riveting Riffs Magazine © All Rights Reserved. All images are protected by copyright © and belong to the artists and producers, All Rights Reserved