Detroit Singer - Songwriter Niecie Shows Us The Other Side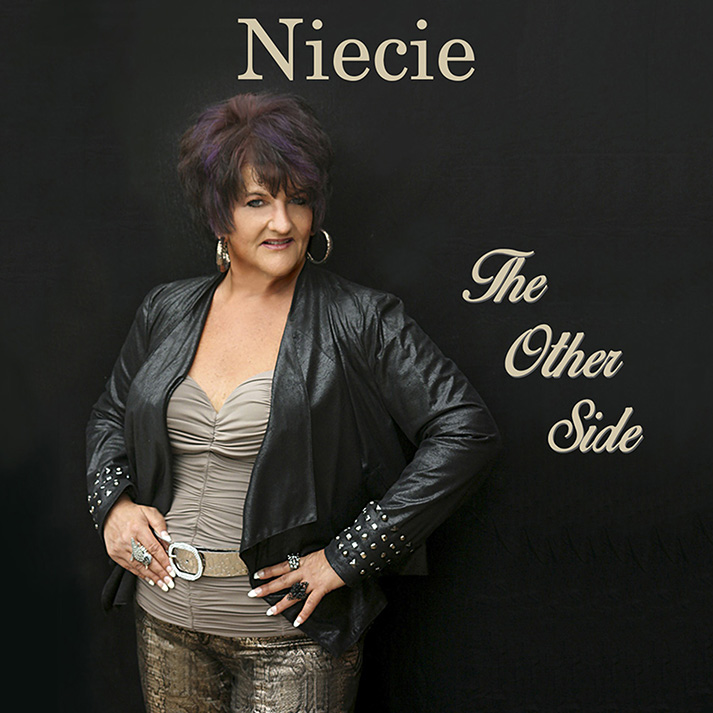 The new album (released November 2014) by Niecie, a Detroit singer and songwriter is aptly named, The Other Side, as this collection of songs, current and past reminds us that the critically acclaimed Blues artist has far more sides and influences in her music than to be pigeonholed simply into one genre.
"I decided to put out there more of a certain edge about myself. I showed more of my raw Rock Blues, my saucy R&B, my Funky Soul and the edge of my Blues. This album shows the different styles that I have incorporated throughout the years. There are the hits off of my recent release Wanted Woman that are in the first round of Grammy nominations. Someone nominated me for what is called the first round of consideration. What the recording academy does is they sit and they listen to see if it is a viable entry to move on to the point where folks can vote for it. I am honored that the recording academy has acknowledged me and for it to happen at this point is a highlight of my career. I tried to portray my different styles (on the new album) and that is why I chose the songs that I did.
What I am trying to do with this CD is to reach other radio markets and to get into the mainstream more and where there will be bigger audiences," says Niecie.
The seeds for Niecie's vast music palette were sown early in life, as she explains, "My mom played keyboards and we grew up with this big organ with the flip things like at church, but not with the big, big pipes (demonstrating with her hands stretched out wide). As far as the music influence in the house, my dad was into big bands and he also loved Boots Randolph on the saxophone. I still have my dad's Boots Randolph records. Then he flipped over and he liked stuff like ZZ Top and music like that. I had a brother who was into the Vietnam era and Woodstock. (He liked) all of the organic music, Hendrix in the day, Janis Joplin, Black Sabbath and Bad Company. It was the late sixties and early seventies music, Jefferson Airplane.
My mom was (into) Jim Croce, James Taylor and Carole King who was a big influence on me and my songwriting. You would go into the next room and my dad was playing the air saxophone. He would take a hanky and form it like a saxophone and he would go with Boots Randolph. In the next room there was my brother with the psychadelic sixties music. I had a lot of different kinds of music, a lot of Rock, a lot of Jazz and then the Blues."
You can hear that diversity of influences in the songs that populate the album The Other Side, including the title song, which instrumentally is reminiscent of sixties and seventies bands such as Cream and The Doors. Niecie's vocals are powerful and she has just enough grit to her voice to serve up a good Rock / Blues performance. At the other end of the music spectrum is her cover of the Isley Brothers' song "Harvest For The World," a song that reminds us that ­­­­­­we really do have a responsibility to others and we are a world community. We went back and listened to the original song by the Isley Brothers and with no disrespect intended we prefer Niecie's interpretation, which is a little closer to mid-tempo Jazz with classic R&B influences.
"Even thought it was recorded by the Isley Brothers in the seventies, as society and the way things are with the world, this song has just as much if not more impact today, as it did when it was released. It ackowledges that we are not all alone and everybody deserves a harvest," she says.
There are fun songs like "Traffic Light," that starts slow and builds momentum, as the frustration builds while the singer is stuck at a traffic light. The drumbeats are heavier and the guitar riffs slash and bite more.
"The song "Traffic Light," sums up the frustration that we all have just sitting behind the wheel. It is a song that every single person can relate to. That is how I come forth with songs and I don't just pick tunes that are intrinsic to me, but I pick songs that can touch everybody," says Niecie.
There is the tender and tear soaked "Dear Mother," a tribute to Niecie's late mother. A gospel chorus sung by background singers contributes to taking Niecie's music in yet another direction that is both appealing and it appeals to a broader audience.
Talking about the song "Dear Mother," Niecie says, "It is is a dedication to my mother. She passed away of cancer when I was young. My mother and my brother had passed away at the time that I chose to lay this song, so there is a reference to him in there as well. This tune really expressed a lot of the things that I wasn't able to get out of my soul. Some of the words in it, "As I sit here trying to write you this letter," after she passed I sat down and wrote to her like she was going to be able to read it. It is a tribute. It is a celebration of two lives."
The release of the album The Other Side is a timely move for Niecie and it keeps her from being labeled as strictly a Blues artist. The album represents a musical potpourri of her career, which along the way has seen her visit Rock, Jazz, R&B and Blues.
"(In Boston) I was doing Rock and Blues. I was on tour with the Rock band Transfusion and we had a small gig that was in a bar on the University of Nebraska in Lincoln. There is a world famous Blues bar there called the Zoo Bar. At the time I was feeling that I wanted to do something else, instead of Rock. I was on break and Magic Slim was at the Zoo Bar. I was leaning against the wall contemplating life and thinking what am I doing here or whatever and he (Magic Slim) turned over to me and he said, girl it looks like you could sing some Blues. Our breaks coincided and he invited me up on stage and I have been hooked ever since. He passed away in March of 2013," she says.
In 1997, while living in Boston, Niecie recorded her first two songs, including the slower Blues tune that she wrote, called "You Left Me," which she is thinking of recording once more, only this time with a choir and some more instrumentation.
"I had just taken some of my originals to Mona Lisa Records and they released two of them on a compilation from people on the record label. It had a very cool CD front cover. It had Mona Lisa holding the guitar. That started getting me out there and getting me radio play. I established myself at that time as a singer and a songwriter," she says.
While living in Boston and riding the subway Niecie drew upon her experience as an actress (Yes she does that too and has appeared in summer stock and off Broadway productions and she has performed as a dancer with dance companies in Chicago, Montreal and Detroit) to further develop her songwriting skills by doing character studies of the people she would observe on the trains and then using those observations as inspiration for some of her songs.
In 2002 Piece Of My Mind became the debut album for Niecie.
"I was (discovered) at a jam here in Detroit. I was at the Carriage House and Nioshi Jackson who produced two of my CDs saw me perform and he said you really need to come to Nashville and I can do something with you. I was like, how many times have I heard that? I kept working with it and I went down to Nashville. I walked into my first session and I almost hit the floor, because of the pro talent and the people (who were there). There were Grammy winning songwriters, players and artists. This was my first CD. One of the bass players was Willie Weeks (Eric Clapton, Chaka Khan, David Bowie. B.B. King, Carly Simon), Johnny Neel (Allman Brothers, Gov't Mule, Suzy Bogguss) was on keys, Shane Theriot (guitar) from the Neville Brothers, Chris Anderson (guitar) from The Outlaws and John Billings mixed and mastered both of my CDs. Crystal Taliefero (Billy Joel, Bruce Springsteen, Faith Hill, John Mellencamp, Elton John) was on backing vocals. These were very well established pros, so I went into the session with my eyes this wide. I am inquisitive and I decided to just observe and to learn a lot. This is all they had done for all of their lives and they were very successful," she says.
In 2013 Niecie's album Wanted Woman was released and the single "Blues Ain't Nothin," was a resounding success on Jazz, Blues and R&B charts worldwide, debuting at # 2 on some charts and # 5 on other charts.
Fans of Niecie's music may soon be treated to another aspect of her career, as she is thinking of incorporating into her live shows her abilities as a musician. She plays keyboards, bass guitar and the saxophone.
"Playing the keys came right away. When I was born the keyboard was right there with my mom," she jokes, "I just learned to play by ear. Then I had a couple of lessons, but I play by ear. That is how I play guitar. I taught myself how to play guitar when I was fourteen. I have been focusing more on being a recording artist, as a female singer. I am going to get back to (playing instruments again) and add to my act."
Niecie describes herself as, "a Blues Rock chick, with flavors of R&B, Soul with Funk mixed in."
Riveting Riffs Magazine thinks you ought to purchase the album The Other Side by Niecie, this is not a Blues album, this is an ecclectic collection of well produced, well sung and well played songs, by a Detroit artist whose star continues to shine brighter with each new release.
Please visit the Niecie website Return to our Front Page
This interview by Joe Montague published November 18th, 2014 is protected by copyright and is the property of Riveting Riffs Magazine © All Rights Reserved. All Photos courtesy of Niecie and are
protected by copyright ©, All Rights Reserved
This interview may not be reproduced in print or on the internet or through any other means without the written permission of Riveting Riffs Magazine, All Rights Reserved