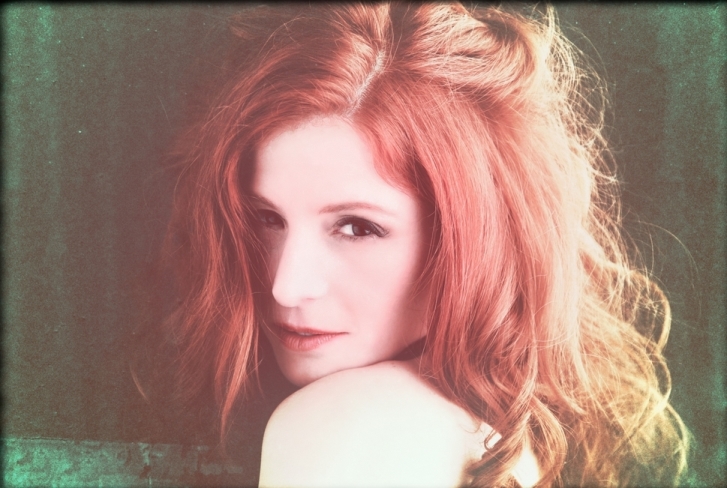 Los Angeles singer-songwriter, Nina Storey, who is originally from Boulder, Colorado, has a brand new and spectacular album called Think Twice and it is chock full of delicious R&B influenced songs that reflect what the redheaded singer refers to as Future Retro. There is a tasteful sensuality to her vocals and the beat and melody get the listener's hips moving, the head nodding and the feet dancing.
The title song "Think Twice," paints a playful picture of a wild child and comes with the warning "Think twice before you call my name," and "be careful what you wish for." Her vocals are backed by a kick drum, crash cymbals and the song is introduced by keys. One should not be surprised that the song was inspired by Storey's reading of the Chuck Palahniuk book Damned, a quirky 2011 novel about a thirteen year old girl, "Maddy" Spencer who wakes up in hell and after being given a tour of hell by some interesting characters, she goes about reforming and beautifying that domain. Nina Storey's vocals recall the prime days of Soul and R&B in cities like Memphis, Detroit and Philadelphia and on some of her songs she reminds this writer of the U.K.'s Corrine Bailey Rae.
Standing in stark contrast to songs like "Think Twice," and the danceable "Gimmie Some," is the tender, romantically longing "This Naked Woman."
"That song was probably around the longest. I think I wrote it in 2005 or 2006 and it had never been released, but it has a huge cult following. I thought it needs to be on this record. It was meant to capture a really dreamy moment in time with two people who had this lovely ethereal experience. I had recorded a demo version of it that was a lot more of a big belty, showy offy vocal gymnastics and stuff. When I played that song for (producer) Chris Seefried (Counting Crows, Haley Reinhart), he said I want this to be a super romantic song that people will listen to and they can't turn it up enough, because it is like you are singing to them in their ear. The whole vibe of this record, what my sound is and how I describe my music, I call it Future Retro. It is this old school, kind of vintage Motown, Soul sound, but with a quirky modern sensibility, like a female Bruno Mars or something.
That song reminds me of a dance hall with two people left standing after a long night of dancing. I just pictured different moments and an emotional moment in time. I wrote the song on my own, including the arrangement," says Nina Storey.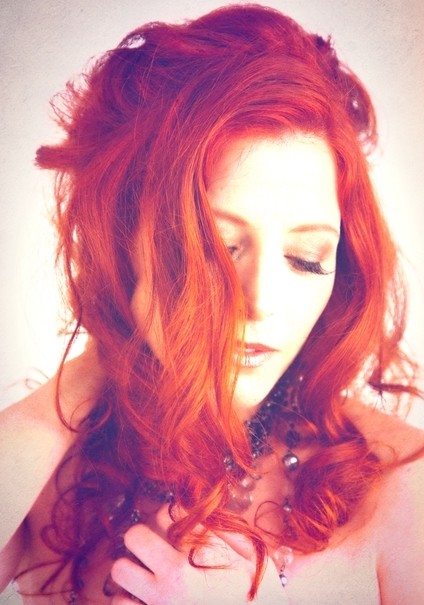 The music video that is available now was originally shot for the demo version of the song in 2005 and Storey says that eventually she will shoot a new music video.
Including her debut album Guilt & Honey in 1993, Nina Storey has eight albums to her credit counting Think Twice. She credits her sister with coming up with the title Guilt & Honey and says that it had something to do with it being a bittersweet moment in their lives. The songs from Guilt & Honey were co-written with the members of the Folk Rock / Roots band Lost Generation that Storey was a part of at the time.
The year 1995 was an important time in Nina Storey's career with tours in Europe, a bootleg live album, and she was the opening act for well-known artists such as, John Lee Hooker, Earth, Wind & Fire, Etta James, Joan Osborne, Los Lobos and The Allman Brothers.
"Every opportunity that I have to sing is important and I have come into the awareness of that more recently. Every experience that I have had to open for, to play with or to collaborate with other artists has been tremendous. I don't take it for granted. I think it is super important. I am reveling in it even more so.
I was on tour and we decided to do a live recording. I was just trying to capture the live experience. I always want the opportunity to sing live, because that is where my fullest artistic experience is, in my live shows," she says.
In 1997 the album Shades was released and it featured songs like the sassy Blues Rock "Coffee and Margaritas," and although the song doesn't possess the instrumental wizardry of bands like Blind Faith and Cream, the music and Nina Storey's vocals should appeal to fans of those two iconic bands. The irony in Storey singing a song with this title is she does not drink coffee and she rarely drinks alcohol. It is also one of the rare songs recorded or performed by Nina Storey that she did not have a hand in the writing of it.
Talking about "Coffee and Margaritas," Storey says, "I was coming into finding my physical voice in a lot of ways and tapping into an understanding of the Blues in a way that I hadn't experienced up until then. I was also working with a producer who wanted to do a little more of a polished sound. I think that shows on that record. When I look at who I am today as a performer, I am a thousand fold better than what I was then," she says.
At the other end of the spectrum on Shades, is the a cappella song "No Man," a stern warning to men from the singer "I don't need no man." The funny thing is the song was not written by jaded woman.
Storey explains, "That song has had a very funny ride. I wrote it when I was fifteen, fourteen or thirteen something like that and it has just sort of existed in my brain. I sang it in college and it has had this cult following. It is the most licensed song that I have had thus far. It has been used on So You Think You Can Dance and on many, many things. People just gravitate towards the song and it just never felt like it needed music. I started singing it again and now I start my shows off with it. It really kind of takes people back. The way that I sing it now is a million times stronger than I sang it on the record. It is more intuitive and more narrative. I have become a much more theatrical performer. It just continues to grow.
I hope that I continue to grow as a human being always, because life is just richer and more enjoyable that way. I hope that I continue to be a stronger human being and give and to learn. I reflect that in my songwriting and in my performing. I try to keep my eyes open, my ears open and my heart open to that and I continue to find ways to become a better performer and artist.
For me the key to music that moves me is stuff that is honest and it is coming from a place that you have an understanding of it. You may not have experienced it, but your empathy to tap into that and you being connected to it is true, so even though "Coffee and Margaritas," wasn't a life experience that I had, it was something that I could empathize with and I could dig into the meat of that. I am able to identify with artists and music with that feel to it. I have had plenty of tough stuff in my life, but it is a wonderful facility to have that and you don't have to write about it, but to have that sensibility to understand the genre."
Late 2001 brought the release of a self-titled experimental album and Nina Storey and her R&B sensibilities were awakened. She refers to her songwriting during this period of time as having a lot of fire to it and being feisty and revelatory.
Then there was another live album in 2003, 24 Off The Board, a double disc recorded at Moe's Alley in Santa Cruz, California.
The release of the album So Many Ways From Me To You, in 2007 coincided with a difficult period in Storey's life.
"I had gone through a pretty serious breakup. I had the song "Woman," in my pocket for a while and then I got together with one of my friends who helped me to finish it. He is an outstanding Soul singer and a tremendous artist. His name is Ernie Halter and he lives in Nashville.
"Woman," was one of the last songs that I wrote for that record. When I was doing the CD I (thought of) Aretha Franklin's "I Never Loved A Man," and I recorded it with great musicians. We wanted to capture a super organic feel with that whole CD," she says.
"I Have Been Found," another song from the album So Many Ways From Me To You has a Soulful Gospel feel to it and the lyrics literally chronicle Storey's experience while on an airplane.
"I was on an airplane (one time) and I was experiencing turbulence anxiety, as I was sitting next to a Japanese monk. We had this really cool conversation. He had these really neat concepts about Buddhism and finding your center, where energy flows, safety and a higher power. It was really cool stuff and that inspired me lyrically. Musically, I was really taken with the Joe Cocker version of "With A Little Help From My Friends," and it was in the concept of being safe or returning home. It was very soulful and in a 6/8 groove," says Storey.
Nina Storey refers to her current album Think Twice as "the most collaborative CD I have ever worked on," as she worked with several co-writers and the album was two years in the making.
The vocals are staccato to open the bright, cheery "Strangely Optimistic," and Storey's beautiful vocals are now showcased in a Pop styling.
The song was another co-write and she says, "We talked a lot and we came up with this idea of someone who had this really crummy day and then there was this light at the end of the tunnel. It is about a happy person, which is me. I have had a lot of tough stuff, but you know, at the end of the day and at the beginning of every day, I take a moment, because it is a new opportunity to have a wonderful experience every day. That part is definitely me. It is about the crappy things that keep happening to somebody, but they keep getting up. It is alright I am going to keep going on and at the end of the day and at the end of the song they have this lovely person to go home to. I thought that is a nice message.
Riveting Riffs Magazine is optimistic that you will love Nina Storey's new album Think Twice and if you are not already a Nina Storey fan, you will be after you give a listen to the songs on this album.
Please visit the Nina Storey website. You can listen to songs from several of Nina Storey's albums on her Reverbnation website. You can also follow Nina Storey on her official Facebook page. Return to our Front Page
All text protected by copyright and is the property of Riveting Riffs Magazine © All Rights Reserved. All photos are the property of Nina Storey and are protected by copyright ©, All Rights Reserved
This review published May 27th, 2014 by Joe Montague is protected by copyright © and may not be reproduced in print or on the internet or through any other means without the written permission of Riveting Riffs Magazine, All Rights Reserved