Nobody's Girl a trio of young women from Austin, Texas (Rebecca Loebe, Grace Pettis and BettySoo) have released a terrific new album titled Waterline, comprised of mostly original songs, plus a cover of the Blondie hit "Call Me," which they do in fine fashion. Of all the songs on the album the title track "Waterline," signals that this is a Pop / Rock group with the potential to be something really special. The harmonies are superb and subtle the way harmonies are meant to be, three voices blending into one and yet each having a distinct role to play.
Drummer J.J. Johnson keeps the beat on "Waterline," David Grissom on electric guitar leads the way eloquently and bass guitarist Glenn Fukunaga is his equal.
BettySoo from Nobody's Girl took time out from her busy schedule and her touring to talk to Riveting Riffs Magazine about "Waterline," and the new album.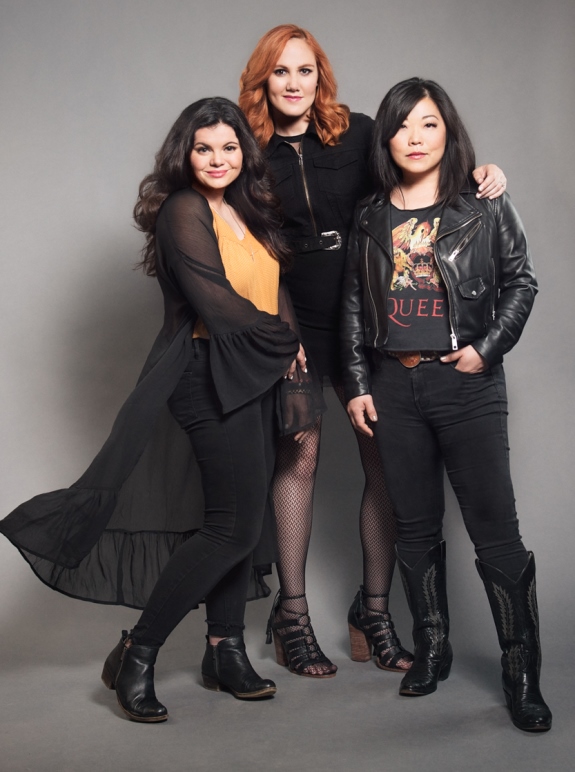 "The song "Waterline," is the most straight ahead Rock song on the record. It is a little less Pop and positive. David Grissom's guitar is all over it and he is really fantastic. The song is about things slowly coming apart.
The metaphor used in the song is of water rising and you do not realize it until you are under water. You are in the middle of a disaster. As you get older and you get into adulthood there are things that don't turn out the way that you wanted them to and there were signs all along the road.
All of us have lived in Texas for a long time and I grew up around a lot of flood culture it just seemed like a very salient metaphor for us," she says.
As for why the group decided to name the album after the song "Waterline," BettySoo says, "We had the most emotional investment in that song. We also felt that the forming of the group, the record deal and with all of the momentum that it was a demarcation point for all of us. Even though, it is a grim marker, a waterline just expressed how we felt."
There is always a danger in covering an iconic song by an equally iconic band, group or solo artist that it will draw comparisons to the original that are both unfair and that fail to recognize what the new artist or group brings to their rendition. With all that being said, Nobody's Girl went ahead and recorded the 1980 song by Blondie, "Call Me," a tune that went to # 1 in America, the U.K. and Canada. In fact, it was Blondie's biggest and most sustained hit song.
It prompted the question why not choose a song that would be less likely to bring the critics out of the woodwork?
"We like the perspective of a really respected, badass, female writer (Debbie Harry who co-wrote the song with Giorigio Moroder) who is still at it, who is still out there touring, who still owns her message and who has a punky demeanor. The lyrics of the song ooze so much confidence and they challenge you. We all thought that was pretty great.
We all grew up as fans of Blondie and we wanted another Pop type song to put on the record. We have a ton of songwriter friends whose songs we could have covered, but I think Grace mentioned it as a song that she always wanted to cover and Rebecca and I just jumped on it, because we love "Call Me."
Nobody's Girl nails "Call Me." That is all you need to know.
The opening song on the album is "What'll I Do," featuring Grace Pettis on lead vocals and she brings grit, edge and a stunning vocal performance to this original song. The background vocals by BettySoo and Rebecca Loebe are sublime. If we had to pick just one reason to buy Nobody's Girl's album Waterline, this song would be the reason. It is sung well, played well and in a live setting one can easily envision concertgoers singing along to the chorus.
The downside of the song "What'll I Do," is the song is also included on Waterline as an acoustic version. The acoustic version is not bad, but because it is placed on this record and as the last song it leaves the listener with the lasting impression that this is a stripped down, slow moving song and that does not cater to the strengths of Nobody's Girl, which is fabulous harmonies and lyrics that are energized by three passionate singers. The acoustic rendition of "What'll I Do," and the fourth song "Bluebonnets," would have been better served by including them on an unplugged album.
Where the group really shines is on songs that pack a punch or are edgier such as "Queen City," and on the more Pop infused version of "What'll I Do." However, one accoustic song that does work is "Riding Out the Storm," because the lyrics are cutting, the tempo picks up as the song progresses and once again the splendid harmonies, of BettySoo, Pettis and Loebe are showcased.
As the opening song for Waterline, "What'll I Do," engages the listener with the first few bars and that is what you want, especially for a group that is closer to the beginning of their collective careers than it is to being a household name. Michael Ramos did an excellent job in producing "What'll I Do," at Lucky Hound Music in Fischer, Texas.
BettySoo recalls that the song was written when the three members of Nobody's Girl, when they were simply friends and before the band had been performed, decided to go on tour together. For the most part they had enough songs to flesh out a concert, but what they lacked were songs that the three of them had written together. They would have been completely dependent on songs they had written individually.
"We decided we should try to write a song together. It would be a special point in the show, because the rest of the songs would probably be our individual songs. We wanted one song that would be a special moment for the audience and for us. We went on a writing retreat to Fischer and we ended up writing three songs that night. "What'll I Do," was one of them.
We all have in our notebooks, tablets and phones fragments and little ideas for songs. We were pulling up stuff and I think Grace said I have this little fragment called "What'll I Do (and then she adds the words) about you?" We said let's write that.
That was the beginning of our getting a record deal and becoming a band. The people at the studio also have Lucky Hound Records and they just loved the songs that we wrote out there. With the exception of that cover "Call Me," the rest of the songs are songs that the three of us wrote together and we really did pour over every single line together. It is some of the most even co-writing that I have done in my life.
Two lines that jump out from the song "What'll I Do," are "I can see that you got a tattoo / Is that supposed to be Van Gogh?"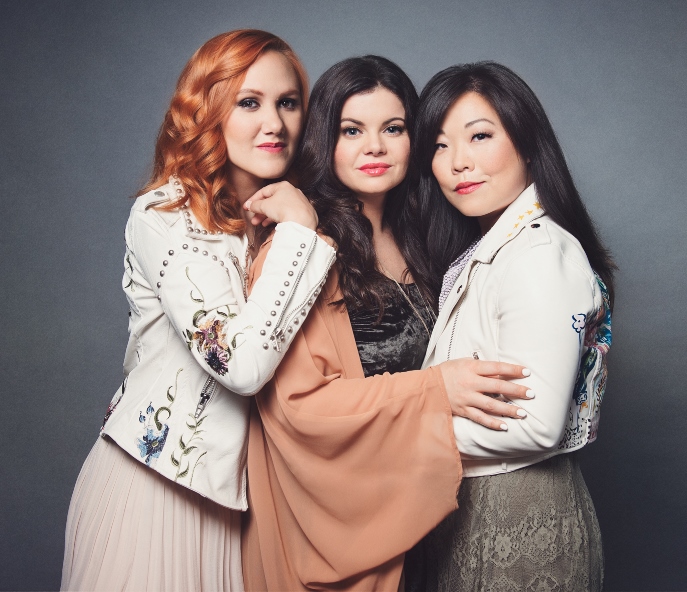 BettySoo talks about how those lines became a part of the song, "We were just talking about that guy or that girl that we all know and who is a fun flirt at the bar and a good hang. There is always a little ambiguity about whether they want more or not. It is about that kind of personality and the silly things that they do that you know you should be rolling your eyes at, but you still crush on them anyway. They always get a cliché tattoo. We said oh of course he would get a tattoo of Starry Night or something then we thought it would be worse than that; he would just get Van Gogh's face on his arm. It just seems like such a ridiculous thing.
At the same time there is something loveable about the person having a tattoo of Van Gogh somewhere on their body. There is something innocent about it. We had so many ideas about who that guy is. I think he is five ten and about one hundred and thirty pounds and everybody in town gives him a free pass on stuff, because he is like everybody's kid brother."
Pettis, BettySoo and Loebe all have their roots in the south, although BettySoo is the only one originally from Texas growing up near Houston. Loebe lived in Georgia and Virginia, while Pettis spent time in Alabama and Georgia. That southern flavor is further enhanced with the inclusion of the original song "Queen City," which pays homage to Kelly Mitchell dubbed "The Queen of the Gypsy Nation," and who was buried in Meridian, Mississippi. Although, not a love song or a sexually charged tune, Rebecca Loebe's lead vocals are sultry.
"Grace brought a story that she had read recently about Kelly Mitchell who had been the queen of Romani (the Gypsy Nation) in America. She lived and was buried in Meridian, Mississippi and when she passed something like 20,000 people made a pilgrimage to be there for this giant funeral. Since then people have made pilgrimages to her gravesight (at Rose Hill Cemetery). We thought it was a fascinating story and the town has been nicknamed Queen City in her honor. At the time that we wrote it there seemed to be a lot of news stories about discrimination against Romani people. We thought we would write a song that remembered the celebration of the Romani people (about the life of Kelly Mitchell)," says BettySoo.
Both instrumentally and vocally the ballad possesses a mystical aura and the story of Kelly Mitchell's life and death at age 47 (in 1915) is told so well that it prompted this writer to delve into learning more about the mother of 14 children.
There are many things to like about the song "Queen City," the musicianship, the lyrics and the vocals. This is simply a well written song and both the musicians who backed Nobody's Girl for this album and the trio of singers bring to life a legendary figure.
BettySoo talks about having a band available to them for Waterline, "It was unusual for us, because all three of us are used to playing a lot on our records. We didn't even play an accoustic guitar, which is really strange. We had this embarrassment of riches of musicians who were there for the sessions. We didn't need to add to it for vanity's sake.
It (took some pressure off) not having to play, because it was all happening so quickly. We were still polishing up some of the songs in the studio. On day two in the studio we rewrote half of the title track. It allowed us to concentrate on allowing us to focus on rearranging our harmony parts and the delivery of the songs, as we were developing them. I think it allowed us to focus on the parts that were most essential for us."
For a debut seven song record ("What'll I Do recorded," twice) Waterline has enough gems on it that Riveting Riffs Magazine finds it easy to recommend purchasing this Extended Play or if you prefer shorter album.
Please visit the website for Nobody's Girl here. Return to Our Front Page
All Photos by Valerie Fremin Photography. Bottom Photo: L - R Grace Pettis, Rebecca Loebe and BettySoo
#NobodysGirl #LuckyHoundMusic #BettySoo #GracePettis #RebeccaLoebe #AustinMusic #TexasMusic #RivetingRiffsMagazine
This interview by Joe Montague published September 16th, 2018 is protected by copyright © and is the property of Riveting Riffs Magazine All Rights Reserved. All photos and artwork are the the property of Nobody's Girl
unless otherwise noted
and all are
protected by copyright © All Rights Reserved.
This interview may not be reproduced in print or on the internet or through any other means without the written permission of Riveting Riffs Magazine, All Rights Reserved