If you have never before heard the music of the Austin, Texas, all-women band Nobody's Girl, you are going to fall in love with their signature harmonies. Comprised of Betty Soo, Grace Pettis, and Rebecca Loebe, the trio released their self-titled album on July 30th and they are backed by some fabulous musicians. Grammy Award winning producer was at the helm and he also doubled on percussion and keyboards, as Nobody's Girl was also accompanied by Glenn Fukunaga played bass, guitarists were Charlie Sexton, David Grissom and David Pulkingham, while drummers J.J. Johnson and Conrad Choucroun kept time on drums. The album was released on the Lucky Hound Music label. Grace Pettis sat down with us recently to talk about the new album.
The second song "Rescued," is one of those ones that is perfect for summer, with the top down on your convertible, the radio blasting and you and your friends singing along.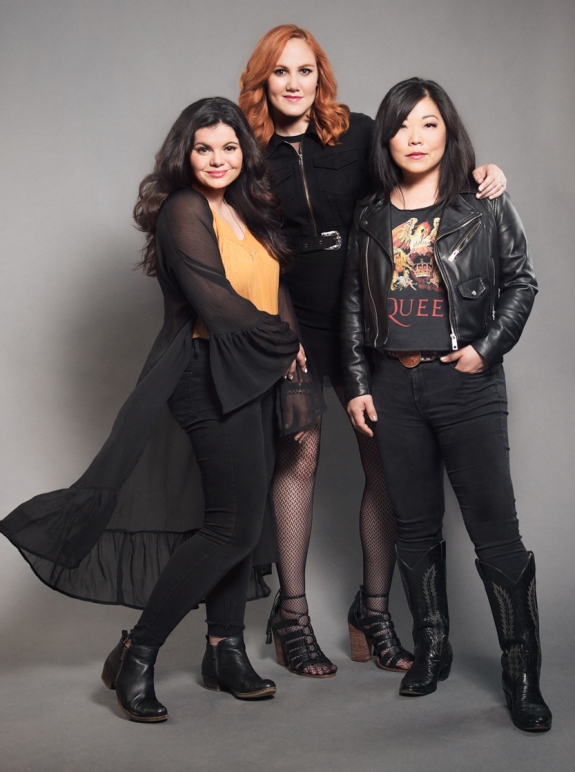 Grace Pettis agrees, "Absolutely, yeah, yeah, we wanted it to be that kind of a song when we were writing it. I am really glad that we have a song like that on the record. We are all serious songwriters. We enjoy the craft of songwriting. We take it seriously and in a lot of our songs we touch on things that are a little deeper and meaningful to the cultural things. We also have fun and I think that is a big part of why we want to keep playing music together. We really enjoy each other's company, and we have a lot of fun. We are like a mobile slumber party when we go on tour. It is work, but at the end of the night when we are back in the hotel room it is a fun thing being in a band. Some of our songs turn into those kinds of songs, I am thinking of "What'll I Do," and "Rescued," has a similar feel. "Rescued," is just a song to dance to and a song to turn up loud in your car when you are driving. It is about making mistakes and not apologizing for it and not needing anyone's permission to live life in a carefree way. Everybody needs a song like that. Sometimes you just want to have fun for the sake of having fun and that can be enough.
It kind of reminds me of Fleetwood Mac. There is just that feeling that we are intentional about, and we work hard on. Art just exists to be enjoyed. I am not saying we are Fleetwood Mac or something, but it has that similar feeling of joy and people just having fun making music together."
If you are trying to figure out who is singing lead on the song rescued, the answer is, "Actually, it is all of us, which is pretty typical for this record. We have always traded leads from song to song. One of us will sing lead on one song and another person will sing lead on the next song and the other two will sing harmony. For this record we switched off lead within verses and in sentences sometimes. It was just a fun way to keep you wondering who is singing lead. I think the magic of our trio is the way that we blend with each other, and we match each other's tone and emotive take on a vocal. It is really fun to pass the lead around like that," says Grace Pettis.
In answer to our query as to whether their harmonies have become a signature sound for Nobody's Girl she replies, "I think so, we are definitely a harmony centered trio. One of the things that makes us different is that we are all the writers of all of the songs. We co-write everything and we are all the lead singers. There is a sense of collaboration for our group that I don't think is necessarily there for all trios. A lot of trios are more like a Josie and the Pussycats type of situation. We have never been that and we have always been very collaborative in our performance, harmony and in our writing. In some other bands one person always sings the low harmony and somebody else sings the high harmony. Because our vocal range is pretty similar, we switched that up and sometimes one of us will be singing the low part and then the next song they will be singing the high part. That is the kind of trading and collaboration that happens in our group, and I think it is a little different. There is a collaborative communal identity with the band, the songs and the spirit of it."
Sometimes bands are formed by artists that have enjoyed successful solo careers, for instance the Traveling Wilburys come to mind, but even theirs was a cast in continual transformation. It is not easy to give up that space that a solo artist has enjoyed.
"It has its challenges and what helps is going into the project we had been friends for ten years and we were already fans of each other's music in a big way. It never occurs to me to sing that shiny vocal line when I think maybe Rebecca could sing it or Betty Soo could sing it. I am always excited for them to be singing whatever they are singing. I know that feeling is mutual. We like to hear each other sing. It translates in the writing room too. I might be really attached to an idea I have, but if Betty Soo comes out with an idea and she says I think we can do better or Rebecca too, it might take longer to get to that kind of consensus. Writing a song can take a really long time. We call it triple distilled. Any line or idea has to be approved by all three of us.
It takes a little more work and I think it is like that in everything. Our Google calendar is outrageous. It is color coordinated and there are colors for us individually and there is a calendar for the band. There is a lot of logistical work to keep everybody heard and seen. I wouldn't say it is better or worse, it is just different. If you are playing a solo show with a backing band, you can decide what key something is in and in the spur of the moment you can decide on the set list. You might decide to wear something different that night. There is a lot of spontaneity that is available to you as a solo performer. When you are in a trio you decide on things ahead of time. We are going to play these songs, and this is our set list. This is what we are going to wear. We work together, we make a plan, and we stick to the plan. There is a little bit of variety in every show, but we know exactly what songs we are going to be playing and the amount of time everybody will have on stage and for it to feel the way we want it to feel.
The same goes for harmonies. Maybe that is why we gravitate towards Pop as a genre. Everything is more structured and intentional. It is a really different feel from the music that we do as solo artists.
In my solo work there is this sense of freedom and improvisation, which may not be there for Nobody's Girl. However, in Nobody's Girl the artistry level is high, and we do what we do well. It scratches a different itch for me. Having a solo career and focusing on that helps me bring that energy to the band and vice versa. It is nice to be in a group, to be part of a team to let other people be in charge and to let other people make decisions. Then we are able to step away from that and be back in a solo band where the bandleader makes all of the decisions. Those things are really good for each other. It is almost like two sides of a coin. Having both in my life brings a lot of balance. We all feel that way. It definitely is an adjustment and a different way of making music. It is a different way of making art than the three of us were used to. We have to be really intentional throughout all of this to maintain the close friendship that we have and just the good vibe that we need to make our best art," she says.
As for the live performances, "Every show and every night are different and special. If you are playing with a band, you have to make decisions ahead of time. What is everybody wearing? What time are we showing up? What is the set list? There is a difference between being one person in charge of everything versus being in a band where there are three people whose opinions have equal weight, and we make decisions collectively."
The sixth track "What'll I Do," first appeared on the Waterline EP. It is another fun song, upbeat with soaring harmonies and the best vocals, by a band that you will hear in a song this year. Nobody's Girl is the best women's trio to appear on the music scene since Wilson Phillips and their future is in the top forties and perhaps higher on the charts.
"What'll I Do," was the second song that we wrote together. This is Rebecca's brainchild. Rebecca said it would be really smart to join forces and go on one tour together. I think the name we came up with was The Sirens of South Austin. We recorded a cover of Tracy Chapman's "Fast Car," and a lot of our friends liked that cover. We were then invited out to hill country by friends of mine, and we did a little writing retreat. We thought that sounded interesting and we wanted to try and write one song together. During the show we would go round robin style and at the end of the show we would share this one song that we wrote together.
We spent hours and hours and hours writing the first song "Queen City" (on the Waterline EP) and it took a lot of time. It is based on a true story about a Roma queen at the turn of the century who was buried in Mississippi. We spent all day talking about that and exploring the rich metaphors. We nerded out on songwriting together for hours and hours, writing things and piecing together things. We would then go to separate room and come back. It was so much fun.
At the end of the day, we said that is a really great song. Let's open a bottle of wine and we ended up writing "What'll I Do?" in ten minutes. That is the story of "What'll I Do?" It was the song that after we were done writing for the day, we just pulled it out and we wrote it for fun. That is the way it sounds to me. We were just little bugs on wine talking about boys and we wrote a Pop song. It is put together well, I think.
In a way you could say "What'll I Do?" took all day, because we wouldn't have been able to write it if we had not spent all day getting to know each other better and hanging out, while having these deep conversations. It is like the dessert of the meal, but you have to eat the rest of the meal to get to it," explains Grace Pettis.
There are two really great lines in the song "What'll I Do?" 'I can see that you got a tattoo / Is that supposed to be Van Gogh?'
She says, "That is one of our favorite lines that we have written, and we are in the process of putting it on a tee-shirt. Every time we sing it or say it, we just laugh. We were looking for a way to describe that twenty something mistake all of us have in our past. It is that person who is really charming, but they are just a mess. It is the kind of person who gets a really bad tattoo of Vincent Van Gogh. It is somebody trying to be artsy, but probably really poor and can't afford to do it right. That person who is really charming and a lot of fun, but probably is not worth the investment of your time or heart in the long run. It might be fun for a while. To be fair a lot of people probably have a tattoo that they regret or maybe not necessarily regret, because it was part of the journey. I think there are people with those bad, funny tattoos and you look at them fondly, laugh and say wasn't that fun.
I think this is the way relationships are, it is a permanent thing you are doing to your heart. On the one hand it is scary, because you can't take that back if you break up. That is the time and heart you put into it. On the other hand, even if the tattoo is a bad tattoo, it represents a part of your life and a time and a season. You can look back upon it, smile, laugh and think about it fondly.
I don't have any tattoos, so I wouldn't know but I think people who have them are okay with having their previous selves on display and their past lives and sometimes their past mistakes."
Earlier we mentioned the EP Waterline and we would be remiss if we did not mention the title track, which also appears on the new album. The mood changes from the up-tempo fun songs to a mid-tempo song that uses the strong metaphor of a flood and the wreckage that occurs, to represent catastrophic events that sometimes occur in the lives of individuals.
"I think sometimes there are reasons that we write songs, to say what we don't want to say and to talk about things we really don't want to talk about. That song came from a real and true place for us. Obviously, there is a lot of pain in that, but the song is about resilience and looking back to see how far you have come from trauma. It is about recognizing the end of things. There are moments at the end of relationships or at the end of an era of your life and it is about acknowledging the wreckage by standing on it and using it as a place to build the next thing. I think flood imagery is really powerful for us. Betty Soo brought that imagery to the song. She is from Houston, so you can see how that makes sense. It is a song about surviving. It is a song about completely falling apart and surviving somehow."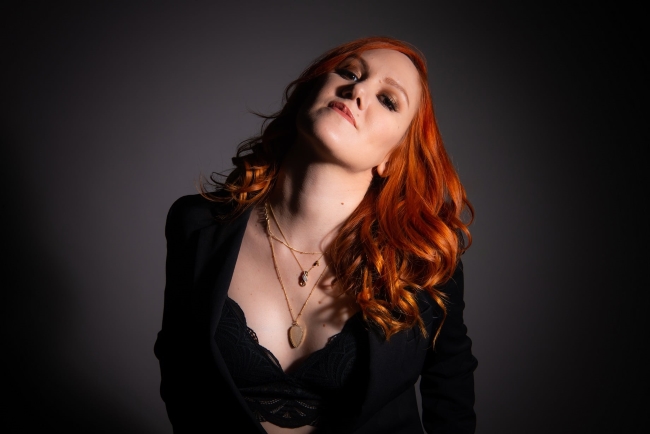 The song "Birthright," is a missive to society, challenging us to be better, challenging us to be catalysts for change.
"It is a song about what is handed down to us, individually, collectively, personally and as a country. Some of those things we are proud of and some of those things we would rather not have been given, that we didn't choose and can't understand. I think every family has this, family secrets, family shame or pride like when the family has an immigrant story, and they are really proud of that. At the same time your grandfather may have been an alcoholic or maybe there was domestic violence or deep racism or homophobia.
Every family has parts of their history that are wonderful and parts of their history that are shameful. I think personally, communally and as a country we take different approaches to that. Some of us just focus on the positive and we don't want to hear about the darkness or acknowledge it at all. Some of us really need to talk about it and bring it to the light. I think that is the healthy way and the right way. A lot of times our own shame involves our complicity in something that was harmful to another person or another family.
We have this history of slavery and the harm that we did to people and their families for generations. We see the echoes of that today in horrific violence, oppression and inequality in our society today. You can draw a line from point A to point B to point C and you can see how that original (history) of our nation is affecting all of our lives today, but especially the lives of black and brown people and their families. Birthright is really about acknowledging generational heirlooms good and bad and making sense of it. The refrain in the song is what do you do about that? When we do nothing, things happen anyway. We are not all white people in this band, but I am a white person, and I am from the south and I have that generational shame in my family tree, so it is a question I ask myself on a personal level, what do I do about that? What do we as a country do with that?" she says.
There are always risks and rewards when you record an iconic song, by an equally iconic singer and songwriter, such as Carole King and her song "So Far Away," but Nobody's Girl serves up a stunningly beautiful interpretation of the song.
"It is a timeless masterpiece, by one of the best songwriters America has ever seen. It is definitely intimidating. As writers who also happen to be female we respect and admire Carole King as a trailblazer in so many ways. Her career really opened the doors for so many other women. We worship her. It was our label who said we would like you to consider covering Carole King. Tapestry (the album) was soon to be fifty years old. We jumped at the chance. They suggested it, but it didn't take a lot of convincing. They wanted us to have one recognizable cover on the record. That is the one we landed on.
It almost ended up prophetic with the pandemic year that we have all survived and feeling so far away and separated from the people that we love on so many levels. I think there has been a lot of division in the country in the middle of being physically divided. It is one of these songs that always feels relevant. It is a song about love, and it is a song about two people. It also felt right for the moment. It is a beautiful song and one of our favorite songs.
Michael Ramos is our producer. He is a well-known and storied producer here in Austin. He has worked with just about everybody. It was his idea to add the trumpet. When you do a cover, I think your first instinct is to do it differently in some way, but we ended up going back to that simple arrangement that is so core to the song. It has gorgeous chord progressions. The chord progressions are not simple, but they just sound easy. They are warm and lush. We brought it back to the piano and Michael played that. The trumpet was his brilliant addition at the end. The way that the trumpet was played it (creates) a sense of longing," she says.
Grace Pettis talks about the cinematic song "Morning After," and where it was written, "We wrote it in Ireland at my mom's house. We wrote a few songs while we were there. We were trying to set the scene without telling the story. We don't say he did this, or she did that. We say there is a deck of cards, there is a dress on the floor and there are forgotten keys. That is the diving board for the song. We didn't stick to that religiously. There are moments in the song when we deviate. It was a great place to start, and it gives the song that cinematic quality. It is like there is a curtain that opens, and you see the scene. When there is a lot of room and space in a song and when you are filling in the blanks with your own imagination it can make for a more personal experience for the listener."
The music and vocals compliment each other well and as the story unfolds listeners find themselves immersed in a drama.
Please visit the Nobody's Girl website where you can purchase their music and find out when their tour brings them to a venue near you. You can also follow Nobody's Girl on their official Instagram page or their Facebook page.
All photos by Valerie Fremin
#NobodysGirlBand #GracePettis #NobodysGirlMusic #NobodysGirlAlbum #RivetingRiffsMagazine #RivetingRiffs #AustinMusic #WomensPopTrio #WomenInMusic #TexasWomenInMusic #RebeccaLoebe #NobodysGirlWaterline
This interview by Joe Montague published August 13th 2021 is protected by copyright © and is the property of Riveting Riffs Magazine All Rights Reserved. All photos are the the property of
Nobody's Girl unless otherwise noted and
all are
protected by copyright © All Rights Reserved.
This interview may not be reproduced in print or on the internet or through any other means without the written permission of Riveting Riffs Magazine.