Sarah Gurry and Matt Leffanue from Melbourne, Australia comprise the musical duo October Wish who just released their first album Grief And Grace. If you are looking for a reference point for their music you are going to find that a little more difficult genre wise, because they do an excellent job of blurring those lines, while keeping the songwriting and the music at a high level. There is a little bit of Blue Rodeo's "Try," in their music, a touch of Matchbox Twenty's "3 AM," a dash of another Melbourne, Australia band, Crowded House's "Don't Dream It's Over," and a smidgen of Coldplay, reflected Gurry and Leffanue's songwriting.
The production quality on Grief And Grace is excellent with producer Michael Oliphant at the helm. Oliphant who is also a superb keyboardist, singer and songwriter is well-respected by those in the Australian music community.
Sarah Gurry talks about their music, "Because we took so much time (the album was recorded over three years) and we weren't scared to take time with it we didn't race any of the songs over the line. I think it has a natural breath about it and sometimes it opens up into orchestral moments that really just showed us what they wanted us to do. Probably one of the best examples is the song that we just debuted as a clip ("Caught Up In This Lie"). Going into the recording process we thought we would have to rewrite it. Matt at one point wanted to ditch it. My partner Johnny was saying that's my favorite song. You've got to keep it going. We got to a point where we said it is what it is and let's not touch it. Let's record it exactly how it is and let's have fun with it. By letting it breathe it became its own thing and I think it showed us that you just have to trust it. The songs will guide you a bit and so stylistically I think it has orchestral feels about it and not necessarily that we formulated it or that we tried to create it."
Matt Leffanue joins the conversation "I think it is relatively earthy and there is a sense of rawness about it still. I also think that it hails on some Folk and Celtic roots at times. We fiddled around with structures and formats and bits and pieces, but generally the songs are what we were playing during our gigs. We (now) have added guitars and drums and strings and more complex orchestral arrangements."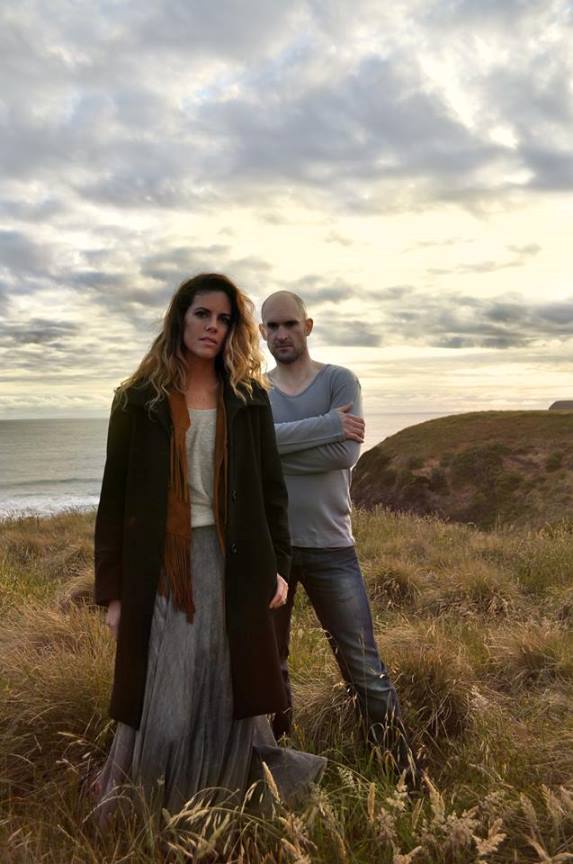 "We trusted the influences that brought us here, rather than trying to sound like anyone or (wanting to) get on the radio," says Gurry, before continuing, "We just sort of knew… (she pauses) we really did trust that we would come up with something. There was never a point where we were listening to albums saying let's make this bridge sound like this or let's do it this way. In some ways that was a great comfort to me. I always knew it would come out sounding like us and it wouldn't be of a particular genre, a particular sound or of an era. It was just going to be the summary of all of our influences over the years."
"Roughly half of the album is derived from ideas of Sarah's and half of the album is derived from ideas from me. We came together with more ideas and we developed them. We didn't set out to make certain songs acoustical or certain songs rocky or certain songs orchestral, but I think we were also conscious that we wanted to bring different flavors to the album. This is our first album and we were experimenting. We were trying to find exactly what worked for us. I was conscious that our album has various sounds and various influences, whether it was a soft acoustic track or guitar or violin or orchestral arrangements. I think as a listener it is a lot more interesting to listen to things that vary, because you might not like one song, but you might like another song. Everyone has different preferences and different ways of liking music," says Leffanue.
"Caught Up In This Lie," begins with Gurry's gentle piano, accompanied by an understated guitar accompaniment. Leffanue leads with vocals, before being joined by Gurry and they harmonize beautifully. Matt Leffanue has a bit of a gravelly tone to his voice and when juxtaposed to Sarah Gurry's more ethereal soprano vocals, the result is magic.
"The initial seed for "Caught Up In This Lie," probably started with me when I took up the guitar again in the mid-2000s. It is the combination of two songs that I developed. You notice those three quarters of the way through the song when there's a bit of a different extended back end. The words flowed quite well. The theme of being caught up in a lie, regardless of what you are doing in life resonated pretty well with things I was experiencing at the time and activities in my life," says Leffanue.
The opening track "Emile's Song," is a beautiful and sad song that also celebrates the life of another. Leffanue and Gurry's vocals compliment each other so well, with Gurry taking the lead. The guitar work by Matt Leffanue and Ken Butler is splendid. The song is deeply personal to Gurry, as it talks about the loss of a friend.
She talks about the song, "I started writing this song when I was still in my family band. There was something in me that said it's not ready to give over or it's not ready to record. I knew it was missing a chorus and I knew it was missing a big piece. I just kept working away at it. This was one of the great moments for me in my collaboration with Matt. When I brought it to him I knew Matt was the person who was going to honor the song and the song wasn't going to be about anything else. I said I've got some verses, but I don't know where to go with the chorus. Within an hour Matt had come up with a chorus and I couldn't believe how he developed it so quickly. He just got it. It is one of my favorites that we did together.
I've always believed that Matt has this subconscious way of delivering a message and he doesn't even realize that he is doing it. All of a sudden I had a framework. When I went back over what he was singing about and when he consolidated all of the lyrics that he was coming up with I felt like it was my friend talking back to me. I felt like it was Emile talking back to me.
The gorgeous thing about that song is Emile was a Lebanese man and he has some nephews that live in Melbourne and I still stay in close contact. Once the album was done I sent it to them. I said I finally have this album done and I dedicated it to Emile. They sent it straight over to Lebanon and they sent me some footage of their nieces who would be six or seven singing along to these songs. The whole family could not believe that the first song was about Emile. They asked me for the lyrics and all of the rest of it. I got to tell them the story too. I felt like Matt had come back with some answers.
It was a true show of when you collaborate with the right person and you are on the right page, you just want to trust them and when you do have that trust it comes back. It is like you could never have written a song without them. It took it to a whole different level for me."
"I guess I provided the counterpoint to Sarah. Certainly when Sarah came with this song it was piano based and it had the bones about it, but it just didn't have that next piece. I think by adding that counterpoint it just had a really good question and answer and feel about it," says Matt Leffanue.
As for the title song and the title of the album Grief And Grace, Gurry says, "That was actually a song that I had written about my best friend (Emilie) who passed away eleven years ago now. When you have gone through a heavy grief you also know when other people have gone through a heavy grief. (At the time) I was in a very bad way for about three years with the grief. Lyrically I couldn't move past that line, which is why I chose to repeat it. There wasn't really anything else that I could add. There was that space that I was absolutely in and I knew there was going to be a great gift to myself when I came out of the grief. I didn't know where it was and I didn't know how long it would take me. That song was written maybe a year after my friend Emile died. I felt like I had opened up a gift about three years afterwards, realizing the incredible lessons and the incredible strength and the rest of it you can really achieve out of grief. The song "Grief and Grace," was about that journey from grief and then into the grace period," says Gurry, in a quieter more reflective voice.
"Sarah's songwriting is really thoughtful and in-depth and reflective, so if I feel I can tune into that and add to that it is great. If I can't add anything to it and it is still a good song then we are still going to do it," says Leffanue.
While laughing Sarah Gurry says, "With Matt's songs I just hold on for dear life and I hope that I can keep up."
Grief And Grace began as a five song EP and over time became a ten song album.
Gurry explains, "We had about five songs and we thought let's put something down. As Matt said you go through the process and you get to the point when you are writing the songs and you think can we do something else with them? The next part of the process was to go into the studio and we had four or five with the idea that we might do an EP and start from there. We got to about the fourth or fifth song and we realized we had outgrown the idea of the EP."
Producer Michael Oliphant concurs, "They came to me as I had already done some producing work with Sarah on some songs which she thought might make a solo album for her. Circumstances lead her to meeting up with Matt and they hit it off musically. She brought me in and introduced me to Matt with the idea of working on an EP for them. That went so well that when we got to recording on about the third or fourth track they started talking about turning the project into an album. It just sort of grew into what it is now."
Gurry picks up the conversation again, "Once we finished the EP it didn't feel right to me to throw out three or four songs. They were quite elaborate songs and it didn't feel like it was a three or four or five songs EP. We happened to press on and the great thing we happened to be doing at the same time that we were recording was we kept up the songwriting. We agreed to push on and even Michael Oliphant said I think this EP has outgrown being an EP and I think we have to do an album. All three of us agreed to keep pressing on, not knowing that it would be another three years. It was worth it. When you take your time and you are patient and you let the process drive you there is a level of reflection when you are grateful that you took your time."
"Sarah and I took it slow, because we wanted to give it the right treatment, but it was frustrating as well, because we wanted to get something out. For various reasons life gets in the way, so we had to be patient with it. We made the album something to be valued and to be proud of," says Leffanue.
The album Grief And Grace is something that both Sarah Gurry and Matt Leffanue should be proud of. It is a strong testament to good songwriting, excellent musicianship, having a strong producer by your side and more importantly, as Gurry would say, not racing it across the line.
Please visit the website for October Wish and you can watch the video for the song "Caught Up In This Lie," here.
You can also follow October Wish on their official Facebook page.
This interview by Joe Montague published April 30, 2017 is protected by copyright © and is the property of Riveting Riffs Magazine All Rights Reserved. All photos are the the property of October Wish and all are
protected by copyright © All Rights Reserved.
This interview may not be reproduced in print or on the internet or through any other means without the written permission of Riveting Riffs Magazine, All Rights Reserved