In 2002 Per Holknet, a former skateboarding world champion, former drug addict and previously homeless person got together with designer Karin Jimfelt-Ghatan and financier Christer Andersson and co-founded the Swedish clothing company Odd Molly, with a shared vision inspired by a real life girl named Molly. The Odd Molly brand is now sold through a combination of boutiques and Odd Molly owned stores throughout the world. (Editor's note: Holknet and Jimfelt-Ghatan left Odd Molly in 2013 to pursue other business ventures.)
Recently, Anna Bonnevier, the Head of Fashion for Odd Molly took time to talk to Riveting Riffs Magazine from her home in Sweden.
Ms. Bonnevier elaborates on the story behind Odd Molly, "The Odd Molly brand would not exist if there was no Molly girl. It is a true story, because one of the founders Per was a skateboard pro in the '80s and at that time he lived in Los Angeles and there was one girl called Molly, just hanging around the skate parks and so on. It was her personal look and style that really inspired Per to start this brand. I know that Per and Karin bumped into each other in L.A."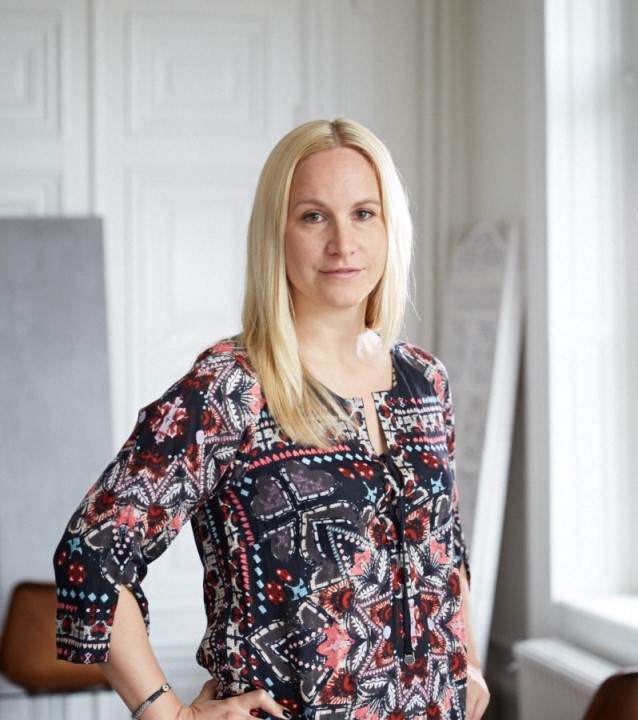 We wondered just who is this Molly girl and is she still an inspiration for the designers today?
"Per often talked about her as the girl that everyone wanted to be with, because she was just having her own way of doing everything and also because of the way that she dressed. I think it is the spirit of this girl that is the most inspiring part, because she always did everything in her own way. (You can hear the smile in her voice.) That is why I took this job, because I thought it was super inspiring to work with that in mind. It also gives you the freedom to be inspired by other things than just catwalk fashion," she says.
Anna Bonnevier oversees eight designers who specialize in different areas, "One draws the light wovens, like blouses and dresses and another girl is a designer for jerseys. We have two print designers who work with the prints and embrodiery, because we have so many colorful prints and (types of) embrodiery that are unique. We don't buy any of those. We draw them all by ourselves. We have one guy William who works with the jaquard for the knitwear. Fifty percent of the collection is knitwear, so it takes time for him to do all of the jaquard. We don't do too many plain garments. There really needs to be a lot of detail jaquard. It means when you knit a pattern in."
Unlike some clothing designers, Odd Molly designs the accessories as well, things like shoes and hats were all created by Odd Molly designers.
"We do everything ourselves. Shoes are a new category. We have really tried to make the brand wider as a lifestyle concept. We added several new categories since my time (She joined Odd Molly in 2013). We have what we call the World of Denims and we have (a lot) of denim (clothes) and then we added shoes to the collection. That has been a super success (she laughs). We also added a home department with bed linen, cushion covers, bed covers and everything like that.
We are trying to be unique in everything and that is why we don't buy prints. We met a lot of print designers who wanted to come and show their pieces to us, but we always drew them differently when we bought them, so we said it is just easier to draw everything ourselves.
Of course we want to follow (the trends), but we are not slaves under fashion trends, like H&M and so on. We are trying to build everything from our own story. We always think about this girl Molly when we design the collections. Where has she been and what has she been buying? Where has she been traveling? I always make up stories about this girl and what she's doing. That is always our source when we do the collections. Then of course the designers look at what is happening around the world, but it's not that we need to do something similar," says Anna Bonnevier.
For those who are wondering how far ahead fashion designers work, take note, "Right now we are working on fall and winter of 2017, so we are working almost one year before. We build up the stories about what we should be drawing. Quite often, I think that music can be a really good inspiration for this girl and we talk about what would she listen to? Where would she go? Would she go to music festivals? What would she wear? We can also go to festivals and look at what the kids are wearing. That is an inspiration. It gives us more to look at than to just walk in cities and see what is hanging in the stores. We just made our fall and winter 2016 Festival Collection. We went to a music festival in South Africa and looked at what the kids would wear when they want to dress up. Then we always give ourselves this question, what would she (Molly) wear? If she was here what would she do? It's always about her and that will be our continuation, as well. It will always be about her in different ways.
We talk about the theme first. What is the story about? What is it that we want to communicate? Then we talk about the colors and what would be a suitable pattern for this. That is always a really nice thing to do when we have quite a big design team anyway. It is like we are a big and a small brand at the same time. I think everyone is (really) inspired by her (Molly), so they always bring their own ideas to the table.
For our readers who are planning for the fall and winter of 2016, Anna Bonnevier tells us what we can expect, "I think the word transitional is what you are looking for at that time. We have a lot of transitional knitwear that you can wear and if you don't want a jacket you can wear one of our knitted things. It is multi-functional and we are super strong in knitwear. That is one thing that you should really look for at Odd Molly when it is just turning into fall / winter, when you don't want to go all dressed. Of course the style of Odd Molly is you wear it layers on layers."
As for Odd Molly's global reach she says, "(Odd Molly has a store in Los Angeles) and we also just opened one in Vail, Colorado. It is really a success, so we are (very) happy about that. In New York we have a few boutiques that sell our clothes, but not our own shop. We are looking at several options at the moment, because we believe that the U.S. is a really interesting market for us. It's a huge market (she laughs lightly), if you compare it to Sweden. Sweden is a really small country, but the brand awareness here is very good, so that is where we sell the most. We think that the look and the clothes can be really attractive for a lot more people, because in Sweden we really standout with our colorfulness and playfulness and everything about that. Swedes like to dress in all black and look the same (once again you can hear the smile in her voice), but we (Odd Molly) really stand for something else. It is really fun that we can sell so much in Sweden in a country where (people) don't typically dress like that. I think that what people really like about Odd Molly is that we stand for something more unique and it makes you want to combine things in different ways. They look more personalized.
We hope that they feel a little bit freer, because that is something that we really love girls and women to feel like, freer and more themselves."
Anna Bonnevier talks about who is attracted to Odd Molly clothing, "That has also changed just a bit in a few years. We used to have a customer that was either really young, around fourteen years old or a person over forty. Now we have worked really hard on the collection to attract more people. We said there should be something for everyone. I think that has changed a lot so now you can really see that there are more people of several ages. We have a mental age of twenty-nine we say and it is something that we are aiming for."
Odd Molly's Head of Fashion talks about the global reach of the brand and begins by laughing lightly, "Of course we say that we should be in the best stores in all of the cities, but nowadays I think that the webshop is super important, because you can tell that people also like to shop that way. That is something that we believe in strongly.
Sweden is the biggest country (for our business), but we are also in several European countries like Spain, Portugal, Germany, France, Great Britain and you can find shops that are selling Odd Molly in Australia and in the U.S. We are quite global.
We have opened several owned shops in the (past) three years. Before we sold mostly through agents, but now we have our own indoor selling team and we also are building more shops. That is something that is reallly strong, because that is where we can show the concept in its whole. We work really hard to make it more of a lifestyle concept than before. I think the boutique in Vail is a good example of when you step into the world of Odd Molly. You can see that we have much more than blouses and knitwear and they are the things that we are most known for in Sweden where we have been for such a long time. Now we have jeans and shoes and bikinis. You can show them the whole thing and that is when I think it is clear to the customer that we are something else."
Anna Bonnevier joined Odd Molly in 2013 after having her own fashion brand and also having worked as a designer for professional dancers and for another large Swedish clothing company.
During her three years with Odd Molly she says there have been some pleasant surprises, "The new categories are always a real successful story and it is always exciting to do something new for the brand. The shoes have been super successful and the home things and denim is working quite well. The bikinis and so on are doing (well). It is really fun that we can do new things.
This new shop in Vail is a (real) success. We are so happy about it. The U.S. is a huge market and we are just starting and we can see that it is working really well. In my head the look and the feeling of the brand is really suitable, because we always go to our brand's story about starting in L.A. We often go to L.A. for inspiration and then we mix it in our own way, in our Scandinavian, yet odd way. I think that is exciting.
Our vision is that we are a complete lifestyle brand that you will recognize when you see it. We stand for this world of Odd Molly where you can be yourself, be a free spirit person and be a unique individual."
You can visit the Odd Molly website here or visit the official Odd Molly Facebook page.
his interview by Joe Montague published July 10th, 2016 is protected by copyright and is the property of Riveting Riffs Magazine © All Rights Reserved. All photos the exclusive property of Odd Molly and are protected
by copyright ©, All Rights Reserved
This inteview may not be reproduced in print or on the internet or through any other means without the written permission of Riveting Riffs Magazine, All Rights Reserved, protected by copyright ©