Kelly Willis and Bruce Robison - Our Year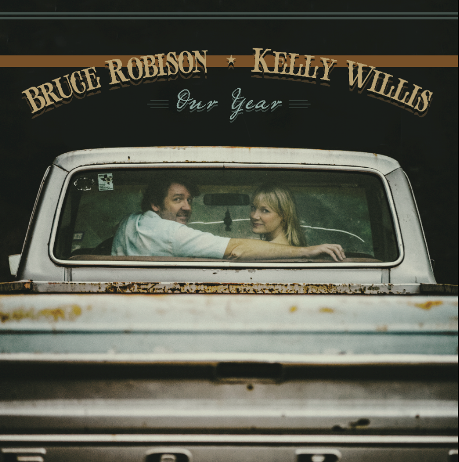 Poetry set to music would be the best way to describe the new album Our Year from Kelly Willis and Bruce Robison and none prettier than the third song "Carousel," written by Robison and Darden Smith. Willis and Robison, who are also husband and wife, sing a beautiful duet that talks about the carousel of life and how sometimes it is time to step off of the carousel of relationships and to say goodbye. The tempo is laid back and the mood is reflective, as Robison accompanies himself on acoustic guitar, while Eamon McLaughlin is on fiddle, John Ludwick on bass fiddle, the drummer and percussionist is Fred Eltringham and Geoff Queen plays exquisitely on steel guitar.
The cover of Tom T. Hall's "Harper Valley PTA," which was turned into a # 1 hit by Jeannie C. Riley, is not as up-tempo as Riley's rendition, but as we thought about this what is the point in covering a song if you are going to try to emulate the original? Given that Our Year is a laid back album that has the smell of swamp music, Kelly Willis' interpretation of "Harper Valley PTA," still packs a punch and that is owed to her splendid phrasing and her ability to bring this ballad to life. Kelly Willis brings the right degree of sarcasm to the words that tell a story of a mother and a widow who calls out the town's hypocrites at a meeting of the PTA. The story is told through the daughter's eyes and ears.
"Departing Louisiana," which opens up the album was written by Robison's younger sister Robyn Ludwick and it describes life in Lake Charles, Louisiana and the question is posed, 'How did we ever stay so long?' The singer moves to Texas for a nine to five job, but the call of Louisiana beckons to him and soon he will return home. McLaughlin's fiddle, John Ludwick's baritone guitar, Geoff Queen's dobro, Robison's acoustic guitar, Fred Eltringham's percussion and Brad Jones' harmonium combine with Kelly Willis and Bruce Robison's vocals create an ambience of two people sitting around comparing life in Texas to life in Lake Charles. It is not quite what the singer thought it would be and there are some matters to attend to back home in Lake Charles. We are saying this in jest, but one has to think those were difficult words for a native Texan like Bruce Robison to sing.
Another one of the good songs to listen to of the ten that populate this album is "Shake Yourself Loose," another good duet with Eltringham's percussion keeping the beat.
The common threads of excellence throughout these songs are the superb musicianship and the ability of Bruce Robison to tell stories that come to life in your imagination.
Kelly Willis provides a commentary on both this album and their previous one recorded together (Cheaters Game) and her relationship with her husband Bruce, "Having these records that we both love is a really positive product of us being together."
Riveting Riffs Magazine agrees and Our Year is an album well worth you adding to your collection.
You can listen to the audio interview with Bruce here.
You can visit the website for Bruce and Kelly here. You can also watch their music video for "Harper Valley PTA," here.
All text protected by copyright and is the property of Riveting Riffs Magazine © All Rights Reserved. Album cover art courtesy of Kelly Willis and Bruce Robison is protected by copyright ©, All Rights Reserved
This review published June 15, 2014 by Joe Montague is protected by copyright © and may not be reproduced in print or on the internet or through any other means without the written permission of Riveting Riffs Magazine, All Rights Reserved