It was a Friday afternoon in February when I left the Melia Princesa Hotel in Madrid walked to the estacion de metro Ventura Rodriguez and made my way by train to another station Gran Via – Pedro Zorolo. It was a sunny day and the open square, like so many in Madrid was bustling in a good way. There was energy, laughter and a lot of people in this city of seven million. I was on my way to Calle de las Huertas, Number 5, fashion designer Paloma del Pozo's shop. Like many of the shops in this neighborhood of narrow winding cobblestone and pavement streets, the shop Ojalá Paloma del Pozo has a somewhat modest storefront, but it is full of treasures inside.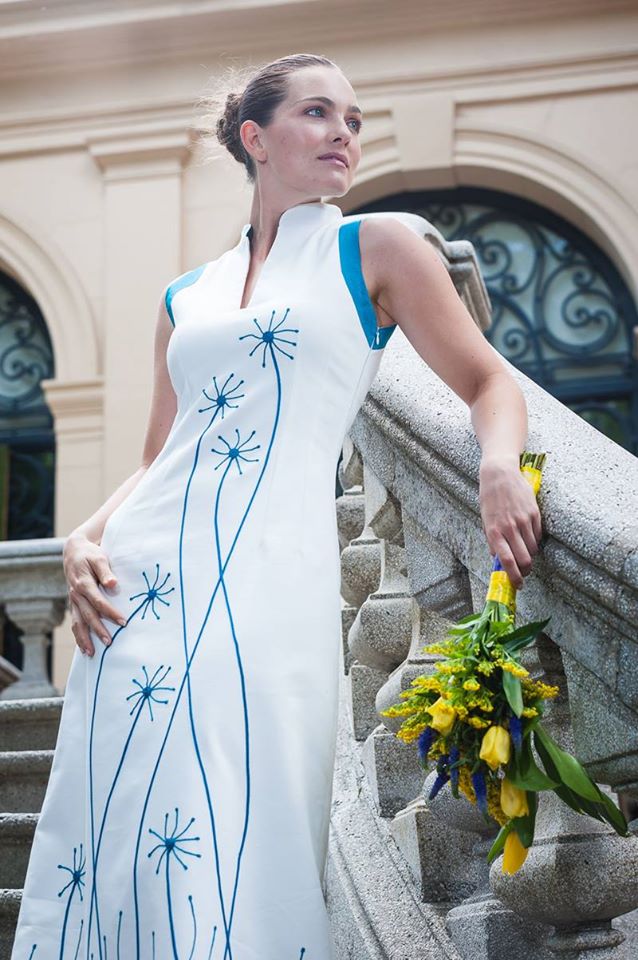 My journey to interview this warm, delightful woman began several months earlier when I noticed a fabulous blouse that was worn by Spanish television, film and stage actress Silvia Marso. When I commented on Ms. Marso's Instagram account about the blouse, she immediately without my asking directed me to Paloma del Pozo. The interview was arranged by her equally warm and personable assistant Sara.
So here I found myself thousands of miles at home surrounded by blouses, skirts, dresses and slacks rich in texture and colorful and in the presence of two fabulous women.

"We don't make a collection," says Paloma del Pozo, "We make what we want. We don't have the same calendars as other designers, (referring to seasonal collections), but we do create throughout the year. We have different colors and different fabrics. You might see one (design) in the wintertime and another similar (item) in the summertime."
As for her customers she says, "We have a lot of different customers, but if I am outside the store, I see the men call to the women to come into the shop. It is incredible, because they will say to their girlfriends come into this shop. They see something that women don't always see. Once inside the shop, they encourage the women to try on the clothes. I think they find that our clothes are a lot different than the clothes in other stores. You can't find designs like mine in another shop and these colors capture your attention in the winter. Most of the women who come in here come in, because their men (encourage) them to come in.
Our price is not very high, but it is a little on the high (side) and I think that is why (usually) the women who buy our clothes are thirty and older. (She says that a lot of her customers are professional career women.).
We have a lot of customers who do not live in Madrid, but if they are coming here, they come to the shop. They put it in their calendars to come to Ojalá.
The clothing that Paloma del Pozo designs has received great reviews from publications such as Marie Claire, Cosmopolitan, El Comercio in Peru and her designs have been showcased at some bigger fashion events such as, International Fashion Week in Madrid, The Brandery in Barcelona (no longer held annually) and Paris Prèt a Porter.
Some designers choose to sell their clothing through other retailers, but Paloma del Pozo has just two shops in Madrid where her clothes are sold and customers both inside Spain and in numerous other countries also purchase her clothing through her online shop.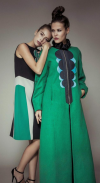 She says, "I think the inspiration (for my designs) is everywhere and here in Spain we have a lot of culture. When I was young I usually wore things from my grandmother and my mother. When I was young I couldn't find the dresses that I wanted to wear. You feel really good when you try clothes on (that you like) and you feel special, because you know the clothes are right for you.
For me it is really important how (the fabric) feels. When I see something the first thing I do is touch it and if I like the feel of it I will buy it. I do not look for silk or wool or any special kind of fabric."
The three centers of fashion for Europe are "Spain, Italy and France," says Paloma del Pozo. One would therefore assume like most creative people and being born in a center for fashion that she probably had aspired to become a designer from an early age, but that is not what happened. In fact, when Paloma del Pozo was twenty years old she left Madrid to go Oxford University in England and she at first studied engineering. A little later in life she became the Art Director for an advertising firm.
Acknowledging that drawing comes easily to her, she says, "In my family there are seven of us. My aunt is a painter and the paintings in this shop are by my sister, my mother is a sculptor and a member of my father's family is a tailor. They have big shops and one of them is near here."
"When I got married I moved to the north of Morocco. I started to design my first clothes there. I worked by the internet for two years, while I was living in Morocco. I liked how they made their djellabas the traditional dress in the north of Morocco. I began to see how the tailors there in the medina (the old part of the city) in Morocco made them. I loved them and I thought it could be possible to introduce to Europe this type of clothing. At the time I was thirty-six years old. I had never worked with fabrics for dresses before that. I had only worked with pens and the computer.
I did a competition in Spain for the best designer, but my age was why I didn't win (editor's note: Paloma del Pozo said others at the competition expressed to her that they felt her designs were the best). In the same competition a gentleman won and he was twenty and I was forty. I am not really ambitious and I don't look for fame. I am really shy. My husband (encourages) me.

In the north of Morocco I have a woman who can translate what I design on paper into making the clothes. We have an atelier in the north of Morocco," she says.

Please visit the website for Ojalá Paloma del Pozo where you can both view her women's clothing collections and purchase them. You can also shop through the official Facebook page for Ojalá Paloma del Pozo or visit the official Instagram page.

#OjaláPalomaDelPozo #ModaEnEspaña #DiseñadoraDeModaEspañola

#

DiseñadorDeModaFemenina #RivetingRiffs #RivetingRiffsMagazine

This interview by Joe Montague published January 12th, 2020 is protected by copyright © and is the property of Riveting Riffs Magazine All Rights Reserved. All photos are the the property of

Ojalá Paloma del Pozo unless otherwise noted and

all are

protected by copyright © All Rights Reserved.

This interview may not be reproduced in print or on the internet or through any other means without the written permission of Riveting Riffs Magazine, All Rights Reserved