Pam Tillis' eleventh album Looking for a Feeling, reminds you of being a child, back in the day and standing in the candy store with a quarter or fifty cents and looking at all the penny candy, so many yummy treasures to choose from. Fortunately with this album, Grammy Award and Country Music Award winning singer, songwriter and musician Pam Tillis lets us have all of these delicious songs on one album. Just like the candy store when all of the treats came in different colors and each with its own unique taste, Looking for a Feeling offers the same diversity of colors, shades, moods and vibes. Pam Tillis joined us recently at Riveting Riffs Magazine to talk about her new album.
"Looking for a Feeling, is as personal as anything that I have done, maybe ever. I am in a lot of ways a really private person, which kind of runs counter to what an artist is supposed to be. You know cut a vein and bleed on the page. I am very private and so it takes a lot for me to do that. I think in some ways I am understated with my feelings. In a lot of songs I am just trying to process the craziness that is life and the craziness that is our world and I am trying to put it into context. I (want) to understand it. There is an underpinning and in some ways it is a little bit philosophical. If you listen long enough you will hear it in there," says Pam Tillis.
As for why she co-wrote the title song with Waylon Payne she says, "Because it said write me (she laughs lightly). You don't always get a choice. Some days you pick up the guitar and you get out your laptop or your yellow legal pad and you might as well be digging a ditch. Some days you pick up the guitar and it talks and the words are just coming through you. That's what happened that day. It was kind of a moody gray day.
I had never written with my friend Waylon Payne, but I am a big fan of his and he is an incredible artist. There was something that happened to me and I was naming all of these things that I was seeing and they just started flowing into a song. All of these people in the song you can relate to them. They are kind of spiritually adrift and they are struggling. They are trying to find their (way) and some kind of satisfaction. It is like a Rolling Stones song and by the way they did a Country record. I used to say the Rolling Stones were my favorite Country band. You can put that in the list of influences too for this record. This song was just about the human condition and not being judgmental of your fellow (man or woman). We are travelers through the world."
Some might question at this stage of her career why Pam Tillis would put in the hard work to record another album, even though her voice remains strong and people continue to buy her music. With this album especially, as it was being written and original songs and those written by others were recorded, it came during a period of time when Pam Tillis lost both of her parents.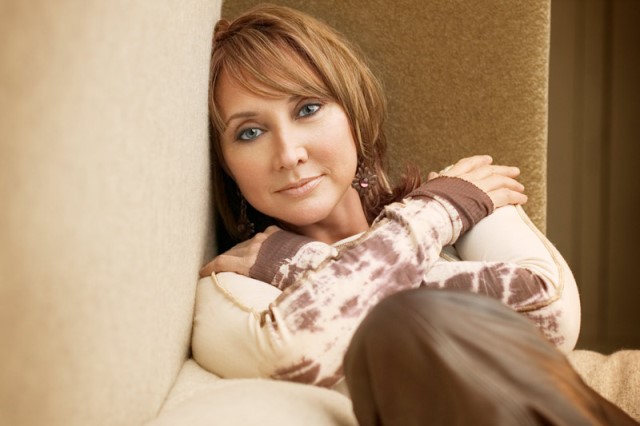 "I hear some artists say I am not going to do another album. There are people who go I'm done. I think (for me) it is a feeling that I haven't done all that I can do. We are all just telling our story and I just didn't think I had told it all and I still don't.
When I met with Joe Pisapia my producer, I told him I don't want to look at this record as just a destination. It is a bridge between my last project RhineStoned (April 2017) and where I am going next. I am trying to wake everything back up. I wanted to get that to some of the energy that I felt from the music of my teens, when music is everything to you. There was a blend of Country with Soul like The Staples and Gladys Knight and also with Rock bands like Neil Young and The Allman Brothers. There were even some of the folkier leanings. There is a crazy place where all of those (types of music) meet and I wanted to express that in my own way.
We recorded a bunch of tracks and it was right before daddy (Mel Tillis) got sick for the last time. Everything that I assembled around that batch of songs (her voice trails off, as she pauses momentarily)…by the time I picked the thread up to continue the album, my whole world had changed, so I just started fresh. That (first) batch of songs, some of which didn't make the album, we recorded in analog with a bunch of Country Rock veterans who brought a lot to the record.
It was just a different time. I had to straddle two moments in time. Right before I cut the second batch of songs, my mother got really sick and I lost her in August (2019). There was a lot of upheaval and I had moments where I went why? Why finish? There has never been a time when I have not finished something. I also felt like it is what they would have done," says Pam Tillis.
In the opinion of Riveting Riffs Magazine the best song on the album Looking for a Feeling is the song "Karma," a song that starts off with gloomy lines such as, "Everything that could go wrong / Has gone wrong from the start," but quickly moves to an up-tempo beat and an airy lilt in Pam Tillis' vocals. Her voice is emotive, as he contemplates why the lessons that should have been learned in the past she is still living. The song written by Pam Tillis and Jenn Schott may not have been written with this intent, but this is a song that is very easy to envision women concertgoers singing the chorus back to Pam Tillis, as she performs, "You're my karma / Aren't ya' / I used to be the heartbreaker / Now I'm the breakie / What goes around / Comes around / Nobody's free from karma. "
"It is definitely a little more Poppy. It harkens back to a different time than the present. It talks about the philosophical underpinnings of the record. This girl is going hey I've got myself in this place where I am at. Things can come back on you if you make a bad decision and she is saying well this is it, I have made my bed and I have to lay in it. This song isn't all sunshine and daisies and I think sometimes and especially in this social media driven world that everybody is trying to paint this picture of their best life. For some of us we feel like honesty should never go out of style. I have my ups and downs like everybody else. I have my moods and I have my worries and things like that. I think there is a little bit of darkness to this record and that's okay. In the end I am always resilient, but I have the same struggles as everybody else does. I reserve the right to feel my feelings. I think we get into trouble when we don't own our feelings. I will hear people say oh is that stupid? No it's not stupid, because that is how you feel. Be with that, acknowledge that and then go on. I have gotten into that trap when I ignore my feelings or I ignore what is in my heart. I am hopefully, evolving past that (she laughs lightly).
Jenn and I wrote it together and that one just unfolded really naturally. I think with some of my best songs I get out of the way and they just flow out or they get channeled through me instead of forcing something to happen. You don't hear those songs. (Pam bursts into laughter and says) Those songs that got forced are not on the album. You have to write those types of songs to get to these songs," she says.
Speaking of songwriting, being the daughter of music legend Mel Tillis she says, as a child, "I thought everybody wrote songs. I never knew to be afraid of it, because everybody in my world and in my dad's world that is what they were doing.
I used to make up melodies. I would walk along in the backyard and I would drag a stick along the chain-link fence, as I sang little melodies. I would just make them up. I don't know how I knew to do that, but I did. The first song I remember (writing) was when I was eight years old. Mom had inherited some money from an aunt who had passed away and she bought me an old upright piano. I wrote a song on it and it was called "Don't That Road Seem Rough and Rocky." (We share some laughter about how tough that road must have seemed to an eight year old). It was a Gospel song about the trials and tribulations of an eight year old. I was a moody little thing I was."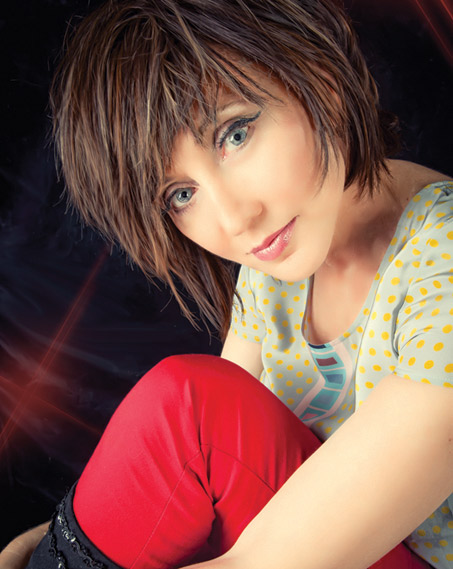 The Gillian Welch and Dave Rawlings song "Dark Turn of Mind," takes us back to another time and it is Country Classic featuring some stellar musicianship from Grammy Award winning fiddler Kenny Sears, multi-instrumentalist Jim Hoke on steel guitar and Joe Pisapia's guitar. Pam Tillis turns in a spectacular vocal performance and if you close your eyes you can imagine a 45 rpm record spinning on your record player. This song once again evidences the many moods of the album Looking for a Feeling with the lines, "You know that some girls are bright as the morning / And some girls have a dark turn of mind."
Talking about "Dark Turn of Mind," Pam Tillis says, "We just took that song and did every kind of crazy thing that we could do to it. There was no plan. It arranged itself organically. The song was in a different metre when Gillian recorded it and I changed the time signature and I had made it a shuffle. That was a little bit of a leap of faith that it would do that. When I think shuffles I think of my dad. I tried to put a signature lick and a fiddle lick, like some of the great shuffles of my dad's era. Then it took a strange turn and I just let it be what it wanted to be. Joe played some atmospheric guitar on it."
As for the emotional vibe of the song she says, "I just love that she owns her moodiness. I am an oldest child and oldest children by nature, if you believe in that first order thing, are more serious. I can be a room full of women and everybody will be giggling and cackling and I can feel myself (dying). Obviously I can laugh and I can laugh at myself and I can have a good time, but sometimes I don't feel like being all chirpy. We all have a shadow side and I just love that this lyric appealed to me. She is saying I have this shadow side and I am okay with it. It is who I am. It is what makes me creative. It makes me sensitive. It is alright.
If you remember the old (television) show Twin Peaks, this is what happens when Twin Peaks meets a Mel Tillis shuffle with a Gillian Welch lyric. (She then laughs while saying) I hope all of the above parties will forgive me. In the past I feel like I have been adventurous, but then sometimes I have bumped up against creative restraints. I try to silence my inner critic, but I don't always get her out of the way entirely. On this record I felt a nice sense of freedom. I was willing to take it a little bit further and push the envelope so to speak," she says.
The Bob Regan tune "Dolly 1969," is the fourth song to appear on the album and Pam Tillis had to live in the moment of the person depicted in the song as observing a young Dolly Parton on her way up.
She explains, "Some of it is a little bit bittersweet. I am actually not me in that song, I am singing through the eyes of a younger artist. I am imagining me just starting out in my career again. I work with a lot of women in my career. The two ladies in my band are super young and the road is stretching out ahead of them. It is all new to them. This song is about a young woman who is looking at Dolly and she sees all of the determination, the fire and the grit that it is going to take to get her out of the hollers (the valleys between the mountains of East Tennessee). The girl singing the song is thinking whatever that is I want that. If I could just ride shotgun a little bit with Dolly I could learn something. It is a sassy song, but it really has a lot of meat to it. Dolly has really worked hard and struggled and sacrificed to where she is at that moment in that picture. She is still a wannabee (at that moment in the song), but she already feels a bit of world weariness, while she is paying her dues. I tend to like songs that pack a lot into them."
When this writer suggests that he is not at all surprised that she likes songs that pack a lot into them, we both enjoy some laughter.
As this warm, heartfelt conversation winds down with a very gracious Pam Tillis, she shares some final thoughts, "Even though this album has a slight retro feel to it, I am still creating. It is a funny thing, I listen to a lot of new Indie artists and I hear so many things that influenced me turning up in the music of a lot of young people. It makes me go back to that well. It is really interesting how these young artists inspire me and they make me appreciate my roots more. I am inspired by the past, but I am not mired in the past.
The album Looking for a Feeling took a couple of years to record and to see the light of day. Those were difficult years for Pam Tillis with losing her father first and then her mother and we wondered if she found some healing in creating the best Country Music album you are going to purchase this year.
She told us, "Yes and I proved to myself that when you think that you can't, you really can."
Please visit the Pam Tillis website. You can also follow Pam on her official Facebook page.
#PamTillisMusic #StellarCatRecords #PamTillisNewAlbum #PamTillisDiscography #RivetingRiffs #RivetingRiffsMagazine #GillianWelch #JenSchott
This interview by Joe Montague published April 18,2020 is protected by copyright © and is the property of Riveting Riffs Magazine All Rights Reserved. All photos are the the property of
Pam Tillis unless otherwise noted and
all are
protected by copyright © All Rights Reserved.
This interview may not be reproduced in print or on the internet or through any other means without the written permission of Riveting Riffs Magazine.