Pamela Quinzi, a fashion designer originally from Rome, Italy, via Milan and who now makes her home in New York City, is considered to be one of the rising young stars on the international fashion scene. Her collection of couture shoes, Kilame is popping up in boutiques in Beverly Hills and in New York City and since there are no two shoes exactly alike you can also contact Pamela Quinzi directly through her website and follow her on the official Kilame Facebook page. Pamela Quinzi also has an accessories collection, but her main focus right now is Kilame. In the past she has collaborated with some of the world's leading designers and fashion houses to design dresses, handbags and other accessories and she still does create new designs for dresses, jewelry and accessories. Kilame however is her baby and she works feverishly day and night to grow the international presence of her brand (the shoes) and it has earned her the nickname Cinderella of New York.
During our recent conversation Quinzi was in the southern part of Italy on the coast of the Adriatic Sea for a month where she works closely with manufacturers, creating new styles and in May she will be heading back to Los Angeles for the second time in 2017.
"I had been before to LA for traveling and for checking out everything, but this was the first time for the collection to be in LA and a whole new world opened up to me. I will be in New York and then in Los Angeles for a month in May. I will be with the showroom (in Los Angeles) that is representing the shoes for all of the celebrities. We had a connection with the Oscars through Blanca Blanco the actress. We are (making connections) every day in photoshoots and we have other possibilities. For Kilame shoes right now it is really important to get into the celebrity world and that is what I am focused on. Then I will come back to Italy, before heading back to New York to get ready for September when we will be in New York Fashion Week, then back to LA again. There is a lot of traveling.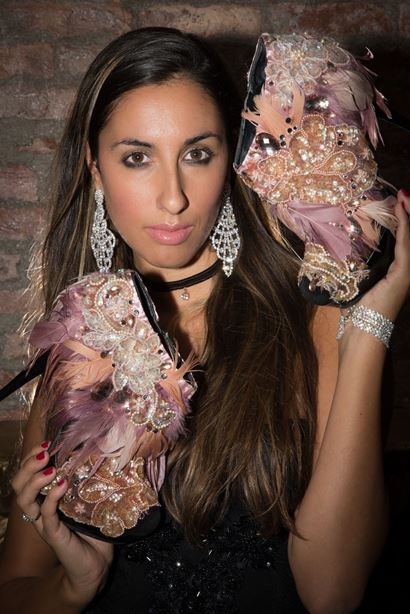 Right now this whole new opportunity in Los Angeles is important to me. Things in Los Angeles have been happening really fast and I am really happy how people have been reacting to the collection the past month. During my time here in Italy I am focusing on what happened (on my last trip) to LA," she says.
Pamela Quinzi's interest in fashion began as a very young child.
She recalls, "I started doing my first sketches and small dresses and a mini collection when I was really young around five years old or six. I also (still) have the sketches. I was very, very little. My first designs were dresses and shoes. My mom collected all the designs and she put them together a few years ago.
It was really funny, because we were going to elementary school and I was already designing and imagining that I was in a fashion company (she laughs). I don't know why.
I have to say something really funny, because at that time in Italy, we already had The Bold and the Beautiful and it is about these two families who are in fashion and we were watching this TV show when I was little. A month ago I met one of the actresses. I told her that I know her, because the TV show is very famous in Italy. We talked very fast on the red carpet. That was funny, because when we were young we were really watching that. It was probably the first thing that I watched when they were talking about fashion.
Then you have to choose what you want to do before you go to university and I chose to go to a professional school for fashion (same age as what North Americans would be in high school). It was for five years. When I graduated I was nineteen. I graduated as a fashion designer and as a technician. Then I had to choose the university and I moved from Rome to Milan and I went to Marangoni, which is a university for fashion. My life has always been fashion and I was focused on the fashion business."
During her last year at university, Pamela Quinzi focused her studies on accessories and she says "I loved the shoes already." For the first three years at university her fashion industry education was more general in scope as she was introduced to collections, women's clothing and lines.
In Italy Pamela Quinzi also had the opportunity to work with brands such as Sorelle Fontana, Gattinoni, Sarli (all three as an intern) and she later designed the women's collections of evening dresses and accessories, including handbags, shoes and jewelry for Nijole.
"The school that I went to is really important in Italy and Europe and through them I had interviews with big companies. For two years I worked as a personal assistant of the designer Rosanna Buriassi and she was working directly with Armani Privé, Dolce e Gabbana, Fiona Swarvoski and Valentino. I was her assistant when I was twenty-three and I was into these big brands through her and I worked with them directly. It was a really good experience. We went to Paris Fashion Week for Armani. I learned so much with her. Afterwards I went to work with Fiorucci and Fiorucci was really famous in the world. Milan is where the headquarters is for Fiorucci. I was the manager and fashion designer for the accessories, shoes, handbags and all of the jewelry and watches," she says.
In addition, just prior to moving to America, Pamela Quinzi developed the woman's shoe collection for Paola Ferrari, in collaboration with the Massimo Bonini Showroom. This was for their autumn and winter 2008-09 collection.
So, why leave what appears to have been a very successful career in Italy?
"I was living in Milan and I was working for this company called Nijole and then in 2009 in Italy the recession arrived. We had a lot of problems with money and companies were closing. The company that I was working for had to close down a lot of collections. So I was oh my god what should I do now? Should I stay in Milan and look for work as a designer with another company. I was very stressed and I decided to just have a trip. I went to Canada, before New York. I have been to Canada many times, because my cousins and uncles live in Montreal. I went there many times in past years and then in 2009 I said I am going to have a trip and go to Montreal and just to have some relaxing time after a very tough year. Then I thought I will go to New York. I went from Rome to Montreal and I planned to stay for two months in Canada. I had only been to New York once when I was eighteen. I thought maybe I should go to New York for just a week. I stayed in New York for a few days walking around and checking the city windows and everything. That is when everything changed. I went for a vacation, but I felt so much energy and the city was so amazing. It was so different from when I went there when I was eighteen. When I went in 2009 I was twenty-seven. I thought why not try to apply for designing jobs in New York. I spent the rest of the week sending resumes out in New York.
I stayed in New York for a week and they (companies) immediately started to call me for interviews. I was supposed to go back to Montreal and then go back to Italy, but they called me, so I stayed in New York and I started to do interviews. I went to Montreal again and then back to New York. For a few months I traveled back and forth between Montreal and New York. After doing some interviews and getting in touch with fashion companies in New York for positions then it was the time to come back to Italy. I went to Milan and I closed my apartment, then I went back to Rome and told my family, I am just going to try really hard to go back to New York and stay there. In September I went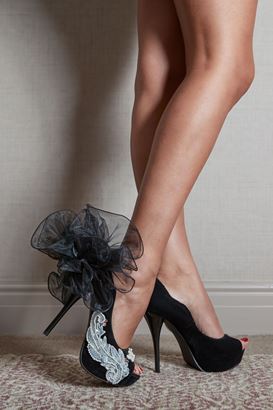 back to New York again and the day after I arrived I found a company that hired me and the whole adventure began. That happened in 2009.
I started working with this company as a designer for handbags and they sponsored my visa. I applied for an artist visa with this company. We worked together for three years. During 2010 for fun I started to embroider some shoes. I was working in the garment district in New York and during lunch time I went into shops and bought some (things for) embroidery and I would come back home and just for fun I would embroider a few shoes.
One night I went out to dinner at a restaurant called Nikki Beach and this girl from St Louis stopped me and she said I love your shoes. Where did you get them? She had just been nominated as Miss Missouri. She had a clothing line and she really like the shoes. She asked me if I had more. After I connected with her she asked me if I wanted to be a part of one fashion show that she was putting together in New York. I said why not? For one month I worked on styling some shoes and dresses. In April of 2010 we did this fashion show just for fun and invited some friends. At that fashion show some stylists were there and they liked the pieces and they started to contact me. They wanted to know if they could have them for photo shoots. A few other venues in New York heard about the fashion show and they asked me if I wanted to do (more) fashion shows. That is how everything started.
After the 2010 New York Fashion Week show in which some of Pamela Quinzi's shoe designs appeared she was contacted by someone who had attended the show.
Quinzi talks about what happened next, "She said Pamela we had a big fashion show at the Plaza Hotel and the main actor from Sex and the City 2, (which was just being released) is hosting the night and the designer needs shoes for the fashion show. That is how I was put into the first New York Fashion Week. It was amazing. We had this fashion show and a lot of interviews and pictures.
I saw that things were changing and I was contacted by many people interested in doing collaborations. I did that for another two years until 2012. At the same time I was still working for the handbags company. It was pretty intense, because I was working all day for the handbags company and then going back home and making my shoes and that is why they call me Cinderella of New York. They knew that I was working at night, doing everything at my daily job and then (at night) I was working on these shoes like crazy. I was doing so many fashion shows and events. After doing events and fashion shows people were starting to say to me that they wanted to buy my shoes. I just wanted to work for myself and I could see there was a lot of potential. I opened Kilame in 2012."
As for the typical woman who buys Kilame shoes, Pamela Quinzi describes her this way, "She is a woman who for sure has a strong personality and she knows what she wants. She is sexy and beautiful. Kilame shoes are very particular and very strong, so you need to have (the type of) personality that you are not afraid and that you do not want to hide. When you wear Kilame everybody will see you and you are going to stand out. The shoes are full of colors and crystals, so everybody will see you."
Ladies if you want to be seen and you want to stand out in a crowd in a good way then hop on over to Pamela Quinzi's website where you can contact her about your next pair of shoes.
Please visit the Kilame website or you can follow Kilame shoes on the official Facebook page.
Photos by: Top Photo - Two Flash Photography, Middle Photo - Two Flash Photography, Bottom Photo - Danny Chin All photos protected by copyright © All Rights Reserved
#pamelaquinzi #kilameshoes #italianshoedesigner #newyorkfashionweek #rivetingriffsmagazine
This interview by Joe Montague published April 9, 2017 is protected by copyright © and is the property of Riveting Riffs Magazine All Rights Reserved. All photos are the the property of Pamela Quinzi and all are
protected by copyright © All Rights Reserved.
This interview may not be reproduced in print or on the internet or through any other means without the written permission of Riveting Riffs Magazine, All Rights Reserved