Pegi Young's new album RAW featuring her band The Survivors opens with the plaintive song "Why," a question one party or the other always seems to be left asking when a divorce takes place. RAW is Young's musical chronicle of her journey through divorce from Neil Young. "Why," a song written by Kelvin Holly, Spooner Oldham and Pegi Young asks the question "Why'd you have to ruin my life?" The song looks through the eyes of the one being left and she wants to know why he avoided the hard questions and she says he was not straight with her. The playing of Holly, Oldham and newcomer, bassist Shonna Tucker is perfectly balanced and serves as a fine accompaniment to Young's vocals.
Guitarist Kelvin Holly has performed and / or recorded with Little Richard, Bobby Blue Bland and Gregg Allman to name a few. He also was a studio musician at Muscle Shoals. Keyboardist Spooner Oldham was also part of the Muscle Shoals Rhythm section and he has played on such iconic songs as Percy Sledge's "When A Man Loves A Woman," and Wilson Pickett's "Mustang Sally." He co-wrote "Cry Like a Baby," for The Box Tops and "I'm Your Puppet," recorded by James and Bobby Purify, a tune that rose to # 5 on the charts. Shonna Tucker played with the Drive By Truckers and appears on records by Booker T. Jones and Bettye LaVette.
As for the album RAW, Pegi Young says, "When (the album) was done and I was listening to it as I was driving down the road one day, I thought shoot this is like the soundtrack of the stages of grief. It was all over the map emotionally as I was for a good amount of time after things changed as dramatically as they did.
I was fishing around for a title in my head and in the band we were talking about it and again one day I was driving down the road and RAW (came to mind). This is just raw emotion, pretty unfiltered. I threw that name out there and everybody seemed to think that it was apropos. It stuck. My friend Eric Johnson who was our tour manager for years and who continued on with Neil in the ensuing years did all of the package art. He is also a good musician. He captured the starkness of some of the lyrics and of that moment in time and of feeling really raw."
The song "Too Little Too Late," which has a companion video may be the best song on the album, as it showcases Pegi Young's quality vocals and the great chemistry between her and her band members. Although, the song is part resignation and part realization that it is over, the melody for this Young / Holly / Oldham tune is not weighed down with sadness and in some ways, it feels like Young is turning the page, to begin a new chapter in her life.
She says, "I like that song a lot as well. Obviously I am telling the story from my point of view and there is regret involved at least in my world around what happened and my part in what happened. A wise woman once said to me, as thin as the pancake may be there are always two sides. I think that is very true."
Pegi Young talks about the more Blues Rock and defiant, original song, "You Won't Take My Laugh Away From Me," "The song is a Rocker and it is definitely one of the more up-tempo songs on the record. I have been told for many years, 'we could hear you laughing in the other room and so we knew you were here.' I have a distinctive laugh I guess. It was one of those songs that came in one day. I was thinking about what had been lost, but what I still had and that was part of my essence. Part of me was my laugh. I should bottle it and trademark (she starts to laugh), because it used to make people happy to hear me laugh. That is the simple explanation of where that song came from.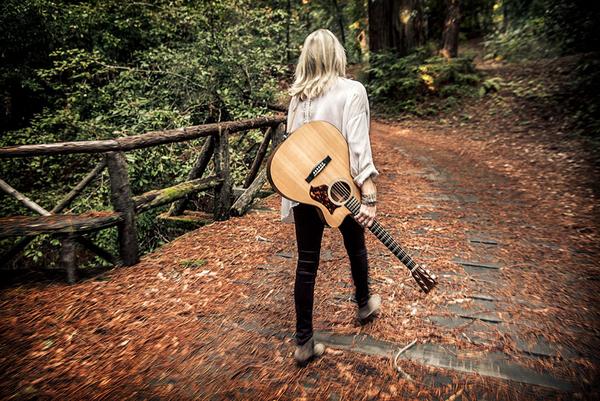 A good number of these songs were written it's going on three years ago and two years ago we recorded them. At the time that I wrote "You Won't Take My Laugh Away From Me," I thought here is something that I can still hold onto that is me.
Going through a late in life divorce I had to figure out what the next chapter was going to look like. It definitely doesn't look like what I thought it was going to look like. This (her laughter) was something I could go, it is still there and it will (continue) to be there. I just have to start using it more."
Kelvin Holly has a spectacular guitar solo and at times Young punctuates her vocals with a staccato approach, which adds to the defiant tone of the lyrics.
"Kelvin Holly plays every guitar part on this record. I did not play a single note, a lick, nothing.
I had not been playing, because that is part of what happened after (the divorce) and how things changed. I got kind of frozen and I just didn't play. I didn't play at all. I didn't play the piano, I didn't play the guitar and I didn't play anything, but I wrote. I kept writing. That was something that I could do.
Kelvin is all over this record even more so than usual. He is responsible for every amazing guitar note that you hear and every guitar solo that you hear. He is a great, great guitarist. He played with Little Richard for fifteen years and he just oozes Rhythm and Blues," says Young.
She also takes time to rave about Spooner Oldham's contributions, reminding us that he has been inducted into the Rock and Roll Hall of Fame. In addition to the aforementioned artists whom he has recorded and performed with, he has also worked with Jackson Browne, Joe Cocker, Bob Dylan, Linda Ronstadt and Bob Seger and that is just barely scratching the surface of his accomplishments and collaborations. As for Phil Jones to whom she refers as a great drummer, she reminds us that he performed with artists such as, Tom Petty and Johnny Rivers. Shonna Tucker who is the newest member of the band has fit right in and she was recommended by Oldham and Holly.
The despair evident in Young's vocals for another original collaboration "Lonely," reminds us of what it feels like when you are the one who is left behind. The wondering how all those years together can so easily be set aside. Lines such as, "the loneliness engulfs me and the pain will not subside," and "Have you found a new liberation by taking off your wedding band?" poignantly paint a picture of the heartbreak that accompanies a marriage or for that matter any relationship coming to an end.
Young says, "It tells my story, but like all of the songs on this record I hope they really have a universal quality to them and that there are more people who are going through significant life changes whether it is divorce or death (who can relate to them). Either party in a divorce situation could be singing these songs to the other person. It is not just my story. I believe that and I hope that comes across in the recordings."
Pegi Young also decided to cover some songs for her album RAW and she puts in a stunning and soulful performance on the Ray Charles and Bonnie Raitt song "Do I Ever Cross Your Mind." The mood is wistful.
"That was probably done during one of our last sessions," and then our conversation pauses, as Pegi Young spots something in a New York City store window that she fancies for her grandson, "We did a couple of different sessions in my studio and when we were in Nashville. We went down to LA for some other work and we went down there twice to put the background vocals on. I think we did one more session out at my place and "Do I Ever Cross Your Mind?" was during that last session. I thought that song was indicative of how I had been moving through my early days, my emotions and just wondering," she says.
Young says that her cover of the Nancy Sinatra song "These Boots Are Made For Walkin'," (written by Lee Hazelwood) has become a crowd favorite at her concerts.
We wondered about what Pegi Young learned about herself through both the experience of divorce and from writing many of the songs that are on RAW and then recording them.
She laughs and then says, "The Survivors couldn't have been more aptly named. Life does not end when you go through a significant life change no matter what it is. You can choose just to stay curled up in a ball in the fetal position and just stay there or you can get your feet back underneath you and participate in life and happiness. There is plenty more of life to live. I am just figuring out what my new life, the third act is going to look like. Like I said it is different than I expected it would be, but that doesn't mean it is over.
I have plenty going on and I have my grandkid. I have a great support network of family and friends and my band. It is all good. I am in a much better place than I was initially."
Pegi Young's album RAW was conceived and many of the songs were written during her divorce and recorded during the aftermath of her divorce from Neil Young, but this is not an album with an ax to grind. This is an album that came directly from her raw emotions during a traumatic period of her life and as she emerged from her grief and started to write a new chapter in her life. Her vocals are solid and at other times simply stellar, the musicians are superb and her hope is that whether someone has gone through a divorce or the death of a loved one that in some way they will be able to relate to this very good collection of songs. Riveting Riffs Magazine thinks she has already accomplished that goal.
Please take time to visit Pegi Young's website.

You can also follow Pegi Young & The Survivors on the official Facebook page.
This interview by Joe Montague published May 7, 2017 is protected by copyright © and is the property of Riveting Riffs Magazine All Rights Reserved. All photos are the the property of Pegi Young and all are
protected by copyright © All Rights Reserved.
This interview may not be reproduced in print or on the internet or through any other means without the written permission of Riveting Riffs Magazine, All Rights Reserved