Pink Martini's China Forbes Exclusive Interview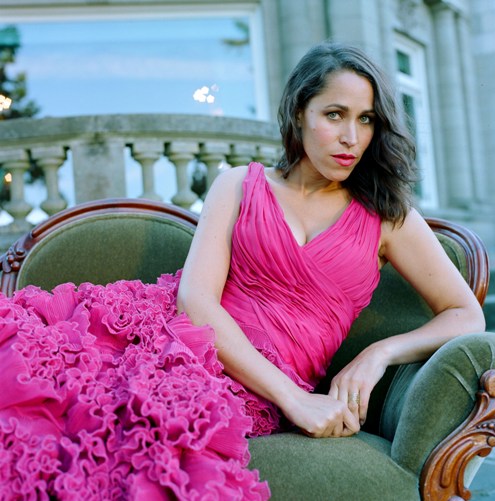 Have you ever wondered what the lead singer for one of the most famous bands in the past two decades does in her spare time? China Forbes of Pink Martini, one of the most eclectic, critically acclaimed and well-loved bands in the past two decades, that lays claim to a diversified international audience…wait for it…pressure washes the sundeck of her house when she wants to relax. Ms. Forbes, who this writer had the opportunity to first interview when she released her solo album simply named '78 in 2008, almost has this writer convinced to take up her favorite mode of relaxation.
"I have discovered that the favorite thing that I have ever done, is pressure washing. I moved to a very shady, forest like area so I don't have roses anymore, but I do have a lot of decks that I can pressure wash when they get dirty. Don't ruin the deck with the pressure. You can really do damage. I took a dining table and chairs that were left out in Oregon rain for twelve years and they were covered with lichen and moss. They were blackened and I pressure washed them along with a guy who told me that I could and whoa, I pressure washed them back to new, but if you do it too hard you (make) huge gouges. It's like a light saber," she says, before laughing.
China could this mean that you and Thomas Lauderdale (founder of Pink Martini) could soon be writing a song about pressure washing? Not likely, but they have written some beautiful and memorable songs since the band was first formed by Mr. Lauderdale in 1994. China Forbes joined Pink Martini one year later.
When asked if she has one song that they have written together that holds special meaning for her she says, "Je ne veux pas travailer," a line from the song "Sympathique."
"I am always surprised that we wrote that song and it is so popular in France. To write a song in French, with our mediocre high school French (skills) and make grammatical errors, to pronounce it really badly and then to go on and have it be a hit in France… I don't think there is a French person who doesn't know the song. It is amazing when you go around France, they don't know who Pink Martini is, but they know the song. That is the best feeling and it is, "wow!" I can't believe that and it was the first one that we wrote together, so it is impossible to duplicate," says Ms. Forbes.
"Thomas wanted to go into politics and he was going to a lot of fundraisers. He always thought that the parties were terrible and the people who were throwing them had no idea what they were doing. (At a function in support of gay rights) he had the Del Rubio Triplets perform. He had seen them in Pee Wee Herman's Christmas Special and they were three seventy something year old triplets who played guitars and a ukulele and wore miniskirts. He tracked them down and he got them to come to Portland and to play this party. He needed an opening act for them, so he decided to create a band and it was Pink Martini," she explains.
"There were five people at first (in Pink Martini). There was Thomas on the piano, my husband Adam Levey was the conga player, but I wasn't married to him at the time, Steve Cannon on trumpet, Linde Mah singing and John Wager on bass. They were playing a lot of Latin music and the congas were there. It was not an orchestra yet. It was all covers, because Thomas loves music from his past and everything from the past. He is very vintage. It was fun and effective. It was the cocktail revival. He doesn't like to be associated with that, but he has completely ignored that it was inspired by that (she laughs). He thought of the name Pink Martini pretty spontaneously. Breakfast At Tiffany's is one of his favorite movies. He likes Henry Mancini, Pink Panther, Breakfast At Tiffany's and Pink Martini sounds like a band that you would see in Breakfast At Tiffany's.
Thomas Lauderdale and China Forbes met while both of them were attending Harvard University. "He was a Classical pianist, so I never even thought that he would (want) to be a part of a band and I was in bands, but they were more Rock bands. We just had this special thing that we did together, which was Opera and it was not something that I normally did, nor was it what he normally did. I told him that I wanted to study Opera and that I had all of these arias that I loved by Puccini and Verdi. He went to the library and he got all of the sheet music, so he could accompany me. It was an amazing opportunity to just explore it and that is how we became friends. We never wrote a song together, until Pink Martini was started.
I wanted to write songs, because that's what I was doing and Thomas was playing covers. When he asked me to come sing (in Portland) it was a lark, because I was in New York doing singer-songwriter stuff. I came out and sang and left and I went back to what I was doing. He asked me to come out the next month to do some more shows. He had started with one singer, but that didn't work out. I got kind of roped in and then it was really fun, everything was great and then I went back to New York. Eventually, he found other singers, but it never took and he kept not wanting to work with them. He had me come to Portland for a month and he pitched it to me to do an artist in residence and to spend a whole month in this cool little carriage house outside of Portland, "we'll write songs and we will record," and so I said okay. We finally started writing and we wrote "Je ne veux pas travailler, (Sympathique)" together, which turned out to be our biggest hit. After that, we wrote a lot of other songs and it was sort of a grueling process, because Thomas isn't really a songwriter. He can write songs, but he doesn't think of himself as a songwriter and I am a reluctant sometimes songwriter. It is hard to collaborate and we get very little done, whenever we get together, but somehow we have written a lot of songs (she laughs) over the years, with blood, sweat and tears."
When asked to what she attributes the phenomenal international appeal that Pink Martini enjoys, China Forbes replies, "What other band from America sings songs in all the languages of the countries that we travel to? It doesn't happen very often, so I think people are intrigued, because it is unusual and they are grateful. Nobody else is doing it and it gives them a sense of ownership when we go to Greece and we sing in Greek or Turkey and sing in Turkish. They feel respected and acknowledged. It is just considerate and it is inclusive. There is no substitute for the communication that you can have between you and your audience when you are singing to them in their own language," she says.
As for her musical background China Forbes says, "I can sing madrigals, I sang in choirs and in musical theater, I was in a Rock band, I sing Folk songs and I play guitar. I did all kinds of music, so for me being part of Pink Martini, which is so incredibly eclectic, is natural. However, the one area where it wasn't easy is I am not trained. My musicianship is innate, but I didn't really know what I was doing, I was just singing and I didn't really think about pitch and intervals. I don't know musical theory and I can write songs, but I can't actually write down the music. I can't write sheet music like Thomas, who can whip out a pencil and he can arrange the song on paper for people to read. I don't have any of those abilities. That was challenging when I was surrounded by people (in Pink Martini) who could and when we started working with orchestras I felt that 'I am not supposed to be here. This is weird, but I am singing in front of an orchestra.' I didn't train. That is the only thing that has been unnatural for me is stepping into the world of Classical music."
One song that is far from being Classical, but is a Classic hit among Pink Martini's fans and has grown into almost legendary status is the song that Ms. Forbes penned a number of years ago, called, "Hey Eugene."
In response to our use of the word "legendary" to describe the song she says, "That's funny. The song is the story. It is literally and exactly what happened to me. I was at a party, there was a boy there and he was cute. We started dancing to a Chaka Khan / Rufus song. It was Chaka Khan singing "Tell Me Something Good." We danced that whole album. At the end of the night he was incredibly flirtatious and forward and he asked me for my number. He asked me if it would be too soon for him to call me on Sunday, as it was Friday night. He was an eager beaver and then Sunday rolls around and I never heard from him. There was this thing where you can't believe it and it was like is this really happening? Was he totally lying? He never called. A week passed and I am really impatient, so by the end of the second week I had written the song (because he never called). There is another weird chapter to the story. The next year, the same party happens at the same place and so I went again, thinking that I am going to run into Eugene and I did. He was like "hey," and it was the same old thing. It was so weird. It was just like nothing happened. He was all enthusiastic again and he asked "Can I have your number?" This time I wrote the number down, scoffing in my head, ya' here's the number, see you later. I will never see you again. He didn't call again, but then right after this party, I had this thing with my phone when I picked it up someone would be on it talking to someone else. I was like what is going on? Then someone kept calling and saying 'Is Richard there? Is Richard there?' I kept saying no there is no Richard here. One day I got on and the people could hear me and I said who this is? He said this is Richard. I said this is China. He said 'Sid, it's China!' I was, what is happening? He said he thought our lines were getting crossed, because he kept getting calls for me and people keep calling for me and getting him. I was, no wonder, how does that even happen? He said oh by the way, Eugene called, so I called him (Eugene) back and he said a bunch of them were getting together at a bar that night and I said maybe I would try to go, but I did not go! I never met Richard and Sid," she says with much more obvious disappointment in her voice about not meeting Richard and Sid then in never meeting Eugene.
In 2011, China Forbes singing career came crashing down. "Last year I had my vocal chords fail me (she had surgery). I am so lucky. I said that I am not trained and I would never have too many problems, unless I got a cold. When my son became a toddler and started going to pre-school, he got colds all of the time and then I got colds and I lived in fear. When I have a child, I am going to have to sing with colds all of the time and that happened. I just put so much strain on my voice that I got a hemorrhage and some polyps (and eventually she had surgery). It was exactly what happened to Adele, the exact same thing. I had to take off a lot of time abruptly. (I couldn't just say) I have to cancel my tour sorry. With Pink Martini, the tour must go on. There are too many people (ten to twelve in the band) to just abruptly stop going and it happened right before a big weekend at the Kennedy Center with the National Symphony. They had to find someone to sub for me, and they found Storm Large who was already our friend. She was able to learn it all and pulled it off for a few days. Then she continued on all last year, until I came back. Now I am alternating with her. I really enjoy not being on tour all of the time and I can be with my son. My son is three and he is so cute. It is so much better for our relationship, because I am not gone all of the time. It's great, Storm is in Europe with the band right now and then they come back and I go on the next tour. It is more balanced."
Pink Martini performs at MusicFest Vancouver on August 17th at 8 pm in the Orpheum Theatre and China Forbes will be with them on that evening.
Interviewed by Joe Montague July 2012 Return to Our Front Page
This interview is protected by copyright © and may not be reproduced in print or on the internet or through any other means without the written permission of Riveting Riffs Magazine, All Rights Reserved