Hayley Sales - "Like Never Before"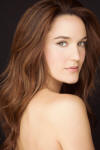 Rarely in this century has an individual come along who possesses the ability to equally amaze others with her acting and her musical talent to the degree that American / Canadian Hayley Sales does. It has been an incredibly busy late summer and early fall for the affable Hayley Sales, as she recorded one album, is recording another, shot a film and a television episode and in the midst of all that she also got married.
Sales, took time out from her busy schedule to sit down with Riveting Riffs Magazine to discuss at length her album Slightly Out of Tune, which will be released in the spring of 2019 (She has posted some songs on YouTube), her twin careers and to share a little bit about her life.
The self-described romantic co-produced her album (and yes she really does know her way around a recording studio) with her father Richard Sales, known for his work as a producer and sound engineer with the Grateful Dead, The Ramones and Miles Davis. The songs on Slightly Out of Tune range from those that invite the listener to dance, such as the opening track "I Don't Believe," and the retro infused "Waiting It Out," backed by a stellar horn section and the soulful "Out of Tune," to her romantic love letter "Like Never Before," co-written with Sharon Stone.
Often punctuating our conversation with light laughter Hayley Sales talks about her musical influences, "I have always been in love with Judy Garland who was my first influence. When I was
Interview with Brad Cole

When you listen to Brad Cole speak, the casual way in which he talks about his own accomplishments and the gratitude that he expresses would lead the uniformed to conclude that he is just a guy trying to find his way in the music world. That is unless, you already know enough about Cole to ask him about being the musical director and keyboardist for Phil Collins for twenty-eight years or his work as a musician, sound engineer, arranger and producer with a star studded array of artists that includes Paula Abdul, Gino Vanelli, Dave Koz, Michael Bolton, Darlene Koldenhoven, Rita Coolidge, Brenda Russell, Peabo Bryson, Al Jarreau and the late Natalie Cole, as well as numerous others. Brad Cole who as we write this is in the midst of a North American tour with Phil Collins, took time out recently just prior to his leaving for the tour, to talk about his career.
Brad Cole grew up in a suburb of Philadelphia and despite the fact it was a burgeoning scene for Doo Wop, Pop Music and Rhythm and Blues in the late 1950s and throughout much of the 1960s, Cole was drawn to music far removed from what most people his age were listening to at the time.
"That is a somewhat amusing part of it, because when I was a kid after a certain time I had no interest at all in listening to AM radio and bubble gum Pop music. Even The Beatles and stuff I became a real snob about. I was a Jazz purist and a Classical purist and I was that way for much of the rest of high school. By the time The Beatles' Abbey Road came out, which was 1969 that is when I started getting reacquainted with mainstream Pop and Rock. I also liked Cream (Eric Clapton, Ginger Baker, Jack Bruce). I came back to it,
Fiona Joy Hawkins Interview

Fiona Joy Hawkins is the owner of Q Pop Up Gallery in Australia, but you know her best as being an amazing Neo Classical / New Age and Contemporary Instrumental Music, pianist and composer, who doubles as a member of the ensemble FLOW and in collaboration with musician (also a member of FLOW) and producer Will Ackerman co-produced an award winning debut album for American artist Jennifer DeFrayne. Fiona Joy, as she is sometimes referred to is also a visual artist and some of her own paintings are featured in the gallery.
Elegant while seated in front of her piano, vivacious while doing this Skype interview and giving us a tour of her gallery and down to earth enough to have become the mother to numerous orphaned Joeys (baby kangaroos), one immediately recognizes the deep connection between nature and her music.
"The love for nature and animals has always been there from when I was a little girl. I used to bring home strays all of the time. I would land at home with a cat or a dog. I would find a dog with a broken leg or a bird with a broken wing or that was starving to death. I have always had a lot of animals. When my kids were growing up I was a wildlife information and rescue officer. I took some courses about kangaroos, so I was able to hand raise joeys (baby kangaroos). When the mother is killed and the joey gets thrown from the pouch someone has to raise it and that is something that I did. It was a volunteer job, but I loved it, because I love animals,"