Katie Ferrara - Break Free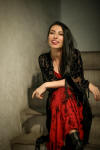 Katie Ferrara has been a friend of Riveting Riffs Magazine for more than a decade and it fair to say that we have watched her grow as a songwriter, her voice become richer and fuller as a singer and her musicianship as a guitarist has continued to compliment both well. During the course of relating this interview / conversation we are going to break with typical journalistic style and instead of referring to her by just her last name, we will often just call her Katie. You will want to pay close attention during the course of this conversation however, as she recounts an interesting story about her surname.
It had been more than three years since we last sat down to chat and this time the nature of our conversation focused on Katie Ferrara's current album Break Free, her tours in Europe in recent years and whatever happened to that cute little dog from a previous music video, and finally where does she find all those cute guys that are now appearing in her videos.
Break Free is an album amply populated with love songs, but not the kind of mushy Pop songs that substitute hooks for substance, but rather missives that cause you to reflect on relationships you may have experienced in your own life. We wondered if perhaps we had forgotten love songs she had previously written.
"I did write some love songs before (she laughs lightly), but they weren't romantic songs," she replies.
Jemima - Things I Never Said

A young Australian singer, songwriter and musician from Newcastle, by the name of Jemima just released her EP Things I Never Said, a collection of five songs that are more value for your money than most full-length albums. Get ready world, because this young woman is going to be a star. She writes good lyrics, has good vocals and has an engaging personality. She also has a very sharp marketing mind.
The first song on the EP, is "As You Are," and it clocks in at three minutes and twenty seconds and has the perfect blend of retro Pop and modern Pop, with an easy flowing melody. Jemima tracked her own background vocals creating the feel of some of the early sixties all-girl groups. One should not however think of this song as an attempt to merely giving rebirth to an era of music that has long since vanished, by the time she was born, but instead it is an artist who knows what she likes and has taken the best from what she heard as a child, while listening to her parents' records and bringing to both her songwriting and to the studio a keen sense for what resonates with audiences today.
She says, "I am twenty-four and I discovered this music by sitting in my garage, as a kid and going through my parents' records and cassette tapes. I really liked that music. I wasn't into Justin Bieber or whatever other music kids my age were listening to. It (the music on the records) sounded so intriguing to me and there is such a focus on storytelling, which I loved. It sounded more genuine to me. I went to school as Elvis when I was ten years old. I had the black wig on, and I wore a gold cape. I had this skintight white
Cecilia Krull - My Life is Going On

One should not be surprised that the team of composer Manel Santisteban and lyricist / singer Cecilia Krull from Spain have another hit song, but nobody could have anticipated the enormous success of "My Life is Going On," the theme song for La casa de papel (Money Heist) (Editor's note: In Spanish all of the words in a title do not always appear in capitals) which is directly linked to the second most watched Netflix show in the world. This is not the first time that Cecilia Krull has made a big splash on the movie, television and Netflix scenes, as she collaborated with Mala Rodríguez on "Agnus Dei," for the Netflix series Vis a Vis (2015 - 2019). Other collaborations with Manel Santisteban include, "La Verdad," for the television series El Accidente (2018), "Something's Triggered," for the film Trés metros sobre el cielo and "All My Fears," for the film Fuga de cérebros. In addition, Cecilia Krull is a highly respected solo artist, known for writing, recording and performing songs that blur the genre lines between Jazz, light Pop and Adult contemporary themes. She will also soon be releasing her first album.
Cecilia Krull was gracious enough to take a few minutes and visit with us at Riveting Riffs Magazine earlier this month.
As for the success of her song "My Life is Going On," from La casa de papel Cecilia Krull says, "It is a dream come true! I never expected that success and worldwide. It's crazy. All of my life I have been a singer and I grew up in a musicians' family, so this is a very huge thing. It is like the difference before and after La casa de papel. I am not famous, but the song is famous. I am traveling all around the world. Many people in many countries