Sweden's Stefan Gunnarsson

Meet Sweden's pinball wizard Stefan Gunnarsson, who has forty-five pinball machines in his personal collection. That would be a fascinating story on its own, but this is not the story of a man who relaxes in the far nothern town of Boden, Sweden, by playing pinball, but instead it is about the musical journey of a man who some might say is a musical genius and who as a childhood protégé was playing with adult aged bands. Stefan Gunnarsson has gained a stellar reputation as a multi-instrumentalist, a composer, a television personality and as a producer.
Stefan Gunnarsson's journey began in the same town he now lives in, Boden, on the coastline of the Baltic Sea and approximately a ten hour drive by car, north of Sweden's largest city Stockholm.
Gunnarsson says, "Boden is a pretty small town way up north. There are about 25,000 or 30,000 people living here. It is pretty close to the Polar circle and it is very cold in the wintertime, with lots of snow. It is also a military town, with a big military tradition. My father was a trumpet player in a military orchestra. It became like an institution and it turned into other things than just a military orchestra. They had a big band and they played a lot of different music (instead of) just military music. As a four, five and six year old I loved sitting during rehearsals with the big band and listening to the music and checking out the drummer. The drums were my first love. I started (playing drums) when I was four or five years old.

Read More
Petra Wahlgren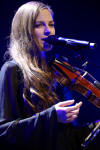 As you are reading this, Swedish singer, songwriter and multi-instrumentalist Petra Wahlgren is in the midst of a big holiday season concert tour, Christmas Night, which takes her to most, if not all of Sweden's cities. It has been a busy year for Wahlgren and her second major tour, as she performed with legendary Swedish Rocker Dan Hylander and David Carlson another highly respected Swedish musician, singer and songwriter. Petra Wahlgren also was in Nashville during the fall of 2016.
"It is a pure Christmas concert tour. We go around all of Sweden and this year we do twenty-four cities. That is nearly every city in Sweden. I play the violin and do the backup vocals in it. I do some second keyboard and some percussion as well. We have two artists Magnus Carlsson and Jessica Andersson and this is the fourth year (for the tour). Magnus has been one of the artists every year. For Jessica this is her third year I think," explains Wahlgren.
We digress for a moment to talk about that violin, "I went to Nashville in September and I got myself a five string violin. I am really excited about that, because in past years I have been carrying both the violin and the viola and this year I will just need to bring one instrument, because the five string has the extra lower string, just like the viola (giving it more range). This is like two instruments in one. It is perfect. I have played it for two gigs, so it is very new. I think it is the same with every musician, the best toy that you can get is a new instrument."
Alyse Black

When you listen to Austin, Texas (by way of Seattle, Washington) singer-songwriter and musician Alyse Black cover songs such as "You Belong To Me," (first recorded in 1952), "Seven Shades of Blue," (Beth Nielsen Chapman) and "The Story," (Brandy Carlile) you are struck by a few things, first of all her beautiful vocals, her connection to the lyrics even though she did not write them and her ability to stay in the moment. All three songs were originally going to appear on on her new still to be released self-titled album, which has at its helm as her producer Eric Rosse, however it has now been decided to release those songs on a separate recording. The album will feature some original songs by Ms. Black including "Put Your Feet Up," a song about getting to the end of the day and cuddling with your honey. Another song "Wildest Dream," which will be on the new album we suspect provides a glimpse into the personal life of Alyse Black and the many parts of the world she has experienced, as well as reflecting her love for her her husband and children. "Make Love + Laughter," is about self-discovery.
When complimented on making "You Belong To Me," her own, especially since it dates back to 1952, decades before Ms. Black was born, she says, "Yes, I like to joke that it has been covered by Bob Dylan and the Prime Minister of France's wife. It has been covered by everybody. I am horrible at (trying to make a song sound exactly like someone who did it before). I am horrible at it (she laughs).
This is a really fun story. I wrote in a journal years ago

Read More