Interview with Joe Montague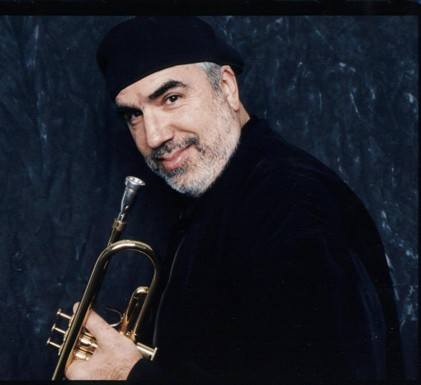 Forty years after he began his music career, Jazz trumpeter Randy Brecker comes to life as he talks about the new directions emerging in the genre. Brecker says that the globalization of Jazz music, "just adds to the spicy mix of Jazz." He points to bassist Richard Bona from Minta Eastern Cameroon as a perfect example of someone who has infused a new element into Jazz. "His brand of Jazz is mixed in with an incredible array of folk influences that you just couldn't get from somebody who was born in New York City. He can bebop with the best of them, but he has this whole other personality, singing voice and talent for other instruments," says Brecker.
Brecker's love for traveling and experiencing new cultures combined with his heart for playing passionate music, has led him to many new friendships. "In eastern Europe there are amazing musicians. I play with a wonderful tenor saxophonist named Igor Butman (Nostalgie, Prophecy)." Brecker says of the Russian and his countrymen, "They are wonderful, straight-ahead, completely schooled musicians. They have a history of Russian folk music that creeps into their styles."
"Country by country, you play with musicians who have studied the American Jazz tradition, but who also bring their indigenous music into it. It's just brought a lot of life into the Jazz world which is constantly evolving. Now we see it spreading all over the world. If we look back at this time in history, I think that it (international flavor) is bringing Jazz to the forefront in this time and place," he says.
Jazz music in Russia is burgeoning according to Brecker and he should know since he has toured the country the past three years. Last year, he traveled to the far points of the vast country beginning in Moscow, playing in Siberia and ending up in Vladivostok on the Pacific Ocean. About the interest for Jazz music in Siberia, the trumpeter had this to say, "I was amazed at the amount of people who came out and were aware of the music." He admits to playing in cities he had never heard of before, but in his own words, the people were "ravenous" to hear Jazz. Brecker also lists Poland, Hungary and Spain as places where he particularly enjoys playing and he feels Jazz has taken a strong foothold. In particular, he commented on the quality of some Hungarian Jazz musicians. In the mid-nineties, Becker and his brother Michael (tenor sax) led the Brecker Brother Band to Beijing, China, where they staged several concerts.
Back home in North America, the typical birthplaces for Jazz such as New Orleans, New York City, Philadelphia and St. Louis have been joined by cities and towns across America. He points to areas like Texas, Indiana and Boston as parenting good Jazz musicians because "They (now) have access to a good Jazz education, which in the past did not exist," he says relying on first hand knowledge gained as he travels the country teaching in high schools.
I asked Brecker to share his thoughts concerning the emergence of good women instrumentalists in recent years. I got a different answer than the one I was expecting. "It's not necessarily true; there were just women that we hadn't heard of. There is a book called Swing Shift: "All Girl Bands of the 1940s" (Sherrie Tucker-Duke University Press) that features women (in Jazz) in the thirties and the forties. There were a lot of bands, some really good. They got some attention mainly in films, but I suppose it was a novelty. They never played with the men. Just as there was segregation by race, it was also segregated by gender. Then slowly but surely (women) piano players started making their mark."
Brecker reflects on the many women who were both pioneers in Jazz and are some of today's top performers. He mentions the legendary Mary Lou Williams. "Occasionally there would be an instrumentalist such as Melba Liston (Dizzy Gillespie's "Cool Breeze") who was so great that she couldn't be denied. She was a great trombone player. Carlene Ray is a wonderful bass player who comes to mind. As Brecker continues to champion women Jazz artists he mentions, "Terri Lynn Carrington is a great drummer. She broke that whole thing open. I think she suffered a lot of prejudice when she started out as one of the first females to not only mix with the men, but who is also a drummer. That was a big hurdle to jump. Now there are many wonderful female Jazz drummers."
"I just got back from Calgary, Canada, where at least half the bands were women. There are many, many great female players. It is no longer looked at as a novelty," he says. He continues, "Here in New York City, people don't give a second glance to people like Lauren Sevian who is a wonderful baritone saxophonist."
Talking to Randy Brecker is a lot like walking through a Jazz museum. He remembers the first time he met and became friends with people such as George Mraz, Grego Huebner and Miroslav Vitous. David Clayton Thomas' was the crooner for Blood, Sweat and Tears during the 1960's and Brecker was in the brass section in 1966. To my surprise, I learned that Brecker had toured with Stevie Wonder for one year.
Talking to Brecker can be an invigorating experience because he enthuses about the opportunities presented by new technology such as the Internet. He sees the bits and bytes transmitted over fiber as a means for lesser known artists to have their music discovered.
"We were talking about this on the road last week with the guys I was touring with. There is an entire area (of music) that doesn't have a name. They (call themselves) jam bands. They are circumventing record companies by using (the net) to distribute their music. The buzz happens on the Internet and they sell records at the gigs. I am sure there are some very nervous record company executives because that whole dynamic is changing."
Brecker's most recent CD Some Skunk Funk offers up a big band sound and helps the artist realize his life long pursuit of a dream. "I had wanted to do the big band thing for years because it is the one thing that I hadn't done," he says. The record features Brecker performing in a live concert with the WDR Big Band at Koln, Germany. "They can hold their own with anybody in the world," he says referring to the WDR Big Band.
Creating Some Skunk Funk was special for Brecker in other ways as it gave him an opportunity for the first time in years to once again perform with his brother Michael (tenor sax). They were joined by longtime friends Peter Erskine (drums), Will Lee (bass) and Jim Beard (keys). The last track "Song For Barry" features Marcio Doctor in a percussion solo.
Randy Brecker may have been relaxing at his home in the East Hamptons when he was talking to me, but it is difficult to fathom him sitting still any longer than it takes to pen some more great tunes.
Interview by Joe Montague, all rights reserved, protected by copyright © February 2006 Return to Our Front Page