When you hear singer Rebecca Howell talking about how Carrie Underwood has been her role model since she was a child and she is effusive about Kelly Clarkson who served as her coach on the televised music competition The Voice, you sense that you are speaking with a very well-grounded young woman. When you add to that incredible and powerful vocals, complimented by an engaging personality, you know you have a winning combination. Riveting Riffs Magazine sat down on the phone with Rebecca Howell, and from her home in Cochran, Georgia she talked about growing up in a musical family.
"I have quite a large family. My immediate family (consists) of my parents, my older brother and me. With my extended family both my mother and father have huge families and we are very close. Even with my third cousins I know who all of them are. We get together every year and I have a huge support system. It is really great.
When my father was in college, he was the lead singer in a Rock band. He also plays the guitar. That is where I got my love for music. His whole family (she pauses momentarily) his mother, a lot of his siblings and many of his cousins, they all sing or play an instrument. Growing up I was always around other musicians or people who sing and at gatherings I would sit on the porch and sing at family gatherings. I have been around music since the beginning.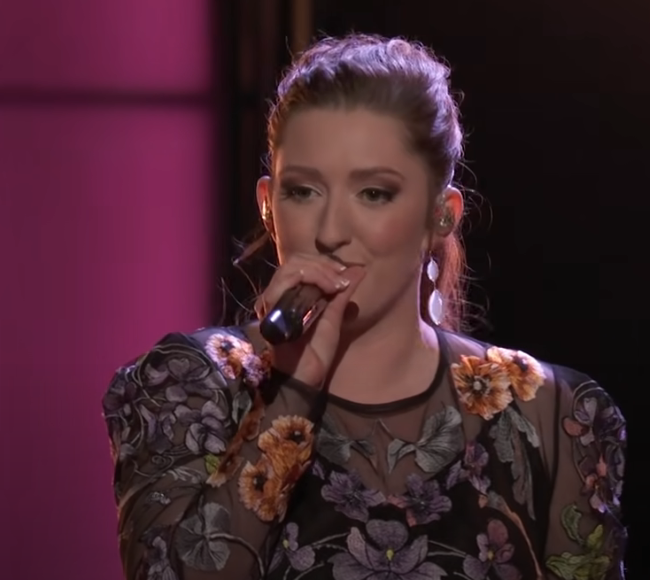 They are happy memories, especially now since there are so many people in my family who have passed. It is special to reflect upon those days when I got to sing with my grandmother, my aunts and uncles at family gatherings. It was really a great experience to sit there and enjoy it.
My grandmother was such a huge part of my life and she passed away in 2017, during my senior year of high school. She had a hand in raising me. She kept me during the day, while my parents worked from the time I was an infant until I was old enough to stay at home by myself. She was an incredible woman. She taught me a lot. She loved music and she was a great singer. She never missed a show if I had something going on at school or if I was competing in a competition she would be there. She was very supportive I think she would be happy with everything I have going on. She was a great woman who inspired me to chase my dreams. I feel like she would be proud of me," says Rebecca Howell.
We suspect that Rebecca Howell's grandmother would have been particularly proud of her time on The Voice.
Rebecca Howell takes us inside her experience on The Voice in 2019, "There are several levels of auditioning, before you get to the point where you can stand in front of the celebrity judges. I made it through all of those rounds and I was chosen to do the blind audition portion in front of the celebrity judges. I got a three-chair turn from Kelly Clarkson, Blake Shelton and John Legend (singing "The Night the Lights Went Out in Georgia). I chose Kelly Clarkson, so I was on her team for the whole run of the show. I finished in the top twenty-four of the live shows.
This is how the show works, when you sing the judges have their backs to you and if they hit their button, while you are singing their chair turns around and that means they want you to choose them to be your coach. When they turned for me, they were saying we want you to be on our team. At the end each judge who turned for me gave me reasons why he or she felt I should pick them and why they wanted me on their team. Throughout the whole process I already had an idea that I wanted to go with Kelly (Clarkson). I knew in my heart that is who I wanted to go with. It is hard when you are standing there in the moment and you have three incredibly talented celebrities and they are saying you should choose me, I want you. It is really hard to make a decision. I went with my gut and I stuck with Kelly. It was an incredible run.
Kelly was the very first winner of American Idol. When we were working through things together she could relate, because that is how she got started. She is an incredible human being. She is the sweetest person and so down to earth. If you didn't know she was a superstar, singer, Pop star and you just met her you would think this is the nicest human I have ever met. She is so down to earth. People ask me all of the time, is she like that in real life? Yes, she totally is.
It was a really incredible experience. I loved every minute of it and I got to spend a lot of time in LA, which was cool, because I had never left the south before. It was a huge change to go from Cochrane, Georgia to LA. I got to meet people from all different walks of life. I got to experience more than what my everyday thing is, including when I flew out there. I had never been on an airplane before. It was an incredible experience and something I will keep with me forever. It is something I can tell my babies about someday that I was on a tv show and it was great.
If I am really stiff (while singing), I get more nervous, because I can't get the nervous energy out. I move around and have fun. I want it to be fun and not nerve wracking. I want the whole three minutes of the song to be a good time."
It is one thing to be technically good as a singer, which Rebecca Howell is and it is quite another to have those gifts and also know how to bring a strong emotional element to your music that lifts people out of their seats. This is a singer who packs an emotive punch. That came through each time she sang but was very noticeable when she performed Shania Twain's "Any Man of Mine." She calls that her favorite performance.
As for the song choices she says, "You give them a list of songs that you want to perform. It is tricky, because on television you are dealing with a lot of label things as well. You have to have permission from the original artist to perform a song like that on tv. A lot of times even though you have a list of songs you want to do, you may not get to do all of the songs that you want. It may be that the management of a particular artist will say we are not going to give you permission to do that. The artist may say we don't want you to do that. To me I don't understand why they wouldn't because it is promoting their song, but there are a lot of artists out there who do not want their songs performed by people on tv shows. You do get a lot of say in what you get to sing, but a lot has to do with the legal aspect of it."
Music fans would do well to check out some of Rebecca Howell's other performances on The Voice, Faith Hill's "Wild One," and "Unchained Melody," a duet with David Owens.
We wondered where that poise that belies her twenty years comes from.
"I think I was about six or seven when I first sang in front of an audience. My dad is a pastor, so I spent a lot of time in church and the very first time I sang in front of people was when I was in church. I thought about it a lot as a child, but the first time I got up the nerve and performed in front of people was at my father's church.
I was probably extremely nervous. Even as a middle school child when I competed in competitions. I was so nervous and I could see my knees shaking in the video. I have since gotten over being nervous.
I think (getting over nervousness) comes from doing it so much. As a child, I would compete in competitions once a year and I would sing in church. I had a ton of experience performing all of the time. When I got into high school I was in choir and we would perform twice a month and I performed a lot more when I was invited to sing at (events). The more you do it the more comfortable you are with yourself.
Don't get me wrong, I still get nervous from time to time, depending on the event and how big of a deal it is. When I was on The Voice there were times when I was nervous and I would think I have done this a thousand times and there is nothing to be worried about," she says.
In 2019 Rebecca Howell released the single "No Lip."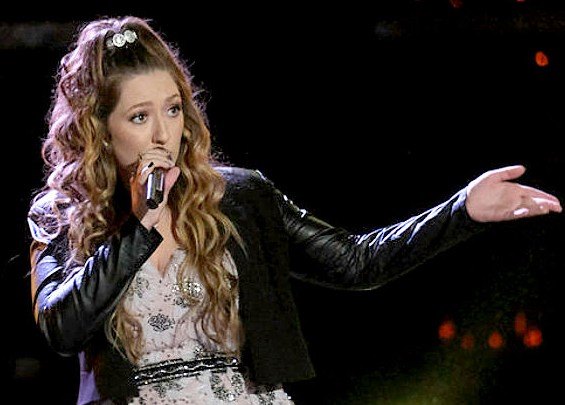 She says, "That was actually the first song that I ever released and looking back it is funny, because I co-wrote that song at Warner Music in Nashville with a group of friends. One of the girls who was a co-writer on the song, had a style that is very much in your face. It is I will beat you up kind of a vibe and I am so not like that. People who have heard the song, go you're so not an in your face kind of person. With my other releases I am trying to get back to finding what is really me and my sound. I think we are getting there, but it is funny to look at the very first song I released. I am totally not like that at all.
We are still trying to figure out my sound. I want my (music) to be a reflection of who I am. I want people to be able to relate to my music, but (at the same time) not deviating away from who I am. As for the sound, I think every time it gets a little bit closer and closer. I take songs to my producer that I wrote and they are really heartfelt songs and I think we get closer to finding out what that is. It is a process and every artist goes through that. They have to take time to find what that sound really is.
In the past couple of years there are artists who are solely one hundred percent country, but you see so many people now who cross over. You see people like Lady A going over and doing music with Chris Tomlin. People from different genres cross lines and they do what they feel is great in that moment and I love that. I think when I first started in music I was so caught up in wanting to be a Country artist that I wasn't enjoying it as much, because I felt like I had to stick to one thing. Then I took a step back and I thought, this is music, this is art and I can do what I want to do. Nobody is holding me to anything. I have the freedom to sing and to do whatever I want. If I want to put out a Pop song, I have the freedom to do that. If I want to put out a Christian song, I have the freedom to do that. I love Country music and I am sure I will put out a lot of Country music. I want the freedom to put out the type of song that I want. That is the beauty of the culture we live in now. Now there really is no set way of doing it. People cross lines and they cross genres. It is great, because you get wonderful works of art that way. You have different sounds that compliment each other. I am not going to put myself in a box. I am going to explore different genres and different things. If you aren't enjoying it what is it really worth?"
In December of 2020 Rebecca Howell recorded the song "Christmas with You," for the artist compilation album Rock by the Sea and she explains why she did it, "I thought it was for a wonderful cause and Tod (Tod Elmore who is now her manager) is the head of fund raising on this charity board. Tod is a really good dude, who is good to work with and he reached out to me and after the fact he reached out to me and asked me if I would be interested in working on this Christmas album that year. It was so last minute, I said let's wait until next year. Then he told me they were raising money for kids with cancer to help provide money for research and to give money for the families of the kids with cancer. I thought this is such an incredible cause that there is absolutely no way that I would not be a part of it. As soon as he reached out to me in 2020 about a Christmas album I thought I am going to get started right away."
As for the song, "I co-wrote this song with a friend of mine called Emma Bacon. We met in middle school and we were in 4 H together. I reached out to her, because she is an incredible songwriter and I told her I think we could write a really great song together. We sat down and in maybe an hour we had the song written.
"Christmas with You," is about getting together every year with your family and making memories. As time goes on you will always have those memories (to think about). Like I said earlier some of the best memories I have are from Christmastime.
We wrote the song through facetime. She played the guitar and we came up with a melody. It is weird, I can sing a melody, but I am not good at playing one. I sang the melody to her and she played it. We went back and forth and we would say things like, what if we go up here or sing it like this here. For the most part we would brainstorm a little bit and she would say what do you think about this lyric and I would go oh I like that there and then I would do the same. She is an incredible songwriter all the way around and she was very, very helpful. I am glad I got to write this song with her."
There are plans for an EP, hopefully within the next year.
"COVID has slowed a lot of things down in the music world. I am also a fulltime college student and I am engaged, so I am planning a wedding. I am planning a life. It is a weird spot in my life right now. I am a business marketing major, which (teaches you) how to market yourself, as an artist. it is smart to have a degree, so I am going to get mine," she says.
You can follow Rebecca Howell on Instagram.
#RebeccaHowellMusic #TheVoiceContestants #WomenInMusic #RivetingRiffs #RivetingRiffsMagazine #WomenMusicInterviews #MujeresEnMusica #RivetingRiffsRevista #RebeccaHowellMusica
This interview by Joe Montague published February 9th, 2021 is protected by copyright © and is the property of Riveting Riffs Magazine All Rights Reserved. All photos are the the property of
Rebecca Howell unless otherwise noted and
all are
protected by copyright © All Rights Reserved.
This interview may not be reproduced in print or on the internet or through any other means without the written permission of Riveting Riffs Magazine.