Film and television actress Rebecca Staab recently talked to Riveting Riffs Magazine from her home in California. The former supermodel who was born in Kansas and who grew up in Grand Island and Omaha, Nebraska discussed a wide range of topics from one of her passions, rescuing dogs, to her partner in life William, to touching upon her love for home renovations, which she warned this writer would easily comprise an entirely different interview, to talking about how she enjoyed an illustrious modeling career and currently is one of the film and television industry's most respected actresses, careers that this former straight A high school student never had her heart set on. In this the first part of a two-part interview with Rebecca Staab she talks about her childhood and later her modeling career. It is our hope that our readers will get a sense for this funny, determined, down to earth, brilliant and engaging woman who recently starred in the ABC television miniseries Somewhere Between, as Colleen DeKizer, was Elizabeth Barrington in the television show Port Charles, is currently shooting the pilot for the television series Manopause, appears as Camille Richfield in the 2017 film Coming Home for Christmas and who has appeared in a plethora of films and television shows, some of which are still in various stages of production.
"I was born in Kansas, but we moved to Omaha when I was seven. I just have an older sister and a younger brother. My sister is one and one-half years older than me, but my brother is nine and one-half years younger. There were two childhoods in a way. There were a few years when there was just my sister and then my brother was born when I was in the fourth grade and that was like the second half of my childhood. My sister and her husband still live in Nebraska. My brother is in Colorado. My parents had moved to Colorado (and later moved back to Nebraska)," Rebecca Staab begins.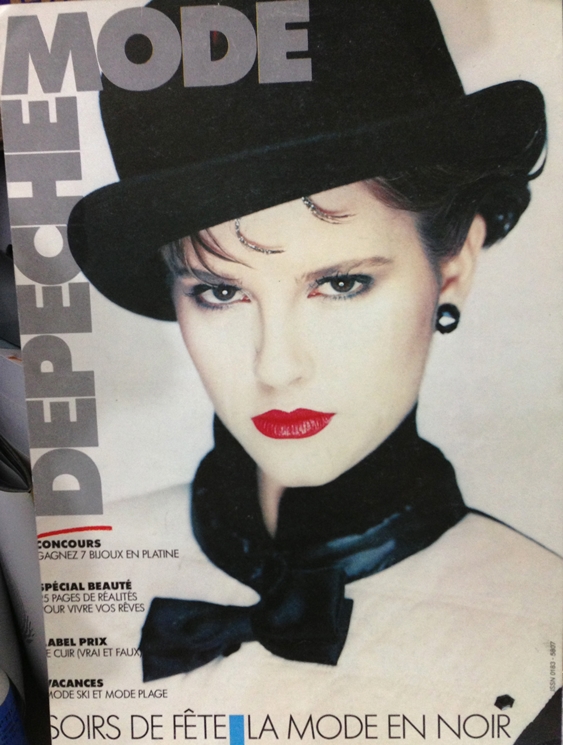 "While growing up in Nebraska we didn't have money and we grew up pretty poor. Vacations were only to places where we could drive and usually where there was another relative, because that is where we stayed. We had relatives in Colorado and we would go to there. It was a popular place. As a kid I wanted to live in Colorado so bad. Every time that we drove back to Nebraska, I would say dad why don't we live in Colorado. My dad said, because that is not where my job is.
Cut to after high school, after college and when I left home and went to Paris and while I was in Paris, my dad got transferred to Denver. I was like oh great, now that I moved out, now you are moving to Denver! When my dad retired (my family) moved back to Omaha (her brother remained in Denver)," she says, while adding that although spread out over a few states that her immediate and extended family still live close enough to get together from time to time.
Rebecca Staab's love for travel played an important role in launching her modeling career and that desire to see what else the world had to offer began early in her childhood.
She explains, "It was always there and it started in kindergarten when my mom got us these books in which we put our pictures and this is was our teacher and these were my classes and these were my friends. It was like a pre-made up scrapbook and you just added things to it every year. I remember every solitary year that I would go back and look at that book. From the time that I could first write, every year I wrote I am going to travel. It was always there and it was never I have got to get out of here nor was it I have got to get away. It wasn't that. There's a world out there. TV wasn't like it is now and there was the rare movie in school and they would bring in the audio visual TV thing and say we are going to watch.
Here is a funny story and it is also from kindergarten. I had to know everything. I was curious. My grandma had an organ and I would sit down and I taught myself how to play the organ when I was four and five. I thought I am going to do that. I was just that kind of a kid. What is that? What is inside of that? What's over there? I was not precocious, but I wanted to know everything.
I was very excited to go to school, because I was prepared to learn everything. I think because I like to read it opened up a lot of things early. I loved it when they would have the book fairs at school. It was stuff that wasn't even in the library and these were new books that I could own. As a little kid in first and second grade I was fascinated with World War II. Movies influenced me of course and with the Sound of Music I thought I am going to go there. It wasn't like I would watch things and I had a two dimensional reaction. If I saw something that interested me it was like I needed to be a part of it.
I was in kindergarten at Grand Island, Nebraska (population 51,517 – 2016) and we were watching a movie and in the movie there was an escalator. I just remember watching that movie and when I saw that escalator thinking someday I am going to ride one of those. (She is really laughing) that was really a big deal. I am going to find an escalator. I kid you not, when we moved to Omaha and I was seven and when my mom went to get her hair done at the mall there was an escalator (she says in hushed tones). I was seven years old and it still gives me goose bumps. I knew it; I knew I would ride one someday! (She says remembering how she felt). My mom was in the beauty parlor and she said come and sit down, but I rode that escalator up and down and up and down. Now as an adult I wonder how many people just stood around watching this little girl get on and get off. I was just euphoric, because it was wow I am on an escalator (she relives the moment with a sense of wonderment in her voice). It is a humorous account, but it was (always about) things that I would see or know and I would think someday I am going to do that. I don't know if it is the law of attraction that nobody knew existed back in the seventies."
Rebecca Staab also talks about people that she would watch on television or in a movie when she was growing up and then later in life, as an adult how she reacted and felt when she met them.
"I did a TV series called Orleans and it was with Larry Hagman and Ralph Waite from The Waltons. He was the dad. He was Mr. Walton. It was so funny. I was in my thirties and we sat down at this cast reading and Ralph Waite sat down next to me. Literally that is when I turned into a seven year old. I stared at the table and it was oh my God he is sitting right next to me. I could talk to whoever is world famous and it wouldn't phase me and yet somebody from when I was a kid it is oh my God and it is daddy Walton and I am going to do a scene with him. That is when the mid-west comes out and I am like I am seven years old," she says.
As for her artistic endeavors as a child, Staab says, "I was a dancer when I was a kid, so I always wanted to be in plays and to be on TV, but I was the biggest fan of Little House on the Prairie. When I was in the second grade my best friend and I would write plays based on the characters of Little House on the Prairie. We would put them on in school. I was just obsessed with the Little House on the Prairie book series. When I was in Omaha and I found out that they were doing it as a TV show I had to be Mary. I was always Mary. I am Mary.
I started out in ballet, but I am a really wicked tap dancer. It was my forte. As a kid I always wanted to be a ballerina and when I started dance lessons the classes that I took were tap and ballet. I was adamant I don't want to take tap. I just want to take ballet. Once I started tap was really my thing. Tap is not easy. Who do you know who tap dances? There are not very many people. I think it was really the dancing that got me into theater. I really I was hoping that when all the musical stuff started to come back into mainstream (her voice trails off wishfully), but by then dance had evolved so far away from that kind of dance.
I was in choir in high school and I could sing and I could dance. Our main thing at my high school in the fall was a big musical and in the spring it was a dramatic play. To this day every play and musical that I did in high school I can remember every word to every song and probably the dialogue of the entire play. You would just sit and play practice and whether or not it was my scenes or my songs it just permeated my core. I can probably recite from beginning to end, Guys and Dolls. I just loved it so much. Then when I got to college it was the same kind of a thing. I had dance and drama classes, because I had a theater minor, but it wasn't because I was going to go on and become an actor. I wasn't going to really do that.
It was always measured along with the academics and then as happens in college I couldn't take fun classes anymore, because I was in all of the honors programs and so college really became about school. It wasn't realistic. I thought what am I going to do be an actor? It was like I had a greater calling and I had to do something smart."
Rebecca Staab's life was about to change and it would lead her down a path that would forever change her life.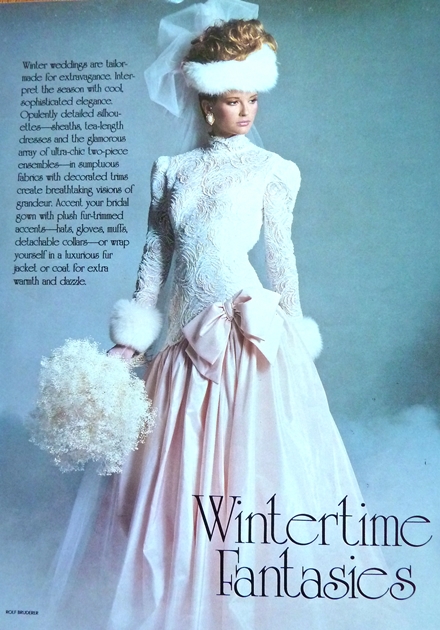 "Then it took the weirdest turn, because I started modeling. When I was in college there was the local stuff. It was like hey you are pretty will you do this? I can't even remember how I started. I was working for fifty dollars per hour, which when I was in college in the eighties that was a lot of money. There were local clients that I would do this for or that for. In one of the local department stores they had a contract with one modeling agency in Omaha and they had to use her models. They said we would like to use you, but you have to be on her roster. I was Miss Nebraska at the time and she had contacted me to see if I wanted to sign with her agency. I did and it was one of those modeling agencies / schools, so at the end of the "school year" for modeling they put on a big fashion graduation show. It was pretty prestigious for where she was in Omaha. She would get judges to come from New York or sometimes Milan or Japan for this graduation / competition. Since I was part of the agency I had to do this show and it took place during the week of the finals in college.
I was going back and forth between college in Lincoln (Nebraska) and Omaha for the rehearsals and to do this fashion show. To me I was never going to be a model. I was barely five foot seven inches. I'm really like five foot six and one-half inches. She had talked me into cutting my hair all off and it was really short. I had all of this Barbie doll hair and she said you have this little tiny face and you have way too much hair for this little tiny face, so she talked me into cutting my hair off. It was short.
Here was this big modeling show that I didn't care about, but I had to do it. She did it like a big New York show and there was one person who would wear the wedding gown, but she wasn't going to announce until the intermission which person was going to do it. I didn't care. All of the other girls were really into it and wanted to be models and all I could think about was I have an English final tomorrow morning at 9:30 and I have to drive back to Lincoln. Back then I was a total academic and I wasn't even thinking they are not going to pick me for the wedding gown, because I have short hair. I whacked off all of my hair and they are not going to have a bride with short hair.
Here comes the intermission and she said you are wearing the gown. I am! I became the highlight of the show. I said, but I have short hair. It was so funny. I did the gown and I ended up winning the competition. I was the least invested in it. The good thing about it was I had to go on to the national leg of this competition in New York. A lot of the other girls and guys at the agency they had already planned to go to New York. I wasn't planning on going to New York, because I wasn't going to be a model. I was too short. I was working locally and I had to go back to school. I was in college and I was a straight A student. Because I won the Omaha show I got a free trip to New York. I was whoo hoo a free trip to New York. I had never been to New York and in my mind all it was, was a free trip to New York. It wasn't like yay I get to be in this bigger competition. I didn't care, because I was barely five foot seven and I was going back to school next week. We did the New York show and all I cared about was going to Ellis Island and seeing the Statue of Liberty. For me I had to see everything that I wanted to see, while I was in New York. I had to go to the Met. I had to go to Central Park. We had these rehearsals for the fashion show, but I constantly had one foot out the door. I was there to see New York," she says.
Sounds pretty straightforward, Rebecca Staab, local girl from Nebraska wins a competition for fashion models and gets a free trip to New York City and eventually she returns to Nebraska to go back to College. Surprise!
Staab continues the story, "Now there were agents from all of the New York agencies, all of the Paris agencies, Milan and Japan. I was like la, la, la. I ended up as a finalist! I was in the top five! I was thinking I didn't even try. I have to go see Cats. I have to get out of this rehearsal, because Cats is starting. Then I ended up placing and I was, seriously? I can't believe that they think I can really be a model.
There was a New York agent that wanted me. There was Legends at the time and their partner in Paris was Paris Planning (Modeling Agency). All of the New York agencies had partner agencies in Paris and Milan. They sent all of the girls to Europe and that is where you got your tear sheets, you put your book together and then you came back to New York. In essence it was like they were throwing spaghetti against the wall. If you could stick it out in Europe then you could really make it in New York, because at that time very few girls started modeling in New York. It was cutthroat and you had to go to Paris and get your book put together. This agency in New York and Paris wanted me. Now I had a free trip to Paris. In my mind it was like they still haven't caught on yet (that she was just interested in the free travel) that I am not going to be a model. I had the greatest secret in the world and they kept falling for it thinking that I was going to be a model, but I just got another free trip.
I will never forget that I called my mom and dad from a pay phone in the lobby of the Waldorf Astoria, because that is where this competition was. I was supposed to go back to school in a couple of weeks, because my classes were starting. I told (my parents) they want me to go to Paris (she says it in a tone of disbelief). I said I think that I should go. I talked it over with my parents and they told me that it was a really good opportunity and to go. They said you can go back to school next semester. If they believe in you take this opportunity and go to Paris. I went back home to Omaha and I packed my bags.
(Back) in New York the agency had a little group of models and we all met in New York for about a week. There were six of us that they shipped off to Paris together. I had French in high school and college, so I spoke and more importantly I understood French. I could also read French, which was an advantage very few of these girls had. I can't say I was at home immediately, but I even knew the city geographically. We had studied the Metro system and I knew all of the things that I wanted to go see, while I was in Paris. I was in Paris to model, but from a work point of view and a modeling point of view it was not very glamorous. It is not what people really think. There were six of us girls in one hotel room. Then we got an agency apartment and there were six of us girls in an agency apartment.
There was this photographer and her name was Barbro Anderson who had been a famous Swedish model and now she was a little bit older. It was probably my second or third day in Paris. I had this short hair and she was looking for who the new girls were, because she wanted to do a test shooting. She (decided) to do a 1920s Louise Brooks stylized look. She asked me what my hair looked like if I combed it straight down, because it was feathered back. I said it looked like I was wearing a football helmet. She combed my hair down and I was like a little Louise Brooks. She booked me on the spot to do these test photos. She took the photos to Depeche Mode, the magazine in Paris and she got the booking for the job based on the pictures that she took with me. She booked me and I had only been in Paris for five days. I already had a six pages editorial, which is the hardest thing to come by for Depeche Mode.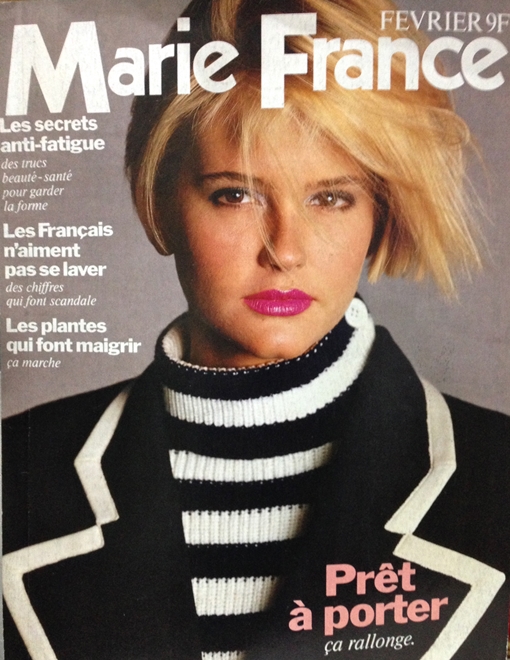 Depeche Mode liked those pictures so much that they booked Barbro again for another five page spread and she wanted to use me. She totally changed my look, so that I didn't even look like the same person. I now had ten pages of editorial in Depeche Mode that looked (different). It was amazing! Then when October and November came they decided to do a test for the cover of Depeche Mode. I did a photo test with Paolo Roversi for the cover and they booked him, so they booked me. I got the cover of Depeche Mode and I had ten pages inside. I was working instantly and all editorial is the coveted thing that you want, but editorial doesn't pay anything and you are shooting in Paris. You really don't go on location that much for editorial, because it is mostly studio work. Here I was in this coveted position that every model goes to Paris to do. Here was the mid-west girl in me (thinking about) my five roommates who were working on catalogue stuff, which pays a lot more money and they went on location. My roommates were traveling all over and making all of this money and in my mind I was stuck in Paris working at Elle, every day.
Just this look that I had at the time it clicked or it was my innocence and my naivety, which is what I think they liked. I had no attitude and I was a really hard worker. I was reliable. I was older than a lot of the young girls. I was twenty-one when I started, but I looked like I was sixteen or seventeen. All of these other girls were young and unreliable. I was there on time and I didn't drink and I didn't do drugs. It was a job and I was going to do it well, because that is the kind of person that I was and of course that just blossomed. That word got around and I was booked left, right and center for the three months that I initially went to Paris. For me it was just a trip to Paris and for me when December rolled around I went home for Christmas thinking that my stint in Paris was done. I had put in my time and I had gotten my free trip. I was going back to school."
Par for the course that plan soon changed and Rebecca Staab explains why, "I will never forget when my agent called and said on January 4th and on the 5th you are doing this and on the 6th and I was wait, wait, wait, I'm not coming back. My agent said, Depeche Mode came out and you have the cover, you have ten pages. I was like no. I had bookings lined up one side and down the other for the next two months. My agent said you have to come back and I was oh no I want to go back to school. Then there was this work ethic and it was a job, so I said I would go back for two months and I would do the bookings, but I (told him) don't take anymore, because I have to go back to school. I knew they were just going (she imitates a snickering) she thinks she is going back to school, but once we get her here we are going to keep her, which of course they did. I went back and I worked non-stop.
Then I told my agent I want to travel. My agent said this is the best stuff in the world and you want to go and shoot a catalogue? I said, I want to go to Greece and I want to go to St. Barths and they were okay. My agents were really smart and they would book me for trips far enough apart that I would be in Paris for two or three weeks working and then I could go away and do a trip, then I would have to come back. They handled it really well. I was just back and forth and back and forth. Then I was really happy, because I could go and do my trips and make some money and then I could come back and do my editorials. I had a really killer book by that time. (Next) I was supposed to go to New York. That is what everybody does. I went home to Omaha in the summer. My best friend got married and I was in the wedding. I was going to do my regular summer job in Omaha and then go back to school.
Now an agent that I had met in Paris called me from Tokyo. I had met her in April or something and she asked me if I would like to come to Japan. I said yeah, sure and not knowing (at the time) if I was going to go. She called me on June 1st. She said we have your flight and we have this and we have your apartment. I was wait a minute, wait a minute; I'm going to summer school. I kept trying to go back to school and she said we already have your ticket, (so you can) work in Japan. I needed a work visa. To work in Japan you had to have a guarantee like a dollar amount. When she told me what that dollar amount was to go to Japan for two months, I said okay! Yes definitely I'll go. Mom, I'm not going to be going to summer school. I am going to Japan for two months, but look how much they are going to pay me.
For me again it was ha, ha, ha, a free trip to Japan and they are going to give me all of this money. This is incredible. I went to Japan and Japan literally changed my life. Japan was so fabulous. I worked seven days a week, twelve hours a day and they don't take weekends. I was booked constantly. It was the most beautiful…. You think at the time that Paris or Milan were doing the cutting edge stuff, but in Tokyo it was so artistic and creative. It was so inspirational. I loved going to work every day, because it was like an art project every day. It was almost like doing a play every day. What were we doing? We were creating something. Artistically it was so exciting. Everybody worked as a team and it was collaborative. They were so excited.
Then I started getting booked for a ton of commercials, because I was so animated. I said I can do that, because I am an actor. When I started doing all the commercials I was so happy. I loved doing that. I talked to my Paris agents in the meantime and they figured that I was done, because I had told them that I was done. I was going to go to school or New York. Now my Paris agents thought I was happy, so they said we have a booking for you in and I don't even remember where. I said what? Where am I going?
My Paris agents lured me back to Paris from Japan. I ended up staying in Paris for three and one-half years. I would go to Japan in the summer and it was like the perfect balance. I was in Paris and traveling and I would spend my summers in Japan and that is where I made my money. Then after three and one-half years the day came when I thought I am living out of a suitcase. It was really the time to go to New York, because I had the most incredible book put together. For somebody of my size, I was not tall and I didn't do the collections and it was amazing what I had put together in that amount of time.
I was originally with Click Models in New York and Click was really avant-garde. They were the first to go against the waspy mainstream. They had a lot of urban looking girls and I didn't look like a Click model at all. I was a total Ford Model.
When I (arrived) at Click they had just started their TV and film division and literally I was in New York for a week when they asked do you act? I said yes! As a matter of fact I do. They said go upstairs and talk to Mike, because we just started a TV and film division. I went up and talked to Mike and that is where my career started as an actor. Mike sent me on my very first acting audition, which was the ABC soap Loving. It was a character who was only supposed to be on for six episodes. She was this little Punk Rock teenager. He said go and have fun, but don't expect to get it. He said this is what an audition is. He told me this is what you do for an audition. I had never been on an acting audition in my life. I walked in and I booked it.
To read part two of our interview with Rebecca Staab, as she talks about her acting career click on this link.
Please visit the website for Rebecca Staab. Return to Our Front Page
#RebeccaStaab #RebeccaStaabActress #rivetingriffs #rivetingriffsmagazine
This interview by Joe Montague published November 5, 2017 is protected by copyright © and is the property of Riveting Riffs Magazine All Rights Reserved. All photos are the the property of Rebecca Staab
unless otherwise noted
and all are
protected by copyright © All Rights Reserved.
This interview may not be reproduced in print or on the internet or through any other means without the written permission of Riveting Riffs Magazine, All Rights Reserved