Interview with Joe Montague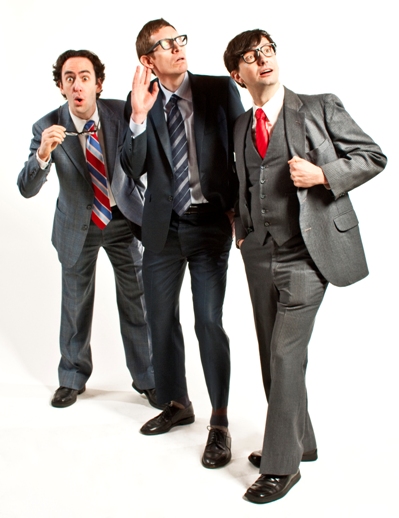 A Seattle based band named Recess Monkey, a pun for rhesus monkey, which consists of a trio of teachers turned musicians and songwriters have caused quite a stir across America in just a few short years, with their offbeat brand of children's music. Jack Forman, Daron Henry and Drew Holloway who met while teaching at the University Child Development School, experienced what Forman describes as their Beatles' moment when they performed for the Dalia Lama at Quest Field in Seattle, during the Seeds of Compassion event, playing before an estimated 50,000 people.
Forman laughs, recalling the event and saying, "We were the opening act for the Dalai Lama."
The trio began touring in 2008, after the release of their first album Tabby Road. "We played maybe 15 or 20 shows in two and one half weeks driving around the country. We were just trying to get an idea of what it would be like to be on tour. We also made stops at places where there were people who are pretty influential in the kids music scene," says Forman.
The kids music scene is burgeoning says Forman, "There are lots of big kids bands now that have a national footprint, but in lots of cities there are artists who are doing things together and they are doing that in Seattle. As an independent band you can bounce between cities in that way and you can tap into existing audiences. You can reciprocate when another band is coming through your city. It is really neat that the community aspect is growing quite a bit."
"This band began as a genuine friendship between the three of us, who were colleagues, as teachers. Just the fact that we get to play music around Seattle and in other cities, we think that we are the luckiest band in the world. It is such an exciting adventure that we are on and any time that we get a new fan or that we get to play a new show, it just feels like, how can we be this lucky. As far as why we have been successful so far, I think there are a few reasons. Luck is one of them and as teachers, (our) schools encourage embracing the outside world and bringing it into the classroom. It is about having conversations with kids about real things. It is not about sticking to a pre-written curriculum, but instead trying to meet kids where they really are. I think the way that it translates to our music is that we are always hyper conscious of where kids are in their thinking. In our live shows, we try to play off of them and to include them as much as we can. The ideas come straight from the kids now. We treat our classrooms almost like focus groups and the big salient themes that kids are talking about, we usually craft into songs. I think that one reason that has been a successful formula if you can call it that is we think that we are writing authentically about things that drive kids; jokes, themes and topics that we hear a lot from kids. We really are trying to play to both audiences at the same time, knowing that our typical audience is kids who are between three and seven and obviously their parents too. It is important to us that we are creating something musically that speaks to the parents as well. We would never make music just for kids; we are making it for us too. If you took the lyrics away from our songs it would be difficult to differentiate it from any other music that is out there. Obviously we pay a lot of homage to sixties and seventies bands and different genres. Instrumentally, we are trying to create things that are multi-faceted and lyrically too we need to remind parents of what it was like to be young and to create a mirror for their relationships with their kids. Creating something that parents and their kids can enjoy together is something that seems to be working," says Forman.
All three members of the band had at one point or another, at least dabbled in music, prior to making the plunge into Recess Monkey. Daron Henry recalls his musical roots, "I started playing drums in 5th grade band with ten other kids. By the time I was in 7th grade, I was the only percussionist left. In high school, I joined the marching band and I was hooked. I taught myself how to play the drum kit in college. I played with my friends in a lot of different bands from Rockabilly to Dance Goth.
Drew Holloway's attraction to music started early in life. "We had instruments around the house that my older brother would pick up and abuse. There's a photo of me at three years old holding a nylon stringed guitar. I remember it well. It never had more than four strings on it and it was adorned with electrical tape that covered the many dents and holes. From those early days I moved on to piano and guitar lessons, while playing in bands in high school and post-college. My Dad and brother had great record collections of the Beatles, Beach Boys, XTC, and The Smiths and that imprinted upon my brain."
As for Jack Forman, "I played a lot of traditional instruments growing up, but it was really in boys' choir that I learned about music. I was a second soprano, which meant I spent a lot of time harmonizing, learning what goes on inside of chords, and how to work as an ensemble. Therefore, I think that my bass is more like a mezzo soprano than like a traditional bass. I really like to find quirky harmonies to put on the ground floor."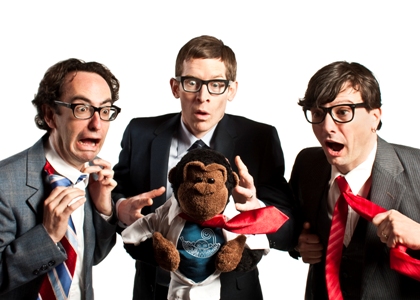 "The first step with a new record is to brainstorm a theme, which is something we all do together, usually as we take long car rides or flights to gigs. It takes sometimes months to get to a theme that excites us. The next step is for us to listen to what kids are talking about in our classrooms from the perspective of this new theme. Most recently it was superheroes for our record FLYING! We build a list of song ideas, and then Drew goes to town!" explains Forman.
Drew Holloway picks the conversation up there, "Things for me almost always begin with melodies. Before we sit down to narrow down and choose the theme or concept, I'm singing little ditties into my phone. I'm in this step of the process right now for our next record. By the time I'm about to begin knuckling down in the late summer/early fall, there are a lot of tidbits to work and to develop. There's a fair amount of revising the structure and the lyrics and it continues well into the fall. After brainstorming with Jack and Daron, some of the melodies combine with their ideas, and inspired by our conversations, other new songs spring forth. There are usually a couple of older ideas that resurface too, either to fit loosely around the theme or to be re-authored with the theme directly in mind. "Bravest Kid In The World," is one that came together rather quickly and which was inspired by the theme. "Bunk Bed," features an older melody that was first conjured up on a ukulele. It transformed once again when we were in the studio and we gave it a 50's doo-wop treatment."
Drew Holloway and Jack Forman now have children of their own and the experiences that accompany parenthood are now starting to infuse the music of Recess Monkey.
"Drew is writing more personal experience types of songs about his daughter and when his second daughter was born, he saw the type of relationship that was forming between his kids. There are a lot of songs that are specifically about that relationship, which is a lot of fun. From my perspective, it is a really interesting time, as I am about to transform from a kid music maker to a kid music consumer. I am already thinking about what Seattle kids bands we will take our son Oscar to see. The good news about being in the kids music business is that we get to go to things like the Kindie Fest in Brooklyn. It is a really good time. We just trade CDs and we bring thirty or forty of our new CDs and we hand them out to our friends and we get their newest thing. In my office I have about 150 of the greatest kids CDs that have been made in America during the last ten years. The good news is that our son is going to have exposure to a lot of different stuff, although probably the first thing I am going to play for him is The Beatles. It is interesting now, as a new dad to think about the power that is going to play and a lot of the shows that he is going to be at for his very early childhood, are ones in which I am going to be playing. I am wondering what the balance will be, as to how often he comes to see his old man play a show, versus seeing other musicians," says Forman.
What can children and their parents expect to experience at a Recess Monkey performance?
"We learned very early on that just like in good teaching, you can't really play a good kids music show if you are just planning on standing and delivering. Maybe some people can, we certainly couldn't. In our early shows we would play songs that weren't at all interactive and they were one directional songs going from the band to the audience and they would hopefully applaud at the end (he laughs). We learned very early on that doesn't work for kids music. Kids need to be engaged and they shouldn't feel like they are just watching. A typical show of ours is forty-five minutes with twelve or thirteen songs and there is a letdown in the middle, so kids can reset a little bit. We try really hard to manipulate the energy in the room and it is building and building and there is a ton of energy, as the kids become really excited. We have some pre-scripted things, (such as) dance moves, which are ways for kids to connect. We also try to incorporate off the cuff things that we hear kids say. Sometimes the lyrics change in songs and sometimes a kid says something that becomes a theme that runs through the show, but it is very much what we try to do as teachers, which is to really individualize who is there and that is a little harder to do with an audience, but there are some things that you can do to make it more inclusive of kids. Part of what we are trying to create is that shared space for kids and their parents. It is a safe place for adults to get a little crazy and to sing along with lyrics that they can't believe that they are singing along with. In this day and age when there are so many things vying for kids' attention, we think that we are pretty lucky that we get to create something that the entire family can share together and that they can eagerly anticipate together. They can have competing favorite songs of ours that they talk about or they can spin the records in the minivan, before and after the show. They generally all like what they are hearing. We feel pretty lucky that we get to create that shared space. It is very much a community type of vibe," says Jack Forman.
This summer Recess Monkey is doing an east coast tour, which will include performances at the World Café and the Wolftrap Theater in Washington D.C. During the latter part of the summer they will stay closer to home and be performing numerous times throughout Washington State. You can check out their tour schedule, listen to the band's music and watch their videos on the Recess Monkey website.
Interviewed May 2010
Protected by copyright ©, Riveting Riffs Magazine, All Rights Reserved