Ricky Z - The Long and Dusty Road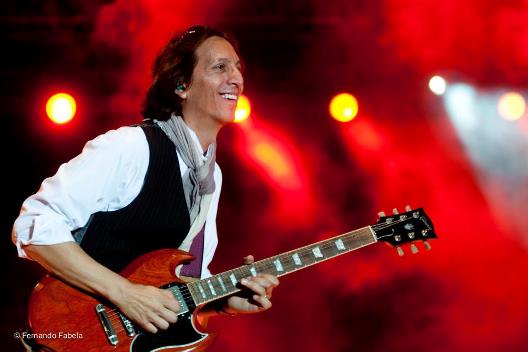 He was listening to Beck, Bogert & Appice (Jeff Beck – The Yard Birds; Tim Bogert – Vanilla Fudge and Cactus; Carmine Appice – Vanilla Fudge and Cactus) when he was in grade school and he performed at the White House with Gloria Estefan as an adult. Ricky Z born Ricky Zahariades, in Phoenix, Arizona, but a native of California from the time he was three years old and his family moved to, in his words "a small dusty town" called Fontana (San Benardino County). He has also worked with artists such as, The Sweet (also known simply as Sweet), Michael Buble, Lauryn Hill, Josh Groban and Jessica Simpson. Ricky Z sat down with Riveting Riffs Magazine to discuss his new album The Long And Dusty Road, which features all original songs, his career and his musical journey.
Discussing his childhood in Fontana he says, "It was a great place to grow up and there was all of this music around, so that was kind of cool. I had older brothers and I started getting access to their great music and I was soaking it up."
Whenever his brothers would bring a new record home he recalls, "I would just sit there. I loved Keith Emerson, Zeppelin, (Black) Sabbath, Peter Frampton, the Stones and The Yard Birds. I was a music aficionado by the sixth grade. It encompassed my whole world and I hadn't even thought about playing it. The summer before the eighth grade my brother's best friend brought over a guitar with a little Silvertone amp and he left it there all summer. If I played it, nobody knew, so I just ran and in there and started making noise. I played it whatever way it was tuned and only the three big strings on the top. I played along with the records to find the ones that fit. I bugged my mom, mom please can I get some lessons. She hooked me up with a local teacher in town and I studied with him for the next couple of years.
My father left his resonator acoustic guitar with strings that were about a mile high and as heavy as telephone cables. That is what I used to play, because my brother's friend had come and taken his guitar back. I spent all my time getting all calloused up and getting my hands beat up, but I loved it like crazy. I was bugging my mom to get me a guitar. About mid-eighth grade she said I will get you a guitar once those grades come up in math. I became very motivated in math and that got me my first electric guitar.
Ricky Z formed a band with one of his brothers and a friend while he was in junior high and they played their first gig for eighteen dollars.
He starts to laugh, "I felt so bad for these kids. We ended up playing at a church get- together dance. It was a teen dance. We had no idea what we were supposed to do. We get into this dance and it was so cute, the girls had written on all of the tablecloths, we love Larry, Ron's so cute, Ricky's da da da. It was a total teen dance and we got in there and we started playing UFO, Sabbath and Zeppelin tunes. Just the look on their faces was, what is this (he draws out the what for emphasis)? It seemed like it lasted a lifetime and finally I looked over (at one of the other band members) and I said do you know that song "Sweet Home Alabama," and he said I think so. I said I don't care just play it. They got up and they danced to that. That is what got me hooked. At that point, I did not want to do anything else or to think of anything else (other than music). That is all that I had my head wrapped around.
In high school I started playing in a Country band, Big Mama Cole and the Midnight Runners. They were all older guys and I was this sixteen year old kid. We were playing what they called Country Rock back then, The Eagles, Ronstadt and Conway Twitty. I was playing with them on the weekend. Since I was too young to be in the bars, I would have to sit on the stage and during the break the guys in the band would bring me a coke and they would say don't move. You can't leave that spot. I would just sit there with my coke and I would wait for the guys to come back for the next set, but it was so much fun.
I went to Chaffey College in Alta Loma (Rancho Cucamonga, California) and they had an excellent Jazz program. I played in the Jazz band and ensembles and I learned as much as I possibly could. It was a lot of fun and that is when I started getting invitations for session work.
The first session was with a girl named Kathy Weinrich. She was going to join a ministry somewhere and she had to put together a demo, so we recorded in a studio in San Diego. We had four tunes. I was just a kid, so I had the worst gear. The best thing I had was a 1967 Gibson ES 175 D. My teacher loaned me a Fender Princeton and his Echoplex. I took a couple of other pedals along and I had just a great time. I still have the tape somewhere. That was my first session and I think that I was about nineteen at the time," he says.
During the 1990s, Ricky Z demonstrated his ability once again to adapt to various styles of music, as he started gigging with several artists performing Latin music.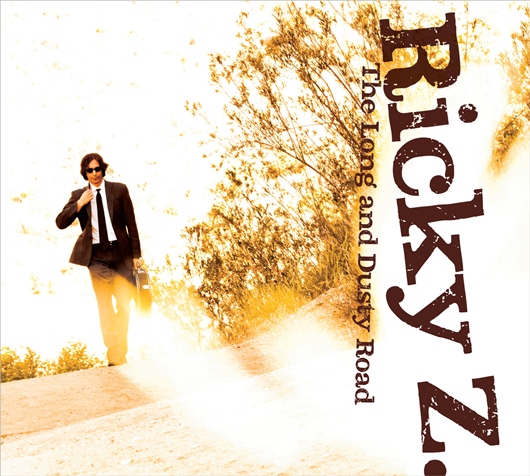 I got more interested and I started picking up more records. I got more and more into it (Latin music) and then I started listening to other ethnic styles of music, such as Cuban songs, some of the Salsa things and some folk music from South America. One of the things that really got me going on that was a job I got through Enrique Martinez and a group of three guys called Los Trio. They were three young kids from Columbia. They re-recorded the catalogue from all of these romantic trios from old records from the forties. I learned all the Spanish styles of the trio.

The Latin flavor continued when he was invited to perform at the White House. The invitation came through his friend Oskar Cartaya, who in turn was a friend of Sheila E.'s. She was putting together an event for the White House to celebrate Latin music. They needed another guitarist and before he knew it Ricky Z was on a plane to Washington to rehearse. He was part of the band that backed up Gloria Estefan. Among the other artists who performed that night were Los Lobos, Feliciano, Thalia and Marc Anthony.

Ricky Z played with Nicholas Lachey who had been a member of 98 Degrees and that begat working with Josh Groban, which was followed by his performing with Jessica Simpson.

He tells a funny story about touring with The British Glam Rock band The Sweet. "The first date I did with The Sweet was in

Chihuahua, Mexico.

They had a song, "Love Is Like Oxygen." I played the intro, which was a Spanish intro for one of Joanne's biggest hits. I used to play it all of the time when I was twenty. At first there was this gasp and then (he imitates the crowd cheering) and then it was Oh My God that's a Joanne tune coming from the Sweet. That was fun."

Ricky Z will be returning to the studio this year to record some songs with Steve Priest of The Sweet and the two of them will also do some collaborative songwriting.

As for The Long And Dusty Road, his album not Ricky Z's musical journey, "Yes this is my first solo album. The (record) first started coming together a few years back. I had been working on productions with an engineer named Kenji Nakai. The last five or six records that I did with other people, Kenji mixed them and he had always been after me to do a record. He said you have to do a record. Finally, he looked at me and he said, dude time is passing and you have to do a record, go and do it! He told me he would co-produce it with me. That was probably in 2009. In 2010 I started getting busy on the ideas for the tunes, in 2011 we started recording and we were done in 2012.

There were two collaborations with a lady by the name of Rosie Casey, an excellent lyricist and she is the sweetest person this side of the North Pole. I had been working with her on some of her projects and I asked if she would come in and write with me on two tunes, "Something To See," and "Long Time Coming." She did a great job and she just nailed it. She has great lyrics, great feeling and the process is so much fun with her too. The music was pretty much together already. I sang a rough mix of the tunes for her and some of the things that I sang she grabbed onto and she said that is what the song should be about.

The musical influences and cultural flavors found on the album The Long And Dusty Road are numerous, and some of those surface with the song "No More."

"There is so much mixed up in that song, there is some BB King in there, there is a lot of Billy Gibbons in that song. I love ZZ Top all of the old stuff, the Tres Hombres record, Rio Grande Mud and Fandango! I loved the simple things that he would do, like "Blue Jean Blues, "(from Fandango! –1975) and it just slayed me. When it came time to do the song "No More," that empty, honest, brooding air was in my head. I wanted to make it as cool and as close to that as I could, so that it had that same feeling.

Bill Champlain plays piano on "No More," and trades verses with Ricky Z.

"I met Bill a year before when I was playing a date with Danny Seraphine (drummer). Do you remember him from Chicago (the band)? We had a concert to do at the Canyon Club and Bill came in to sing. We did some of his songs, as well as some of the Chicago tunes from the eighties that he penned. We then became buddies and when it came time to do the record, I (wanted) Bill to sing on it. I gave him a ring and he came right over. He is such a sweetheart. I said would you like to sing a little bit on this tune, it will be fun and I swear you will be in and out, after thirty minutes later you will be on your way. He stayed for three hours. He said I know I am not supposed to play on this tune, but would you mind if I lay one down. Yeah please. Then there was this other tune and I asked could you play some honky-tonk piano. He said no problem, let's go. We hung out all afternoon. It was fun," says Ricky Z.

The song "Back Where We Belong," is a tribute to the people of New Orleans and the music is a combination of Second Line and Texas Shuffle.

"My wife and I went to New Orleans with a good friend of mine and he had a place right on the Mississippi in Jackson Square. We totally fell in love with the city and the more that I delved into it the more I realized these people went through such grief with Katrina and post Katrina problems. It was so bad that after people left, they couldn't go back home, because it was a total mess, so people started spreading out all around the country. People moved to Utah, a lot of people moved to California, some people to Arizona and other people to the east. They were all displaced. A lot of folks were abandoned and forgotten in a way. Imagine not being able to go back to where you had your roots. Then along came BP (the oil spill in the Gulf) and they got hit again. The last verse has to do with never knowing what is coming under that rising tide. It could be petroleum. It could be oil washing up on the shores. It can also be the political climate with them being forgotten. I remember Tab Benoit mentioning that every hour they lose one hundred yards of wetlands per hour since Katrina. Once it is gone, it's gone. There are so many migratory birds that are there and the indigenous animals that have been there for eons are now losing their habitat. That affects everything and it also affects the climate. These folks are fighting to save whatever they can there. The people of New Orleans are so sweet and we totally fell in love with them," he says.

The New Orleans flavor continues with the tune "Who Dat!" the third song on the album. Saying that he fell in love with the music of New Orleans he imitates the rhythm.

The finger picking guitar ragtime, "1 O' Clock Dance," is a nod to one of Ricky Z's favorite artists, Rory Gallagher.

"When I was a kid, about thirteen, my older brother brought home Rory Gallagher's Calling Card record (1976) and I was absolutely floored. Nothing else existed (me) for a couple of months. I became fixated, everything was Rory Gallagher all of the time. He used to play ragtime guitar and I have always loved that. Whenever I do anything that way or I start thinking that way, I remember Rory Gallagher. It makes me a kid again," he says chuckling.

Ricky Z is already writing songs for a new album and there is the possibility of a European tour.

You can listen to the music of Ricky Z here

Photo courtesy of Fernando Fabela protected by copyright © All Rights Reserved. Interview by Joe Montague

This interview is protected by copyright © and may not be reproduced in print or on the internet or through any other means without the written permission of Riveting Riffs Magazine, All Rights Reserved