Rio and the Rockabilly Revival Rock Callahan's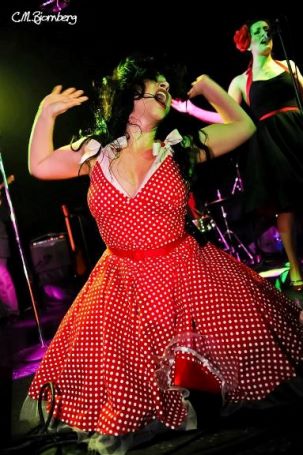 Three and one-half hours before Rio and the Rockabilly Revival fronted by singer-songwriter Rio Scafone took to the stage at Callahan's Music Hall in Auburn Hills, Michigan there was a buzz running through the people lined up outside the venue as they waited for the doors to open. Comments such as "Have you seen Rio before?" and remarks about how exciting her last concert was were common. Following the one hour and forty minute concert Rio Scafone was paid the ultimate compliments as fans waited patiently to have their photos taken with their pixie like hero with the dynamic stage personality and big vocals. In the ultimate form of adulation some fans even dressed similarly to her.
This was not your everyday club gig in a suburb of Detroit, as it was a very polished, well-choreographed musical act, backed by superb musicians and excellent backup singers. Jarod Thompson was outstanding on rhythm guitar, Charlie Bongo kept the drumbeats, guest saxophonist Mambo was solid, Sean Eric Harris is a very good upright bass player and Renee Turner and Yana Levovna were incredible as background vocalists. Rio and the Rockabilly Revival is not merely a concert, it is a memorable experience involving dance, music and elements of theater.
Rio Scafone draws upon her acting experience to tell a convincing story of the condemnation of emerging Rock 'n' Roll music in the 1950's (true story) by the Reverend Jimmie Snow and her songs including, "It's In The Beat," are a reference to the farcical assertion by evangelical clergy that the beat of the music stirred up primal urges and would somehow lead people into sin.
Rio Scafone provided a good blend of original songs, songs made famous by her double gold record iconic uncle Jack Scott ("Leroy," "The Way I Walk," "Goodbye Baby") and for good measure Johnny Cash's "Folsom Prison Blues."
There are songs where Rio Scafone will tease you and songs where you will want her to squeeze you. When she gets revved up she is like Elvis meets Little Richard (complete with the wails), but she is also able to slow down the pace and coo and woo you with reminders of Patsy Cline.
Rio and the Rockabilly Revival is not a tribute act to the music of another era, she lived yesterday. With two aunts and two uncles who were recording artists she heard her voice through an amp for the first time when she was five years old and owned her first amplifier when she was ten years old.
If you are staunch and ultra conservative you will not enjoy the show. If you like to have fun, you are open minded and the beat of the music gets your hips swaying, your feet moving, your body groovin' and you like to get up out of your seat then you should watch the website for Rio and the Rockabilly Revival, so you know when they are in concert in your city or near you. You can also say hello to Rio Scafone on her Facebook page.
You can listen to the music of Rio and the Rockabilly Revival here. Return to our Front Page
Photo by CM Bjomberg protected by copyright © All rights Reserved.
Reviewed by Joe Montague, protected by copyright ©
This review is protected by copyright © and may not be reproduced in print or on the internet or through any other means without the written permission of Riveting Riffs Magazine, All Rights Reserved