Rique Pantoja is one of Brazil's most highly respected composers, arrangers, orchestrators, pianists / keyboardists and singers, who has been living in Los Angeles for the past two decades. He was recognized early in his career and he still is, for being a brilliant composer and a music innovator, as his songs have been recorded by artists such as Chet Baker. His band Cama de Gato is legendary and impacted the Brazilian music scene as much as the Fusion band Weather Report did the North American Jazz scene. In essence Cama de Gato influenced future generations of Brazilian artists and songwriters. Rique Pantoja has worked with some of the most iconic people in the music industry including Brazil's Gilberto Gil, Ivan Lins and Djavan, as well as prolific artists like, Carlos Santana, Ricky Martin, Ernie Watts, Lee Ritenour, Luis Conte, Brenda Russell and Alex Acũna. His music has appeared in numerous feature films and television shows, as well as it has been used to promote some of the world's top brands, such as Coca Cola, Honda and Toshiba.
Rique Pantoja grew up in Rio de Janeiro, one of six children, the fourth oldest boy and he also had two younger sisters. He says that his father who passed away almost six years ago was the greatest influence on him musically. He remembers his father as a great pianist and although he did not pursue a music career professionally he did complete all of the conservatory requirements. He played Chopin and Debussy, as well as American Jazz standards and the music of Erroll Garner (American composer and pianist known for "Misty"). Pantoja says that his sister was also a good concert pianist.
"My dad was not really an improviser. He had incredible chops and he was a good sight reader. We grew up listening to him always playing music after diner and all of us six kids played piano.
Actually, I (also) studied guitar. I started when I was eight years old. I played Choro (pronounced Sho Roh), which is the early Brazilian ragtime music and traditional Brazilian music, so the music requires technique," he says.
Although, instrumentally he is primarily thought of as a pianist / keyboardist, Rique continues to play the guitar in his private life and to write songs using his guitar.
"I have written songs on the guitar, even Classical compositions. One of the top Classical guitarists in the world Christopher Parkening (two time Grammy nominee) recorded two of my compositions on a recent CD with Jubilant Sykes, a baritone singer. It is an instrumental with vocalese.
This morning I was playing The Beatles on the guitar just for fun. I was playing "Here, There and Everywhere."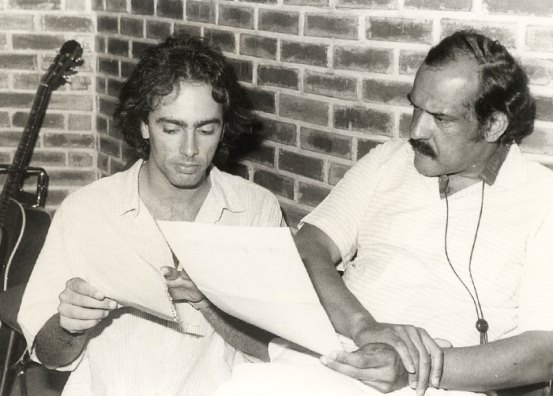 I didn't pursue the guitar when I went to Berklee. That is when I really switched and decided to take on the piano, because I wanted to be an arranger and I wanted to orchestrate. I thought the piano would be the way to go," he says.
Knowing that during the period of time in which Rique Pantoja was growing up the music of fellow Brazilians Antonio Carlos Jobim, Joao Gilberto, Sérgio Mendes and others was receiving international acclaim, we asked him how aware he was of that rich cultural heritage.
"I don't think that I was that aware, because I was just in the midst of things. I was discovering at the same time that I was learning and playing guitar from Brazilian writers and at the same time I was becoming a teenager. I was starting to listen to Rock and Roll and to Yes and Genesis and groups like Focus from Holland, so I had other influences. I thought maybe I would like to be a guitar player. I had all of these different influences like The Beatles and playing the records over and over and trying to figure out the chords by ear. I wasn't reading books about the chords. There was no such thing. It was oh that's how this sounds. Later on I remember the first time that I heard something that knocked me out. My dad played songs that my mom liked, (He starts to sing, "When somebody loves you…," and my mom would hum or sing the melody of some of the old Brazilian ballads. I had that influence of songs that were really rich melodically and harmonically. That's why Jazz had that attraction for me.
I wasn't that aware of (the rich heritage of Brazilian music), but when I was sixteen or seventeen my older brother brought home two albums, one was A Simple Matter of Conviction with Eddie Gómez (bass), Shelly Manne (drums) Bill Evans (piano). I was (thinking), what is this? It had beautiful lines and chords. There was also (a record by) Chick Corea. It was the first time I ever heard the name, so I had not heard any of us his other things and my mouth just went to the floor and I went what is this? I couldn't grasp or put my hands around it. I went, wow I want to learn about some of this, but it seemed to be so difficult and so out of my understanding. I was enamored with the sound of different styles of music," says Rique Pantoja.
Because of his scholastic achievements in Brazil, Pantoja got his first taste of America when he attended high school in La Crosse, Wisconsin, as part of a student program for excellent students.
"I was so tanned and I arrived in the middle of a blizzard and it was like what am I doing here? I ended up in La Crosse in the middle of the winter and it was summer in Brazil. It was quite a surprise for me," he says while laughing lightly and then continues, "When I got to high school (in La Crosse) I was supposed to be a junior and the first week I had to take math and stuff like algebra. I told the teacher I already knew all of it. He thought I was lying or bullshitting, so he asked me if I could do the exercises in the back of the book and I did. He said you really know that stuff and you should be a senior not a junior. In the half of a year that I was there I was able to graduate as a senior with the whole American thing. We don't (in Brazil) have that kind of graduation. It was very special to be able to do that. I had my diploma and the whole thing.
While still in high school Rique Pantoja started writing his first songs and he won a song contest in the La Crosse high school. He had already played the guitar as part of Classical duets, while at home in Brazil and had what he describes as that love of music.
"I was getting serious about it, so when I went to La Crosse (Wisconsin) and I lived in America for the first time, I learned the language, because if I didn't speak English I would not survive in high school. I had to learn the hard way. By learning the language and listening to other kinds of music from James Taylor to Cat Stevens to Stevie Wonder and Chicago then I started saying, man it would be really great to be a musician and to do that for life.
I got a good score on this test that the whole country (Brazil) had to do and I showed my dad that I scored really high. I said I can choose whatever college I want to go to, but I don't want to do that. He said if you become a musician you will never be able to provide for your family the way that I did for you guys and all of you had a chance to study abroad, at least for a season and you were able to study in private schools. My dad loved music and he encouraged me, but he said take music on the side. Don't make this the main thing. Go become an engineer. I said no I don't want to do that. He asked if I could go for six months and I did that to please him and I started off in electronic engineering. I didn't want to be an engineer, but I thought maybe I could learn how to take apart a mixing boarding (in the studio).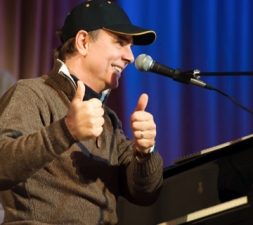 I was eighteen years old. That's how it happened. I did six months of that and then I said dad I don't really want to do that. I want to go to Berklee. My dad agreed. My parents agreed. Soon I was nineteen. In the summer of 1975 I moved to Boston and I started the program there in arranging and composition," he says.
As for getting into Berklee, Pantoja says, "They asked you to send a tape of me playing and there were a couple of questions about what I knew about harmony and chords. When I got there they had a place where they tested me. They checked my ears and my abilities and my knowledge of harmony. I enrolled in composition. I don't think they have that program anymore, because things have changed," says Pantoja.
After his last year at Berklee, Rique Pantoja decided to move to Paris to pursue his music career, rather than returning to Brazil.
"When I got to Paris I started playing with different bands. Pretty soon I started my own group Novos Tempos with my friend. The only person that I knew was a drummer called (José) Boto. Boto used to play with a lot of French artists. He went to Berklee for a summer and he said to me if you ever come to Paris look me up and we can play together. He was already famous and I was just a kid. Boto was older than me. He was thirty-three or something and I was twenty-four. When I got to Paris we put a band together. I had a whole bunch of songs that I had been writing and he said yes let's do that. (In the band) was Richard Galiano. He is off the charts and he is amazing. He plays a button accordion, not a keyboard. He can play from Mozart to Bebop. He is world famous. He was part of our band.
We got this little gig and we played seven nights a week. The band was slamming and when you play seven nights a week, you don't even have to think. The band is just one sound, because everybody is just so integrated. There was this producer who owned three studios (Studio Davout) in one building and his name was Yves Chamberland. He used to come to the club all of the time and he loved the band. He called me and he said I think you need to record, because this is amazing. You have the music and the energy and you have a Samba flavor. He said I want to produce your record. This was in '79 – '80. He (told us) you need to have someone famous to come and help sales. We need one guest player. I said great. I had never done a record before. He told us that Chet Baker was playing a couple of doors down in another club and that we should go and talk to him? I will pay for him to play a song. I said wow, Chet Baker great. I knew some of his music. I just knew that Chet Baker was one more of the great Jazz players. I said I will go there on the break tomorrow and I will talk to him.
I went there and I waited for his (Chet Baker's) break. I thought what have I got to lose? If he says no, he says no. I will give it a try. I asked if I could talk to him for a minute and he said sure. He was very open. I said I am a pianist from Brazil and I lived in Boston and I did a little name dropping. He was open, because I knew some people that he knew. We had this guy interested in doing our record and he suggested that we should invite you to come and play one song. Would you consider that? He said tomorrow I will see if I can check your band out on my break. If I like the band maybe we can work this out. I said great. I went back and I didn't even listen to his set, because I had to play at the same time that he was playing.
The next night we were playing and in the Jazz club there was a curved staircase that came down and I had my back to the stairs. Chet had come in with his trumpet and all of a sudden in the middle of the song he started playing. Even right now, while telling you this I have goosebumps. Oh wow the guy is playing. He played a solo and then he came down and had a beer. He said you guys are hot. I am going to Brussels for a gig, but I will be back in two weeks. Give me your number and I will have someone contact you and I will let you know where we can rehearse. I want to rehearse, before we go into the studio.
The invitation was originally for him to play one song. It turned out when we went to the studio he wanted to learn the other songs, so when we rehearsed he said oh let me play on this one. It turned out that what was supposed to be our record became his album. The original name was Chet Baker Meets Novos Tempos. When I moved back to Brazil Boto did some kind of another deal with a label and he said oh it is Chet Baker and the Boto Quartet. It is kind of one of those they pulled the rug (out from under me)," he recalls.
Novos Tempos was invited to go on a tour of Italy with Chet Baker and Rique Pantoja refers to that time as a source of great encouragement for him as a young songwriter.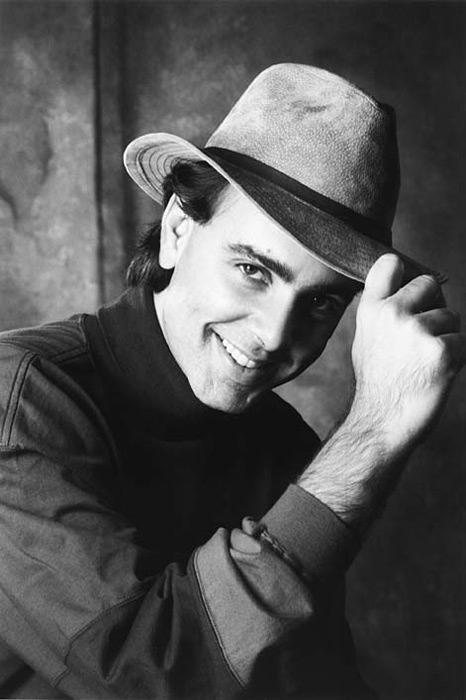 "After I went back to Brazil, Chet recorded my song "Arbor Way." There is a fifteen minute version of the song and about eight minutes into the song Chet Baker starts his solo and he just keeps going and (you are thinking) where does he get his air from. He recorded a couple of my songs after we stopped playing together.
After Paris I went back to Brazil, because I had only been back there a couple of times for Christmas. I had not moved back to Brazil since I left when I was nineteen. I thought I would play with some artists with whom I had never played and that doors would open. Sure enough, two weeks after I moved back to Brazil in '81, I got invited to play with Gilberto Gil for two years and Gilberto Gil was one of the top Pop artists in the world. We went on the road and we did a Brazilian tour, a European tour and a U.S. tour," he says.
Now he was twenty-seven years old and he says, "Many things were going through my mind. I was young and I wanted to conquer the world. I wanted to play music. I went for a season when I said I don't want to do anything with Pop music. Jazz is more sophisticated and it is a higher level and I was kind of radical. I think that is part of the pendulum. You go deep and you want to play this and that, until you play outside. You want to be hip. Then you despise Pop, at least I did. The Beatles, James Taylor and all of that Pop music was not interesting. Then I went through this other period when no, no that doesn't make any sense, it is all beautiful melodies and beautiful music. I got back into playing and writing songs that were Pop, not Pop in the sense of being commercial, but in the sense that the melodies were accessible. I think that is part of my writing. Even underneath, the harmonies can be very sophisticated, but it is done with a sense of aesthetic where the regular listener may not catch that. The melodies are so simple that you can sing them remember the melodies; (while) underneath there are complexities. I started writing music that always had some interesting harmonic path, but at the same time I like melodies that are singable.
Playing with a Pop artist there was an injection of a lot of Pop music and with Gilberto he had very percussive melodies. I had listened to him growing up, before I ever dreamed of playing with him. After that I played with many other Brazilian artists. I traveled with Djavan. He is very sophisticated and a great singer. I was the music director for two years. All of those artists and their music influenced me. I don't think that I can say this guy or this music was what influenced me the most. I grew up loving The Beatles, loving Jobim, loving Classical music and my dad played Debussy, so it is part of my fabric."
While still in Brazil, Pantoja formed the band Cama de Gato (Cat's Cradle) and they would go on to become Brazil's best seller in 1986 and 1987. They toured throughout Brazil, played the Paris Jazz Festival, played in Brussels, Belgium and then in Spain. Rique Pantoja wrote most of the band's music and he likens them to being as innovative as Weather Report or the Yellow Jackets.
"This band had a great chemistry, because there were four different individuals who had four different musical paths. When I moved back to Brazil Pascoal Meirelles was like a brother and he said let's put a band together. Pascoal was the drummer. He is phenomenal. He is a great writer and musician. He studied at Berklee too. When I met him at Berklee, I was wow Pascoal Meirelles. He played with Tom Jobim. It is like if I had been living in America and said this guy plays with Miles (Davis) it's like whoa. He was the oldest one and more traditional and then Mauro Senise was the sax player and flute player. He never lived outside of Brazil or studied in America, but he had a Jazz flavor and he was totally into Miles Davis. I was the one who was coming with all of the different influences, a little bit of the Funk, R&B, the Pop and the Jazz. The bass player Arthur Maia was a young, energetic and incredible bass player. He played with a lot of chops and he played fast. He was more Pop or Rock. I was never really a Rock player even though I played Rock guitar a little bit, but Arthur could play Rock and he could play anything. It was a good combination.
This band started influencing all the other young generations in Brazil. If you type in my song "Melancia," (on the internet) and my name you will see literally hundreds of different versions of bands playing my song. I just started posting stuff on Youtube not too long ago."
Rique Pantoja acknowledges that it is special for him knowing that when he was younger other artists influenced his music and career and now knowing that his music is also inspiring and influencing other young artists.
"It is. I got involved in education and I love the sense and the responsibility of passing on the baton and the legacy of what you leave behind for art's sake. Yes it would be great to make more money by selling cds or individual songs online, but it's quite difficult when the trend is "I can watch it for free, so why should I pay for it? That is one of the reasons I put the videos (online). I said you know what, I am just going to put the whole thing there, because what good is it for me to … (His voice trails off). Don't get me wrong, I am not a pessimist or anything, but I am trying to figure out a way to … (He changes in mid-sentence). I think there is a responsibility. I have been writing for many years and I have not released a new CD for a long time. I said what is the point of me making the music that I love and only a few people around my circle listen and are saying oh man this is beautiful. The whole purpose of having this gift is so I can share the gift. It is not to bring glory to me, but the point is people play this music and it touches the hearts of people and that is the real value of what I do. The importance of people playing my music is it thrills me and the most important aspect of art is it being shared and being enjoyed.
I have a bunch of students who come and who study privately with me. I have students of mine who went on and have their master degree in composition and orchestration and have been assistants to film composers. Now I say to them you have to teach me things and we trade. I am an eternal student.
I put my career on the backburner for a long time. I kept writing, but I have things I have never released. I have a mission. I need to release this. When am I going to do this? When I am seventy? No. I need to get this music out there. Even for people who would like me to play festivals. I know this is not where I am going to make the money, but we never know. I love the opportunity. When I moved here Warner Music was releasing my CDs and I was being played (on the radio). I had all of these (plans) and then things changed and I (did not want to be) always on the road. When I was (touring) my youngest son was born and I saw him for ten days and the next time I saw him he was four months old. I didn't want that for my life anymore. I have done enough of that. I will do studio work, but I don't want to be on the road anymore. I wanted to have a life. It was (no longer) about how much money I could make. I have been there and done that."
If you enjoy great music and well written songs then we can only hope that Rique Pantoja releases more of his music soon and to ensure the future of quality music, let us all hope that we see a return to the days when artists are compensated fairly for the joy that they bring to all of us with their tremendous gifts.
You can listen to Rique Pantoja's "By the Sea" here.
Please visit the website for Rique Pantoja.
#RiquePantoja #PascoalMeirelles #ChetBaker #Ivan Lins #RivetingRiffsMagazine
This interview was conducted by Joe Montague with assistance from Michelle Hart and was published August 29th, 2015. It is protected by copyright and is the property of Riveting Riffs Magazine © All Rights Reserved. All photos are the exclusive property of Rique Pantoja and protected by copyright
©, All Rights Reserved
This interview may not be reproduced in print or on the internet or through any other means without the written permission of Riveting Riffs Magazine, All Rights Reserved