Roger Kellaway, One of the Heroes of Jazz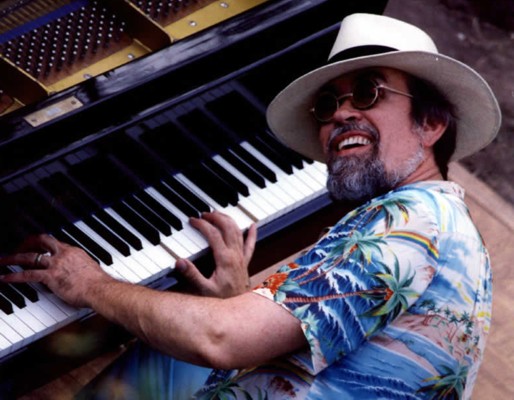 It is not very often that you have an opportunity to speak with a music icon as celebrated as Roger Kellaway and it is even less often that you get to talk to him on his birthday (67th). I had the opportunity to do both recently and found the pianist/composer to be one of the more congenial people that I have spoken to inside or outside of the music industry. Kellaway took time to reflect about the relationships he has forged, time spent in the late 1960s as the arranger and pianist for Bobby Darin, the numerous films he has scored and his forty-one year marriage to Jorjana.
Now entering his sixty-eighth year Kellaway is not a man stuck in the past but quite the contrary. He spoke of the need to ensure that his music and his career is more firmly entrenched in the digital age. Inspired by Maria Schneider's success in the digital age Kellaway says, "I am much more interested in it right now than I ever have been because I just don't think there is any other possibility (for selling music on a large scale)".
He talks about new projects and musical adventures he would like to pursue. You can hear the vitality in his voice whether he is recalling a fond memory or in his responses to questions that solicit his opinion.
Kellaway revels in what he refers to as a 'forty-one year art lesson' at the hands of his father-in-law, his wife and her uncle and it is therefore fitting that the cover of his most recent CD Heroes it is very Picasso or Degas like, even though he did not have input into the design. He says that of all his album covers to date, the one for Heroes is the one he likes the best and that others seem to also enjoy the most.
Why did Kellaway choose this time in his life to create this particular album? "These days particularly in the last few years and with the last few CDs I have been looking for a common theme. Heroes is dedicated to the first two Oscar Peterson trios. The first one was with Barney Kessel and the second one with Herb Ellis," he says.
Kellaway indulged in some heavy-duty research concerning the Peterson trios and he drew upon his past experience playing with Herb Ellis and renowned bassist Ray Brown who had also performed with Peterson. Familiarity with the Peterson repertoire made song selection for Heroes easy
Kellaway says the reason for recording songs such as Benny Golson's "Killer Joe," Duke Elington's "Cotton Tail," and Kellaway's original composition "I'm Smiling Again," "was to commemorate the person who was the single most prominent force during my teenage years. Oscar (Peterson) was a tremendous force in my (musical) upbringing."
Noted Jazz historian Gene Lees once asked Kellaway for his opinion of Oscar Peterson after introducing the two of them and Kellaway replied, "The world is a swing." Lees thought that was a great phrase and somewhat incorporated it into his 1988 biography of Oscar Peterson The Will To Swing.
The album Heroes is part of a bigger mission that Kellaway has embarked on. "This is what my new trio is all about. I am feeling a legacy about swinging because most of the people that I learned it from are gone. The younger generation seems to be responding to swing at least in terms of dancing. It certainly is a part of jazz that needs to should be addressed.
With twenty-six film scores to his credit including titles such as A Star Is Born, Breathless, The Paper Lion and Invasion of the Body Snatchers it was surprising to learn that Kellaway is not overly eager to return to that medium.
"I have looked at film music again, but colleagues have told me horrendous stories of working with people in the industry that essentially don't know anything about music. There are projects with (as many as) fourteen producers, so I have decided not to go in that direction," he says.
Recently however Kellaway finished writing a score for a documentary his wife Jorjana was completing. Other than Jorjana's project, he has however decided against, "Going back into music per se unless someone comes along that just adores what I do. It has to be a small independent project with some parameters to it. (It cannot have) fourteen people with opinions. That isn't how music is made!"
Reflecting upon his career, Roger Kellaway says that three vocalists that he has been associated with stand out, Sarah Vaughan, Carmen McRae and Bobby Darin and concerning Sarah Vaughan he says, "When I did piano bars in the sixties I used to sing a lot of those swooping phrases of hers. I always loved her style. You are talking about a time when singers actually sang the melody (versus) what happens nowadays. You are talking of a time when songs were made of melodies. Not only were the songs melodic but the singers were melody oriented."
Kellaway enthuses about his relationship with Carmen McRae with whom he created in 1975 and it is easy to detect in his voice how fondly he recalls working with both Sarah Vaughan and Carmen McRae.
"The other person whom looms largely in my life is Bobby Darin. I was with him from '66 to '68. In '67 after taking a year of dictation he gave me Dr. Doolittle," says Kellaway. He describes Darin as, "an expert on the kind of things and orchestration that he wanted to hear," and, "We were the first people to do the music of Doctor Doolittle."
Other influences early in Kellaway's career included, working with Clark Terry from 1962-64. He played with Bob Brookmeyer (trombonist, pianist, arranger, composer) and he was a part of quintets led by Al Cohn (saxophonist, composer, arranger) and Zoot Sims (saxophonist). The music of George Shearing, pianist and composer Billy Taylor and Horace Silver (pianist and composer) served as a magnet for the young Kellaway.
Kellaway credits Jazz trumpeter Dick Sudhalter with introducing him to Dixie Land jazz. Those ties were strengthened when Kellaway had an opportunity to hone his craft at Boston's Mahogany Hall a venue owned by George Wien and adjacent to Wien's Storyville jazz club.
With the diversity of music that influenced his early career it does not come as a surprise to Kellaway that his own music is very eclectic. He says, "If I am writing something that is very melodic and harmonic I can only go so far before I want to do something serial and twelve tones."
Kellaway says, "Every aspect of music has its own language and message," and if that is true then we might easily conclude, that Roger Kellaway is a connoisseur of languages. There are few individuals who have become as accomplished in as many different aspects of their craft as has been the case with Roger Kellaway. He has performed with Bobby Darin, Elvis, Duke Ellington, Dizzy Gillespie, Joni Mitchell, Quincy Jones and Henry Mancini. He received a Grammy Award for his music on Memos From Paradise. His film score for A Star Is Born received an Academy Award nomination. He was commissioned to write the music for a ballet presented by choreographer George Balanchine and the New York City Ballet. He has recorded and written chamber music, jazz music and classical charts.
Roger Kellaway remains optimistic about his future and the future of jazz and he is grateful for his experiences, as well as the numerous friendships that have come his way throughout the years.
Interview by Joe Montague, all rights reserved, protected by copyright © 2006 Return to Our Front Page