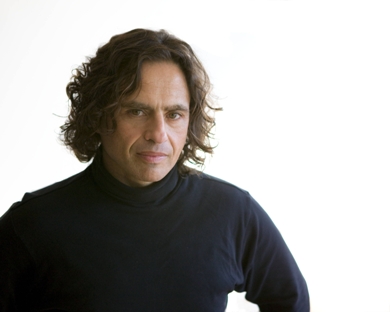 Recently, jazz pianist and composer Ron Davis, who makes his home in Toronto, Canada, released his seventh album, My Mother's Father's Song, and in a departure from his earlier projects which were well populated with his original compositions, only four of the thirteen tracks on Davis's new recording, were composed by him. Davis who along with Michael Kaeshammer are arguably the two best Canadian pianists on the music scene today, covered Coldplay's "Viva la Vida," Charles Trenet's "La Mer," and Stevie Wonder's "For Once In My Life," while adding to the mix, his own songs, "The Climb," "Sergei's Shuffle," "Danza Daniela," and "Tumba Ron Rumba."
The essence of who Ron Davis is, both in concert and as a composer, is to be innovative and to play with passion. "These past few weeks I have been obsessing over the fact that I think the standards should be retired, because they're tired. I think that anyone with living ears would realize that the standards are tired and it is time for them to be retired. When you are on the stand playing them and somebody calls "Body And Soul," as you start to play, and you approach the song musically and authentically, I don't think that you can help to be aware, of 'Oh here we go again.' You are plugging into a tradition here. You are plugging into the past, just like with classical music. You might was well call Chopin ancient. It is there, it is frozen in the amber of history, not for hundreds of years, but almost. Even if you try to bring something new to it (a Jazz Standard), you are doing something that has already been done and you are aware of that, because you have heard Coltrane and you have heard others do it. In playing them, it is really hard to remove the dust and the cobwebs. You can try and you can try and approach it honestly, but my mind goes back to the fact that when the standards were first played, they weren't standards, they were the pop songs of the day and they were being messed up by these young upstarts called jazz players. It was cutting edge stuff. A few decades later when the John Coltranes or the Miles Davis of the world picked up these standards like "Body And Soul," or "Summertime," they were messing around with their parents' music or maybe their grandparents' music and they were able to bring a freshness, because the songs were still in the public consciousness and the Miles Davis and Coltranes were the upstarts of their day messing around with the slightly older music. In our time, these songs aren't new in the air anymore. They are museum pieces and they are great songs. Sure it is great to pick one up every so often and do it, but we really need to look beyond that. On my new recording My Mother's Father's Song it is my first trio recording and it is my first recording where most of the compositions are not originals. In a way, it is my nod to the standards, but I do a song by Coldplay, I do a song that is associated with Anne Murray, I do a Stevie Wonder song ("For Once In My Life") that is already forty years old or more, but it is still in the public consciousness and it occupies the role now, that those standards occupied fifty years ago when John Coltrane was doing them. It is an old song, but it can kind of take the place of a standard. The Coldplay song is the one new thing.
For several years now, there has been no questioning Coldplay's status in the music community or the quality of their music, however, several of their songs are being covered by artists in other genres, such as jazz, which is a strong testament to the body of their work, considering the band is still very much in the public eye.
Davis says, "I think more jazz artists are covering Coldplay tunes, because the songs are well written and jazz players are becoming more pop oriented," and then he makes his point once again that standards such as "Body And Soul," and "Take The A Train," were the pop songs of their day.
"I want to recapture that energy and move jazz out of the museum and into the city square," says Davis, who said the first time that he heard "Viva La Vida," he thought it was a great song.
As the fourth song on My Mother's Father's Song rolls out, listeners are likely to think; I have heard this somewhere before. For those of you familiar with the movie French Kiss starring Meg Ryan and Kevin Kline, you will remember at the end of the film as the credits roll up, Kate (Ryan) and Luc Teyssier (Kline) continue to talk, before Kevin Kline, sings in French, the song "La Mer," while a debate ensues as to whether or not the song orginated with Charles Trenet or Bobby Darin (as "Beyond The Sea," with lyrics by Jack Lawrence). For the record, the song "Beyond The Sea," was an adaptation of Trenet's 1946 song.
"I've always tried to show a range of styles and emotions in my recordings. On my 2004 recording Mungle Music, I included the gorgeous song "Hyme a l'Amour," made famous by Edith Piaf. I have a Ph.D in French Linguistics and I was a French professor for a while, so I have a special relation with French culture and with popular music. "La Mer," represents the best of that music and it is just a fine example of simple, but brililant songwriting. Musicians will tell you that behind its easygoing sound, lies a complex tune. Quite frankly, it's a hard song! Yet, its endurance over the years and the fact that it can survive treatments by artists of many styles and stripes is a testament to its musical greatness. It was easy for me to decide to include the song "La Mer," on the new recording, because it is so much fun to play, especially in the arrangement that I worked out, while backed up by my terrific colleagues Mike Downes (bass) and Ted Warren (drums)," Davis explains.
For his 2008 release of the album The Bestseller, Davis combined his Jewish heritage with his own creativity, to come up with the lively song "Street Stomp." The song goes back to an earlier time in Davis' music career, when he was playing with a band called Swing Street. He then put the song into hibernation for a number of years, until it came time to record The Bestseller.
Interview by Joe Montague, all rights reserved, protected by copyright © 2010 Return to Our Front Page