Interview by Joe Montague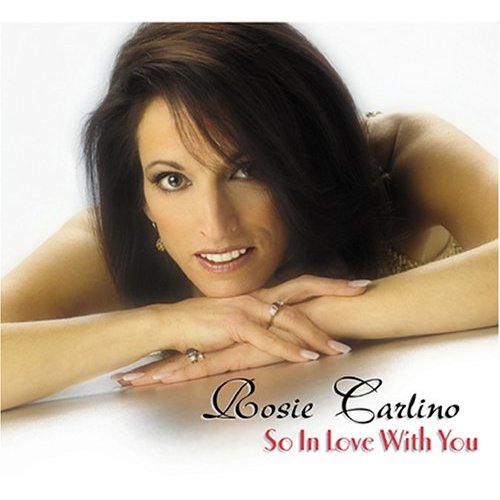 "It comes back to that same thing; if I want to move you as a listener then it (the song) has to move me as a singer. Sometimes it is about the lyric and sometimes it is the melody or the arrangement," says jazz vocalist Rosie Carlino.
Carlino confesses to be a romantic and being passionate about love songs, "It can be painful or happy love songs. I am an old-fashioned girl and I love the old-fashioned sentiment. I like the old songs like "I Won't Dance" (when it says) "Music leads the way to romance, so if I hold you in my arms I won't dance." I love the nuances in the writing of the older songs.
It therefore comes as no surprise that Carlino's 2004 debut album was titled So In Love With You and included standards such as, "That Old Black Magic," "My Foolish Heart" and "Unforgettable." Beginning with the first few notes of "That Old Black Magic" the listener is seduced by Carlino's smoky vocals that add an entirely new meaning to the term torch song.
As the lady coos "But Beautiful" you dream of being that one-person audience with the songstress singing to you and you alone. "I try to embrace love in bigger ways. It is a gift and I like to share that through my music. I (want) to touch other people. When I sing I don't want people to just say, 'Hey don't you love Rosie?' I want them to say, 'I really love my wife or husband.' If that is what you feel when you listen to something that I have shared or done, then I hope that I inspire you to love in even greater ways in your life. Music as we all know bypasses dialogue and gets right to the emotion. I hope that I can do that as I sing, write or interpret a song," says Carlino. Richard Rome wrote a beautiful arrangement for Carlino and Davis Barnett's violin caresses your emotions in the same gentle way that Carlino's vocals pull at your heartstrings.
The singer sheds further light on her inspiration for choosing love songs, "We are bombarded with reality shows and they certainly do not love. We are bombarded with a lot of negative news and I just feel that the human spirit has that element of possibilities and hopefulness that revolves around love. Love songs offer you that hope to keep going on.
As we go to print, Carlino is putting the final touches on her new CD Love Like Ours, scheduled for release in September. Not surprisingly, the theme of love and love lost continues on the new disc. "Love songs just move me. Sometimes it is the lyric and sometimes it is the melody or the strings that evoke that depth of emotion that you just can't get enough of," she says.
Some artists sing the standard with lustiness and others with gusto, but Rosie Carlino brings to songs such as "Old Devil Moon" (from So In Love With You) a soothing vocal coupled with every ounce of emotion she can infuse into the lyrics. Any good actor will tell you that to portray a character correctly you must immerse yourself and lose yourself in that stage persona. Carlino has taken the same approach with her music as she loses herself in the love and the romance of the tunes that she sings.
The new CD Love Like Ours includes two David Grusin / Alan and Marilyn Bergman tunes, the title track "Love Like Ours" and "What Matters Most." Concerning the former Carlino says, "It is a beautiful song and I am a sucker for love songs. The song is about love growing through the years."
"I am including the Wynona Judd song, "Is It Over Yet?" It is a beautiful song about love even though the love is not going to make it. She is sitting up in her bedroom and can't go downstairs to help him put his bags in the taxi. Wynona is an incredible songwriter. This is one of those songs that when I sing it (I will ask) can I make you feel the way that I feel? The album is a mix of love songs and sad love songs," says Carlino.
Rome (music) and Carlino (lyrics) collaborated on an original bossa nova composition "If Only For A Moment."
Other songs from the new CD that will enchant us and stir our souls are two Carroll Coates' tunes, "More In Love" (co-written with Peter Nero) and "You'll See." Other songs to listen for include a Jobim tune "Wave" and Erin Moran's "Heartache."
Carlino expresses a fondness for creating an orchestral ambience and she appears comfortable in that setting. One harkens back to the Nat King Cole tune "Unforgettable" from her first album and with all due respect to those who followed Nat and who have come before Carlino, including Nat's daughter Natalie, Carlino appears to understand the
lyric and the music better. She has the ability to capture that time in our history when true romance was what ignited our passion and was the essence of foreplay. Carlino's phrasings are impeccable, not hurried, and the vocals unwavering.
The CD Love Like Ours features Joe Nero on drums, guitarist Tom Giacabetti, Kevin MacConnell (bass), violinist Igor Swec, cellist Tony Pirollo with flugelhorn duties shared by Dave Stahl and George Rabbai. Tony Miceli is on vibes, the Philadelphia Orchestra on strings, a trio of trombonists (Randy Kripalick, John Lemke, Paul Arbogast) and a trio of French horn players (Adam Unsworth, Adam Lesnick and Judy Lee). Richie Rome is the pianist.
Speaking about her new CD Carlino says, "I chose these songs, worked on the arrangements and I wanted to make sure that the musicianship was of a high quality. It isn't just about me or the song. Sinatra was obviously fabulous, but sometimes it was a line from the violins or the moan of a cello that gave life to Sinatra. When I perform, I get excited about all of those things. When I take them (the songs) out on the stage I don't feel that it is just me, because it's not, I have the privilege of singing Cole Porter songs or whoever else wrote them. I get to sing an arrangement by Richard Rome, which embodies what I like about music. His arrangements allow the musicianship and the instruments to really shine."
Carlino describes her approach to her onstage performances, "It is like a party and inviting your friends over. You prepare and you have stuff you want to share. You want the audience to enjoy this night. (Smiling she says) you can't invite them all up on the stage but I hope what I have prepared as a hostess is something that they will enjoy. I hope they enjoy the ambience, the care and the emotion that went into the preparation for the party."
When she is performing in concert Carlino says, "I love to talk to strangers and find out what other people's lives are about. What makes them tick? When I am in front of an audience, they are a group of people that I have never met before. They all go home to different people and different lives but we all want love. We all want joy in whatever way that does it for us. I really hope through my music and as an entertainer that in some way I spark them to go home and feel better in their own lives. It is not because of me being great, but maybe there is something that I have done that has moved them."
If you are not moved by the enchanting vocals of Rosie Carlino then you had better check for a pulse. She is a beautiful lady, with a gorgeous voice and an even prettier spirit. Do yourself a favor do not wait for the new CD to come out, check out www.rosiecarlino.com and order So In Love With You to get you in the mood for Love Like Ours when it appears in the fall.
Interview by Joe Montague, all rights reserved, protected by copyright © 2007 Return to Our Front Page