Imagine you are relaxing in a restaurant in a picturesque town on the island of Mallorca, Spain, the resort of Port d'Alcudia and in walks a fellow and you think wait a minute isn't that the same guy I just watched a few nights ago when I was in Madrid (or Barcelona) and he was Mr. Thompson in Pretty Woman the Musical? The restaurant is Como en Casa and the actor is the highly respected Rubén Yuste who owns this beautiful restaurant with his sister Vanessa Yuste. Actually, you may have noticed Rubén for more than one reason, as he also plays Happy Man with the wild hair and Mr. Hollister in Pretty Woman the Musical. After enjoying a six month run in Barcelona during the 2022 – 2023 theater season, the musical, with the cast intact are taking the production to Teatro EDP Gran Via in Madrid for the entire 2023 – 2024 season. Rehearsals begin in early September.
Riveting Riffs Magazine attended two performances in Barcelona and while still in Barcelona we connected with several cast members with Rubén Yuste, kindly consenting to be interviewed by us. (Editor's note: We are secretly hoping that when we relocate to Madrid in the fall that we will be able to attend another performance.)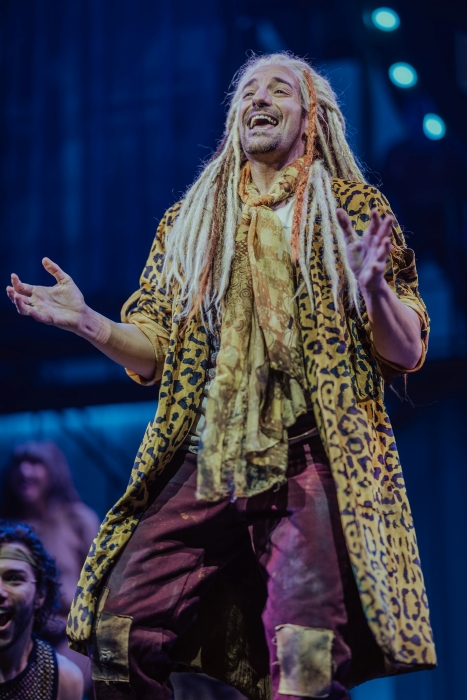 Naturally our conversation began with Pretty Woman the Musical, and we wondered about the challenges presented by playing three very different characters, and also if he had a favorite scene or two that he was in.
"My favorite scene is when Mr. Thompson looks for Vivian to talk to her. After realizing that she is a good person, he decides to help her find a dress (she can wear) to go to the restaurant with Edward (the other main protagonist). Also, when he teaches her how to dance the Tango is another of my favorite moments of the show," says Rubén Yuste.
Oh, that brings us to another facet of Rubén Yuste's performance skills, "I competed internationally in ballroom dancing, in Latin dance. It was really nice, because when I began the rehearsals for Pretty Woman the choreographer (Giulio Benvenuti; additional choreographers – Denise Holland Bethke and Carla Janssen Höfelt) told me that he wanted me to do the choreography by myself. The choreography that you see in the show, part of it is from the choreographer and the other part is my choreography."
All three of the characters played by Rubén Yuste are keys to the transformation of Vivian (who in the film was played by Julia Roberts and in the musical, Spanish rendition is played splendidly by Christina Llorente). They combine to give Vivian a new map for her life, and it becomes the beginning of a love story. If you are old enough to remember the film and you enjoyed it, then seeing the musical, with music by Bryan Adams, and incredible performances by Christina Llorente, Roger Berruezo (the Richard Gere character), and Erika Bleda will at times have your eyes welling up with tears and at other times wanting to be like the lady who sat beside this writer at one performance who got up, fist pumped the air and went whoop whoop! We know we are biased, but it is hard to imagine any cast performing with more passion than the entire cast of this production.
Of Happy Man, who really is the storyteller of the musical, Rubén Yuste says, "He is a happy man with a really clear thing on his mind. He (believes) you never give up on your dreams. If you fight for your dream, you can get it. He is a funny character with a lot of energy. He is a magical character.
(And of Mr. Hollister), "In the Broadway version this character was a different actor. In this (rendition) of the play, Carline (Brouwer, the director) thought that Mr. Hollister was responsible for the change in the look of Vivian." (Editor's note: Mr. Hollister selects the wardrobe for Vivian)
As for the challenges presented in playing all three characters in a musical that moves along quickly at times he says, "For me the challenge is always for the characters to have a life of their own. I try to work with different body composition, different physicality, different energy and obviously different vocal work for each of them. It is very difficult to find it, but it is very rewarding as an actor.
Working with Carline Brouwer has been wonderful, because she is equal parts demanding and approachable. Carline comes from text theater (plays) and not from musicals. It is really nice, because she puts a lot of emphasis on interpretation and building characters from the truth. She works with the characters in layers, like an onion. In the first week you find the exterior layer of the onion and the second week you find another layer and then more layers. That is a way to build a good character. I think the character with the most layers is Mr. Thompson. You can see his evolution or the arc of the character.
I think the chemistry between Christina, Roger and me, is very special. We have known each other for many years. It is my third show with Roger. Our first show as Mar i Cel here in Barcelona and then Company with Antonio Banderas. Christina and I have known each other for more than fifteen years. We played together in Grease, and we had not met again, so this was the second show that we played together. I am really comfortable in this scenario with Roger and Christina, because they are very generous and working with them is a pleasure."
Being a neophyte to Spanish culture and in a country as diverse and large as Spain, we wondered if there are differences in terms of how a musical or play is presented, say between Barcelona and Madrid and how the audiences may react.
"Yes, and you can really feel the difference between the Catalan and Madrid audiences. They have different attitudes when it comes to sitting in a theater seat. We always talk in generalities, the audience in Madrid is more extroverted. They are more (demonstrative) in their reactions during the play. In Catalunya the audience is more shy than the audiences in Madrid. It is more difficult for them to express their feelings. If you are playing a comedy, you expect a reaction and feedback. This reaction is really different with Catalan people. In Madrid it is really nice to play in theaters, because the audience is really committed," he says.
It seems somewhat fitting that in a year in which Spain is holding both regional and general elections, that we found ourselves in conversation with a supremely talented actor, dancer and singer who also has a doctoral degree in Political Science.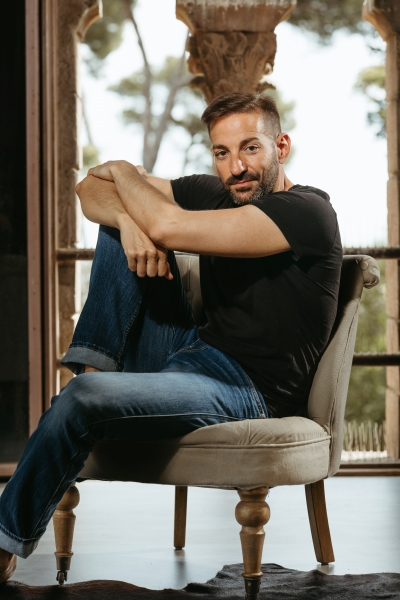 Even though Rubén Yuste has been performing on stage in front of audiences since he was four years old and the stage kept calling out his name, he says, "When I was of the age to go to the dramatic institute here in Barcelona, I thought that I needed another career. I did not think that an artistic career was enough to live on. For the first two years I studied sociology and then I identified the subjects that were more political that I was more interested in. I studied the next two years political science and then I did my doctorate in political science."
He started to dance in front of audiences from the age of four and when he was twelve years of age, he did his first audition at the Casal Popular de Rubi in Barcelona. In those early years he performed in a lot of Catalan classical plays.
In most parts of the world, being a triple threat as a performer, singer, dancer and actor would be considered a huge advantage, but Rubén Yuste says, not so fast.
"It is really difficult to master the three disciplines, interpretation (acting), but also dancing and singing. In North America that is really well respected, but here it is not really. The other actors look at you as, ahh, you play in musicals. I am (thinking) what are you doing, because I can interpret the text, and moreover I can dance, and I can sing. It is more difficult than you are doing in a text or a play. That is why I say that Antonio Banderas is doing a good job for us, because he wants the actors in musicals to be (viewed) as really complete, because they have mastered the three disciplines," says Rubén Yuste.
He had the opportunity to work closely with Antonio Banderas during the 2021 – 2022 season when he was both the director in residence at Teatro SOHO Caixabank for the musical Company and he also played David in the musical.
"Antonio is a lovely person. He is generous and he is a good boss. It was an incredible experience," he says.
Although Rubén Yuste has appeared in numerous film and television series in recent years his first love is theater, "because theater gives me things that I can't find in other environments. In theater your character has an arc at the beginning of the show and by the end you (complete) the journey. In a film, you can (shoot) the end scene first and in two weeks you might film one or two scenes from the beginning. It is really different for an actor to work that kind of an arc.
Rubén Yuste has performed in numerous musicals and plays that enjoyed lengthy stays at the box office including, Spamalot, Mar i Cel, Forever Young, Grease and Los (Les) Miserables. In the earlier years of his career perhaps just as much the result of good fortune, as his talent and as he became more established as an actor, he has become more selective in the productions that he performs in.
Ten years ago, he portrayed a 90 year old man with Parkinson's disease for the musical Forever Young.
"It was the first time I had a leading role, and the work was difficult, but rewarding. I did some research to see how 90 year old people move and how they talk. The result was very nice. I remember it took us a long time to do our makeup.
I played my character who had Parkinson's disease and my father six or seven years ago was diagnosed with Parkinson's disease. He can control it. It really impacted me, because in Forever Young I played that character.
We have to learn to separate both sides. You can finish your play at the theater and then go back home with this emotional charge. During the play you give one hundred percent and then when you are finished you continue your life," he says.
At the time of our conversation Rubén Yuste was performing in the play Burundanga, a comedy.
"The comedy is by Jordi Galcerán who is a really important Catalan playwright. He has written other plays (such as) El Método Grönholm and El Crédito (Editor's note: Other notable plays written by Jordi Galcerán include Héroes, Cancún, Palabras encadenadas.) You can see his plays (performed in a lot of Latin countries).
I play the character Manel who is a guy who got his girlfriend (Berta) pregnant, and he does not know if he loves her or not. (Berta's) friend convinces her to give him some drops of Burundanga, which is a drug that makes you tell the truth. When you fall asleep and wake up you do not remember anything. It is a crazy comedy with a lot of twists in the story. In Madrid the play has been running for twelve years," he explains.
So, Rubén, what is the best thing for you about being an actor?
"That is a really difficult question. For me I think the most special thing about being an actor is when you put yourself in the shoes of different characters. Also, the recognition of the audience with their applause. It is priceless."
All Photos by: Jordi Galderic
#RubenYusteEntrevista #RubenYuste #RivetingRiffs #RivetingRiffsMagazine #RubenYusteActor #ActoresEspana #ActoresEnPrettyWoman #PrettyWomanMusical #EntrevistaPrettyWoman #ChristinaLlorente
This interview by Joe Montague published May 28th, 2023 is protected by copyright © and is the property of Riveting Riffs Magazine All Rights Reserved. All photos are the the property
of Sierra Rein
unless otherwise noted and
all are
protected by copyright © All Rights Reserved.
This interview may not be reproduced in print or on the internet or through any other means without the written permission of Riveting Riffs Magazine.