Russ Hewitt, not the sort of name one might usually associate with Latin guitar music and yet this Texas native is a guitar virtuoso when it comes to the genre. What is even more amazing is he did not start to play the guitar until he was in his mid-teens. To the casual music fan that may still sound young, but the seeds for future musicians are often planted long before that.
With a style of music that might be described as more narrowly defined in North America compared to some, we wondered what it is that draws people to Russ Hewitt's music.
Russ Hewitt says, "It started with my first album and I would have people say to me, we listen to this album on repeat. We leave it on as we are cleaning the house, we leave it on as we are hanging out in the backyard or if we are driving home. It dawned on me I can no longer write songs that I think are good or bad songs, but I have to write songs that warrant repeat listens. Starting with the second album, I would ask myself, is this the best way I can phrase melodies? Is this the best solo? Obviously, the end result is someone's personal taste whether they like it or not. I spend a lot of time on that aspect of making something worthy of repeat listens."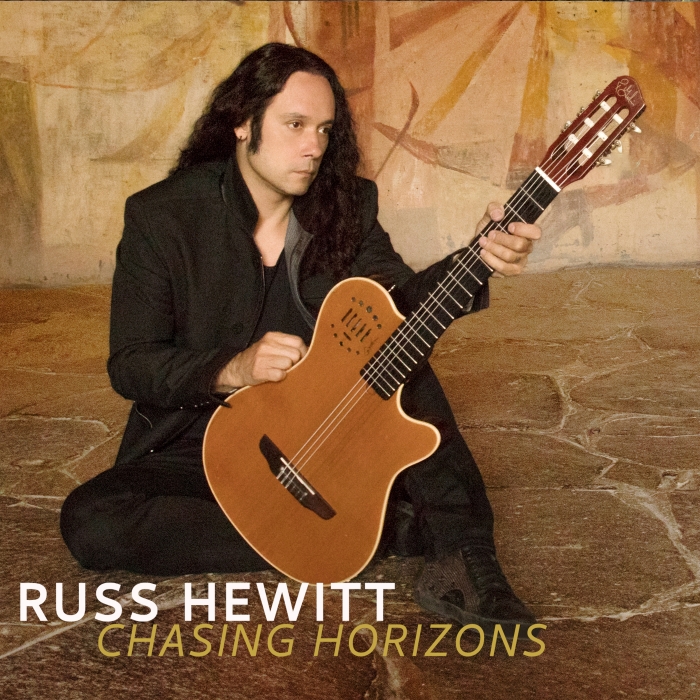 He explains that he has become somewhat of a student of his own music and the music of others, analyzing what he likes, as breaks down the melodies, solos and so forth. It helps to inform him about what makes a good song.
"I watch the people who are listening to my music, when I am playing, are they tapping their feet, are they swaying to the music," he says.
Continuing, "By the time I have got to this fourth album, I had compiled what I think works best for a first-time listening audience."
In addition to Russ Hewitt's guitar, there are plenty of other reasons why the listener will quickly engage with the music and they begin with the other musicians who play on Chasing Horizons and his sound engineer Bob Parr.
"Bob worked on my first records. There is such a big difference between being schooled on something and living it. Playing what is technically right in a book and getting a bass player that has played five hundred gigs in a Latin band. Bob was a session guy for all of those years in LA and he said, do you want me to call my guys? I said yes. The first call was (drummer) Walfredo Reyes Jr. He has been on all of my albums since. I love the guy. He is a phenomenal person and a phenomenal player. The beauty of Walfredo is he comes from a Latin Pop sense. Walfredo has played with Santana, Steve Winwood, Chicago and he has hundreds of credits to his name. Walfredo knows how to make it Latin, but still make it Pop. Because Walfredo is a percussionist he knows where to leave space.
For percussion we got Rafael Padilla and most notably he was Miami Sound Machine's percussionist. The famous song "Conga," featured him on congas. He also played with Shakira and Chris Isaak. His discography is just insane. He was on all of my albums and he just passed away (recently).
Bob Parr is the bass player. Bob played with Persian bands in LA, so when I do Persian music, he knows how to do that. He has done a bazillion Latin themes in LA, so he knew where to put the beat.
I called Nuno Bettencourt whom I have known for a decade. (He has played with Rihanna and Extreme). He is very knowledgeable on the Spanish guitar and Flamenco guitar. Nuno is a funk and groove guy. If you listen to the drums and bass on the songs, they are slamming. They are locked in, so I thought that would appeal to him too. I could say here is a song in 7 / 8.
I presented that to him and he said yes and then he offered to do a video for "Chasing Horizons," (the title track).
I was going to do whatever he was going to do. If he was going to be in a studio, I was going to be in a studio. If he was on a train, I would be on a train. He said he wanted to be outside. He is out in this big, open field. I thought I want to shoot someplace that no one has ever shot before. I wanted something that had never been seen before, but how do you go about that?
My wife's uncle lives in San Miguel, Mexico. I thought maybe we could shoot there. My thought process was nobody will know the area better than a (local) photographer and video guy, because they will have their secret spots. The photographer had a car, which is rare in San Miguel. We went out a couple of hours from the heart of San Miguel, which is when you start getting into these bumpy, one lane roads in the middle of nowhere. He took me to a spot where there was an old church in ruins and one that is currently in use. There were thirty-foot cacti, mountains in the background and there was a lake. It was during the rainy season, so everything was green.
My trip was just to shoot my part of the video and to knock it out in three or four hours.
We did multiple versions of the "Chasing Horizons," video (when editing). We fell in love with all of the drone shots. It was really majestic on his twenty-inch monitor. With the majestic drone shot I looked really tiny and I wasn't retaining people's attention, so we trimmed the drone stuff down."
Let us roll back the clock a bit and revisit the remarks in our introduction about when Russ Hewitt first started to play the guitar.
He recalls, "My mom is Vietnamese and my dad is American and we moved here to the United States. My dad was a truck driver who was on the road a lot, so it was up to my mom to raise me for six, seven or eight months of the year. As a Vietnamese mom she wasn't used to the normal American culture, such as get your kid into a lot of sports. Get your kid into piano lessons. None of that was even on the table. I remember feeling bummed in the fifth grade when the teacher was offering guitar lessons if you had a guitar. I asked, hey mom can I take this music class and she said we don't have a guitar. That was a missed opportunity. In the sixth grade was technically the first grade that you could take a music class and it was percussion marching band kind of stuff. Hey mom can I take this class? Yes, yes, yes. I don't know how to sign up for it and she doesn't know how to sign up for it. I showed up to band class in the sixth grade and they said, oh you didn't sign up. There is no more room.
I didn't have any musical exposure other than what I heard on the radio. I didn't have any lessons until I was almost fourteen. I got my first guitar at age eleven and I got it, because my older brother (who was self-taught) played the guitar (and got another one). It sat there and I didn't know how to play it.
I didn't take lessons until I was seventeen. There was a teacher who moved to town and I am still friends with Tom. He started me on Classical guitar and then and then a year and one-half later I was off to the University of North Texas to study Classical guitar. By now there were more tab books, Guitar Magazine and this teacher. Before that there was really nothing (other than being self-taught) in a small Texas town of 12,000.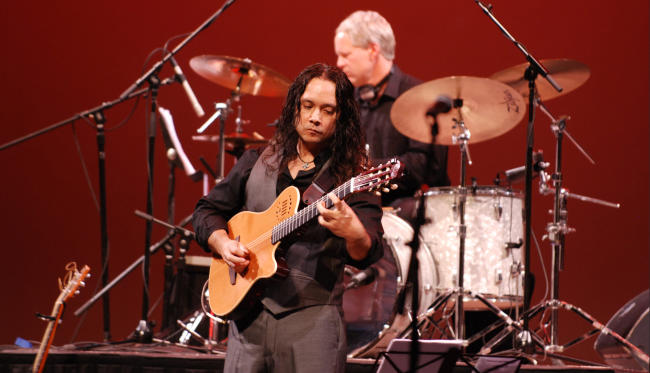 The University of North Texas is known for its Jazz department. When I there it was you either got your degree in Classical guitar or you got your degree in Jazz. I did one semester of Jazz and it was a whole other foreign language and foreign world. The thinking was if you can master Classical music or Classical guitar you can do anything. I was fixated on that. In terms of the Jazz world there were Jazz standards that I had never heard of. I got into Jazz late and I got into Gypsy Jazz. I ended up getting a performance degree in Classical guitar, which required an extra year of schooling, conducting and counterpoint.
I have come to terms with not going through the Jazz department at North Texas, because in one sense I could have greatly benefitted from it. However, once I started writing music in the Spanish Latin style it helped, because I didn't have all the years of Jazz interfering with my writing and my thought process."
"Amor Perdido," which translates into English as "Lost Love," is a beautiful song recorded in collaboration with the Romanian National Symphony Orchestra.
Russ Hewitt talks about the song, "Amor Perdido," is written with a Milonga rhythm, which essentially is a slow Tango. A Milonga has the same accents as a Tango, but it is slower. With Amor Perdido (he imitates the bass line) it is with the bass line that (you notice) a slower version of a Tango. Originally it is from Argentina, so you have Argentinian Tangos and Argentinian Milongas. I had written a Milonga on my second album and I wanted to revisit it. I started off almost as a Classical piece with a solo guitar and I wanted to build it.
Ric Flauding, who writes the charts for my music for the symphonies was contacted by someone in Bucharest and from the Romanian National Symphony Orchestra. They wanted a Tchaikovsky chart and Rick asked them what they wanted to do. He said this isn't going to move the needle. If you want to get people's attention do what the London Philharmonic does, play Pop and Rap and soundtrack music. You have to be versatile. He told them he had an artist whose music is Spanish and who is something different that will catch the attention of people. He sent them my music, they loved it and recorded two of my songs. They did a song from one of my older albums and I said if they do one of my newer songs then I can promote it. "Amor Perdido," was the obvious choice. Rick did the chart for them. With the addition of the strings, it created something more than I had imagined for that song.
We wanted to go there and record with them, but at the time it was the height of COVID and Romania was in its third wave of COVID."
He mentions as an aside, "At the end of the year, I am again performing with the Irving Symphony Orchestra (Texas) and I am the first half of the program. I may play five songs with their seventy-piece orchestra.
If you enjoy Latin World Guitar music and you want to be treated by a delicious array of musicians, then the album Chasing Horizons should be in your music collection.
Please take time to visit the website for Russ Hewitt and you can listen to and watch the video for the title track here.
#RussHewittMusic #RussHewittGuitar #SpanishWorldGuitar #RivetingRiffs #RivetingRiffsMagazine #TexasMusic #MusicInterviews #GuitarInterviews
This interview by Joe Montague published April 10th, 2023 is protected by copyright © and is the property of Riveting Riffs Magazine All Rights Reserved. All photos are the the property
of Russ Hewitt
unless otherwise noted and
all are
protected by copyright © All Rights Reserved.
This interview may not be reproduced in print or on the internet or through any other means without the written permission of Riveting Riffs Magazine.