S'CANDY - Damage Control from Norway and Denmark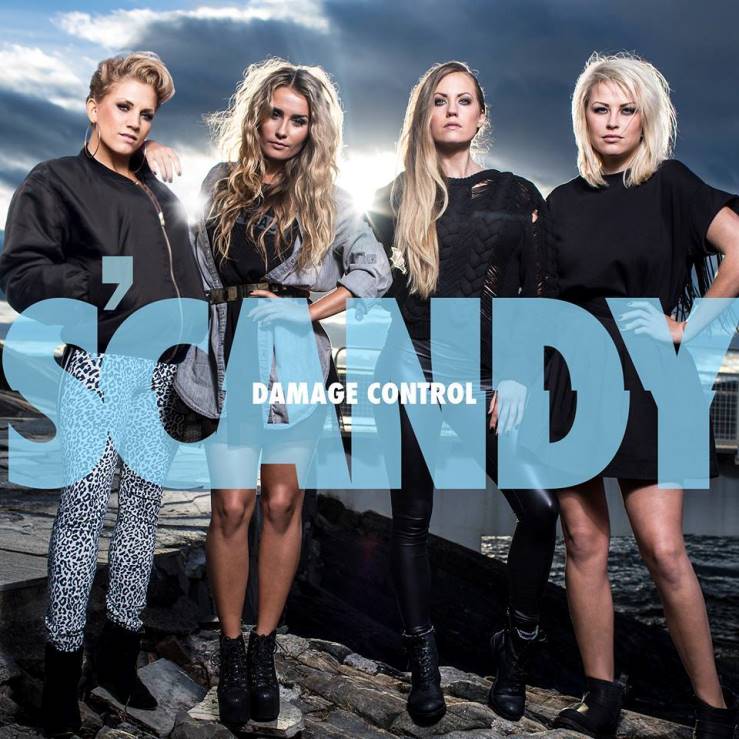 "We have met a lot of people over the years and we made our way to where we are now. It's not the beginning, but it's the beginning of S'Candy," says Rosa Sparks Skotte (Denmark), one of the four young women, all of whom are in their twenties and who comprise the Norwegian / Danish Pop group S'Candy. The other three members of the group are Lisa Tverrå Johnsen (Norway), Christina Elnaes (Norway) and Marie Røri Lillesaeter (Norway).
The group which is being jointly managed, artistically developed and produced by Swedish singer, songwriter and musician Douglas Carr (Ace Of Base, Björn Skifs, Nick Carter, Meja, Jessica Folker) and Laila Samuels a very accompished singer-songwriter musician, who was the former lead singer for the Norwegian group The Tuesdays, recently released their debut single, an up-tempo song called "Damage Control".
The first things that you notice about the members of S'Candy are, they have great poise and they are not naïve newbies to the music scene, as Rosa mentioned when she drew attention the fact that each of them was already very accomplished music professionals prior to the group being formed. You also notice their amazing harmonies.
"I believe since we all have been singing solo and also in choirs and stuff, that we are used to harmonizing or singing second voices. It is easy to work in that way, because we all have experienced it before.
I also believe that Douglas and Laila have good ears when it comes to music and voices and when they heard us perform they saw the potential in us being together," says Lisa.
Christina says, "(Our Music) is maybe Pop and a little bit of R&B. It has harmonies and it is melodic. It is Scandinavian Pop music."
"As Douglas said, we are not trying to come up with something all brand new. We are trying to make the sounds a little different from other sounds. It is hard to explain in English. If you hear for example "Damage Control," we have a lot of vocals, which means we have a lot of harmonies and it has a bit of an industrial touch to it. The song is soft on the vocals and at the same time it is melodic," adds Lisa.
Although, S'Candy has only released one song so far, they have recorded nine songs, which eventually will appear on an EP or album release.
Rosa says, "We have tried different songs on different audiences, because we have age groups that go from seven years up to sixty years. It is very broad and it depends on which song it is. The ballads may hit people from forty and up or maybe fifteen to twenty. It depends on where you are in your life and how the song will (affect) you.
To which Lisa adds, "It is difficult to say, because music hits so many people at so many ages and levels and right now we are at our first single and the nine songs that we have are quite different. "Damage Control," can hit some groups while another song may be hitting somebody else. We are at the start right now, so it will be exciting to see. "
One of those songs is named "Mad About Boys, and Marie says it has a message in it, "that is in a lot of songs. It is all about women who don't need men, about how they for example don't want to be bought drinks, because they are independent and they can do it on their own. I think people will appreciate this song, because it is different. We tell the world that we are independent women, but that doesn't mean we will say no to being bought drinks and that we don't need men. We are mad about them, and that does not make us any less independent."
Lisa describes the song "Mad About Boys," as being, "a bit like 007 and it sounds like the sixties in one way, but also in a new way with a 2015 sound. It is not retro, but it has a touch to it. It is a bit James Bondish. It is also about being an independent woman and yet still allowing yourself to be mad about the boys and to love them."
Rosa talks about another one of their songs, "Where Did The Sun Go?" "It is a ballad and it is a song about losing someone you love very much and not being able to see them or hold them again. It is a whole different way and it is a whole different song from "Damage Control," which is about controlling demons and being in another way and in another state of mind. Those two songs are totally different and they can't be compared to each other, but still, it is the same sounds."
Just how did the four members of S'Candy end up connecting with Laila Samuels and Douglas Carr?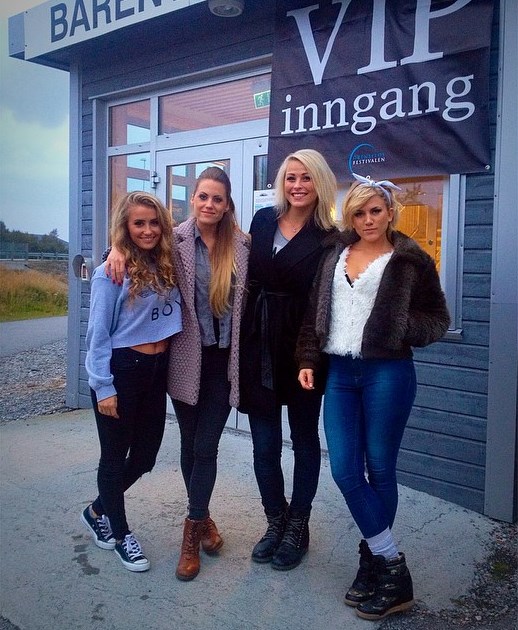 Lisa Tverra Johnsen who with her sister Julie appeared on the popular televised music competition X Factor in Norway reached the finals and it was there that Lisa met Laila Samuels who was the assistant vocal coach on the show.
Christina says, "I participated in The Voice in Norway and Hanne Sørvaag was my mentor. We kept in touch after the competition, and a few years later, she introduced me to her good friend Laila.
Marie Røri Lillesaeter met Laila Samuels through a singing teacher that she had, while she was attending Folk School (similar to an American boarding school) in Trondheim, Norway, where she took classes in Rock music, vocal instruction, Rock music history, band and some other music courses. One of her teachers recorded frequently with Laila Samuels' ex-husband and that was eventually how she became a part of S'Candy.
As for Rosa Sparks Skotte, she met Laila Samuels, through an individual they met while appearing on The Voice, on Danish televison.
Laila Samuels talks about how S'Candy was born, "I started my career as the lead singer of The Tuesdays and I am not sure if it's a coincidence, or a subconcious decision to support other female artists in this male dominated business, but ever since I left The Tuesdays in 2000, I have collaborated a lot with women in the business. This time however, it was very much a concious decision. I really felt like Scandinavia needed to come together and join forces and I wanted to create an all girl group.
I aired the idea when I was in Stockholm working with Swedish producer Douglas Carr, and we started looking for the best talents in all of (the Scandinavian countries) and I think that we found some amazing girls. They all play instruments, guitar and / or piano and they all have a great understanding for music, so it's been fun working with them, finding a sound, writing and putting together a live show. We have all worked really hard on it the last year, and i have a feeling we are in this together for the long run.
I have worked with numerous talents, but these girls have a special place in my heart, because they are good, but also because of how much fun it is to be part of an all-girl band again.
I miss the days with The Tuesdays, but I don't regret moving on, and I hope S'Candy will beat us in the long run!"
Douglas Carr arranged for the four singers to audition in a vintage studio in Stockholm, Sweden that is owned by Benny Anderson of ABBA fame and the colors and décor are meant to reflect ABBA's stage setup.
"Discovering and working with the very talented girls in S'Candy has made me go full circle musically. They remind me of the California groups that I grew up listening to. For me everything starts with The Beach Boys and the magic songs that Brian Wilson created," says Dougs Carr.
S'Candy is fresh, fun and they sound great. The young women who comprise the group, Lisa, Rosa, Christina and Marie will soon be household names and one can easily imagine teenage boys and girls having posters or photos of them on their bedroom walls, as the wallpaper or backdrop for their laptop computers, tablets or other devices or on their cell phones. Perhaps sometime down the road one could imagine S'Candy ringtones on people's phones. This is however not a group that appeals just to young people, as their songs are diverse and their vocals rich and therefore their audience base will be broad.
S'Candy is just getting started, but there have been some highlights along the way, such as their appearance on Good Morning Norway, a popular television program and a concert they performed in Norway the night before this interview.
"My highlight was when we played in a military camp. Lisa invited all of the military guys up on stage. (Lisa says it was very funny.) It was the Norwegian military and in northern Norway. We played in several camps actually," says Marie.
Rosa says, "I think the whole experience from when we first went in the studio to sing to where we are now, the whole thing has been a highlight. It is a new journey that is starting. I think all of us learned a lot and also being on Good Morning Norway (was a highlight). Working together with Laila and Douglas and being with all the sweet girls have also been highlights for me.
"It has been nice to meet all of the people that we have met through Douglas and Laila. We are happy to work with both of them, because both of them are very experienced and they are very talented. We have a learned a lot of tips from them in a short period of time. The whole year has been really good and recording has been a lot of fun, especially up north when we were in a cozy cabin and recording we had a good time together. That has been the highlight for me," says Christina.
What about you Lisa? "I love the fact that we are practicing so much together and we have spent almost a year working on our songs and working together, before we did concerts. The time that we spend together, just us, I think is priceless.
"Aww, just like one of our songs that is called "Priceless," says Marie.
We wondered what the song "Priceless," is about.
"It is about something that doesn't have a price tag on it and it is up to each person what that (price) might be," explains Lisa.
Then Rosa says teasingly, "We don't want to ruin it for you. You will have to hear the song when it comes out."
As we have already mentioned, each of the members of S'Candy had strong musical foundations prior to the group being formed.
"When I was fourteen I started singing and performing for people and before that I just sang at home. I went to a school where I took some music lessons and guitar lessons, says Christina.
Rosa, the lone Dane in the group says, "I grew up in a really musical family. My mom sings and my dad plays the piano and the rest of my family (consists of) very (artsy) people. They design or paint or (perform) music. My whole family is that way. I have always been in music since I was little and when I could reach the piano I started to play. I have been singing since I was very little. I have been to different kinds of music schools.
I wrote my first real song, if you can say that, when I was thirteen years old. It was about peace in the world. I played the piano and I thought it was very beautiful (she vocalizes the melody). The text was," in the fairytales there is always happiness and love and why can we not, just stop the wars." That was pretty much the chorus for that song. I wrote a lot of songs about ladybugs (when she was very young). I have been recording music since I was four or five years old. I had a small dictaphone and I sat there and I made my own radio things."
Marie talks about her background, "My immediate family is not very musical, but I had an uncle and a cousin who played in bands and they both released CDs of their own. I am the youngest (20 years old) one of the group, so I haven't been on TV shows. I started in music when I was very young and I finished music school. I have always been singing and I played in a marching band. I played clarinet for six years. I found that singing was more my kind of a deal. I took singing lessons and I wrote some music for myself. I did a lot of solo work and I played around with guitars."
As for Lisa, "My dad is a teacher in junior high and he is also a music teacher.
My mother is a singer and together with my father they formed a team to get the culture good in our hometown. When I was ten I was allowed to get up on the stage even though the others were older than me. The first time that I held a microphone was when I was nine years old and I was singing a Moody Blues song that my father liked ("Nights in White Satin"). It has always been a part of my life to perform and sing. I also studied music in (the equivalent of North American high school) and I learned the piano, the guitar and I sang a lot more. I am from up north, but then I moved to Oslo where I went to school and I became a music teacher and I also teach the Norwegian language.
With three members of S'Candy being from Norway, one from Denmark, Douglas Carr from Sweden and Laila Samuels a Norwegian living in Berlin, Germany, the group seems destined to attract a strong following of fans throughout the Scandinavian countries, as well as other countries in Europe, but that will just be the beginning, because their sound will attract music fans from across the globe and with an experienced and very well respected duo of Douglas Carr and Laila Samuels guiding the ship an international breakthrough is inevitable. You can follow S'Candy on their official Facebook page or follow them on Twitter
This interview by Joe Montague published December 5, 2014 is protected by copyright and is the property of Riveting Riffs Magazine © All Rights Reserved. Photos courtesy of S'Candy and they are
protected by copyright ©, All Rights Reserved
This interview may not be reproduced in print or on the internet or through any other means without the written permission of Riveting Riffs Magazine, All Rights Reserved