Sagrario Salamanca is an incredible singer, better known for Opera and Musical Theater, but her vocals are of such quality and her phrasing is so emotive that she can easily transcend several genres of music. Her eyes and her body language when she sings and acts convey that she is totally immersed in the story. Yet as we talked recently, both in our conversations leading up to and following her interview with Riveting Riffs Magazine, there is a perfect combination of strength, intelligence and confidence, but never a sense of hubris.
Sagrario Salamanca lives in Madrid, Spain, the city in which she grew up.
"My father was a military man. When I began to sing he wasn't very pleased (she laughs lightly). We talk about it now and he only wanted the best for me, because he didn't think at that time that it was a good future for me. I think that is why he didn't make it easy for me. He always said this was not something serious, but it was just something that I liked to do. Every time that I sang or did something related to singing I felt more and more that this was something I wanted to do. I am sorry for my dad (she laughs, poking fun at the memory). Now he is very pleased and he is very proud of what I have (accomplished)," she says and it is obvious as we talk more that she loves her mother and father and she is appreciative of the support they have given her through the years.
Just a few days, before we talked, Sagrario Salamanca's first singing teacher, Maria Luisa Castellanos died from the coronavirus (COVID-19).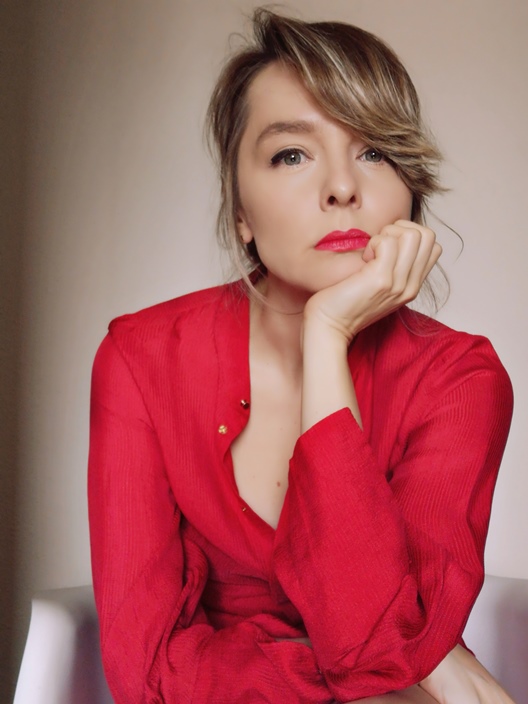 "She was really old and I have been thinking about her a lot these days. We have been thinking a lot since we do not have much to do (At the time of the interview Spain was just beginning to emerge from a total lockdown that had been in effect for three months). It is because of her that I am a singer now. I was very shy. I did not have confidence.
I remember going there for my first class and thinking if she says my voice isn't good enough or I am not good I will be devastated. She will ruin my world. She was amazing. I just wanted to sing. I didn't know what music I wanted or where I wanted to sing. I just wanted to sing. She was the one who taught me different kinds of music and different ways to sing.
She is the reason why I can sing Broadway songs and different kinds of music. I think it is a very useful and good experience to do that. Everything is music and it gives us the chance to tell something. It makes us feel something with what we do. Not everyone feels the same listening to Opera or listening to other kinds of music. I feel more comfortable now singing Opera and singing (musical theater) here in Spain. She was the one who made me sing Opera for the first time and thanks to her I played my first role in a musical. I played Slightly (the character) in Peter Pan at Teatro Quimerá in Tenerife and Teatro Pérez Galdós in Gran Canaria. I don't know how I did it, because I went to the audition and I didn't think I was going to do anything with the audition. It was the second audition of my life. I didn't think I would get it, because I was too young and too green. I got that role and I think that teacher changed my life. I couldn't think of anything, but singing. I barely knew how to dance, how to sing or how to act, but (after that) I knew I couldn't do anything else. There was no going back. There was no chance I would do anything else. I was eighteen at the time," Sagrario Salamanca recalls and you can hear in her voice that sense of being caught up in the moment once again.
As for what came next, she says, "That was when I decided what I wanted to do, but there was my father (she laughs) saying you can't do that. It is just a hobby. It is not important and you must study something serious. I studied psychology, just because I am interested in people. I am very curious of what makes people do certain things. That is the only reason I studied psychology. I didn't want to become a psychologist. I wanted to become a singer.
It (psychology) is useful for analyzing some things that happen in Operas. It helped with Lucia di Lammermoor when my character kills her husband and she thinks she is somewhere else.
I am also a singing coach and I use psychology with my students. That is the only place where I have used my psychology studies for my students and for my role. I love the part of thinking about why is she (her character) doing that? For me it is really fun. The last thing that I just played in Teatro Campoamor in Oviedo and the important role I played was La Fortuna. I was also playing different roles, so it was really fun, because I could think as different people and I could be different people in the same afternoon. How does she work? How does she think?"
Sagrario Salamanca has traveled many miles and come a long way in her career since those early days. She toured with Spanish music icon Raphael for three years. She has performed in places far from Madrid such as prestigious Carnegie Hall in New York City, and venues in Chile, Argentina, Peru, Venezuela, Mexico City and Miami Florida.
"That is another pleasure of singing. I couldn't have felt luckier the first time (I went on tour) and I thought, they are paying me for traveling and singing (you can still hear the sense of wonder in her voice). It was really fun. Traveling changes the way you think about people. It changed me (in a good way)," she says.
Sagrario Salamanca has also performed in zarzuela (we will explain this in a moment) concerts at Bucharest Hungary, Bratislava Slovakia, in Romania and in Ankara Turkey.
When asked if she would like to sing other kinds of music in addition to Opera, she answered, "I don't know. I just want to sing, but now. I would like to have two lives to do all that I want to do. If I had stayed in LA (where she lived for a while) I would probably have been singing music like Alicia Keys or Funk and things like that, but I came back to Spain. When I came back here I began to do what was easier for me, like Opera. Maybe that type of music has chosen me. I love many types of music. Like I said I would need to live two lives to do all that I want to do. Maybe if I had done things differently I would be living in New York and singing in Broadway shows and music like that."
Let's backup a moment and help us to understand what a zarzuela is.
"There was a time in Madrid when people did not have the money to go and see a two hour performance, so they invented what is called a zarzuela and it is only called that, because it only lasts for one hour. It is like a Spanish Opereta (English spelling Operetta) with text and music," she explains.
"There was a zarzuela we were supposed to be rehearsing right now (June 2020), it's called, Agua, azucarillos y aguardiente. It's postponed; we will do it next season in April 2021. It is a very funny role. (My character) Atanasia writes poetry and she lives in Madrid. She doesn't like her name, so she makes everybody call her Asia. The story takes place in the late 1800s. Her mother and her are both ruined, because they spent a lot of money to make a book with her poetry. They spent everything. They had to sell their books really cheaply, because no one wanted them. She still believes in her art. She is like one of those crazy romantic women and I just love her.
She is in her own world and she doesn't really care about this world, because she is only thinking about poetry. She doesn't talk like other people, she talks like a poet. There is a moment in the play when she says 'Febea looks beautiful tonight,' and of course her mother doesn't understand that she is talking about the moon. Her mother keeps asking her what are you saying about the moon? Why don't you call things by their names? She doesn't.
She is in love with her boyfriend. They are going to be kicked out of the apartment where they live, so her mother thinks they are going to ask for money, so she can help them stay in their apartment. The boyfriend wants to escape with Asia, so he (plots) to drug her mother to make her fall asleep. Asia and her mother know when he is going to do that, so they drug him. He falls asleep and story ends with them returning to the village where they came from. (My character) is in the middle of everything. She has to be polite and loving to her boyfriend and she is also pretending, because she knows that he may be thinking of something (devious). It is a really funny story.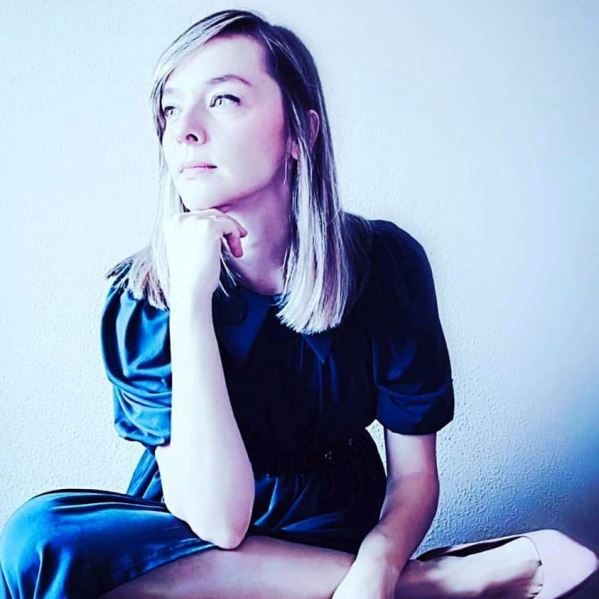 This play is just one hour in length. It is also called a género chico because it lasts less time than a (regular play)."

Oviedo, Asturias is where the play will be staged next year and Sagrario Salamanca tells us, "You should go to Asturius. There is not a bad place to eat there." We are thinking she may not have to buy food between now and next year, because we are quite sure people from other parts of Spain will be trying to impress upon her how good the food is in their regions and she may be flooded with all kinds of great food gifts.

Sagrario Salamanca also performed in The Dream of the Fairy Queen, which was presented at Festival de Teatro Clásico de Almagro, Los Gavilanes and in Catalunya (an autonomous region of Spain where the city of Barcelona is located).

"The music is from A Midsummer Night's Dream. It is not an Opera. It was one of my favorite roles, because the director was very clever and he used only the parts about the two couples who go to the forest, but he did not use the other parts of the play. There were only four actors and we three fairies who sang. I sang a song that is supposed to be sung by the Fairy Queen. When the fairy queen does her song it is very beautiful. The way that the song is written it gives you the feeling of a mother who has lost her son. She talks very slow, she doesn't want to live and she wants to be left alone. It was very special and I really liked the things that the director did with that play.

When the actors were in love there was not a clear reason. It became a tragic story. It was a very beautiful play to (be in)," she says.

We were in the heart of the COVID-19 pandemic during our conversation and Spain was, next to Italy the hardest hit country in Europe. The government of Spain (this is our opinion not that of Ms. Salamanca) when compared to France, Germany and Canada did little to help those who are self-employed in arts and culture, while mandating that they could not perform, because of the lockdown measures that were enforced by the government. While no one was arguing with the measures that had to be taken to eradicate the virus, there were a lot of questions being asked, as to why the government of Spain did not extend the same level of financial assistance to artists that it did to almost every other citizen of the country. We therefore asked Sagrario Salamanca for her thoughts concerning how those who are employed in the performing arts are considered in Spain.

"Spain is really sad, because we don't appreciate the arts. We don't appreciate music and the world that is behind it. One thing that really bothers me is when people say you sing really great, what a beautiful voice. It is not a voice. If I didn't study I would not be singing as I do. There is a lot of work behind that voice and that performance. They don't support that. That is maybe one of the reasons that I do the music that I do now (Opera), because at least it is more serious music and you are taken more seriously.

We don't appreciate the arts (in Spain). There is no focus on the importance of the arts and of all the different kinds of art that there are. There is also a problem with Spanish music. There are really great composers and it is also very beautiful music, but we don't take care of it. Some people are not proud, because it is from Spain. The self-esteem of Spain is low (when it comes to) Spanish things, Spanish music and Spanish art. Spain only supports football. It is really sad, because we have a lot of things to be proud of and we are not," she says.

As for how Sagrario Salamanca views her career, "I think I learn something with every new role and I learn something with every new song that I sing. I see the songs for what they are, a monologue. They are fun for me, because I think about who is this person that is singing. It is like a short story. In every role you discover something about yourself and about life."

Early in our conversation Sagrario Salamanca told us, "I studied with that woman (Maria Luisa Castellanos) who was crazy enough to believe that I could become an Opera singer."

We are glad that she believed in Sagrario Salamanca who may be one of the best singers this magazine has ever interviewed.

This interview is dedicated to the memory of Maria Luisa Castellanos, one of almost thirty thousand people in Spain who lost her life to the COVID-19 pandemic in the year 2020. RIP

Top photo: Sagrario Salamanca is the one in the middle with dark hair and in a blue dress.

#SagrarioSalamanca #OperetaEspa

ñ

a #

Ó

pera #TeatroMusica #CantantaEspaña #RivetingRiffs #RivetingRiffsMagazine #AMidSummerNightsDream #Zarzuela #MusicalTheaterSpain #OperaSpain #SpanishSingers #OperaSingersSpain #CantantaMujeres #Raphael

Espa

ñ

a #RaphaelCantante

This interview by Joe Montague published June 1st,2020 is protected by copyright © and is the property of Riveting Riffs Magazine All Rights Reserved. All photos are the the property of

Sagria Salamanca unless otherwise noted and

all are

protected by copyright © All Rights Reserved.

This interview may not be reproduced in print or on the internet or through any other means without the written permission of Riveting Riffs Magazine.