Austin, Texas Singer-Songwriter Sara Hickman - How It All Began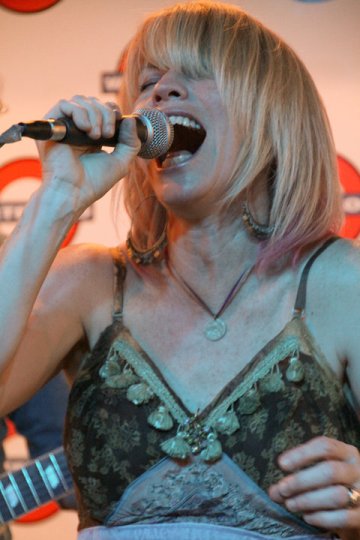 Sara Hickman is many things to many people. In 2010 she was named the Official State Musician of Texas, a one year honor bestowed upon her by the Texas Legislature, in other years given to such luminaries as Willie Nelson, Ray Benson, Billy Joe Shaver and Lyle Lovett. When her daughters Lily and Iolana were born she turned her attention to Children's Music and established herself as an artist in yet another genre, complimenting her already impressive credentials in Pop, Folk and Adult Contemporary. She is a very good songwriter who is not afraid to tackle issues such as eating disorders, suicide, family and sex. She is a social and political activist who has leveraged her public profile to speak out on issues she believes in such as the abolition of the death penalty, she has been an advocate for PETA and the SPCA and she has delivered clothing and other supplies to orphans in Romania. On the home front in Texas she spearheaded a double album, involving some of the top names in Texas music and the proceeds became part of an ongoing initiative by Sara Hickman to restore arts, music and theater in the school system to a level enjoyed by previous generations of students. From her home in Austin, Texas, which she shares with her husband Lance Schriner and their Senior High and Junior High aged daughters, Sara Hickman took time to talk with this writer about her childhood years, her music career, her family and sometimes with her voice cracking, she talked about matters close to her heart and at other times laughing, while her comedic side emerged she poked fun, good naturedly at herself and the world. This is the first part of Riveting Riffs Magazine's exclusive two-part interview with singer and songwriter Sara Hickman.
Sara Hickman's story begins in Jacksonville, North Carolina in 1963, before her father, a Marine was reposted to Houston, Texas six years later. Her mother a painter and a fiber artist did what Sara describes as a lot of weaving for museums and private collections.
"I grew up watching her at this very large loom, listening to the shuttle that she would pass back and forth between the threads and yarn that she had put up, and then the paddles that she would push with her feet. It was a lovely sound. She made amazing pieces and they were completely original. You could walk through them and they would move with you, with the sway of your body.
My father, who passed away two years ago, was a painter and a sculptor. He was a creator of things (including) puppet theaters. I grew up in a house where textures, sounds, colors and smells really affected me as a songwriter, because everything was very visually stimulating."
Family was important to Sara Hickman as a child and it remains her priority today. The close relationship that she enjoys with her own mother and that Ms. Hickman enjoys with her own children surfaced in the song "My Mama's Hands," from her 2006 double CD Motherlode.
"I have written about almost every single person in my family and some of my neighbors when I was a kid. I am getting a little choked up, because that song has a very special meaning to me. I wrote it because I was playing with my children one day in the front yard and when I was picking up one of my daughters I looked down and I realized that my hands look like my mother's hands. I wrote the song and I was going to present it to her at her mother's 100th birthday party, but two weeks before my grandmother was to turn 100 she passed away. My mother decided to have the birthday party anyway and I went to the party. I sang the song about my grandmother and I dedicated it to my mom. Both of my daughters were there. I was crying and my mom was crying and I realized that when I look down my mom is always with me, because my hands look so much like hers. Hopefully someday, my children will look down (her voice starts to break) and they will see me in their hands. That's how the song came to life. When I sing that song I am always amazed how it touches people and I am moved when a lot of men come up to me and they tell me how much their mothers meant to them and how much it means to them when they hear this song and they think of their moms. That is always very moving for me," says Ms. Hickman.
Sara Hickman discovered early in her life that she had a love for music. "My patriarchal grandmother's name was Martha and she played amazing piano and my grandfather played amazing saxophone. When my grandmother was in her very early twenties she left the Ozarks with her sister Mary and they went to New York City. They had their own radio program called The Ozark Smile Sisters. My grandmother would play the piano and my great-aunt Mary would sing in duet style, as they sang all of the popular songs of the day and songs of the Ozarks. They played in theaters for silent films and performed in dance halls. My grandfather played in big swing bands.
Part of the joy of every summer was when my parents would take us first to see my grandparents in Arkansas and then to see my mother's parents in Georgia. When we went to Arkansas I would play my guitar with my grandmother on the piano and my grandfather on the saxophone. I just loved my grandmother so much. She was so inspiring to me. I named my (first) guitar Martha after her."
When Sara Hickman was eight years old, she discovered something else that she loved performing before an audience. "They had this contest at our elementary school, for kids to write a patriotic poem and I decided that I would write a patriotic song that was about the bald eagle. I got on the stage and it was the first time that I was ever on a microphone. I didn't have a guitar strap, so I was holding my guitar and you couldn't hear it, because there wasn't a mic on it. I sang my song, I played my guitar and I won first place. I got twenty-five dollars and I got the certificate, which I still have. The minute that I heard my voice on the microphone, I realized how big my voice was and then I got all of this applause. I was hooked. I didn't care about the award, to me it was magic that your voice could be this big, that people could like what you had to say and there was that interchange between the audience and the performer that was intimate and exciting. I like to have a relationship with my audience and that is when it started. I realized that I had something to say and people liked it.
I think a lot of people (believe) that performing is glamorous and exciting, which it is, but it is also a lot of hard work and preparation. It is not just lying around eating bonbons and then you go up on stage and this magic happens. You have to prep for it and memorize things. I visualize a lot, this is what is going to happen and this is where I want to go during my journey on stage. It is hard to explain to people."
More fond memories, "All of my life I thought that I would be a musician and that I would make albums. I remember when I was (a child) cutting out pictures that my mom had taken of me and cutting out pictures of George Burns, because I loved him and pictures of Mick Jagger, because I loved him and I glued them all over this Dan Fogleberg double vinyl (she laughs). I was a big George Burns fan who I was later blessed to meet and I was a huge Mick Jagger fan. I loved The Rolling Stones. I typed out my lyrics, this is back when we had typewriters, and I glued them inside this Dan Fogelberg cover. I covered it with green construction paper, put my lyrics in it and I put pictures of me and George Burns and other people on it, because I used to get album covers and they had collages and stuff.
I had a little band when I was ten, of all girls and then at fourteen, I was also in a band. I was always making music."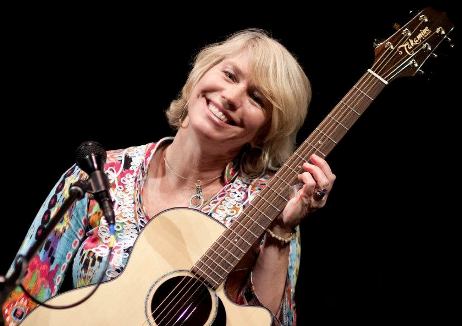 In Houston, Sara Hickman attended The High School for the Performing and Visual Arts, located in Montrose section of the city. She uses adjectives such as "awesome" and "great" to describe her experience and she credits her teacher Pat Bonner for being another inspirational figure in her life.
"She is a fantastic woman and I believe that she is in her thirty-fifth year teaching there. I was doing a speaking engagement for the Texas State Teachers Association at a regional convention and I was talking about Pat Bonner. On the assumption, that she has taught so many kids per year for thirty-five years and it came out to some crazy number like 12,500 students. How many of those lives have been affected and how many of those people have gone out and affected other lives, because of her? I wouldn't have experienced her if I hadn't gone to The High School for the Performing and Visual Arts, which really (encourages) people to push their artistic side and to explore it. If I had gone to the high school that I was tracked to go to they had football players and they had cheerleaders and I am sure there were wonderful art classes there, but I wouldn't have got the experience I had with Pat Bonner and I wouldn't have gotten to be with kids who were oddballs like me.
My oldest daughter is going to McCallum Fine Arts Academy in Austin, which is a high school for performing and visual arts and my younger daughter wants to go there too. Watching her find a home base where she is really pushed artistically and in theater, has been a God send, because we can do so much at home and she has been exposed to a lot of amazing people through my job and through her dad's job, but I think for her to be in a community of like-minded kids who have come together and who understand that isolationism that I think sometimes artists feel (is important). I remember feeling really lonely growing up in a regular (elementary) school, because there wasn't another girl playing the guitar or another girl singing and expressing themselves in that way. Of course things have now changed and there are young ladies playing drums and guitars, but back then I was the only one doing it and even in junior high I remember winning first place in a talent show with some songs that I had written and the next day all of the popular girls and the teenagers and stuff came up to me and they said (imitating the voice of a prissy teenage girl) 'Can you write a song for me and my boyfriend. That would be so cool.' I was surprised that I was receiving everybody's attention all of a sudden," she says.
There have been a lot of love songs written throughout the history of music and Sarah Hickman's first love song "Simply," was written when she was seventeen years old and it appears on her Elektra Records album release Equal Scary People (1989).
"I wrote that song for a boy that I was in love with and it just kind of naturally came through me. I got on my bike, with my guitar slung across my back and I rode over to his house. I asked him if I could come in and play this new song for him. When I played it for him, I thought he was going to be bawling his eyes out telling me I was awesome and asking me to be his girlfriend or something. When I was finished he just kind of looked at me and then he said, 'Do you want a coke?' I was crushed, because that was the first thing he could think of. I didn't play that song for a long time, although I did play it on Equal Scary People. Three years ago I was on stage in Houston and I was telling this story and it is quite comical and people always laugh. I saw this guy in the front row and I realized it was him and I hadn't seen him since I was seventeen. Here it was all of these years later and he has always lived in Houston and I have always played music in Houston. I don't know why he chose to come to see me. It was really awkward, because I saw him right before I started singing the song. I looked down and I was freaking out. I was singing the song and I was trying to sing it the best that I could, just like when I first sang it for him. After the show he came up and it was incredibly awkward, because my heart was beating and I was thinking oh my gosh, this is the guy. It wasn't the same. I'm married and I love my husband and I think he is married. He was all excited and he said, 'I'm so sorry that I didn't get what the song was when you wrote it.' I was like, 'That's okay, it's gone on to do it's thing (she can hardly contain her laughter) and you've helped me a lot.' I think and it is still true in our society that men are supposed to romance women, so maybe there is something in the DNA when we're romancing them. It's not true for all men and it is a sweeping generalization, but I think sometimes men don't respond, because they're not clear on what is happening," she says laughing.
After graduation from high school, Sara Hickman packed her bags and left Houston for the University of North Texas in Denton, where she was an art major, while continuing to perform her music in clubs. She says it was with her mother's encouragement that she studied art, as Ms. Hickman's mother believed this might be an easier career path than music. She enjoyed her art education and at one time, she applied for a position as an Art Director with Hallmark Cards. During her time at the University of North Texas, Sara Hickman was also known to bend the rules a bit, as she enrolled in or should we say she launched a covert action to be in the Classical guitar class, but she was busted! The teacher discovered she was an art major and apparently art majors were not allowed to be in the Classical guitar class. It was not his rule. It was the university's rule.
She recalls, "I was so bummed, because I really liked the class and he said, 'You know what, you can stay in the class, because you are the best student that I have. With everybody else it is mandatory for them to be in here and they really don't care about learning Classical guitar, but you do.' It was totally great and I went oh thank you so much. I got a painting degree and I did not go there (to university) for music."
Carl Finch who co-produced Sara Hickman's Equal Scary People album happened to be watching a small community cable television show that Ms. Hickman appeared on when she was singing and playing "Simply," he tracked her down and convinced her to make a record.
"My grandparents loaned me some money and I made a 45 single and the single was reviewed in the Dallas Observer. One side had a song called "How Can It Be?" and the other side was called "As Much As Me." It is really cute. Then I made an album with twelve or thirteen tracks. The Dallas Observer had awards every year and I won Best Album. They picked four people to be on the cover of the Dallas Observer and my picture was one of them. Inside there were interviews with the four of us. The newspaper ended up in New York on the desk of Howard Thompson who was the A&R man (at Elektra Records) and he liked the story about me. He called down to Texas and he had a friend send him my album. Allegedly, when he heard "Simply," he was hooked. That was the first song on the album," she says.
"I went on tour with this group called Killbilly (at various times featured singer-songwriter Alan Wooley, singer Craig Taylor, drummer Mike Schwedler, guitarist Rhett Miller (Old 97s), bass players Murray Hammond and Richard Hunter). They called me and said do you want to do a tour? We can get clubs, but you can get press, because you have a record. It was me and eight guys in a van. While we were out on tour Howard came down from Elektra in New York and he saw me. It was in Kansas City, Kansas in this horrifically small club. My manager phoned me and told me that there was somebody coming from Elektra Records. When I got to the club, there were maybe twenty people there. I said to everybody, 'Hey I just got a phone call telling me that a man from Elektra is coming down from New York. I realize that none of you know who I am, but if you could act excited after every song, it would mean so much to me. I said he will probably be wearing all black, so we will know who he is when he walks in. I start playing and they clap and suddenly this guy all in black comes in and he sits down at a table in the back. After every song, even the bartender was screaming (she imitates them), clapping their hands and going nuts and at the end of eight songs or whatever I got a standing ovation (she laughs). He called me over to the table right before Killbilly played and he said, 'Oh my goodness, I have never seen an audience react like that.' I said, 'I know, it's crazy right?' He said, 'I want to sign you.' I said the only thing is, you can't change me. That's how it starts," (she laughs).
You can read Part Two of this two part interview with Sara Hickman here. Return to Our Front Page
Please visit the Sara Hickman website.
Interviewed by Joe Montague
This interview is protected by copyright © and may not be reproduced in print or on the internet or through any other means without the written permission of Riveting Riffs Magazine, All Rights Reserved