Sass Jordan Is Still Singing From Dusk 'til Dawn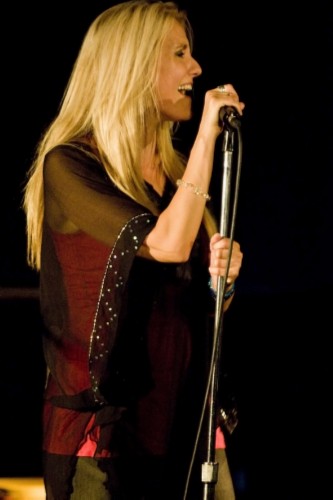 For all of you aspiring artists out there who are playing on street corners or performing for donations in city parks take heart, because some of you are destined for better things. Just ask Juno Award (Canada's highest music award) Sass Jordan, who was once named by Billboard as the Best Female Rock Singer in North America. Sass Jordan had a rather modest beginning to her music career and while discussing the inclusion of a Tom Waits song "OL '55," on her new album from Dusk 'til Dawn, Jordan reflected upon those early years.
"I did "OL '55," because it is a song that I have been singing since the seventies when I was singing the park with my friends. The fact that I sang it for all of those years in Montreal and never realizing that one day I would be driving down the freeway in LA listening to it at six in the morning, while driving home. I never realized that I would be living in LA (someday). Me doing a version of it on this record is the closing of that circle," says Jordan.
All of the remaining nine tracks on from Dusk 'til Dawn were co-written by Sass Jordan and Derek Sharp, and she says there is a common thread which binds them together. "I think it is me going back to the roots where I started, which was in the seventies, when I started playing in the park in Montreal with my friends and we would do songs that we could do harmony on. The songs that were popular in that time were The Eagles, Linda Ronstadt, Jackson Browne, and Crosby, Stills, Nash &Young, were all rich harmony vocal music. I wanted to go back to those kinds of roots, that California seventies vibe and I think that I did that in general. There are a couple of songs that aren't (necessarily) California, one is more like Detroit and the other one is more British, crazy stuff, which I have used as an inspiration more than once before in my songwriting life."
The CD from Dusk 'til Dawn opens with a Janis Joplin like "What I Need," which sent a buzz through her fans at her official CD release in Toronto. Jordan then switches gear and demonstrates the soulful side of her vocals with "Fell In Love Again," a song which features an incredible horn section comprised of John Johnson (tenor sax), Pol Coussee (baritone sax), Steve McDade (trumpet) and trombonist Gord Myers. The melody and the lyrics both invite listeners to sing along.
Jordan breaks into singing the first couple of lines of her song "Fell In Love Again," before saying, "That's more Motown that one. The inspiration behind that song…I don't know, it just sort of flows out of you. Sometimes there is no particular experience that you are drawing on. It is just a feeling and how the words fit percussively into the melody and it was more of that, because I was looking for that kind of song and I just wanted to have that kind of flow. (As for) the horn section, horns add a whole new dimension. I love horn sections and I used them once or twice before, but it has always been quite sporadic. If you are playing the song live, unless you have an actual horn section, it sounds kind of cheesy if you program it into the keyboard and stuff, so generally, I try not to do too much that has horns in it, but this song begged for it. (She adopts a mock southern accent and says) It was crying out for the horns, so I had to put them in (she laughs)."
Jordan slows down the pace considerably for the third track simply titled "Awake," and it is one of the prettiest songs we have heard in a very long time. If the Jason Mraz and Colbie Caillat song "Lucky," left you swooning about your loved one, Sass Jordan's "Awake," will evoke strong emotions of loss, as she tenderly reminds you of the love that once was.
"Awake," is a song that seems to be getting a great deal of attention from people. I think that it appeals to people so much, because it is so accessible and it is reminiscent of songs that people heard before. It is music that is familiar in some way. If it is a new song, make it so that it doesn't vary too far from what I am used to, and what I like. "Awake," sounds like The Eagles and all of those kinds of things," says Jordan.
Jordan paints a lonely image of a woman who goes out at three in the morning, because she is finding it difficult to sleep, as she contemplates a relationship that is coming to an end. This is not a song about he did me wrong or I hate him for what he did to me, as she asks, "Why did it come to this? / Is it so hard saying what you really mean? / If it's real, I keep telling you, there's no reason to pretend." The strong visual images and the sense of frustration are evident in Jordan's phrasing, but so is the sense of new beginnings and that is what makes this song so special. This is not a bitter pill to swallow, but it is raw, vulnerable and more importantly it is just plain honest.
Some songs that Sass Jordan writes, "Awake," being one of them are come from that mysterious mystical place that only truly creative people have, but are often at a loss for words to describe. Jordan says, "It just flows out. It is like the song is already written and then it just chooses you to come through. I find if I want to say something myself, I seem to interfere in the process and it doesn't get said as well. These songs just flow through me and I can't even take credit for writing them, but I did. It just flows out."
Jordan says that all of her songs arise out of personal experience. "There isn't a single one that I have ever written that doesn't. It isn't a conscious thing. This is the God's honest truth, half the time I have written songs and two, three or four years later I have said, 'Wow that was a prediction.' It's like I am predicting my own life. It is quite interesting. Everyone has experiences that are relatively similar and there are only so many things that we have in life. (We all have) the general experiences of having companionship, shelter and food, as well as entertainment, to get your mind off of gnarly stuff."
On her new album from Dusk 'til Dawn, singer / songwriter Sass Jordan does what she has been doing best throughout her career, she entertains and she writes and sings songs that you and I can relate to.
Interviewed by Joe Montague Published August 8, 2009
This interview is protected by copyright © and may not be reproduced in print or on the internet or through any other means without the written permission of Riveting Riffs Magazine, All Rights Reserved