Detroit Singer- Songwriter Scott Dailey Has So Much Time To Burn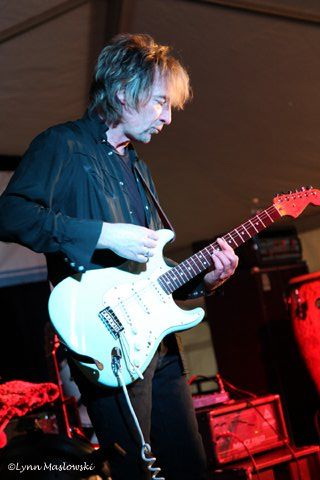 Offstage Detroit born and raised singer-songwriter and musician Scott Dailey is quiet and appreciative, not exactly what one might first expect from a guy who produces musical lightning bolts from his guitar and whose gravelly, but excellent vocals on stage immediately causes conversations to cease and eyes and ears to focus on the man singing "Game Of Hearts." The song, which appears on his new album So Much Time To Burn, was written many years ago and he recently breathed new life into a tune that serves up reminders of Bruce Springsteen and Pete Seeger at their best.
"I wrote that ("Game Of Hearts") a little ways back. I wrote it and then I forgot about it. I was playing it on my guitar (recently) and singing it and Carolyn (Striho his singer-songwriter-musician wife) was like, what's that? I said, I don't know, it's a song I wrote a while ago. She said, that's a great song and she inspired me. I had to play it a couple of times to remember the whole thing again. It is about a guy who takes advantage of everybody and it is coming back on him and it wasn't specific about any certain person or anything. I don't know what made me think of that at the time. I really liked it and we started playing it in the band and it sounded good. Carolyn talked me into recording it," Dailey recalls.
The song "Game Of Hearts," has a laid back melody juxtaposed to lyrics that bite, as the singer takes a look at a guy who has emotionally abused others and who has disguised his true intentions, "they all play a part in your great charade." The tables have now turned and the questions are posed "Did you notice how things changed? / Is it crazy how things got rearranged? / And now you're scrambling for a side to be on / With your gentle seduction / It always seems to end up in your own self-destruction." Scott Dailey's guitar playing is both inviting and excellent and Carolyn Striho backs him up on vocals, as well as playing keyboards.
Others appearing on the album So Much Time To Burn include, Dave Dion on bass, Bonnie Kaye playing violin and Ron Wolf plays percussion.
This is not the first time that Scott Dailey has written a song that has the potential to be a hit. In the early to mid-eighties, Dailey was the primary songwriter, guitarist and most of the time the lead singer for the Detroit band The Stingrays who had a regional hit with "The Heart Is A Hunter," a song that garnered significant radio airplay in Detroit, some other American cities and in Canada. The band was packing out venues and opening for acts like Split Enz, Nick Lowe and Junior Walker and the All Stars.
"Wishing," an easygoing song filled with dramatic tension between a man and a woman demonstrates Scott Dailey's ability to tell a good story and one that is easy for the listener to follow.
Dailey talks about the birth of the song, "That's a funny story and it was written a month or two ago. It is one of my favorites. One evening we were sitting at home and I came up with a chord sequence. Carolyn was sitting there and she said, that is really cool I like that. I had next day off and she worked. During the next morning I got up and I said I am going to record this. I sat down and I wrote out the lyrics. I scribbled them out, I recorded the song, I mixed it and she got home from work and when she walked in I was playing it. She said what is that? (I wrote and recorded the song) in a span of less than twenty-four hours. When she first walked in and she heard it I am not sure what she was thinking, but she loved it. It was fun and it was a nice experience."
Scott Dailey's guitar and Ron Wolf's percussion drive the song "So Much Time To Burn."
"That is a song that I wrote and that we put out on an EP with The Stingrays years ago. We recorded it with Ben Grosse at his studio Pearl Sound. He's a pretty well-known guy in the industry. He's out in LA now, but he had a studio here. It never came out the way I felt I liked it. It was a little fast. I resurrected the song for this (CD) and it was written with a couple of people in mind that I knew back in the eighties. They were really good people, who got messed up on drugs and other things. It just screwed up their lives. That line at the end, "You're just a statistic." It is a song that has always been close to my heart," he says.
Early in his career Scott Dailey was the primary songwriter for most of the bands with which he played, but he says, "When I first got together with Carolyn (Striho) I went a few years without writing anything, because she was doing her thing and she is so great that I didn't even spend any time (writing). Sometimes (now) I will just sit down and I will throw something together and it will just take a day before it is done. (It can begin) with a guitar riff or I will come up with a chord sequence or a lyrical theme that I want to write about. That starts it."
Scott Dailey grew up the son of Donald and Shirley and with a brother two years younger.
"I was an outgoing kid overall and I played sports. I was always active. I had a good childhood and I had good parents.
There was always music around. My parents were really into music and primarily it was Jazz and a lot of show tunes. I remember hearing a lot of Jazz artists when I was younger. I didn't really know who they were, but whom I grew to appreciate them. There were always things like West Side Story (playing). They just loved music and they would go down to Detroit to the clubs and see the (artists perform)," he says.
During his childhood years Scott Dailey played the piano a little bit, in his words, "I just messed around with it," and he played the saxophone from a real young age and at school. The big break in childhood stardom came on Christmas day when he was thirteen years old.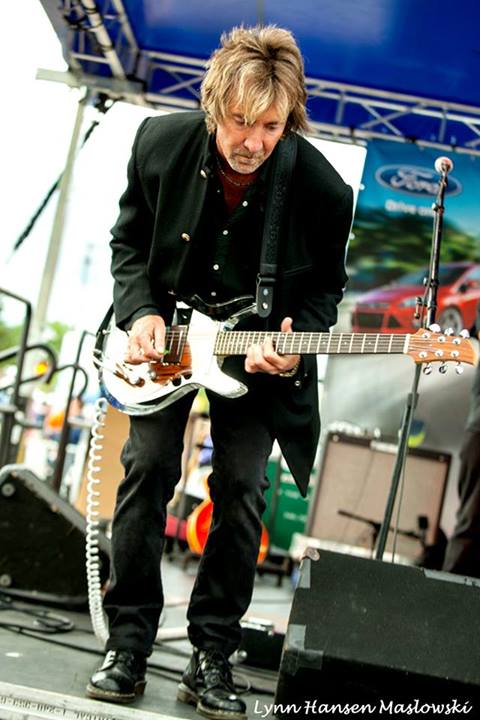 "My parents bought me a guitar and a little amp and they bought my brother a drum kit. It was like wow and we just started messing around with them. It grew from there slowly.
I started taking guitar lessons after that and I only took them for a brief period. Back then it was kind of boring to be honest with you. I had a music stand and this book and I was playing "Mary Had A Little Lamb," or whatever, real simple things and it was kind of boring. After a while I just lost interest in it. I just put it (the guitar) away for a while and it was sitting in my closet. A few years later I started to get into music. I was listening to things and I was playing LPs, early Cream, Black Sabbath and the first Led Zeppelin album. It was around that era that I started really getting aroused by the music again and I started picking the guitar back up.
I would put on LPs by some of the bands that I was listening to then and I would try to learn the songs. I bought a few music books. It grew from there slowly. I had a pretty good ear I guess and I could just sit and learn a song from the record. I would run it back again a few times and that is when the bug kind of caught me," he says.
In junior high school Dailey hooked up with some other people who played and they put a band together.
"We would play at parties, a junior high or high school party and then a couple of things at our high school. It was during early high school and there would be big parties and they wanted a band there. The first time that I played at a gig when I got paid, we played at a church, but it was not a church service. The church would do these Rock concert type things.
I loved music and I did not think of the business side of it, because you didn't back then. You loved playing music, playing the guitar, having people watching and saying hey that's great and that kind of thing. It was just fun and I never thought about it as a career. I just loved it," says Dailey.
In high school Scott Dailey was a founding member of The Grand Scott Connection a name obviously derived by combining Dailey's name with the lead singer Tom Grand's name.
He says of the band's name, "It was kind of goofy. We went into some rinky dink studio and we paid some guy to record a few songs. I had written a few songs and he (Tom Grand) wrote a little bit. It turned out well for what it was back then.
I would just sit around and play and I just started writing things. It just seemed like a natural kind of a flow. We used to play a lot of cover tunes and we would play Rock songs of that era, but I always felt more enlightened if I wrote something. I don't know what they were about back then. They were probably about girls," he says.
Following high school, "I didn't play for a little bit. I was going to college and I was trying to figure out what I was going to do. Then I met a guy through a girlfriend that I had way back then and he had been in a couple of popular bands. I wasn't really paying attention to the scene then, but he had just finished a stint doing what they called the new MC5. That thing broke up and she hooked me up with a songwriter-singer named Billy Wimble (1979 – 80) and that was the first time that I really got out into that scene. We played some shows and some clubs in a couple of concert type settings. We opened for some weird shows like Steppenwolf and Canned Heat, but these were after versions of the band, with Steppenwolf there was one original guy in the band and Canned Heat I am not sure who was still in it.
The Billy Wimble thing was cool for a bit and then I left that. I had a little recorder at home and I started writing a bunch of songs. It was just flowing. I got hold of a couple of people that I knew in the scene and little by little we put together a band (The Stingrays) rehearsing in my garage and I had already written out a whole set of songs or more. The original drummer in this band was Chad Smith who is with the Red Hot Chili Peppers. Chad is a local guy and my ex-wife knew him, they went to high school together. He was our original drummer. He was a little bit younger than us at the time and he didn't have a car, so he couldn't make it to rehearsals (he starts laughing), so we thought we (needed to) find another drummer. He was great. He was a great guy and a great player. We started rehearsing and we started putting together a set or two of songs. We got a couple of gigs and it just took off from there, with The Stingrays.
A slew of bands (followed The Stingrays) and I played with Karen Monster. We put together a little band for a brief period. Some Detroiters would know who she is. She had Jimmie "Bones" Trombly on keyboards for a little bit and he is now in Kid Rock's band. I played with Barbra Payton for quite a while. We had a band called Third Nature and Jill Jack was in the band. She is pretty well known in the Detroit area. These were all different projects for brief periods for a year or two or whatever. I did a band with Dave Gilbert for a while who was the lead vocalist of The Rockets and that was cool," he says.
On November 8th and 9th there will be a double CD release, Word Attack by Carolyn Striho and So Much Time To Burn by Scott Dailey. Details are available on the Carolyn Striho website.
All itext protected by copyright and are the property of Riveting Riffs Magazine © All Rights Reserved. All Photos are the property of Lynn Hansen Maslowski and are protected by copyright ©, All Rights Reserved
This Interview by Joe Montague is protected by copyright © and may not be reproduced in print or on the internet or through any other means without the written permission of Riveting Riffs Magazine, All Rights Reserved