Shadow and Bone, an eight episodes series debuted on Netflix in late April, and it features some of the best acting you are likely to see this year, led by Jessie Mei Li, the undisputed star of this show, both due to her character, Alina Starkov and the quality of her performance. Although, this part Lord of the Rings, part Stranger Things and part late 1800s Russian science fiction, fantasy series, based on the books of American author Leigh Bardugo features numerous good looking men and good actors to swoon over, we want to take a moment to highlight the brilliant performances by the actresses.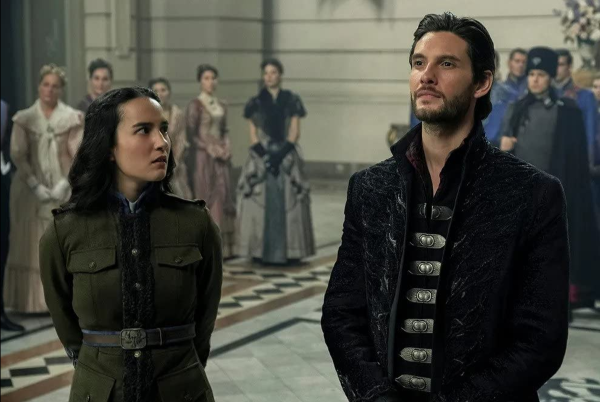 Jesse Mei Li's character Alina Starkov grew up in an orphanage with her best friend Malyen "Mal" Oretsev played by Archie Renaux, both actors are relatively new to the film and television world and both turn in splendid performances. Alina Starkov is a mapmaker who discovers she has a rare gift that impacts the storyline, while Mal, is a solider in the Kingdom of Ravka's army. In the midst of all the drama, there is an undercurrent of are you going to tell her how you feel about her big guy? Jesse Mei Li brings vulnerability to her character and innocence, but she also brings strength. Her character does not really understand everything that is happening to her, but when thrust into an opulent world, she longs for the simplicity of what she once knew. Li's eyes portray deep hurt, at other times defiance, but never resignation. The dramatic tension created between Jesse Mei Li and Archie Renaux is believable and the sensitivity draws you into these two characters, both in their current time and through flashbacks to the orphanage.
One of the most amazing actresses this writer has seen in a very long time is Amita Suman who was born in Nepal and spent most of her childhood in England. Suman plays Inej Ghafa, who is actually a character from the Six of Crows novel by Bardugo. Suman is destined for a very long career in film. She is a powerful actress who delivers more with less. Her life is one of a slave to thieves and devious businesspeople who value her stealth and ninja like abilities. The viewer is left wondering is Freddy Carter's Kaz Brekker falling in love with Inej Ghafa or is he just underneath that gruff exterior a man who just has grown fond of her and wants to do well by her. The third member of this unlikely trio is Kit Young who plays Jesper Fahey, a hilarious character who seems so out of step with his staunch environment that you wonder where a guy packing two holstered cowboy like pistols came from. This writer was convinced that Jesper's fancy moves with his pistols, were somehow fabricated or duplicated by a double, until I came across a video of him actually performing these tricks!
Back to the women, for a moment, Irish born actress Danielle Galligan is brilliant as Nina Zenik, as she takes her character from flirtatious, to despair to romantic comedy. Sujaya Dasgupta's character Zoya is a temptress and a rival to Alina Starkov and British actress Daisy Head in her portrayal of Genya Safin is elegant and has a certain charm about her, as she mentors Alina Starkov in the Little Palace. Veteran American actress Zoë Wanamaker is like a female Obi-wan Kenobi and she mentors Starkov in an underground cave. Wanamaker who does not appear until the later episodes turns in a magnificent and strong performance. A word of caution or perhaps a hint of mystery, keep an open mind about this character as the story develops.
Now to the men. We have already mentioned Archie Renaux and if you are into this sort of thing, it is well worth you putting your Netflix on pause when his shirt comes off. We should mention here as well, although Netflix does provide a nudity warning, the only nudity in this series are two distant shots of butts, one a man's the other a woman's. In fact, it was refreshing to watch a series in which the writers and director did not feel the need to add sex to their romantic scenes, just for the sake of it being there.
What are we going to say about British actor Ben Barnes? First, he is good looking, second, he is really good looking, and did we happen to mention he is quite dashing? Barnes, as General Kirigan and the Darkling, one and the same character, recreates a similar diabolical character to Alan Rickman's Sherriff of Nottingham in Robin Hood: Prince of Thieves. One moment Barnes brings out the charming side of Kirigan and at other times his sheer madness.
In a supporting role Howard Charles as the Conductor does a capable job. We do not want to really say much about this character, so we do not lead to spoilers, but he is central to the plot.
If you like action movies you will like this movie. The main adversary throughout the movie is not any of the characters, but the evil fold. For that storyline you will have to watch the series Shadow and Bone. We had to keep reminding ourselves that this is a fantasy series, so what at times one questions, should not logically follow. The only real criticism that we have of the series is that the last episode devolves into some hokey scenes that we feel could have been handled in a better creative way, but Netflix seems to have a penchant for ending on hokey notes or with scenes that seem out of step with the rest of their productions.
We started by highlighting the actresses, but we want to make the strong point that all of the central actors and actresses in Shadow and Bone are to be commended for their outstanding performances.
Top Photo: L - R Freddy Carter, Kit Young and Amita Suman Bottom Photo: Jesse Mei Li and Ben Barnes
#ShadowAndBone #JesseMeiLi #NetflixFilmReview #BenBarnesActor #KitYoungActor #RivetingRiffs #RivetingRiffsMagazine ##DanielleGalliganActress #ArchieRenauxActor #AmitaSumanActress #FreddyCarterActor #ZoeWanamakerActress
This review by Joe Montague published May 10th, 2021 is protected by copyright © and is the property of Riveting Riffs Magazine All Rights Reserved. All photos are the the property of
Netflix, unless otherwise noted and
all are
protected by copyright © All Rights Reserved.
This interview may not be reproduced in print or on the internet or through any other means without the written permission of Riveting Riffs Magazine.