Interview by Joe Montague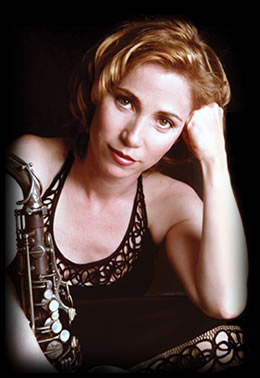 When you talk to alto saxophone player and evocative Jazz vocalist Sheila Cooper amazing is a word that populates her conversation as she enthuses about a person, project or piece of music. Cooper who makes her home in New York City comes across as a warm energetic woman. She will completely immerse herself in answering a journalist's question and without slowing down take a sharp turn down another path as a subtle spark evokes another exciting or warm memory.
Cooper plays a straight ahead style of Jazz and she confesses a fondness for the old standards. "The songwriting of (Ira) Gershwin and Cole Porter is what attracted me to singing. I really loved the way those songs were crafted. I like to choose songs that I feel are timeless in the lyric. They just resonate more with me than more contemporary music," she says recalling how she arrived in this genre.
Cooper continues, "Somebody recently asked me about the type of music I grew up with. I actually grew up with Nat King Cole and music like that. As teenagers the most played records in our house were Nat King Cole, Nancy Wilson and Cannonball Adderley. These were the records that the kids were putting on. The music just speaks to me. I like taking those older songs and I often re-harmonize them. Although they are straight ahead I will put a slightly more modern twist onto them. Hopefully the lyric still works for people today. They are timeless."
Still enthusing about the style of music she has chosen as her art Cooper says, "They (the standards) have so many possibilities that I find really attractive. There is a lot of room as a singer for self expression within that format. There is a lot of color and romance to the songs. Those things never die. It is part of the human experience." Challenging the opinions of some individuals is not a desirable option because they are in your face. Challenging the opinions of Sheila Cooper never occurs to you because her love and enthusiasm for music overwhelms you.
She rushes headlong into a defense of her view that the standards are timeless. Comparing the music to the work of great playwrights such as Eugene O'Neill she says, "Nobody questions someone (producing or acting in) a Eugene O'Neill play." Laughing she says, "Nobody says that stuff is dead. Something on that level never stops being relevant if you can bring it alive. (If you are) bringing it alive you are succeeding at your craft."
Cooper draws from her experience re-harmonizing "That's Alright With Me". "The song is really a sad song about a person giving up on ever finding their real love. For the person singing the song it is a turning point. I was really looking for a way to make that song darker. I knew I wanted to bring out the dark side. I then utilized aspects of the rhythm section to create that mood. The song is so well written that it can hold up to all kinds of different people's imprints on it and re-harmonization. It is such a strong song it stands up."
As well respected as Cooper is throughout the North American Jazz scene she is also considered one of the darlings of European music. She did her first gig at Berlin Germany's A-Train in 1996. Cooper didn't have a CD out and the audience was hunting for copies of her music following her performances. She returned to the A-Train in '99 armed with her debut CD Since You Were Mine. Following the performances on the later trip Cooper says that fans were lining up for her autograph and to purchase her CD. She says, "It was like I was a matinee idol or something. It was overwhelming in a good way and was really exciting to have people connect with what I was doing." (For those not familiar with the club in 2005 Jazz guru, composer and pianist Alexander Von Schlippenbach recorded his CD Monk's Casino at the A-Train.)
Cooper observes, "The European acceptance of Jazz is a little bit different from here. Europeans are so much more available in a certain way. There are more of them. It is still aficionado music over there as well. There are many more people interested and they are an enthusiastic audience."
Cooper indicated to me that when choosing material to perform in Europe she uses a different set of parameters. "Some of the songs that I have are quite wordy. For instance the song that stands out to me (in that regard) is "One Hundred Easy Ways To Lose A Man" (Leonard Bernstein). I have performed the song in Switzerland (Marians Jazz Room in Bern) but it involves a lot of introduction and I have to slow the song down quite a bit." By reworking the song which is a humorous anthology of the battle of the sexes she is able to present it in countries where most of the people have some English language skills. She says however the song is definitely out in other countries where there isn't much grasp of English. "In those cases I have to choose material where the mood is presented very strongly with the music," she says. She says in these venues she will often opt for songs such as "So In Love"(Cole Porter).
Cooper has learned to appreciate music that is sung in other languages. Through this she has learned that despite not understanding each word the meaning is somehow conveyed if the artist continues to work at getting the lyric across. She refers to the lyric as, "The tip of the iceberg but you know what the rest of the iceberg is. The audience only hears the tip of the iceberg but they know that the rest of the iceberg is there. They don't know what it looks like or the specifics of it but they can tell whether there is an iceberg under that tip or whether there is nothing. You can sing that little tip beautifully but if there is nothing under it in terms of meaning then it ends up being kind of empty. The tip of the iceberg can be in a language they don't understand but if you have the rest of the iceberg there they are going to get it. If you don't they will know that too."
During her teen years spent in Hamilton Ontario Canada Cooper was a pianist. The Jazz music scene may never have got to hear Cooper's awesome horn playing if not for her decision to learn the saxophone while her family was away vacationing one year. "While they were gone for three weeks I practiced the (tenor) saxophone madly every day. I managed to get a few lessons. I played the piano so I knew how to understand and read music. By the time (my family) got back I could play," she says. She had kept the entire adventure a secret until her family returned.
In explaining her original choice of tenor sax she says, "I actually started on the tenor because I was really attracted to the sound. There were a lot of Stan Getz records around the house. My parents got them when they (originally) came out but we were still playing them (twenty years later). They were worn out. That (Getz's music) was really in my ear."
Next she needed a gig for her new found talent. "There was a college in town (Mohawk College) that had a big band and it just so happened they didn't have anybody to fill the second alto chair. They had an alto saxophone lying around and suddenly I was the second alto player in the band," Cooper says. It was the college gig that provided an opportunity for Cooper to settle on the alto saxophone. "I switched to alto because that is what they needed in the band. Physically for me it was just a much better fit even though I actually preferred the sound of the tenor," she says. She also discovered that alto was a better fit for her voice.
Cooper also plays the French horn and flute but she says, "My main two instruments saxophone and vocals are vastly ahead of the others. At this point they are equally important to me as a means of expression in my music."
As summer dawns Cooper is looking forward to three concerts she will be performing in Innsbruck Austria. During the July 14, 15, 16th gigs she will be sharing the stage with Austrian pianist Fritz Pauer (Ridin' Across the Milky Way, 3 For The Road).
Interview by Joe Montague, all rights reserved, protected by copyright © 2006 Return to Our Front Page