These are heady days for actress and singer Sierra Rein, she has now returned to what she enjoys doing most in life, performing on stage and in front of a camera, after two years of much of the arts world being put on an involuntary pause due to COVID. She has two podcasts on the go, a short film in post-production, appears in two episodes of a series to be broadcast and streamed on FX on Hulu this fall and she has several exciting music gigs coming up. Believe or not that is just barely scratching the surface.
Sierra Rein (pronounced Rhine as in rhinestones) talks about her role in the FX Hulu series Fleishman is in Trouble, "It came out of the blue. It was January of this year and my agent who hadn't really talked to me for a while said hey can you put yourself on tape for this TV show? I didn't really know much about the project, so I did a tiny bit of Googling. I was like oh, okay there is this character Cherry who is in the book Fleishman is in Trouble, but there wasn't very much about her. I had my husband do the other dialogue and I shot the scene and sent it in. This was when we were in lockdown a little bit (New York City). We were slowing emerging and putting our toes back into the river of humanity of this year.
In mid-February I got an email that said, you are booked. I called my husband and I said you know that one minute scene that you shot with me, I am going to do a scene with Claire Danes and Jesse Eisenberg. It was one of those surreal moments. I was surprised they didn't have a callback. I think it was one of those (times) when they see who the person is and think yep that's the character. That's great, because I didn't necessarily have to act when the time came to be the character. I had already rehearsed enough of the character ahead of time or I had enough of the identity of the character already built in.
I did two scenes for two episodes and sometimes it was just do what you rehearsed and sometimes it was throw everything out and do what the director tells you to do. Let's record it, rehearse it and shoot it. There was a little bit of learn your lines and go. Here is the person playing your daughter, oh great. Here is Jesse and he is your cousin.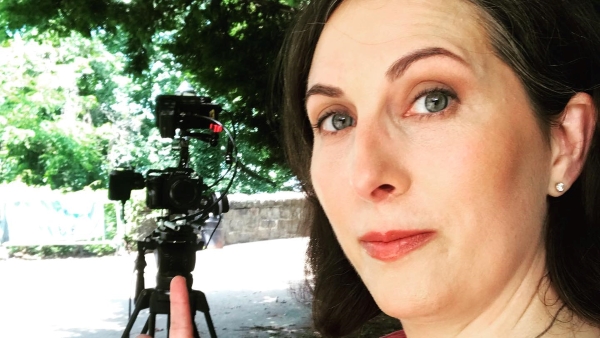 It was frightening, because I was coming out of a pandemic and I didn't remember if I was an actor anymore to, oh you're acting! Here's you behaving, acting and listening and remembering everything your acting coaches taught you before the pandemic. I seem to remember this, let's trust it and go. Everyone was great on set. It was a wonderful, thrilling experience and I have forgotten exactly what happened, but I will watch the TV show for the first time and I will go oh that's me, look, wow! (she chuckles) It will be surreal and wonderful (more light laughter)."
As for her character Cherry, "My character has two brief scenes, blink and you will miss me. She represents the polar opposite form the Claire Danes character, who is intense, exact and who works out all of the time. She has a difficult relationship with her identity as a mother. (Whereas), I am well rounded, I have some meat on me, I have round boobs and I have a butt. I am proud of being a mother.
(My character) gives a little tough love to my cousin, played by Jesse Eisenberg who is Fleishman. She is a little more grounded and earthy and she is able to see through some shit. That is my character's purpose in the scenes that I was in.
There is a ten-year gap in the two scenes that I am in. It was fun, because I have some grey in my hair now that I am in my forties. The first time my hair was brown again and for the second scene they didn't touch it (laughing lightly she says) I got some natural aging process."
As for the basic premise of Fleishman is in Trouble, or as much as Sierra Rein can reveal, "The premise of the book, as well as the TV series is a young New York doctor has two kids and he is married to a very intense woman. At a certain point she abandons them and he becomes a (single) father of two who is inserted back into the dating world. He has to deal with how he connects with people and with romantic partners. He uses online systems to do that. I am not exactly sure what the solution is for coming to terms with it. That is as much as I know, so I will be watching the TV series to find out for the first time as well."
A short film The Maples, is now in post-production. It was written by Randall C. Willis, directed by Taylor Corielle and stars Sierra Rein and Mick Bleyer.
Sierra Rein says, "It is in the design and editing process. The script in its initial form, in its original form was sitting on my (computer) for eight or nine years. The writer Randall C. Willis is a Canadian and I met him in Toronto through a puppeteering friend (more on this later). He teaches script writing as well. I asked him if he had any simple two or three person scripts and he said I do and he sent one to me. It was a two-character script in an airport. Two people who used to be friendly in high school run into each other while going through an airport.
I thought this will be great. I need to find an airport bar, one of those places where you go and grab a drink while your airplane is delayed. Cut to the pandemic and we are bouncing around in our apartments last year and I thought what if we rewrote that scene. What if we said it in an open park on a bench, like in Central Park or up here (in the part of New York City) where I live? Randall was like yes let me look at that. I thought I can't do it with the guy I originally thought of, because he now lives in Florida. I thought maybe my friend Mick, because I had always wanted to work with him.
We had a Zoom interview with Mick, Randall and me. I interviewed him. We got a sense for what his strengths and passions were. Randall reconfigured the script, to our personalities and what we wanted to get out of it. I learned so much from Taylor, because she literally brought spreadsheets and asked who is going to do this and you are going to need this. You are going to need insurance. You are going to need someone to (oversee COVID safety). We are going to get (permission) from the park. We went location scouting in a bunch of different places.
This was before Fleishman and I had to come to terms with being an actor again. We did script analysis and we had one day of shooting. Like I said we are in the music and sound editing (process) and then we will have to do title sequences. It has been a very long process over a year, but we are taking our time with it. Hopefully, it will be a very enjoyable process that you can watch for ten minutes and that will be it.
People asked if we are going to send it to festivals and things like that and I didn't even think of those things. Let me just get it made first and we will see. It has been a learning experience, being the producer, but also the actor and stepping away, so the director Taylor could make her statements. It was a good introduction how to express, critique and to check my own ego, instead of asking is that really the best angle for my face? Is that the best angle, instead of being proud in the moment and saying I like that.
I have learned so much about the process, so now I know the steps and I know how to push the next project, maybe a little faster in the future."
Sierra Rein's acting does not end when the cameras are turned off, far from it, as she has built a very strong resume in theater.
The one that I am most proud of is we did City of Angels at Goodspeed Opera House in 2010. I was with my vocal group Marquee Four, because at the time there were not all five of us. We played the Angel City Quartet.
If you have never heard City of Angels, Cy Coleman wrote some amazing scripted and dictated scat at the very opening (lyrics by David Zippel, story by Larry Gelbart) and I could see the director and the director's shoulders relax. We had already rehearsed a little bit beforehand (you can hear the smile in her voice).
I had the great honor of being the understudy for Nancy Anderson, as Donna / Oolie. I got to perform, because she told me right off the top at the first rehearsal, on October 11, you are going on. I thought, oh, okay, that sounds great. It was a great experience.
I have also done a couple of productions of White Christmas and we performed in New Hampshire at the Music Hall. I got to yell at Sally Struthers in The Snoring Man. That was a surreal moment. The other surreal thing about that is we had a Secret Santa as a cast and Sally Struthers was my Secret Santa. Everything that I got was from Sally Struthers. She was a sweetheart.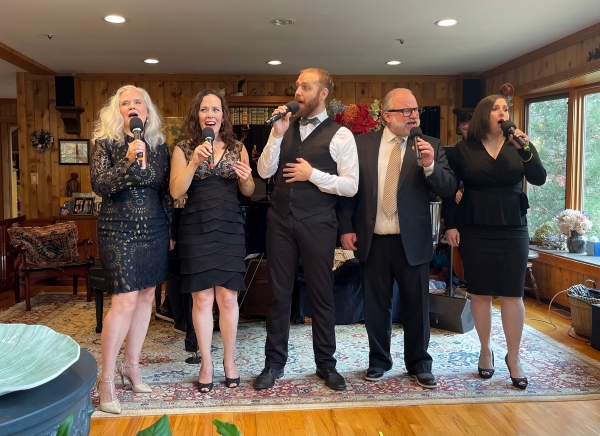 Before we get to Marquee Five, where did all of this start?
"I grew up in Oakland California. It was right across the bay from San Francisco, so it felt big city, but also a little bit like suburbia. It was historic, because we were right next door to Berkeley and there was a lot of anti-war, college energy. My parents didn't meet at Berkley, but pretty soon after they established themselves in the area. That is where the Black Panthers were from. Oakland is where the black panther from Marvel is where the Wakanda Embassy is, even if it is fake, they chose Oakland to be in it.
I am Portuguese by New Bedford, Massachusetts. My grandparents came as young adults from the Azores and I recently went back there (New Bedford) to visit family. I was reminded that this New Beford Portuguese thing runs deep.
My father's family came from New York and they were probably in the (diaspora), as they got kicked out of Russia for being Jews and they landed in Austria and Germany, before coming to New York. They probably went through Ellis Island. My dad was born in New York and then the family moved to Los Angeles. My dad moved up to the Bay area where he met my mom. My joke is I am half Portuguese and half Jewish, so I am a PortaJew.
Religiously my mom grew up Catholic and my dad grew up Jewish, but they never forced either side of things on me. They respected each side. We celebrated Hanukkah, we celebrated Christmas and we celebrated Easter. I went to a Catholic high school, but it was one of those that if you didn't want to go to mass every week you would have home room and they were respectful of other religions. We took world religions courses in addition to the old and new testament. I got a sense of all the different parts of me, but it was never one way. I got to choose my own way through the different sides of my family. (She starts to laugh) my religion became more musical theater than anything else. Both my parents were very intelligent. My dad was a lawyer and my mom was an English professor of creative writing. They raised me on Shakespeare and MGM musicals at the same time. They always talked about the heritage, but they let me discover it on my own," she says.
As for when Sierra Rein's interest in music and acting was kindled, she says, "My mom if she were here today would talk to you about a moment when I was about two years old, and she took me to a production of Peter Pan. It was somewhere at a community theater in the Bay. When the curtain went down and I stood up in my little patent leather shoes and a dress, I pounded on the armrest. I kept saying more, more, more! I was entranced in some way, by theater in front of me. I was always singing at the table when I was four or five. Whenever there was a production in school, in third, fourth and fifth grade, I loved to be a part of it. It was play acting for me and an extension of what I did naturally, running around in the backyard or making set pieces with a friend. Disney would produce these soundscapes based on the movies, we would have dialogue, music and movement from the shows only it was a half-hour version of everything. It was on vinyl. I would put those on and act out the whole thing for my mom. I am sure she was like, I just want to read my newspaper and let her do that.
One time I told my mom I was going to dance the nutcracker for her. She thought oh I will just put it on and she will do the first number and that will be it (she laughs and says) I danced through the entire thing. I was five or six. I haven't been a dancer since then. I am not a dancer. Please don't mistake me for being a dancer. At least I was trying to tell stories. I am sure she was grading papers, while I did that.
In school every year the fifth and sixth grade would do a combined performance of some sort of script that the teachers would write. It would be a musical and in fifth grade it was all about American history. My solo on stage was singing "Brother Can You Spare a Dime," during the Great Depression sequence. I sang this and I remember holding out my hands during the very last lyric (she sings) 'Brother can you spare a dime.' The whole audience just roared at me in applause and I could see flashes. I was kind of stunned and on the video, you can see my mouth opening up to a smile. Then the lights went out and I went backstage to change for the World War II sequence. I can remember thinking oh wait, other people enjoy watching me having fun on stage. People enjoy watching that, strangers, not just my mom. This is something that I really would like to do. That justified a lot of choices that I made from going to Piedmont Boys' and Girls' Choir. I got to sing with people and harmonize.
When I was getting ready to go to high school I went with my mom to the productions by the (grades) ahead of me. I think I saw a version of South Pacific in one high school. Then I saw one other production. I then went to Bishop O'Dowd and we saw a production of Amadeus. I went oh, they put money into this. They are not afraid to do adult material, even if it is a catholic school. The acting is really good. They basically transformed the small gym into a theater. On the way out and in the parking lot I told my mom, I really want to come here. That was the choice and it was a great experience. I did a lot of musicals there. I played a lot of the mama, big 'belty' roles that I am aging into now, Mama Rose, Evita, Hello Dolly, Arsenic and Old Lace.
When the time came for college, my mom said we are Californians and we can afford to go into the U of C system and I went to the University of California. (I was) was mostly in the musical department, with John Hall who was the teacher of the Musical Theater Workshop. Musicals were produced in the music department, while plays were produced in the theater department. I did Into the Woods, Once Upon a Mattress, which Carol Burnett directed. That was an interesting experience, because she came with some of her old tricks up her sleeve. I played the wench, who runs around being chased by the king. (she laughs). That was my thing, I was able to run around, squeal and be goofy. Also, it was self-produced by us. I directed a production of Assassins. We did a production of Falsettos and of Once On This Island. Those were my formative years at UCLA.
Sierra Rein is also known as one of the founding members of the award-winning musical ensemble Marquee Five.
We have to first however go all the way back to UCLA again, when "I was in an a cappella group called Awaken A Cappella and one of my good friends in that was Vanessa Parvin, who at the time was Vanessa Marshall. She was one of the first people that I contacted when I moved to New York City in 2008. I had been doing a bunch of stuff in Los Angeles, musically. The year before I moved to New York I did a year with the Definitely Dickens Holiday Carolers, which was four-part harmony at Disney Land Resorts. We rang bells and we were very festive. It was time to move to do the New York thing and when I contacted Vanessa, I was like hey what are you doing out here. She was like I have a young child and I have a Christmas caroling group. I was oh my god, I just came from a Christmas caroling group. That is amazing. Do you need altos? She said sure.
I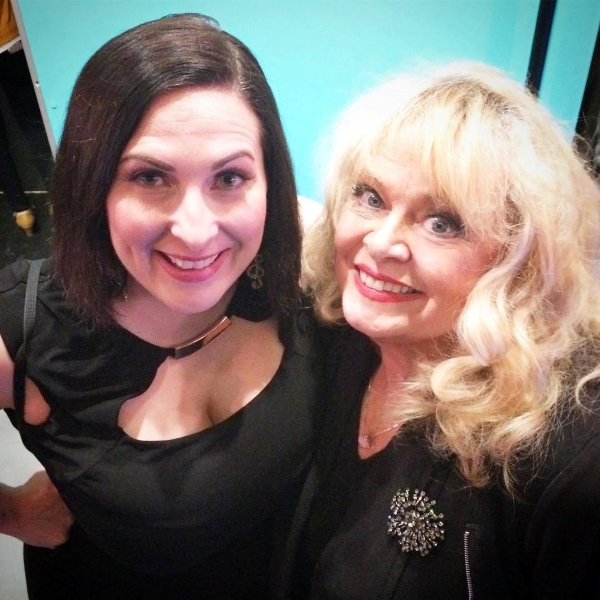 t was revealed that she was heading up the east coast version of Definitely Dickens (she laughs), while I was in the west coast version. I had no idea there was an east coast branch of the same caroling company. I knew the arrangements, but there were a couple of differences in the repertoire. I said I am an alto and I know it all and she was I am a soprano, so let's sing together. This new guy Mick Bleyer was singing bass. When people heard us sing, they would ask what do you guys do the rest of the year, beyond Christmas caroling. We would say, we go about our merry ways, do musical theater and teach. People said you sound really good together. We thought, why don't we find out what that sound is, beyond Christmas caroling.
Adam West Hemming made a four-part harmony arrangement for "Oh What a Beautiful Morning," from Oklahoma! and we did little bits and pieces of musicals. We asked, what is a published show that we can do? We thought As the World Goes 'Round by Kander and Ebb, which is already an expanded review of (John) Kander and (Fred) Ebb music. It requires a fifth person and Vanessa knew this person called Julie Reyburn, who is a mezzo (soprano). She was game and we started singing through some arrangements from the Kander and Ebb show.
At one point during the rehearsal Adam said I think we need to do a Cabaret show of Kander and Ebb music. We should do some arrangements from The World Goes 'Round, but I will do some newer arrangements that are not from this show, and they are completely different.
I brought in Mark Janas as our pianist and co-music crafter with Adam and Peter Napolitano was our director. We performed it at the Metropolitan Room and the show was called We Can Make It, the Songs of Kander and Ebb. We won best group for the MAC Awards that year. We thought that's cool. Thanks. Right out of the gate that was really cool.
Since then, we have created a couple of other shows. We have a full Broadway show called Broadway By the Letter. We created Eight Track Throwback, which is also our CD, our album. It was a lot of fun and it has a Rock band aspect to it as well. We have a swing show called Back Porch Swing. We are slowly developing new shows and I think it has been since 2011 that we have been a recurring staple in the Sondheim Unplugged Series. We created a Sondheim show out of all the different arrangements over the years for Phil Geoffrey Bond who is the host of Sondheim Unplugged. His last hosting gig at the end of September is going to be his one hundredth.
We love singing together. When we were (apart) during the pandemic we would sometimes have Zoom calls together, just to catch up. We shared our family strife and our hopes and our dreams. We had people come in and cover, while I was with Disney Cruise Lines and Julie wanted to step away for a moment to make sure she was taking care of her family. When the pandemic was over it was like, do you want to come back? When Marquee Five spent a wonderful afternoon recording five of our arrangements, we invited Julie to come back. We said Julie do you want to come back? We had lost our mezzo to Disneyland. We are happy to have Julie Reyburn back. The founding members are back in business, as it were.
We are regrouping, discovering some new arrangements and maybe going back to our original roots. We are figuring out what show we want to do perhaps in 2023."
Although Marquee Five boasts a vast musical palette, we wanted to dive a little deeper into the show tunes side of things, so asked Sierra Rein how she individually and how the group prepare when singing a song that has its context within a musical and in many cases a specific character.
'it is a really tough balance between people's expectations for the song and the history behind it. Then there is what you bring to the song and how you interpret the lyrics. We have done a gender bent version of "Still Hurting," from Last Five Years, when Adam our tenor sings the lead. Him singing about Jamie (Wellerstein) is different than the original production. It is no less painful to say, oh my relationship with Jamie is gone.
We have an insane mashup of Sondheim songs. It is a combination when each of us sing a solo piece, a snippet of a Sondheim song and then at the very end Adam has miraculously melded these five melodies altogether in this cacophonous tapestry of Sondheim music. It is very fun to sing.
I sing "Broadway Baby." I am not the original character from the show who is going on seventy or eighty years old ironically singing about hitting the pavement and being a baby. I am kind of in between. I have auditioned a lot, but I still have hopes and I still have dreams of making it on Broadway. I can relate to the character and I can put my own spin on the character. It has been sung by both young people unironically and by older people in a way that is, this used to be my youth feeling. (It could be) they are still hitting the boards and auditioning just as fervently as when they were twenty.
When you are singing as a group you have to realize that as a group you are telling a story and you all want to be on the same page, as to how we are communicating a song. If we are all singing "Something's Coming," from West Side Story we have snippets of solos but we have (times) when we are singing in harmony. We all have to be on the same page as actors. Not necessarily just as actors, but as vocalists, so we have a common voice."
I bet you thought we were finished talking about all the various aspects of Sierra Rein's artistic career. Wrong! Remember way back when we talked about Sierra Rein meeting a Canadian screenwriter through a common puppeteering thread? Here is the scoop, Sierra Rein has an alter ego and her name is Kay the Pal.
She explains, Sierra that is, not Kay, "She's my id She is my please oh god someone cast me in (whatever musical, play or film). I would love to play Kate and Lucy the slut.
We had seen these puppets at the Whatnot Workshop of F.A.O. Schwartz, when it was on Fifth Avenue, right near the south corner of Central Park. My husband and I have always loved the Muppets, Fraggles, Dark Crystal and anything to do with puppets. For Christmas right before Obama was inaugurated, we got these puppets. My husband brought his puppet to the inauguration. He said I have to bring it. I can't leave it at home. He created his character on the spot. We have video of his character coming to life. We filmed around Washington D.C. It was amazing how people reacted to Jay the Pal. I came up with a name for mine and I called her Kay the Pal. They are not romantically involved, they are cousins. They are related, but they can still give each other shit. I decided to make her a singer."
Now why doesn't that surprise us that Sierra Rein would make Kay the Pal into a singer?
You can catch Sierra Rein on the podcasts Horror Movie Survival Guide, which she co-produces and Life's But A Song, on which she appears as a regular guest.
She is also reading a new play with the American Bard Theater Company on October 3, more details still to come. Marquee Five performs at 54 Below, 7 pm, New York City, Sondheim Unplugged: Into Sweeny Todd's Woods.
Please visit the website for Sierra Rein for more performance dates. You can follow Sierra Rein on Instagram.
Photos: Photo two - shooting the short film The Maples ; Photo three - Marquee Five ; Photo four - Sierra Rein with Sally Struthers
#SierraReinActress #HuluSeries #MarqueeFive #SierraReinSinger #SondheimUnplugged #RivetingRiffs #RivetingRiffsMagazine #MusicInterview #NewYorkMusic #WomenInMusic #MujeresEnMusica #Musica#EntrevistaMusica #ActrizEntrevista
This interview by Joe Montague published September 17th, 2022 is protected by copyright © and is the property of Riveting Riffs Magazine All Rights Reserved. All photos are the the property
of Sierra Rein
unless otherwise noted and
all are
protected by copyright © All Rights Reserved.
This interview may not be reproduced in print or on the internet or through any other means without the written permission of Riveting Riffs Magazine.