In May of this year (2020) when Riveting Riffs Magazine interviewed actress, singer and producer Silvia Marsó and film, television and theater actor Felipe Ansola COVID-19 had brought every live performance in the arts and culture world of Spain to a standstill, including the theatrical musical production of 24 Horas en la Vida de una Mujer. The musical produced by Silvia Marsó and which also stars her and Felipe Ansola had been presented to audiences for three years in Spain. In 2018 the musical was awarded a Broadway World Award for Best Small Format Music Show, in 2018 Silvia Marsó was nominated for Best Leading Actress for the Premios Teatro Musical (Musical Theater Awards) and in 2019 Ms. Marsó was again nominated this time for a Valle Inclan Award. The other cast member is Germán (first name) Torres, who acts in the capacity of what Felipe Ansola describes as a master of ceremony, similar to a narrator, but with more direct influence upon the play and the characters.
The accomplishments of both Ms. Marsó and Felipe Ansola speak for themselves. Silvia Marsó is one of Spain's and in fact the countries that comprise the Spanish speaking world's most celebrated and widely respected actresses. Silvia Marsó just completed the ninth and final season of the daily series or soap opera El Secreto de Puente Viejo (The Secret of the Old Bridge). Time and space here does not permit us to list all of her accomplishments, but we will list a few, in recent years she appeared in the critically acclaimed television series Gran Hotel (as Adriana) and Velvet (as Julia Lagasca), both of which cannot be viewed on Netflix. She was Elvira Prieto in Gran Reserva. El Origen Noelia for three years in Manos a la obra and in 2019 as Esther in Merlí Sapere Aude. She has also appeared in numerous films, including La Conspiracion (The Conspiracy) by Pedro Oléa, Los Muertos No se Tocan Nene, Love Curiosity Prozak and Doubts by Miguel Santesmases and Judith Colell's debut film Nosotros (Us). Silvia Marsó has three times received various Best Actress awards for her theatrical appearances and been nominated numerous other times.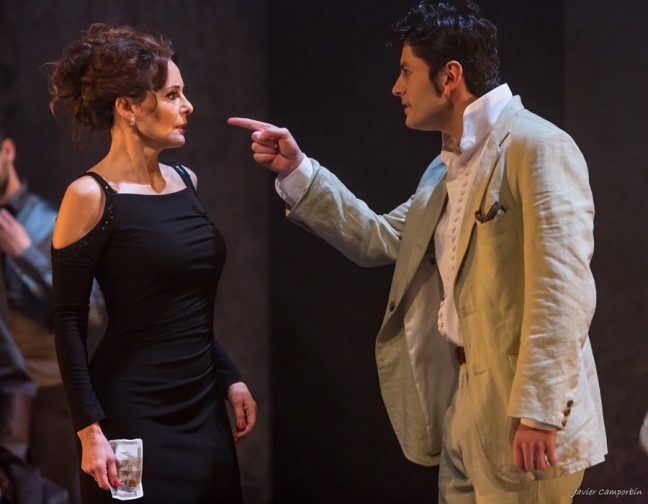 Other major theatrical productions in which Felip Ansola has been cast include, Billy Elliott, The Play That Goes Wrong and Mamma Mia. Television appearances include Hospital Central, Homocidios and El Comisario.
The musical is based upon the novella by the Austrian writer Stefan Zweig and it was written in 1927.
Silvia Marsó explains, "I am a very big fan of Stefan Zweig, the author and I heard this play was being produced for the first time in Paris. I saw the play there and I wanted to produce it in Spain. I also wanted to do it, because it is a musical and this type of format is not very common here in Spain. We have big musicals, but not independent musicals."
Silvia Marsó's character is Senora C, a widow who takes a younger lover, Felipe Ansola's character, is simply called Young Man and it was many years earlier when she was also cast in the role of the older woman in a young man's life in Gran Hotel that she became aware of Zweig's novella.
She recalls, "The actor (Eloy Azorin) who was the young lover in Gran Hotel, gave me the novella 24 Horas en la Vida de una Mujer. He gave it to me as a present. It was after I read it that I discovered the play was being performed in Paris."
Continuing she says, "This is the first time that I have produced a musical, but it is not the first time that I have produced a play. I previously produced the plays Tres Versiones de la Vida (Three Versions of Life) by Yasmina Reza, Aqui no Paga Nadie by Dario Fo and La Peurta de al Sado (The Door of Al Sado) by F. Roger Lacan. Two of them were also major productions."
Talking about her character Señora C, Sylvia Marsó says, "I was really attracted to this character, because I liked the relationship. When Lady C and the Young Man find each other they are both at their darkest points in their lives. A bond grew between them and my character falls in love with the much younger man. That age difference was very appealing to me, because nowadays you can see the president of France Emmanuel Macron is with a much older lady and that relationship is not very well received."
As for Felipe Ansola's character he says, "It was a very difficult character, because his background has a lot of issues and especially with the gambling. I found it very appealing to play somebody who is so far away from me. He is a very dark character and dark characters are the ones who you enjoy the most and who are the most fun to play.
This is not a spoiler, because the play starts with my character wanting to commit suicide. Silvia's character rescues him from trying to commit suicide and that is when they get to know each other. In the play you can see both sides of him, the bad person who is dark, but you also see the sweet, friendly gentle lover. With that one character you see a lot of colors."
Silvia Marsó talks about what she and director Ignacio García saw in Felipe Ansola that made him the perfect choice to play the Young Man, "We both saw in Felipe that he is a very good singer. We could also see in his eyes both the dark and the sweet side. I was attracted to the innocent look of Felipe. The character also has to be young and he is that."
Felipe Ansola interjects, "I am a little bit older than the character, but somehow it fits my look."
About the third actor Germán Torres' character The Man, Sylvia Marsó says, "Germán's character represents the destiny and he is the master of ceremony throughout the play. We needed someone who can be a gentleman, but also who can show the dark side of the characters. It is important to have someone with the strength to play that character."
As for the period of time in which the musical is set, "It is not based in a specific time period. It is timeless. Let me say, you could think of it as being near the beginning of the 20 th century, but it is based more on her memories and a dream," she says.
Felipe Ansola expands upon Silvia Marsó's explanation, "You go back and forth. She is telling the story of her relationship with the young man from her memories and those memories are what you see presented."
The costumes are splendid and they were designed by, "One of the most prestigious women here in the Spanish theater Ana Garay. I wanted to work with somebody who would give beauty to the characters and who would also show the personalities of the characters. For instance the red dress that I wore is for the passion and Felipe's character, who was dressed in white represents a pure young man.
Throughout a lot of the play I am dressed in dark colors, in black and when my character finds the young man I change into the red dress and it shows my passion," she says.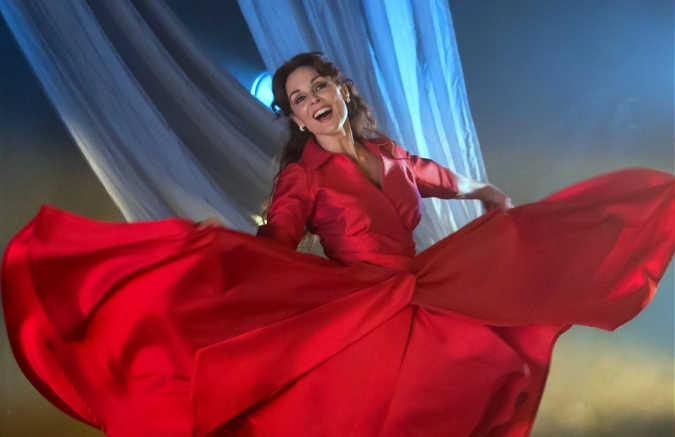 Felipe Ansola talks about the symbolism of the three primary colors, red, white and black, which are used for the costumes and how "they are the same colors as the roulette wheel. The character that I play is a young gambler."
Silvia Marsó joins the conversation again, "In the beginning the widow is always dressed in black and when she meets this guy she feels younger and she feels pretty. The costume designer Ana Garay also designed a dress for that moment when (my character) felt very happy and young. There is also a time in the play when I perform a Broadway like number and Ana also designed a specific dress for that moment."
"The audiences have responded well to the play and to the characters, because they reflect the contradictions and passions that people have in real life and often you can have both at the same time," she says.
She also provides some insight for future audiences, "The music is another character. It is like a fourth character. The music influences the audience (and communicates to them) how the characters are feeling. What the characters do not express in words the music expresses.
Musical Directors from other major productions such as The Lion King when they came to see 24 Horas en la Vida de una Mujer were amazed with the music. I chose Josep Ferré, as the Musical Director, because he has a lot of experience directing and co-directing musicals such as Les Misérables, Sister Act and Mamma Mia.
The musicians are very important to this play, because they are not offstage, they are onstage. You can see the musicians and sometimes they interact with the actors. They are dressed in costume as well."
When theater venues begin to open up again for live performances, "There are plans to take this play to Italy and there were also plans to go to New York to go to the Spanish Repertory Theatre (Repetorio Español). We have two performances in Spain in August. It is uncertain when we can go outside of Spain, but it is our intention to go on the road again," says Silvia Marsó.
Both Silvia Marsó and Felipe Ansola had very busy schedules, while touring and presenting 24 Horas en la Vida de Mujeur.
She says, "It was a pretty busy schedule, but I managed to do both things, because when I was shooting El Secreto de Puente Viejo, which was a daily soap series, from Monday to Friday, while on the weekends the play was on tour. It also took a lot of planning, but I managed with both schedules.
In fact, last year (2019) at the end of October and in November I was actually playing three characters in three different plays. I was in the (daily) series, I was the Señora C and I was in another play by a very famous classical Spanish author. Actors are used to that, because once we are playing one character we forget about the other ones."
Felipe Ansola talks about how busy his life was as well, as he appeared in The Play That Goes Wrong at the same time as he was playing the role of the Young Man in 24 Horas en la Vida de Mujer (24 Hours In the Life of a Woman).
"The English play The Play That Goes Wrong was recently playing on Broadway and we premiered that show last October (2019). I was in it when we had to close down all of the theaters in Spain (because of COVID-19). We are going to come back with that play when we reopen the theaters, which if everything goes fine will be in September or October. That did not overlap with my role as the Young Man. The overlap happened when I was in the Billy Elliot musical. I managed somehow to do both things. If you manage to do that it is a lot of fun, but it takes a lot of energy. It is really nice to be able to play different characters. It is hard work, but at the same time it is a pleasure. It is very challenging, but once you are playing one character you forget the other ones," he says.
Both actors plan on continuing with 24 Horas en la Vida de una Mujer, while Silvia Marsó will also appear in a play for the Teatre Nacional de Catalunya (National Theatre of Catalonia) in Barcelona. Felipe Ansola will be continuing on with his role as the Young Man and he will be arranging his schedule, so he can reprise his role in The Play That Goes Wrong.
For more information concerning 24 Horas en la Vida de una Mujer you can visit this website and you can also watch some splendid videos from the musical.
Riveting Riffs Magazine would like to thank Silvia Marsó and Felipe Ansola for being so generous with their time and for being so kind. We would also like to thank Felipe for acting as the interpreter during this conversation, as this writer's Spanish is not yet sufficient. This interview would not have been possible had it not been for the wonderful Clara Pérez of Clara Pérez Distribución who first put us in contact with both Silvia and Felipe.
When the theater doors open once again let us hope that the people in Spain and worldwide remember what these months have been like when there was silence and that they fill the theaters once more and at the end of each performance they stand and applaud the wonderful performers, musicians and others who for a few moments take us to another place and make our lives richer.
#24horasenlavidadeunamujer #SilviaMarsó #FelipeAnsola #RivetingRiffsMagazine #RivetingRiffs #RivetingRiffsRevista #TeatroEspanol #MusicalesEspana #ActricesEspana #ActoresEspana #ActricesBarcelona #ActorsEspanol #ProductorasMujeres #IgnacioGarcía #JosepFerre
This interview by Joe Montague published May25,2020 is protected by copyright © and is the property of Riveting Riffs Magazine All Rights Reserved. All photos are the the property of
Silvia Marsó unless otherwise noted and
all are
protected by copyright © All Rights Reserved.
This interview may not be reproduced in print or on the internet or through any other means without the written permission of Riveting Riffs Magazine.