The feature suspense filled PG rated film Solver opens in theaters across America on January 29 and simultaneously is being released on the digital streaming services of Amazon and i-Tunes. There is not a single weak actor in this film from the local Sheriff Riley (played by Timothy Brennen) to the lead actors Kerry Knuppe as Alex Derringer and John Ruby who plays Luke Williams. The two other protagonists are Jesiree Dizon who makes a spectacular major film debut portraying Nadine Simms and Antonio Jaramillo as badass Demien LeBlanc who will give you nightmares, while your eyes are still wide open.
Solver is the brainchild of actor / producer John Ruby and producer / screenwriter Jack Kelley who crafted a mystery that is chalk full of clues that easily engage the filmgoer, has as an underlying element a budding romance between Luke and Alex and even serves up amateur sleuth Diego Gonzalez played by Pablo Castelblanco. Luke Williams works in the corporate world of the big city and his grandfather with whom he was very close passes away, taking Luke back to his roots in small town America. What begins as a trip to tidy up his grandfather's affairs and to take care of funeral arrangements, becomes the catalyst for a high stakes adventure.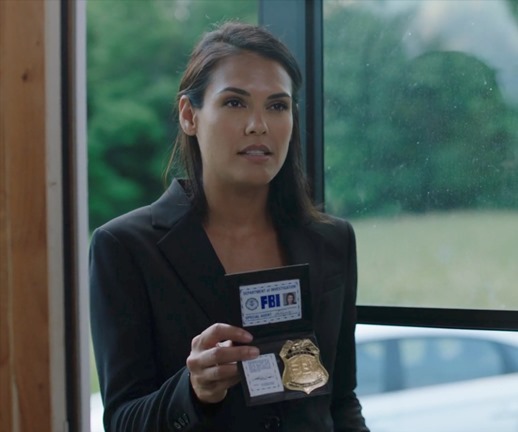 John Ruby talks about why he thinks Solver will appeal to audiences, "What is really fun and exciting about this film is it is a mystery adventure where you have certain pieces of the puzzle, but you don't have all of the pieces until the end. What I enjoy about that and I think what people will enjoy is you are putting the pieces together, as the protagonist Luke is putting it together. Sometimes you are ahead of the story and sometimes you are behind the story, but the picture is not exactly clear on what is going to happen, until you get to the end and then you look back and it all makes sense. I think that makes for a really fun film. It also keeps you on the edge of your seat, because you are waiting to see what happens next. How is this person involved? What is their relationship? Are they on the good side or the bad side?"
Jack Kelley provides some background for the conception of Solver, "Solver's origin came about here in Los Angeles at a place called Alfred Coffee at Melrose Place. John Ruby and I were having coffee. I had just moved out to LA and I was working on some scripts. John had already lived in LA for ten years and he was acting. We met, because his sister and I went to college together. We became friends and he told me about a directing class that he was interested in taking at the UCLA Film School. The idea was to shoot a short film, direct and go through the process. He asked if I wanted to take the directing class with him. He asked me what kind of movie I would want to make and we realized that we both loved these kinds of puzzle, mystery, adventure, treasure hunt kind of films. We got excited about doing it and then I asked John how much the course cost. He said, I think it is five thousand dollars. I said that's fine, but why don't we both just put in five thousand dollars and we will go shoot a film by ourselves on a shoestring? At the time we had no idea about what was realistic in terms of production costs or anything like that."
He continues, "We were quite happy for a few weeks, while we started working on a script and we thought let's shoot this at places where we have support and where we can access a ton of people that we know between the two of us. We thought this would be great. What we found out is ten thousand dollars barely covers your audio engineer. Making a feature film is a much bigger endeavor and we learned that out very quickly, but we still said let's go ahead and do this.
We got so excited we just started scribbling notes down. I would go home and work out story stuff and we went back and forth by email quite a bit. We had tons of emails every day. We decided to produce the movie together. I started working on the script. Every day I would write twenty-five pages or so and then I would email it to John and he would give me his comments. We would sit down and go through them together. We would revise them and then we would move on to the next thing. We had this great writing system going and at the time we lived about twenty minutes away from each other. It was very easy to get together. We spent all of this time researching codes and cool puzzles, unsolved mysteries, science experiments, secret cold war stuff and games that people were creating. We found this whole world that is out there. We are still uncovering amazing people and things every week."
There is something about the human mind that really wants to know. Human beings like to learn and we like to discover things. We like to challenge ourselves. You see people on the subway in New York where I lived for ten years doing crossword puzzles and stuff. You say to yourself those puzzles are mentally challenging, so why would someone go and do more work in their free time? To me it is the same as someone playing a game or reading a complex piece of literature. You want to be stimulated and you want to see if you can figure it out.
My whole life I have been excited and stimulated by mysteries, puzzles and unsolved things, enigmas, codes and clues. I can't say exactly where that came from, but I just love that stuff. We wanted to share that kind of love with people. It is almost like a modern Goonies or the Hardy Boys."
Actress Kerry Knuppe who puts in an absolutely stunning performance talks about her preparation for her role as a mechanic, "When I was cast they said you have a week to prepare and I said I would like to come out a couple of days before we start shooting and shadow a mechanic, so they said that was fine. They spoke to the person who owned the mechanic shop where we were going to be filming and he also said that would be fine. He was really great and he showed me how to change the oil and all of that kind of stuff. I was fiddling around with what he had been showing me on this car and a customer came and he asked the owner if he had a new assistant. He said no, no there is a film they are going to be shooting and she is here to shadow me for the day. (The customer) called me over and he said he tells me you are an actress from LA. Then he said you guys are full of it. Then the guy said, no (way). I thought you really wanted to be a mechanic and I thought it was cool that a girl wanted to be a mechanic. I said (she is laughing) well I play one. They were all really great people.
I got a really nice email from one of the guys who had put some money into the film and he said I really liked your acting and I really believed that you were a mechanic. That is the best compliment that you can get as an actor that somebody believed you knew something and that you weren't just saying your lines."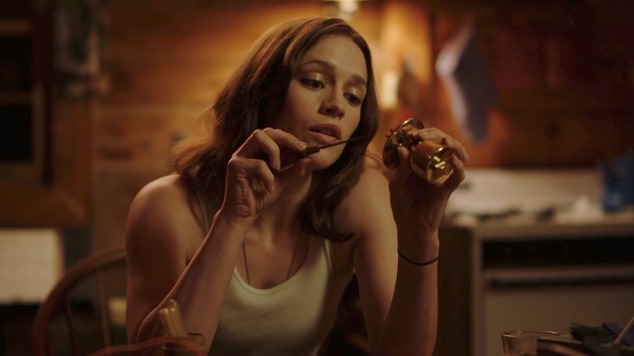 To talk to Kerry Knuppe offscreen and get to know her it is sometimes difficult to envision her taking on the persona of some of the characters she has played and yet her versatility and excellence as an actress was what made it an easy choice for Kelley, Ruby and casting director Cori-Anne Greenhouse.
Kelley says, "Do we go with someone who is a big name or with someone that we think is a great actress? We narrowed it down to a few people, before picking Kerry, because she is the best actress hands down. When I showed up for pre-production I remember thinking that's the girl who is going to play this tough mechanic."
John Ruby picks up the conversation about Kerry Knuppe who played opposite him, "Working with Kerry was fantastic. She was such a giving, present, thoughtful and emotionally available actress and that is what really stuck out for me.
The other thing that really sealed the deal for me was when we watched her acting reel, in each scene she looked like a completely different person. She is like a chameleon. I was so impressed by Kerry's acting talent."
Jack Kelley adds, "Kerry should be a star and it is just a matter of time. Kerry impressed me with her preparation, her discipline and her work ethic. Some people just have talent, other people just work hard and she has both. She is extremely dedicated."
Without giving away too much of the movie, let us just say that Nadine Simms has a few surprises in store for the audience and Jesiree Dizon talks about her character and Simms' relationship with Demien LeBlanc.
"I think he is the one person that she trusts whole heartedly. There is something a little bit deeper that is going on between them that you see hints of throughout the movie, but that is not really expanded upon, because that is not what the movie is about. It is deeper than I am his right hand woman. In my mind she had a really rough childhood and he was the one who took her under his wing, cared for her and he showed her what love and trust was. He showed her that there is somebody in the world that has her back. She gave him 150 percent.
I think that Damien and Nadine came from a similar childhood. Damien got messed up with his father and his experiences as a child have molded him into this person and he does not want what happened to him as a kid to ever happen to anyone again. It is a combination of control, of rectifying what happened to his family when he was younger and I think it might be revenge against what happened. He isn't doing it to be vicious or vindictive. He is trying to do right by his father and he is trying to show his father, look I am getting them back for you for what they did to you," says Dizon.
Kelley describes Dizon, "Jesiree is the most fun, nicest and friendliest woman, but she had to play someone who was both sweet and a badass. She was able to turn on the I am a badass killer. I am a tough special agent."
With tongue firmly planted in cheek we asked Jesiree Dizon if she is as cold blooded as her character Nadine Simms, bearing in mind that we were talking to a mother who absolutely adores her son and was just two weeks away from giving birth to her second child, a daughter.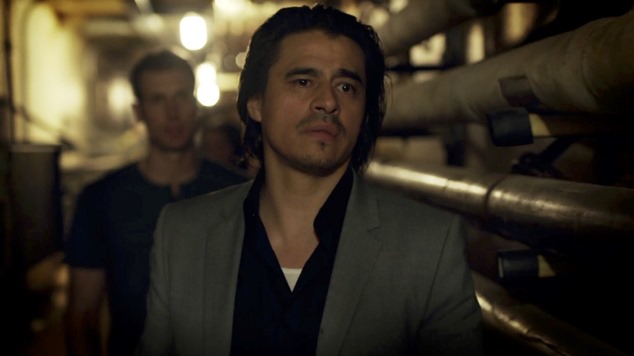 "I am proud to say that I'm not (cold blooded), but she definitely was a character that I was always attracted to. I have always been drawn to (characters) who say something that is darker, cold hearted and bitchy and kind of that I don't care attitude. It has always been something that is really interesting to me for some reason (she laughs).
Oh my gosh, I had such a blast. I come from a very athletic background and my whole idea of the perfect character for me was someone who was not only a witch and a bad person in that edgier role, but somebody who could do more athletic things like kick and punch. I always aspired to be like one of those villains when you get to fight. Those roles are so attractive to me. It was so much fun to play this assassin kind of villain," she says.
At this juncture we have to leave out part of what Jesiree Dizon told us, so we don't spoil the end of the movie for the audience, but let just say this, she was insistent that she got the opportunity to do her own fight scene. Not exactly how you picture someone who has had a very successful modeling career, but she is totally convincing in her role as Nadine Simms and we forecast good things for her acting career.
"People underestimate me and people think that for whatever reason I'm girly and that I can't do things, which is so funny, because all through high school it was the opposite. I wasn't the girly girl. I was the tomboy and the one who was rough around the edges. It is funny how my life has completely taken a 180 (degrees) and completely turned around. People's view of me is so different from what it was in high school and college," she says.
In fact, Jesiree Dizon was a star basketball player in high school and was recruited to play college ball. That facet of her life came in handy in between takes on Solver or so the growing urban myth has it. As the story goes and told by several people, Dizon and John Ruby challenged a couple of really big guys to a game of two on two basketball and beat them. What we can tell you for sure is we know Dizon and Ruby won the game and depending on who was relating the story to us, the other guys kept getting bigger and bigger. What is important about this story is it underscores what various members of the cast told us about how there was a tight, family feel to this production.
Seguing back to why Jesiree Dizon wanted to play the part of Nadine Simms in Solver, she says, "This kind of character was one that I always wanted to play. She had two sides to her, she got to be the secret agent and obviously she wasn't really, but there was more than just the bad girl side of her. It was interesting that I got to show a couple of colors.
All the other roles that I played have been pretty girl or the girl next door. It was always that typical, attractive kind of role that I really wanted to get away from. When you are always playing those kinds of roles it is difficult for people to see you outside of that. It was really cool of them (the producers and casting director) to see the other side in me and to trust that I could play that even though my resume showed something completely different.
I auditioned once with Cori-Anne Greenhouse and Cori read the role with me. I went in there thinking this is another role they are going to consider me for, but I am not going to get it, because I look too pretty or I look like however people see me and how the industry continues to see me. Hopefully when Solver comes out more roles will come in like this one. I auditioned and I got the call a week later. They said you are it and you are exactly how we envisioned this character to be portrayed. The rest is just history.
Leaving aside the fact that John Ruby is one of the producers of the movie and is the co-creator of the story we wondered what made him the right person to play Luke Williams.
Jack Kelley addresses that, "Luke had some of my characteristics and some of John's. As we got into the film, John said he wanted to play Luke and we tailored the character. As I was creating this hero I wanted him to have aspects or qualities that I admired and things that I knew about. In terms of the character's specific mannersims that was all John. John is more of a people person kind of a guy and I am more of a hard driving executive kind of a guy."
John Ruby talks about his character, "I think Luke is like John Ruby in that he cares about people and he is trying his best. He loves family. I think I am a little more of jokester and a little more of a smart ass at times. Luke is a little more of a straight shooter. What I really like about Luke is he is not going to give up on what he cares about and that is important. That is something that I feel the same way about and in that way we are similar."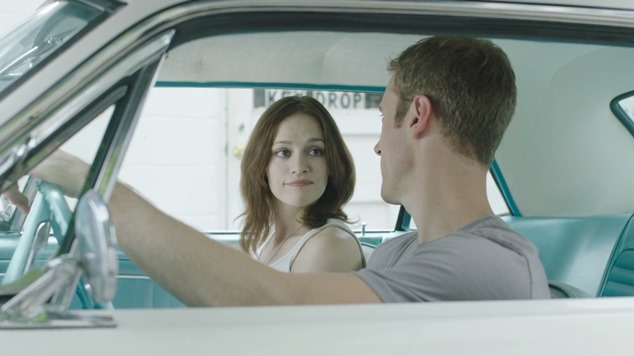 Jack what can you tell us about Antonio Jaramillo who plays the twisted character Demien LeBlanc?
"He is a very interesting guy. I think we lucked out, because he perfectly hit it. He touched on melodrama, he created a little bit of pathos and he was completely believable as this intelligent, driven, entrepreneur, billionaire guy who also has a secret past.
I had originally written the script so the character of Demien was a little bit more in doubt and the audience was a little less clear about who he was. Then we thought people are going to have some ideas based on Antonio's performance, so let's just let it ride. (Demien) is a powerful person who can help you, but what happens if that powerful person was to turn against you? You still have to have it as something that is suitable for a PG type of film. The Indiana Jones movies were PG rated movies and they had some pretty scary moments," he says.
Solver was filmed in Upper New York State, with only a few scenes, that gook place in offices or a nursing home shot in Los Angeles. The film, which was directed by Xandy Smith utilized a cabin about an hour south of Syracuse, New York for one of the main locations, a local mechanic's garage for another and an old Kodak research facility for some of the eerier scenes.
Solver is an excellent film and the only recommendation that we would make is that you do not take really young children to see it, as some of the scenes may be a little upsetting, but really for older children and adults this is a "must see" film. For the first time out as cinematic storytellers Jack Kelley and John Ruby hit it out of the ballpark. The cast that we had an opportunity to interact with are not only very talented, but they are also really good people and it makes it all that much easier to cheer this film on. Solver is an 88 minute film produced by Empiere Builder Productions and opens in select theaters on January 29th, as well as simultaneously being released on Amazon and iTunes streaming services.
You can visit the official facebook page for Solver here or visit the Empire Builder Productions website here. You can also watch the trailer for Solver here.
Photos: Top Photo - L - R John Ruby, Kerry Knuppe, Pablo Castelblanco ; Photo 2 - Jesiree Dizon ; Photo 3 - Kerry Knuppe ; Photo 4 - Antonio Jaramillo ; Photo 5 - Kerry Knuppe and John Ruby
#SolverTheMovie #KerryKnuppe #JohnRuby #JackKelley #JesireeDizon #rivetingriffs #RIvetingRiffsMagazine #EmpireBuilderProductions
This interview by Joe Montague published January 19th, 2018 is protected by copyright © and is the property of Riveting Riffs Magazine All Rights Reserved. All photos are the the property of Empire Builder Productions DiGerolamo
and all are
protected by copyright © All Rights Reserved.
This interview may not be reproduced in print or on the internet or through any other means without the written permission of Riveting Riffs Magazine, All Rights Reserved