Nicole Cardoni and Eden Brolin Star In Sonny Under The Assumption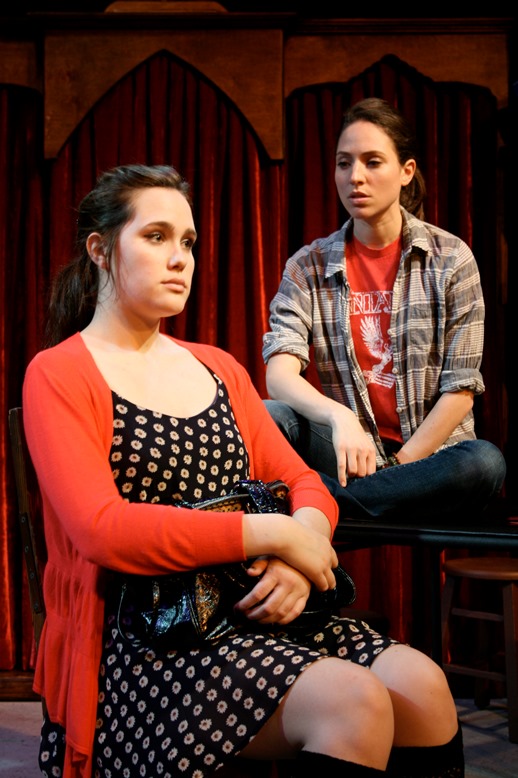 Sonny Under The Assumption, a new play written by Edward Allan Baker, directed by Ron Stetson and co-produced by actresses Nicole Cardoni and Eden Brolin under the name of Old Norman Productions, was presented recently at Toronto's The Aki Sudio Theatre, Dainel Spectrum in Toronto, Canada, is a fabulous play that everyone should see. This is a play with a master storyline that is comprised of a collection of very emotive stories, stories shared with us by each of the characters.
The central characters are Eden Brolin who portrays Kat Hellman, a writer with a small newspaper in Providence, Rhode Island and Toronto born actress Nicole Cardoni as Sonny Montecalvo who operates a food bank and support center for those in need. The center is located under the long since closed down Assumption Church. Both Brolin and Cardoni took time to talk about the play.
Nicole Cardoni says, "As a person who grew up in Toronto and who is native to the city, I thought the subject matter would be really interesting and it is very relevant regardless of the city that you would place the play in. The subject matter I thought was really relevant to have it come to Toronto and have it performed at Regent Park and in a space that is similar to what the play is about. I thought if Sonny got her way at the end of the play and was able to keep this community center running, eventually the area that she is trying to have influence over, a really rundown part of Providence, Rhode Island would eventually have the storybook ending that Regent Park has in Toronto. It is a really mixed space where there are still a lot of social services outlets available, but it is really starting to become a little bit more gentriifed. It felt like the space was right, but I brought it to Toronto specifically, because I just have a lot people here who aren't able to come to New York to see a my work, so I thought this would be a good way to extend into a bigger audience."
Her friend and co-producer Eden Brolin adds, "It is really cool to have a cast from New York be able to go up to Toronto and then for Nicole to showcase what she has been doing in New York."
The production of Sonny Under The Assumption boasts a cast that would be the envy of any theater company and of any theater venue. You may not recognize a lot of their names now, but it will not be long before you do. Eden Brolin is the daughter of actor Josh Brolin and granddaughter of James Brolin and she has a lead role in the feature film I Dream Too Much, which is in post-production. Nicole Cardoni appeared in episodes of the television series Being Erica and Happy Town and she also worked on the production side of Being Erica. Jenny Statler captivates in the role of the brash Blake Osborn, whose penchant for being loud and the center of the attention masks the life of a lonely woman, one who looked for some sign of affection and heartfelt love from her family going all the way back to childhood. Mazin Akar as Victor Pashun is what most female audience members will remember as the drop dead gorgeous, mouth watering hunk. One might argue that since most of these characters are ex-cons serving community work hours, as the last requirement of their sentence, that Victor Pashun is a bad boy, but somehow this play does not allow you to associate the word "bad" with this guy. You come to consider him as a fellow who made a mistake and he genuinely has a warm and big heart. Canadian actress Sage Kitchen in the role of Jessie Gannon is superb. Her character was not as wordy as some of the others, but it is her ability to use body language and facial expressions to convey her character's struggle with a past tragic event that draw you into her character. There is a particularly poignant moment between Jessie and Kat that may be the most powerful scene in the play. It is also a scene in which we witness the softening of Kat, a young woman who feels entitled and who comes from a life of privilege and someone that in the beginning wants nothing of writing a story about these people.
Eden Brolin talks about Kat Hellman, "I had a really though time with this character. I am not sure what it was and honestly it didn't click until about a week (before we opened). I know that is awful to say, but one day in rehearsal it clicked a little bit. Kat Hellman is a little pretentious. She's a rich kid and blatantly so. She has a brand new BMW, which was a graduation gift. Her parents are very wealthy and her father is a producer of opera. She comes from a very country club and horses and Cape Cod sort of family. I think she plays into it really easily, but I do think that she has a very smart and badass side to her. Because she has played into this sort of dumb girl who is going to Brown and I am just trying to follow this career choice of being a journalist, she also fell into this dumb girl mode. She wants to avoid everything and she has a little problem with prescription medications that we find out about in the play. It has (allowed) her to continue falling into that way of not being aware of what is going on around her and the constant withdrawal from the actual."
There is not a weak link in this cast. Sean Shannon is brilliant in the male lead as Rennie Fontaine, Sonny's boyfriend who helps her to run the center, Irene Rivera is hilarious, Bryan Hamilton as Frank Woodman creeps you out and Danielle Alonzo in her role as T. Rhonda Hill clearly shifts the spotlight to her when it is her turn to speak. There are five original cast members from when the play was first staged in New York and there are four new cast members. All of the cast members were able to remain in character, whether they were actively involved in a scene or not.
Eden Brolin says, "I think one of the coolest parts of this project is that you have five people in the play who know the story already so well and who have done it and then you have a whole other perspective of being able to come in with the four new people that I think gives it a little bit more energy and it is not just an original cast doing a play again. It is a newer play and you have five people who have done it and who have been able to develop it a little bit more and then you have four people coming in who are able to develop entirely new characters, which is really, really neat."
Even though five members of the cast were in the New York City presentation there were some challenges when it came to producing the play in Toronto.
Brolin explains, "We thought we were going to be going into something that we already knew. Little did we know that the playwright Edward Allan Baker was going to be changing so much of the play after he had heard it again in our rehearsals. He switched a lot of things around and there were a lot of little changes that (turned into) a lot of big changes and character and story changes."
As good as the entire cast is, it is the character of Sonny Montecalvo that drives this play and actress Nicole Cardoni puts in a stellar performance. I am not sure if this play qualifies for any of the Toronto theater awards, but if it does, someone ought to nominate Nicole Cardoni for best actress. The size of the stage and venue should not be a major factor when you judge talent and this young woman has a lot of it.
"Sonny is a very passionate and a very idealistic individual who will never ever turn her back on somebody who needs her. I think her capacity to care for other people is unlike anybody that I have ever read before. It is that kind of passion and determination and that damn Italian stubborness that makes her a very strong female role. She is a role model. Edward Allan Baker has written so beautifully and he has captured a lot of relationships that women have with one another in such a nice way. I don't know any woman actress that wouldn't want to play this role. Sonny is just such a tough cookie and underneath all of those layers, she is so soft and sensitive and that is what pushes her to do the things that she has to do. It is an actual compulsion that she has to help people. It is an interesting take on the play that is about addiction and everyone in the play is addicted to something. Sonny is addicted to helping people and not being able to let go and to see when the bigger picture says, this isn't going to work. She would never admit that. She would keep on going until she falls on the ground," says Cardoni.
Has co-producing Sonny Under The Assumption whet the appetite for Nicole Cardoni and Eden Brolin to produce future plays?
Brolin says, "I have grown up around this industry and it is a really harsh industry. I think being capable of being on several sides of it can be really useful. You look at a lot of actors and they have a lot of unrealistic expectations about their career path and everything. I have always been a junkie for safety and being able to have a fallback plan. When I was in high school I took an entire year just to do tech. I had been acting in a lot of plays and musicals and I took a year to do tech, because I wanted to see what the other side of it was and to see if I was capable of doing things like that. Production is a side of things that I have a huge interest in and I would have it to fall back on if I chose to do that."
As for Cardoni, "I have to say that this was a lot of work and definitely a challenge and one that I welcome again. I have a background for producing and my background has been in film and television. People have always tried to encourage me to go that route, but there's just a little bit too much creativity behind me. I know how to be a very organized person and I have certain character traits that lend themselves to the world of producing, but if it is not something that I am working on personally as a creative platform and acting in it, I don't think I would do it. To me they go hand in hand.
I have a good eye for casting people in the roles that I think they would be great in and then hiring very capable directors and getting a good team together. I can wear both hats and I enjoy it, but I don't think that I would wear the (producer) hat all by itself."
The play and the performances of the actors will evoke a strong emotional response from you, unless your blood runs totally cold. It will jar you and it may even move you to tears. It will cause you to look inside yourself and hopefully it will cause you to view others differently. We do not want to give away any secrets, but there is another incredible scene during the second act when Rennie Fontaine (Sean Shannon) tells the group about a visit he just had with some people whom the center had helped. Every single politician in America and in Canada should be sat down and forced to watch this play and in particular that scene.
This play belongs on a bigger stage and one would hope if it gets that chance the opportunity will be given to this same very good group of actors. This writer is not a filmmaker, so the opinion offered up here is only that of a fan, but it would seem the potential for some sort of film also exists.
Riveting Riffs Magazine would like to take a moment to thank The AKI Studio Theatre, Daniel Spectrum in Regent Park for making it possible for us to review Sonny Under The Assumption.
This review by Joe Montague published July 31st, 2014 is protected by copyright and is the property of Riveting Riffs Magazine © All Rights Reserved. Photos courtesy of Eden Brolin and Nicole Cardoni and are protected by copyright ©, All Rights Reserved
This review may not be reproduced in print or on the internet or through any other means without the written permission of Riveting Riffs Magazine, All Rights Reserved