It was a smoky evening on Cahuenga Blvd West in Los Angeles, California last October when I was waiting to be admitted to Theatre West when a very personable man struck up a conversation with me. He introduced himself to me as Tatum Shank. He was very unassuming and I do not think it was until after the night of one act plays when we talked again outside of the theatre that I learned that Tatum Shank is a film, television and stage actor, as well as the owner of a production company. I still did not know a lot about his acting and producing, but I was so impressed with him I decided to dig in deeper when I returned to Vancouver, contacted him and we arranged an interview earlier this year.
Tatum Shank never intended to be an actor, at least when he was going through his childhood and teenage years. In fact he was more interested in athletic pursuits and eventually attended university on a football scholarship, just an hour south of where he grew up in Des Moines, Iowa. Yet, he has portrayed George Bailey in It's A Wonderful Life on stage, he has appeared on Law & Order: LA, CSI: NY, Criminal Minds, NCIS and Hawaii Five-O (are you noticing a trend?). In post-production is the film Blonde, scheduled for release this year (2020), in which he plays Dick Tracy, but not that Dick Tracy. We will have more on that in a minute.
"(Acting) was a departure and I am the one lone wolf in the family I guess. My dad built houses when I was growing up and by the time I was able to work with him, he had gotten out of building houses and he was doing repair work. I did a lot of roofing, deck building and a lot of construction type of stuff. My dad built a forty houses development and the second house he built in that development is the house that he still lives in today. We moved into that house when I was two years old.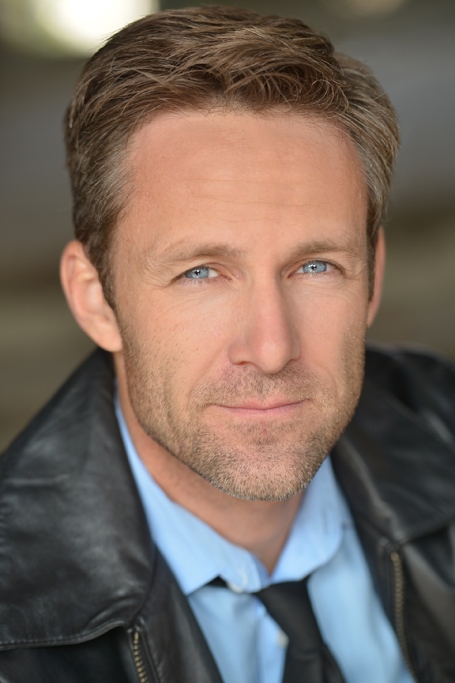 I was not into acting or any kind of performances while growing up. I always played a lot of sports, football, baseball and basketball in high school and then I went on to college (now it is a university) and I played football there.
The one thing that I did do in high school that was acting or movie related was a movie that we made and it was a takeoff on the old film Hoosiers in which Gene Hackman was the coach. It was the basketball movie. We took it to the extreme and we had a lot of fun with it. We were kids and we would do stupid things.
In the story Gene Hackman was this really good basketball coach and he was sent to a small town, because he got in trouble and the ramifications of that were he couldn't coach basketball except this really small town where nobody knew who he was.
We shot (our film) and it was an hour and ten minutes long. We spent five months getting our friends and playing basketball scenes, while acting out the movie. We had a premiere and we invited people to the house to show them the movie.
It was 1990 and we cut the thing from VHS tape. We had two VHS recorders and we played on one and recorded on the other one. We would stop and then cut.
Our (parody) movie was called Lions and we took that from a school here in Los Angeles called Loyola Marymount University. At that time the team shot a lot of three-pointers and they scored a lot of points.
In the film the Gene Hackman role was always about team and pass the ball and you have to pass it four times, before you could take a shot. In our (film) it was as soon as you cross the half court shoot the ball, shoot the ball. That was another one of our little gags. The funny thing is my buddy that I did the film with ended up coming out here and going to Loyola Marymount. He was the one guy that I knew when I moved out to California. He was my best friend from high school days," says Tatum Shank.
The Shank brothers both attended Graceland University and were on the football team.
"Football was always my favorite sport and I played tight end and free safety in high school. I never had too many injuries and I never got hurt too badly.
My brother was a senior when I came in as a freshman and he played linebacker and running back. I was recruited as a defensive back and since we were freshmen, the younger players would be the scout team offense for the starting defense. I remember during one practice I was catching balls left and right and I had a really great practice with the scout team, which is not really what you want. You want your starting defense to be doing well. The coach came up to me after practice. He said you are playing receiver you are not playing D back anymore. They switched me over and I ended up being a receiver and I liked it better anyway. I was a receiver for my sophomore year through my senior year."
We we are still waiting Tatum? You are now up to your second year at university and we do not see any evidence that you dabbled in acting.
"I went to college to play sports and not really knowing what I wanted to do in life and for a career. I knew coming in I had to take all "general ed" classes to start, because I didn't have a major declared. I started taking all "general ed" stuff my first two years and finally at the end of my sophomore year they said you are out of general required classes and you have to pick a major or otherwise you are just going to spend time here twiddling your thumbs. They gave me a book and they said look through this, because there are different majors.
I flipped the book open and I pointed and I said what is this? They said that is speech communication. I asked what that was and they said it dealt with journalism and media and some acting stuff is in there. I said okay let me do that.
They gave me a list of classes to pick from and I saw an acting class and I said let's do that whatever it is. I got into it, I liked it and I had a lot of fun with it. I was cast in a play and the first play I did was a piece called Heirlooms. It was a heavy drama piece originally written by a student. I had the part of the boyfriend coming into the family. I was the comic relief for the show. I was a pothead. I would leave scenes raising my eyebrows or rolling my eyes and I can remember the audience laughing. Being on stage and getting that response for the first time was something different and cool, so I continued to pursue that.
I ended up getting a major in speech communication and a minor in theater. I also got to write some plays that were produced at the college. The first play that I wrote was called The Golden Toothbrush of Travolta. I wrote this dorky play with these different characters on a search for this golden toothbrush that was John Travolta's and if they found it they would have the ability to have perfect teeth. It was funny and over the top stuff. There was a SEAL team out looking for it and there was also a crazy guy out looking for it. They were all converging on this one place. It was well received and it was fun," he says.
Upon graduating from Graceland, Tatum Shank moved to Los Angeles and he refers to the move as, "a huge transition going from Iowa to LA. I only knew one person.
I did not know what else to do, so I said I am going to go there (LA) to see if I can be an actor. I called my buddy up and I said do you want to fly back and then ride out with me. He said sure. It was two or three weeks after I graduated. I packed the car and we hit the road. We took three days to get here in June of 1994. I was young and I was a kid and I thought I am sure I can do this. Here we are twenty-six years later and I am still pursuing it and it doesn't seem that long ago."
However, if Tatum Shank had not moved to Los Angeles he would have missed out on the best part of his life, his wife Jennifer and their daughter.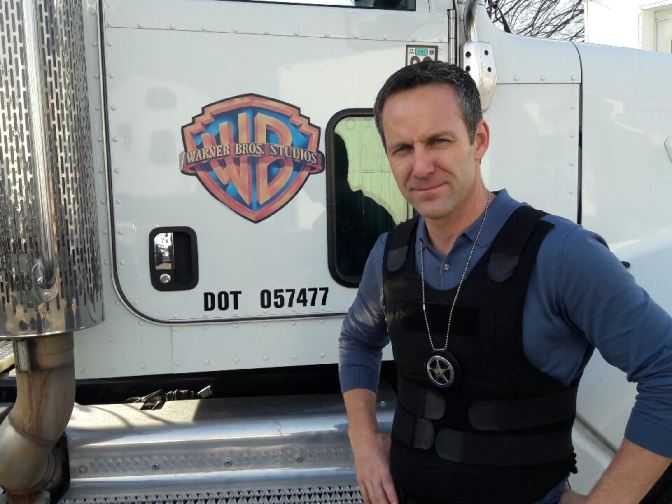 "We don't really remember meeting for the first time. We were in a theatre group together. We were in that for years, before we ever started to date. We just never had that connection from the beginning, but we were really good friends. That same theatre group shot a film about this play we did called Peace Is All About Respect. We would go to schools and we would do it for kids. We would act out the scenes and then afterwards we would sit down with the kids and talk about those things. While we were doing the film, we became close and I think we started dating shortly after making that film together," he recalls.
As for his first role in Los Angeles, "The first thing I got in LA was an episode of Third Rock From the Sun with John Lithgow. I had a football background, so I ended up getting a sports agent. He submitted me for this part and it is so funny it happened so fast. I went to the audition in the morning and they called two hours later for a call back for 1:30. I went back and by 3:30 I booked the role and I was on set the next day, Friday morning. I was a football player and my coach was Mike Ditka. I had one line. Everything happened so fast they didn't realize I wasn't union and they ended up being Taft-Hartleyed. It is not the easiest way to get in. That was in 1996 and I have been in SAG since then."
Let's talk about the film Blonde.
"Blonde is directed by Andrew Dominik (Editor's Note: Andrew Dominik also wrote the screenplay based on Joyce Carol Oates' novel). I play a secret service agent. It is (a fictional account) of Marilyn Monroe. It is based on a book from 2001. The secret service agents are given these names, Dick Tracy, Bugs Bunny and Jiggs. In the book Marilyn halluicinates, as her life is spiraling downward and she is seeing a lot of crazy things. She sees us secret service guys as these characters. I am not actually Dick Tracy, I am a secret service agent who is taking care of Marilyn and the whole JFK connection and that kind of thing. The book is not based all in fact and there is a lot of speculation. The writer took a lot of liberties and said this is what she may have been thinking or feeling or how her mind might have been operating in the last days of her life.
Blonde is a Netflix project and it is Brad Pitt's company (Plan B Entertainment Holdings, LLC) that is producing it. It is scheduled for a 2020 release."
The other film in which Tatum Shank appears that is in post-production is California Love, based on the 1992 riots in Los Angeles, although no release date has been announced for the film.
"It is not a one or two line part, it is a significant role with four scenes and several pages of script with a good size monologue," he says of his role as Jack Beck.
Tatum Shank talks about his role as George Bailey, a plum role that any actor would relish.
"At the end of 2018 we did a radio broadcast of It's a Wonderful Life, but we did it on stage and it was an interesting setup. You got to see behind the scenes of a radio broadcast being created. It was a combination of a theatre performance and a radio broadcast. There were people in-house watching. We were pretending we were doing a radio broadcast with a behind the scenes look at it. It was definitely more than a radio broadcast, because we were performing. We had a piano player on the other side of the stage and it was a really great show. We did it at Theatre West. It was a lot of fun and people really, really enjoyed it. That was another (role) I can put on my list of things that I really enjoyed," says Tatuum Shank.
He talks about another favorite role, "I did a short film for a buddy of mine and it was called Evidence. It was a twenty-seven minutes single take. I was a cop and I had to grow a mustache for the role. It was setup like an episode of COPS and there was a camerman riding with me on the job and things started happening crazily. We were in the car and out of the car, in a building, in elevators and there was gunfire. There was a lot going on for a single take, no cut little short film that we did. We rehearsed and then we shot it one night and we got three usable takes in the time period in which we were filming. One time the elevator didn't work, so we had to stop and start again. To this day that is still my favorite role. It was a lot of work, but it was also a lot of fun. It was a really cool short that we got to do."
In 2001 Tatum Shank and Jennifer started Cross Light Productions, "because I didn't want to wait around for projects, I wanted to do my own stuff. I was also into writing, so I started writing and producing stuff that I could act in. I started with little shorts.
Jennifer and I are the producers and we hire the technical crews. It has not come up where I had to be in both places at once, as an actor and as a producer. It has been close. A couple of years ago we were in Orlando shooting and I did a self-tape audition, while I was there for Lethal Weapon (the television series). I booked a role in Lethal Weapon off of the self-tape that I shot, while I was in Orlando. They said you need to be here for wardrobe on Saturday and the last day for the (production) job (in Orlando) was Thursday. That would have been fine if we hadn't planned to stay some extra days and do some family stuff. My wife graciously agreed to cut the family vacation off and I flew back on Friday. I was at the wardrobe on Saturday and then we started shooting for the next couple of weeks.
On the official Facebook page for Cross Light Productions, the company is described as creating quality driven media with affordability in mind, promotional videos, interviews, web content, special events, feature films and short films. For information concerning Cross Light Productions and to contact them please visit the website.
#TatumShankActor #CrossLightProductions #AmericanActors #GeorgeBailey #LethalWeaponTV #RivetingRiffs #RivetingRiffsMagazine #HawaiiFiveO #BlondeTheFilm #MarilynMonroeFilm
This interview by Joe Montague published March 4, 2020 is protected by copyright © and is the property of Riveting Riffs Magazine All Rights Reserved. All photos are the the property of
Tatum Shank unless otherwise noted and
all are
protected by copyright © All Rights Reserved.
This interview may not be reproduced in print or on the internet or through any other means without the written permission of Riveting Riffs Magazine.