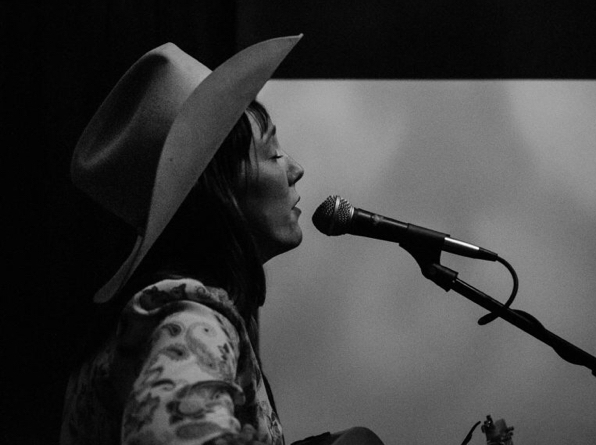 Chasing Parked Cars a new album from Portland, Oregon's Terri Lynn Davis scheduled for release on February 15th on the eve of her national tour may be the best album that you hear by a still relatively new artist in 2019. Consisting of five songs, which we suppose many would refer to as an EP, but here at Riveting Riffs Magazine we do not make a distinction, it boasts a collection of finely crafted original songs and superb musicians. While the album is more Country than it is of any other genre the best song on Chasing Parked Cars is "Times Past," which merges pedal steel guitar and electric guitars with fabulous vocals that remind one of Stevie Nicks. The melody also suggests, but in no way copies Fleetwood Mac.
Terri Lynn Davis wrote the song "Times Past," which showcases her fabulous vocals, surprisingly so, because she had very limited formal vocal instruction earlier in life. Yet, those amazing vocals were also evident on a previously recorded album with, "Montana Love Song." Davis is also an amazing songwriter and "Times Past," paints word pictures, "river of time," and the desire to slow everything down "be still my mind." The gentle melody is matched by lyrics such as "floating down the river with you." You watch a story unfold of two people the first time they met with the sun glistening on their skin and with their toes in the sand. Musicians of note on "Times Past," are Tucker Jackson on pedal steel, lead guitarist Nick Champeau and rhythm guitarist Jacob Miller. Ben Nugent keeps time on drums.
Terri Lynn Davis gives credit to her producer Ryan Oxford for assembling the fine cast of musicians for Chasing Parked Cars, which also includes Andew Jones on bass guitar. Michele Linn who appears as a background vocalist as performed with Terri Lynn Davis for several years.
"I met them the day that we recorded the album in person, but I had sent those charts, rough recordings and the ideas for some changes a couple of weeks prior to that. The magic happened in one day at the studio and before each song I explained what I wanted. The charts were revised, tempo was discussed and the feel of the song and we applied more appropriate chords where needed to make the song whole.
The musicians had great attitudes and were very professional.
We brought in Tucker Jackson on pedal steel and let him create on his own. Tucker and I have been playing shows together for a couple years at this point, so he was familiar with the songs, but having them structured and recorded allowed him to try new concepts such as effects. Ryan and I were both in agreement with bringing in that ethereal feel and I knew pedal steel was the right voice.
Unlike the first album, I wanted Chasing Parked Cars to be simple instrumentation and more of the simple traditional Honky-Tonk Country feel of the '70s with some modern elements. I feel Tucker really grasped that concept.
The final touches for the instrumentals were completed by Ryan Oxford, who added the catchy guitar riff in "Times Past," and the organ feels in "Let Go." My back up vocalist Michele Linn has been with me from the beginning and we've toured together," she says.
If you are a fan of Classic Country music you are going to love Terri Lynn Davis' song "My Own Fault," Davis describes this song as being a song that has a Johnny Cash feel to it.
"It's a story of two lovers trying to evolve into more than lovers or move on because life evolves and so must situations. This song was specifically written about me pursuing a relationship that was inevitably going to fail. I fell in love with someone who was emotionally unavailable. The summer that I wrote this song, he and I had a great love affair that changed me, but it was difficult to tell him because it was good, real good the way it was. I wanted more. We would have these loving moments and conversations, but he would always leave," she says.
Davis describes her music as being, "eclectic and my influences are old time Country. I am not really fond of modern Country, but I have a huge range of music that I love to follow. Chasing Parked Cars has a lot of psychedelic stuff in it, so it is like the seventies and sixties. The way that I write is like a Pop Country. I take all of these influences and I put them in there. I have a difficult time (putting it in) one specific genre. It will be interesting to market. A lot of my friends are like that with their music too. We just say it is a west coast thing."
Still talking about the album Chasing Parked Cars, she says, "There is a lot of movement, which is a continuation of a theme from my first album. Whether I am traveling or moving, cars have been a big part of my life.
The songs are about letting go and moving forward with your life and it is about experiences and relationships, whether it is family, friends or boyfriends and bands. It is about growing up and going through that process in life. It is about letting go of the past and looking forward to the future.
I was born in Farmington, New Mexico. We moved all over. My mom was from California and my dad was from Texas and they met in Farmington. My brother and I grew up in a rural area outside of Farmington called La Plata, which is halfway between Farmington and Durango, Colorado. We move to Colorado, then Wyoming and then back to New Mexico. My dad was going to be transferred back to Texas, but he didn't want to go, so we ended up staying there and that is where I was raised. We spent some time out in West Texas. Once I graduated from high school I went to college at New Mexico State. I had the urge to travel so through college and after college I started moving around. I lived in California, Montana and Hawaii before I ended up in Oregon. I went down to New Mexico, so I could be close to my family. It is when I moved back to Oregon that I committed to playing music."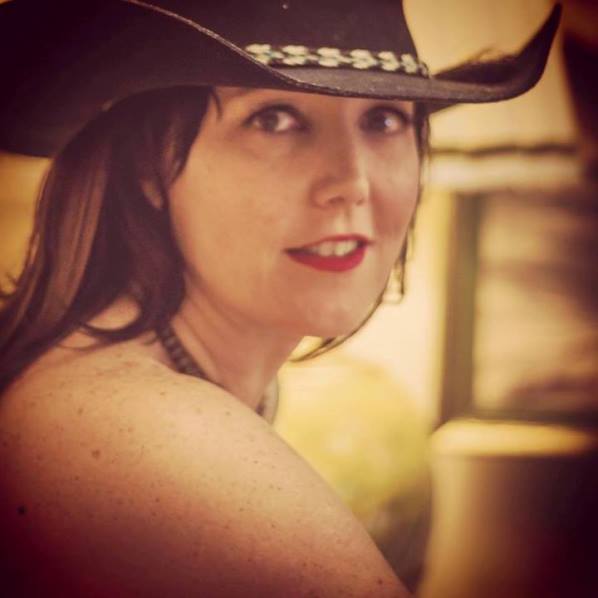 As for the title of the album, Chasing Parked Cars, she explains, "When my brother and I were (kids) and my dad was working we would be dad, dad and he would say go chase some parked cars. I always loved that and I thought that was a great name for an album. My dad would be saying go keep yourselves busy. That is what I feel it has been like the last few years that I have been busy in music."
Terri Lynn Davis is about to get busier. For the first two weeks of February Terri Lynn Davis is touring with Thomas Hinds throughout Oregon and they will be performing the song "Tulsa," as a duet from the new album, a song that Davis co-wrote with Matt Strachan. They swing back to Oregon on February 15 th for the album's office release concert and then head to California to tour some more.
She says, "It is a lot less complicated working with one other person than a full band, but I love playing with a band and I hope to have some future gigs with one. For now I am just doing the solo thing and bringing in players when I need them."
Terri Lynn Davis' previous album Hey Love Hold On, released in 2016 also had some good songs on it, such as "Montana Love Song," which once again allows her superb vocals to shine through.
She says, "The song, "Montana Love Song," was the first song that I ever wrote. I went to Montana for the first time when I was twenty and with a friend of mine. I fell in love with and there is nowhere in the world like Montana. I would go back there to visit every year. The people are incredible, it is so vast and it is beautiful there. It is quiet and I fell in love with it. I moved there and I lived in Helena. Everybody worked hard, played hard and they were some of the best people I've met in my life.
"Montana Love Song," came out of driving from Helena, Montana to Albuquerque, New Mexico. That was the premise of the song, about me being homesick. I didn't get over leaving there for a couple of years. When I moved to Portland I drove out to Montana every month for probably the first six months that I was here.
The first full album was written about people in Montana and feeling homesick and falling in love with all of the wrong guys. That song is really important to me. The arrangement and the way (the song) turned out is very different from how it started. It wasn't a song that we were going to record, but we thought let's do one more. "Montana Love Song," was really created in the studio. We didn't rehearse and then go into the studio to record it. It wasn't like that at all. It was thrown in there at the last minute."
We had to twist her arm a little bit to open up about the song "Blinded By Gold," also from the previous album and Terri Lynn Davis did, "This is a tough one. Do I reveal all of the secrets? It is a conversation between two people. The gold isn't money, or diamond rings or the gold that (you think of), but instead it is the way things are supposed to be. You are raised to believe that certain things are going to happen this way and then they don't. It is one person saying you should be doing this and this is the way it is supposed to be. The other person is saying that is not what I want. It is a conversation piece about what you are doing versus doing what you are supposed to be doing. It is a continuation of a theme from "Montana Love Song," about living my life the way I am supposed to be living it. I went home, because that is where I thought I was supposed to be. I then realized I gave up things that I wanted for myself in order to go home to be around the family and to be in that scenario. I wasn't happy living in New Mexico, because there weren't a lot of opportunities for the things that I wanted to do.
That is the crossover from this album to the next album. I am recording it the way that I want to and I am stepping into music life the way that I want to do it. I am taking control of my life and moving forward with the way I want to live my life. It has taken me this long to realize that. "Blinded by Gold," is an anthem for my life and it is an important song for that."
Make sure that you visit Terri Lynn Davis' website for her tour schedule, because you do not want to miss out on a very special singer and songwriter.
Please visit the website for Terri Lynn Davis.
#TerriLynnDavis #ChasingParkedCars #MontanaLoveSong #PortlandCountryMusic #RivetingRiffsMagazine
This interview by Joe Montague published January 27, 2019 is protected by copyright © and is the property of Riveting Riffs Magazine All Rights Reserved. All photos are the the property of Terri Lynn Davis
unless otherwise noted
and all are
protected by copyright © All Rights Reserved.
This interview may not be reproduced in print or on the internet or through any other means without the written permission of Riveting Riffs Magazine, All Rights Reserved