Do you like those classic Hollywood movies, the kind where the dramatic tension between the actors is so riveting that you hold your breath and when the clothes define elegance? Have you ever fantasized about what it would be like to be someone else and / or to be somewhere else and perhaps in another period of time? If you answered yes to all of those questions then you are going to love the film The Admired, which marks Jacqueline Murphy's directorial deubt. She also produced the film, while writing the screenplay in collaboration with Lynne Newton and Leonid Andronov. She also stars in this fabulous film as actress Olivia Spencer who tempts fate to grant her wish of being transported to Hollywood in the 1940s.
Ms. Murphy talks about her decision to set the story in this time period, "The Admired is set in the forties, because I have a fascination with Veronica Lake and old movie stars like Rita Hayworth. When I was growing up I would watch old movies with my mom and my grandparents. I fantasized about being these amazing actresses. When Rita Hayworth was in Gilda (1946, directed by Charles Vidor) she sang on stage. She threw her beautiful red hair back as she sang "Old Devil Moon," and I thought I want to do that.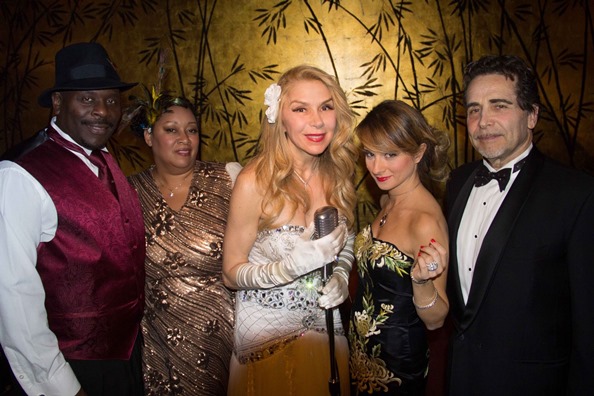 I was very inspired by the glamor of old Hollywood and movie stars of that time. I really feel like it was the heyday of Hollywood. Everything was so beautiful and there was art deco. There was so much style and the studios ruled the day. I wanted to explore that time period.
Some of my favorite memories are watching the old movies with my grandparents and my mom. My imagination would take off as a child. I would go into the backyard and reenact the themes that I just saw. That was the beginning of it when I was five or six years old. When I was three years old I had watched a Mae West movie with my grandfather and later they were all busy in the kitchen with company. I walked in and I had my grandma's high heels and red lipstick. I looked at my grandfather whom I adored and then I said, "Hello big boy why don't you come up and see me sometime." I had no idea what I was saying. I just liked that she was snazzy and when she walked into the room she had control. Everybody cracked up. I thought wow I got some attention here and I liked that. I liked people laughing at me. I think that was the genesis of it."
The Admired, which is a twenty minute film, currently being pitched to television to develop into a series, was filmed at the Cicada Club in Los Angeles.
Jacqueline Murphy talks about the decision to film at that location, "I just resonated with it. It was built in 1928 and it is a historic landmark. It had been a man's haberdashery. There is something about the old downtown area and (places like) the Biltmore Hotel, which is a block away and where they would hold the Oscars (The Academy Awards were held at the Biltmore primarily during the 1930s, for two years in the 1940s, and finally in 1977 on the 50th anniversary of the awards). It was so beautiful. We had talked about building a set, because we are a low budget film, but when I saw the Cicada Club, I just knew and I said to my husband it has got to be here. He has been so supportive, but he said it is crazy expensive. That is the one element that I think added so much production value to it. When we all arrived my DP (Director of Photography) and my crew were delighted to be able to shoot in a place like that. It helped everybody believe that we were in another world. I believe on Tuesday nights they have a 1930s or '40s night when you can go dressed up as that time period. It is so beautiful. There was so much to choose from and we chose the stage upstairs. The downstairs stage is huge and they have such high ceilings. Upstairs had more of an intimate feeling. I really loved shooting there and when we do other episodes I would love to go back there.
We have all original music and Bridget Brady (who plays Corine Sydney) and I wrote our title song "When You Are Admired."
Ms. Murphy provides a synopsis of the film, "Olivia is a frustrated actress in Los Angeles and she meets a handsome devil (Mr. Z played by Leon Winters) who agrees to give her a wish at a price. It allows her to travel to the 1940s Hollywood and to become a big, glamorous movie star. She is hurtled into the movie studio system, but it all isn't as it seems and things start to unravel. Her husband starts to cheat and to gamble away her money. The studio gives away her part to Starlet (Moore) played by Maria Elena Infantino. Somehow the tarot cards enable Olivia to find her own magical powers and empowerment.
It is like a Quantum Leap meets La La Land, because it is about your dreams."
As for the gorgeous gowns worn by the actresses and designed by couture designer Sue Wong she says, "I met Sue Wong a couple of years back when I was invited to the Golden Globes and the Oscars and we became friends. She would dress me for the red carpet and she was very generous about loaning her gowns. When it came time to do the film I would have loved to have her in it. I had written a cameo part for her, but she had to go to Vegas. She gave us thirty of her gowns to dress all of the extras and the lead actors. It made people feel very special and helped them to be in that time period."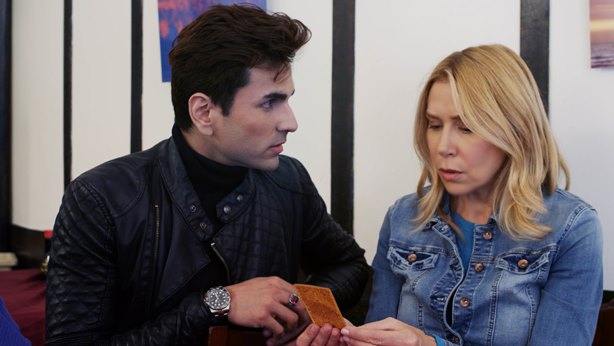 The Admired has become the darling of film festivals and in December of 2017 it won the awards for Best Short Film in both Milan and at the Burbank International Film Festival. At the London International Filmmaker Festival Jacqueline Murphy captured the Best Lead Actress in a Short Film award, an award she also won in Nice and the film was also honored in London for having the Best Original Screenplay of a Short Film. In total The Admired has racked up almost forty film festival awards. The year 2018 looks just promising as well, because The Admired has been nominated for six awards at the Amsterdam International Filmmakers Festival.
How did this journey begin? Jacqueline Murphy explains, "Lynne Newton and I had worked on several other films (and we met) on the set of the film Fake. I asked her do you think that you would like to play an Ella Fitzgerald type of character to my Veronica Lake (type of character). She said sure. She had helped Michael (Alton) Lowder co-write and produce Fake (2015), so I thought that would be a good start. We started writing things together based on the idea that I created. At some point I felt that we needed more structure. I had worked with director Leonid Andronov when I had the lead role in one of his films called Golden Key. I really liked how he structured the story. This was the first full script that I had written, so I approached Leo and we all came up with this idea. He polished it. I came up with the initial idea, Lynne and I played around for a month or two and then I called Leo in and said see what you can do with it. He took what we had and he structured it beautifully.
Now I am working on The Admired TV series with David Bartlett. We sat together editing for months. He was my DP on the reshoot and Egor Povolotskiy was the DP (Cinematographer) for the intial film. We talked about old Hollywood. We are writing a ten episode outline together. I knew I always wanted to do it. I am happy that I did it so quickly. Sometimes people have ideas and they sit there and languish and they never come to fruition. It has been so rewarding for everybody that we have had this success."
We silently wondered if Jacqueline Murphy ever imagined a time like this in her life while she was skipping classes in high school.
"I was a little bit of a rebel in high school. I was cutting out of classes and my guidance counselor called me in and he said this is your IQ what can we do to help you. He said what about doubling up. I doubled up and I got out of school at seventeen. He also got me a job.
I came from a working class family and I was the eldest of five. It wasn't always easy. I wanted to be an actress, but my grandmother and my mom wanted me to have a profession and something to fall back on. My mom even said to me, I don't want you to be like me, which was so moving (her voice breaks), because I know how much she struggled with five kids and I had a stepfather. They were really good hard working people. She taught me how to be a survivor and my stepfather got me off to college at Plattsburgh in upstate New York. It was an eight hour drive. I had a little red trunk filled with all of my stuff. He put me in a motel that night, because he had to drive back to go to work. I remember a lot of the kids had their parents to help them and I was trying to lift this big red trunk (she laughs) and to put into my room. Those are the things that built who I am and my character. I can figure out anything more or less that is presented to me. I am not a stranger to work," she says and there is a lot pride in those comments, but not in a boastful way.
She continues, "I started out at Suffolk Community College and I received a scholarship and my Registered Nursing degree. Then I went to SUNY in Plattsburgh and got my Bachelor of Science in Nursing and graduated Magna Cum Laude.
While working as a nurse in New York City, she says, "I auditioned for the American Academy for the Dramatic Arts and I got in. I went to school from nine to one and I worked from four to twelve. That was when I was twenty-one or twenty-two. That is when I had that kind of crazy energy that keeps you going. That is how I started acting.
I had on my resume that I was a registered nurse and that was in the eighties and when the soap operas were in their heyday in New York. I believe there were eight soap operas in New York. I had taken a course with Mary Jo Slater who was also the casting director on One Life to Live. She gave me my first soap opera job in a western bar scene. All My Children started to call me to act as a nurse on set. There was a very dramatic director Henry who used to go around with a wand on the set of All My Children. He was so funny, because he would say with the wand (in his hand); this is what I want you to do. He was like a conductor. At one point there was a hospital scene and I said Henry wouldn't you want the blood pressure cuff to be on this way and this should be that way and he said yes. I got a call to go up to casting and I thought what did I do wrong? The casting person said we really love you playing a nurse on the show and we are going to keep you doing that, but we would also like to hire you to be a medical consultant on the set. Henry said you were terrific and if you could advise them what will look great we will pay you for both. ABC needs you to make up a resume, as a medical consultant and with what your nursing experience has been. That was a blessing, because it is not always that easy to get acting work and now I was getting paid for two types of jobs. It became pretty steady. From there I went to work on Guiding Light and there was a stint as a mystery woman. That is how I segued from nursing into acting."
Riveting Riffs Magazine thinks when you view the trailer for The Admired you will be keeping your fingers crossed that the ten episodes that are being pitched to television, will be picked up soon.
Please visit the website for The Admired here. Return to Our Front Page
#TheAdmired #Jacqueline Murphy #CicadaClub #VintageHolllywood #rivetingriffs #rivetingriffsmagazine
This interview by Joe Montague published January 25th, 2018 is protected by copyright © and is the property of Riveting Riffs Magazine All Rights Reserved. All photos are the the property of Jacqueline Murphy
unless otherwise noted
and all are
protected by copyright © All Rights Reserved.
This interview may not be reproduced in print or on the internet or through any other means without the written permission of Riveting Riffs Magazine, All Rights Reserved