The new album, the partially self-titled, The Claudettes Go Out! is an interesting exploration of humanity, from delusional, to twisted humor, and "Park Bench," which flirts with love or is it just teasing the listener with a hint of mystery. The foundation of this collection of ten songs are the compositions and lyrics of Johnny Iguana, the incredible, unblemished vocals and phrasing of Berit Ulseth, combined with the musicianship of Zach Verdoorn (bass guitar), drummer Michael Caskey and Johnny Iguana on keys.
The album was recorded in Chicago over what Johnny Iguana describes as, "sprawling events."
Continuing he says, "Half of the record was recorded in piecemeal during the lockdown era. I had my engineer (Grammy Award nominated) Anthony Gravino come over and record my piano to a click track and got good takes that we liked. Then we had Berit do the vocals. We had Mike and Zac practice in my basement. They were songs that we had mostly played live, so it wasn't like they were being introduced to new material.
Fortunately for me when COVID arrived I had been on a big writing streak and the majority were songs that we had started playing live. It was (a matter of) tightening up and making some choices for the studio. Then we went into the studio and they recorded it and we did overdubs. Generally, it involved only a couple of people in the studio at a time and with masks. That was in 2020 and into 2021. Then in 2021 we felt we could get into a space together and record. That led me to believe that the songs from both recording periods wouldn't play well together on something you might call an album, because the recordings used different methods. However, it was the same four people, the same tones, the same human beings and the same emotional makeup, so the songs play great together. I really like an album that is (a bit of) a rollercoaster anyway, instead of just all one energy. I like it to be (similar to) a human day or year, when you have your ups and downs. You have your joys and sorrows. I really like that kind of an album with rockers, ballads and silliness.
It was really fun sequencing it and listening to our different emotional states, because it was really a turbulent time to be a musician with ambitions. We were a band on a mission and then we had two European tours shut down when the album had just come out and everything was canceled. (The) album was released on April 3rd, 2020. There was a lot of discussion, should we put it out? We decided to put it out. We are not the kind of (band) to put stuff on the shelf. We knew we were going to keep writing and we would keep moving forward. It was going to come out one way or the other. It was hard to put into words what went into The Claudettes Go Out! It was a product of a lot of turbulence."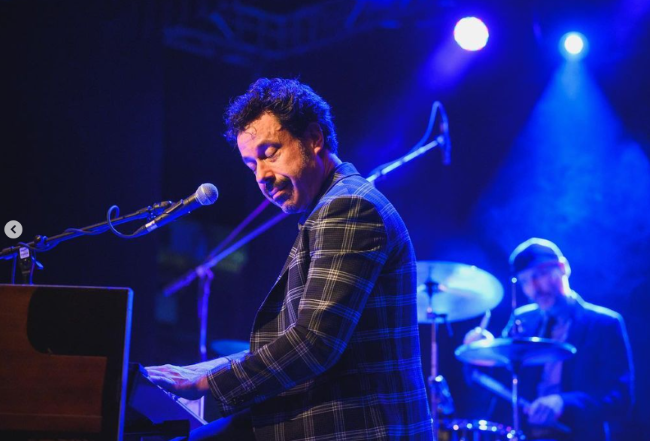 The song "Dozing In the Crypt," one could easily imagine appearing in a sequel to The Rocky Horror Picture Show or another rendition of the Addams Family. Lyrics that are somewhat cryptic (can we say cryptic crypt?), with overtones of darkness are juxtaposed to Berit Ulseth's rich, upbeat vocals and instrumentals that jump.
My sister gave me this notebook to jot down ideas in and I was writing songs in it even before The Claudettes and not always songs, but sometimes a single phrase that amused me. I found in there (the words) dozing in the crypt and I don't even remember writing them. When I wrote it, I said this song is like putting a smiley face on a dire situation. It is like, oh he's not dead down there he is just dozing. I came up with music for it that I thought was appropriately creepy, but groovy and Zach came up with all of this great guitar stuff. The music part came up really fast. I like that melody. It is a melody I would hesitate to bring up to someone other than Berit. If you play it on the piano, it is kind of a jazzy complex melody. She just hits it hard and she got it right away. It almost comes across like a four on the floor dance track, but it has that Phantom of the Opera type bridge, with those lines we did on the piano and doubled. It kind of amps up the creepy elements in the lyrics.
Ted Hutt produced that song and about five others on the new record. I think we have managed to create things that are really cinematic. Part of that (comes) after we do the song, we do a whole day of percussion. We setup floor toms and crash cymbals in this room with really tall ceilings that accents the extra flourishes. You hear these flourishes like ba boom, almost like cannon fire there is quite a lot of it on "Dozing In the Crypt," and on "Exposure." There are crash cymbals that hiss and just go long into the distance. Those were overdubs that we did in the room with tall ceilings. I am addicted to that sound. It adds a third dimension. It gives (the song) a swashbuckling effect, like Errol Flynn. It has an ah ha quality! (he laughs) I don't know. Michael just loves it. It is like having a medium quality cake and you put spectacular icing on it. It is icing, but it is really good. That is what percussion is for me," says Johnny Iguana.
As for the song "Exposure," he says, "Originally, I called it Overexposure and that is when I went into my scheme of going into my dictionary and finding sixty words that started with the prefix over. My son created the video for "Exposure."
There was a time when I had conference calls with the band's booking agent, the band's manager and the record label that was putting out the record. I often grew to dislike these conversations, because mostly the conversation steered towards chiding us and me for not engaging enough with people through social media. (They felt) we were not spending enough time learning the newest trends and best practices. That is what it is now. You need to put out little videos to show people who the band is. What does Berit do when she is not singing? Doing little cutesy performances on the street. Zero people in our band have any interest in that stuff. We get together to write, record and play and we have a lot of fun doing it on the road. We do not want to monkey around in front of the camera for someone else's benefit. None of us enjoy or partaking in any of that. It is not that the people we are working with are bad or do not appreciate what we are doing, but everyone wants the best chance of success. (He gives an example) and my eyes just start rolling back in my head. I am not learning that.
I edit the video, maintain the vehicle, I send out posters, I talk to press and radio. I write the music, come up with the harmonies. I am not doing all that other stuff. If anything is going to go it is that.
In the video for "Exposure," near the end the band is called to a meeting and it is a hoot."
The conversation drifts into, talking about the song, "A Lovely View."
"I think the first thing I wrote into my notebook was, "I walked into your store. I saw you folding clothes until... / I couldn't take it anymore / Can'tcha come and fold your clothes in my room?"
I just saw someone doing mundane things like working at the GAP and then I came into your corner bar and you were back there mixing drinks. I couldn't help but think won't you come and mix your drinks in my room. It is a scene you can picture in your mind. Also, there is the detail that the person doesn't live in an apartment or a house, they live in a room. It is somebody who is probably poor and depressed in the city. I thought of it as a real city song. As the pandemic happened, I thought of it as somebody who gets really high and drunk in there and the song ends up bordering on more hallucination than fantasy. "My room is two blocks south of here. / We can come black out in here," is that really a romantic overture? That is the most dismal thing I have ever heard. (He laughs) How appealing is that? Will you come to my room in the city down the street and we can just get so messed up we will black out. It is kind of a delusional thing, which is why I wanted to have animation in the video. I wanted my friend Daniel Vincent Bigelow who did "The Sun will Fool You," video to send me a bunch of video clips and I found some that I thought were reminiscent of hallucination and misery in the city. The video ends up getting overtaken and swallowed up. (Editor's note Bigelow also did the illustration and fine art.)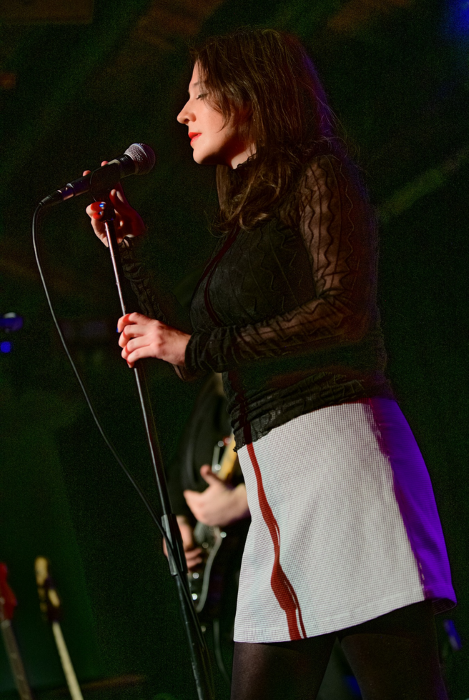 I also have an effect on my Korg keyboard when you just press a key and it sounds like a field of crickets with one lone brontosaurus just moaning in the distance. When I first played that over the track I just gasped, because I thought the song needs to get swallowed up by this. It is almost like the last of the species is confused and just moaning. It is so perfect for the sadness and the solitude of this song that sound is in the last thirty seconds of the track, but we ramped it up when you hear it at the end. The video has this swirl of syringes and bottles that overtake the band playing in the studio, until that's all you see, before it blacks out.
Some people have reviewed the album and said, it starts with a beautiful love song "A Lovely View," and I am wow that missed. It is not that there are not feelings of love in it, but it is not a lovely love song. It is pretty devastating. It is more like a hallucination when someone thinks they are going to woo this person that they are watching from afar. Don't live your life, come live your life in my room.
It is such a beautiful melody that Berit intones right away and it has kind of a churchy, meditative vibe for the whole last half, once we go into the bridge and then to the outro that is more relaxed and serene. None of the music is anguished at all, it is just in the lyrics. I like that juxtaposition of having a dismal song with a peppy sound or vice versa," explains Johnny Iguana.
Let's go back to something we have touched upon a couple of times, how well the musicians, including yourself (on keys) and Berit's vocals complement one another.
"We spend a lot of time talking about that. The challenge with this band and as I describe it is, we have a hot band with a cool singer. We don't have a hot band with a hot singer. We don't have what I sometimes call confrontational singing when someone is just blaring. Berit's decibel level is never really high, even though she can let loose and have a really rich tone. We talk about how we will rock in our moments and then when Berit comes in to sing, we have a maneuver where we will drop down and carve out that space for her. If you don't do that really well it sounds schizophrenic. I don't get it. You are loud and then you are quiet and it is jarring. If you can do it smoothly and make the arrangements in a way that you can introduce a melody or a pattern and then when the vocals come in it can go away. Then the vocals are in the foreground and what is underneath it doesn't compete for harmonic and sonic space. You also get a little fatigued with bands when the singer is coming at you always. I like a torch song approach within a rocking song.
Berit is a sharpshooter with pitch and yet she doesn't come off like a Jazz singer with technique, she has the soul of a Country singer. There is no interference between the intention and the emotion of the song and how it reaches people's ears and hearts. There is no technique that gets in the way and that is rare.
Billy Eckstine's son Guy is the band's manager and he lives in New York. We were lucky enough to be invited twice to Mountain Stage, NPR's syndicated broadcast that is recorded in West Virginia. The first time we were there, Guy came with us. He heard Berit at the rehearsal and he said to me, man her pitch is eerie. I am at the point that when I hear other singers with nice tones it sounds a little pitchy to me. I am not a perfectionist. All I care about is heart, soul and intention and mistakes don't really matter," he says.
The song "The Show Must Go On," holds personal meaning for Johnny Iguana.
He explains, "We have had people at shows come up to us who were really moved or in tears. With this song I had the title first and I knew what the song was going to be about. I used to fight with my dad all of the time. We used to lock horns when we got together, which was only a few times per year. My mother would have to be the arbiter and she would say your father wants an apology. At some point I realized he was in his seventies, not in particularly great health and everything is a countdown. I might have eighteen more times seeing him. This is ridiculous and I can't do this anymore. This is terrible behavior. Things that boil inside me need to stay inside me and let's just enjoy each other.
With music too, every time I throw my fifty-pound speaker into the van I say to myself, I have forty-one more of those in me, before my body can't do this anymore. (Likewise) we might have fifty-three more shows and we aren't going to go out there and play musicians' music, which is the most boring music in the world, just to display our skills to you. We are going to go out there and it is going to mean everything to each of us. We are going to do it together. That is what this song is about. In fact, we first played that with a previous drummer who grew up with Zach. That drummer left the band, because he had a stroke. His brother called me when I was at breakfast with friends at a restaurant and he said Danny tried to get out of bed this morning and he fell down. His speech is messed up too. He had a major stroke from an undiagnosed arterial problem in the brain and he still has not recovered. He is living in California and it changed his life. He was such a powerful drummer and it made me cry so many times thinking how you have to travel. How you have to go to Spain. How you have to be romantic and have adventures, because you only have so many.
"The Show Must Go On," is about you getting up there and putting everything you can to the emotional part of the show, because at some point the show is going to end. We played that last night and it really got the better of me. I was pretty teary."
The album The Claudettes Go Out! is worth investing in, as it is well crafted and performed.
If you want to listen to some of the songs go to YouTube and type in The Claudettes and the name of the album. Forty Below Records, and the band have made some of the music videos available, but remember if you want to hear more good music from creatives then you need to buy this album. Artists have to eat too.
You can follow The Claudettes on Instagram and on Facebook.
Top Photo and bottom photo by Timothy Hiatt, protected by copyright ©
#TheClaudettes #BeritUlseth #JohnnyIguana #RivetingRiffs #RivetingRiffsMagazine #ChicagoMusic #FortyBelowRecords #ChicagoBands #MusicInterviews #EntrevistaMusica #MusicaAmericano
This interview by Joe Montague published January 30th, 2023 is protected by copyright © and is the property of Riveting Riffs Magazine All Rights Reserved. All photos are the the property
of The Claudettes
unless otherwise noted and
all are
protected by copyright © All Rights Reserved.
This interview may not be reproduced in print or on the internet or through any other means without the written permission of Riveting Riffs Magazine.