Through the magic of technology our guests recently at Riveting Riffs Magazine were Hilary Kaufmann who was in Austin, Texas and Robert Watts who was in the Greater Beaumont area of Texas, while this writer talked to them from Toronto, Canada. They joined us to talk about their brand-new album Season 10, whose title informs the listener that the music duo has now spent ten years performing as These Fine Moments.
Hilary Kaufmann talks about their respective musical styles when she first met Robert Watts, "We were different in that my musical interests were completely opposite from Robert's. I was more into Bonnie Raitt, Linda Ronstadt and I guess more Folk Rock and Americana, but I have been doing original music in bands for a long time. My band was a finalist in the Kerrville Folk Festival. I am also a songwriter. Robert is much more edgy than I am, and he took me way out of my comfort zone. Our voices blended so well together it was a natural progression. I feel writing with him has really helped me to grow as a musician."
Robert Watts picks up the conversation, "I come at it from a little different angle. My writing style is not so much literal, but it is more abstract. Hilary centers me a lot to keep me from getting too far out there."
"Robert's influences are more from eighties music and I am slightly older, so my influences are mostly from the seventies," she says.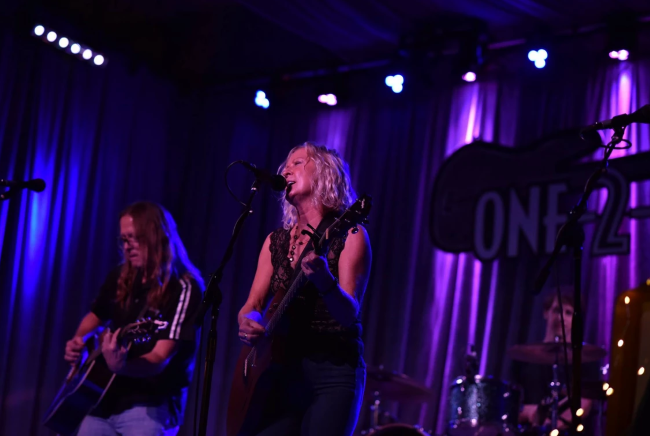 As far as how their music has evolved during their ten-year careers together, Robert says, "We started as a duo and then we progressed as a full band thing. We have always had control over the music, the arrangements and everything else when we had the band. It got to the point when it didn't make sense to have the band anymore because it was too expensive. We went with the model we now have."
Hilary adds, "Initially, I would play acoustic guitar like Robert and some harmonica, with the band, but once we started going with the duo (music) Robert set me up with a pretty cool electric guitar and an old Gibson Falcon amp from '63, so I get to do all the tremeloes and colors. That made it much more interesting than just two acoustic guitar players. We are a lot moodier now (the music not them). It is a lot of fun."
As for the name These Fine Moments there are two interesting stories attached to that.
"The first EP that we put out when we first got together, there was a line in a song that said, "I won't let these fine moments pass you by," Hilary Kaufmann says.
Robert also recalls, "One of the first bookings we got in Austin, they thought These Fine Moments was the name of our band and so they booked us as that. We thought at first, that's not right, but then we thought it sounded kind of cool and so we went with it."
Hilary Kaufmann and Robert Watts seem to have mastered the art of storytelling, it brings to mind other good songwriters like Paula Cole, Shawn Colvin, The Band, Eric Bibb, and Gordon Lightfoot. They make good use of imagery and metaphors to paint cinematic stories that appear before the listeners' eyes, as the lyrics resonate with our passions, desires, bitter experiences, and happier times.
Two very poignant songs from the album Season 10 are "Allison Says," and "Fairweather Friends." The former is tragic, and the latter is more the story of someone taking action to rid themselves of the well, we cannot say it better than the title "Fairweather Friends." "Allison Says," is about a person who at a great cost to herself continually tries to please others and the emotional harm that it causes to Allison. Although, the song title has at its core a woman as the subject the gender can just as easily be flipped. The stark image of Allison standing in the middle of the street, alone, and then walking barefoot in the snow, asking, "Where the hell did everybody go," paints a riveting picture of an individual abandoned by those she trusted.
"Fairweather Friends," says Robert, "is (thematically) parallel to "Allison Says," as people take her for granted. The person doesn't have to be female, because it is about someone who constantly let's people take advantage of them, and she can't see what is really happening. It feels like she is being used."
Although, the music was not intentionally dramatic, it adds to the somber mood of "Fairweather Friends." The song uses the imagery of a shipwreck and a rescue that comes at a price, the judgment of others who toss you a lifeline, but only if you measure up to their standards and their standards alone. It is about the people who try to diminish your worth, by pointing everything they imagine to be wrong with you, to the point of being cruel.
What is the secret behind the magical songwriting of Hilary Kaufmann and Robert Watts?
Robert begins, "There are actually three different ways a song can start. Often, it just starts with a guitar chord or a little lick or idea. There may be a basic melody, a theme or it can be a line. I will get the concept started and Hilary will say why don't you try going here or there? She may say I love this idea and where it is going, or she may say why don't we take it over here in this direction. I work on the lyrics a little bit and she will help. She will come up with a bridge or a counter melody and definitely most of the harmonies are her work."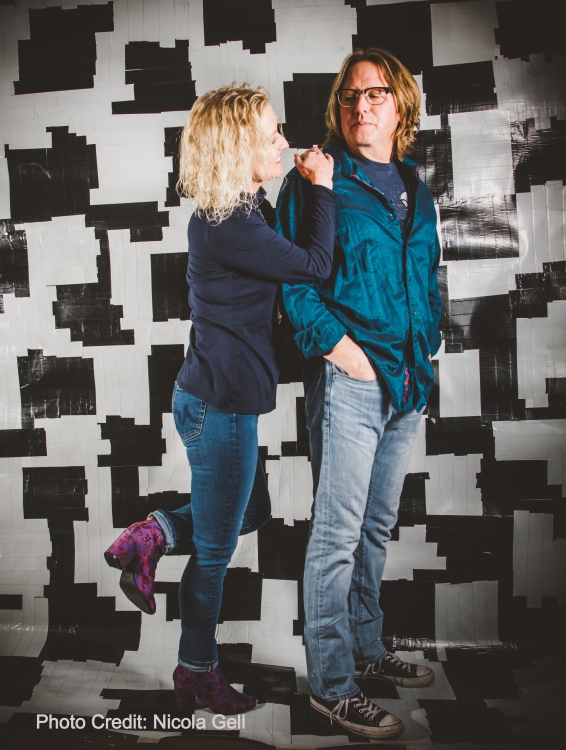 Hilary takes this part of the conversation a step further, "Robert is the tireless worker in all of this. I am more like a muse because I rarely start a song on my own. Sometimes I will get a chord progression and go from there. Robert writes all the time. He has his books, his phone and there are notes all over the house. I will be taking a bath and a melody will start going over and over in my head. Honestly, I don't know if I would still write if it was not for Robert. He is such a hard worker. I am the closer on the songs and the arranger. If Robert has gone too dark, I try to arrange it a little bit lighter or make the song a little more obvious as far as what we are talking about. It is pretty metaphorical."

The highly respected Mark Hallman, who has worked with extensively with Carole King, as both a producer and as a musician, and with Ani DiFranco served as the producer for Season 10 and he also appears on the album, as a multi-instrumentalist.

Robert Watts says, "Mark was very active in the Austin scene, throughout the eighties and nineties. I always had him on my radar and when we got the opportunity to record our first records, he was the first guy I thought of and he agreed to take us on, even though we had a crappy homemade demo. We started out with Mark and we have been with him for the whole stretch. We have done a few things here and there with other people, but for the most part, Mark has been our guy."

"He is easy to work with. We feel at home there, in his studio (Congress House Studio)," adds Hilary Kaufmann.

Andre Moran, the house engineer at Congress House Studio, was the sound engineer for Season 10. From his second home in France, Ken Stringfellow, formerly of the Posies and R.E.M contributed electric guitar, piano, Wurlitzer and Hammond B3 organ to the song "Sensation of Flying." He added to that repertoire with vocals, bass guitar and tambourine for the song, "Million to One."

Robert Watts explains, "The song, "Sensation of Flying," was inspired by watching my dad, as he deals with Parkinson's Disease. I would think what could be going through his mind. He often says, I feel like I am going downhill, and he is partially just kidding. I thought what is it like when you get to the point in your life when your time feels like it is very short? What thoughts go through your mind?"

Hilary Kaufmann says, "I turned it to we all end up in the same place anyway. All these religions that people get hooked on, believing that it leads to something else for them and something better for them and not for other people. In my head, we are all ending up in the same place. Is it really worth spending your life in that place where you are filled with judgement when everybody ends up in exactly the same place?"

Our readers would do well to check out the February 26 th album release concert that was initially live streamed from the One-2-One Bar in Austin, Texas, the quality of the video and the sound is extraordinary. The duo talks about the challenges of doing a concert without an in-house audience.

"There is a real whiz of a guy, Curt Ganem, who works at One-2-One Bar and he is an amazing sound person. In the last couple of years, he has gotten totally into video and the club has been really generous in backing his ideas. He is a good soundman, and he has a good eye for the camera placements. He has the right gear to make it look good," says Robert.

Hilary says, "It was wonderful to be back in a club setting, but weird because and there weren't any people there.

We didn't know what it was going to sound like. Curt was working on it up until (the last minute). Then we had the ice storm."

As for the lack of an audience, "We had a little practice with that, because we had some live streams from our home studio. For those we drew smiley faces and pinned them up to the curtain, so we would have an audience. There were groups of heads, with one of them holding up a beer and another one was giving us a peace sign.

When we were cutting (the album release) at One-2-One it was really weird, because we were looking out at an empty club.

We shot for a couple of hours and it was a one-day thing," says Robert.

Hilary explains the challenges she faced, "For me it is a little harder to reach deep down and to feel the emotion of songs when there aren't people to perform for, so Robert and I had to concentrate on cueing into each other and having a moment between the two of us. We practiced keeping our chops up, because it takes the magic out of the songs if it is just playing them through. It is more important to me than just getting everything perfect. You don't worry about that in front of an audience because they are pulling for you and they love you. Sometimes the perfection part doesn't matter. It is just not the same.

During the first six days of the pandemic, we opened our garage door and we practiced. Our neighbors listened from their yards and we got to know them. That was good, because we had this new batch of songs and we knew they were enjoying them. It is really hard to play if you do not have the feedback. I don't love it (she repeats that sentence for emphasis)."

A young woman, from a musical family in upper New York state met a singer, songwriter and musician from Texas who was the musical trailblazer in his family, and they created some magical musical moments and now they continue to create These Fine Moments with their new album Season 10.

Please take time to visit the website for These Fine Moments or you can follow Hilary and Robert on their official Facebook page and the Instagram page for These Fine Moments.

#TheseFineMoments #AustinTexasMusic #MusicAustin #MarkHallProducer #RivetingRiffs #RivetingRiffsMusic #CaroleKing #AniDifranco #KenStringfellow #CongressHouseStudio #Season10Album

This interview by Joe Montague published March 18h, 2021 is protected by copyright © and is the property of Riveting Riffs Magazine All Rights Reserved. All photos are the the property of

the producers of These Fine Moments unless otherwise noted and

all are

protected by copyright © All Rights Reserved.

This interview may not be reproduced in print or on the internet or through any other means without the written permission of Riveting Riffs Magazine.