Three Women Mourn the Apocalypse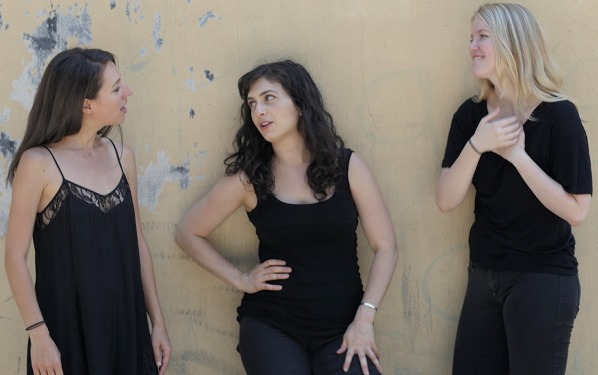 Until September 20th, a new play by Canadian playwright Hannah Ritter, Three Women Mourn the Apocalypse is being presented at The Theatre Centre in Toronto, by Old Norman Productions and more specifically by the three outstanding young actresses who star in this play, Nicole Cardoni, Sarah Baskin and Carol Brown. Riveting Riffs Magazine hopes that someday the theatre going public in general will realize that the best plays are not always and only found in larger venues and there is ample evidence of that in the performances of Cardoni, Baskin and Brown, under the direction of Marina McClure.
As the play opens with a sparse set and Melina (Sarah Baskin) waking up on the floor and her lover Samantha sitting in what amounts to being the only comfortable piece of furniture in their underground bunker, a living room chair, it is evident that some sort of catastrophe has befallen the world and the dialogue later in the play suggest one of a nuclear nature. Thinking however that this play revolves solely around that theme however, would be a mistake, for this is a play that explores the marginalization of some people in Melina and Samantha's world, but also in the one in which you and I live.
This is not an egalitarian society, it is far from it. It is a society that favors those who fall in line and who behave in all the right ways and who sacrifice their individuality for what I suppose Ekora (Carol Brown) might think of as the greater good. This state of mind and how one achieves it is referred to as "acceptance." Ekora who makes the Wicked Witch of the West in the Wizard of Oz seem almost powerless and weakly is a frightening individual with a haunting laugh. If she cannot seduce or coerce you into "acceptance," she will break your soul, heart and mind, as she does with Melina.
When we talked to Hannah Ritter following the performance she had this to say, "I started writing the play just over a year ago and it looked very different and it sounded very different, but it came from the same place of wanting to know and to deal with the perfection that society is obsessed with and I wanted to look at it through the eyes of three different women archetypes. I just went with that and I kept on going. I confronted a lot of my fears through the play, which are about class and about heartbreak and can love overpower the human desire to have control and order. I think these are things that we are all dealing with right now in society. Things are getting more and more expensive and more and more stratified. There are people in this world who are given less value and less emotional respect and I wanted to investigate the mystery behind the people who get divided and the people who don't."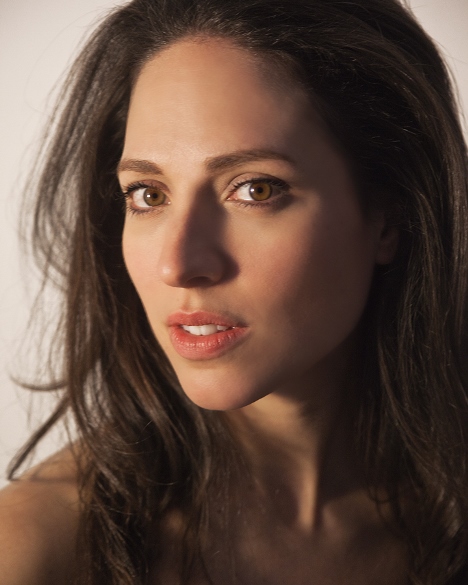 Some of the best acting in the play involves the relationship between Samantha and Melina. Nicole Cardoni does an excellent job of portraying Samantha's fear that she will lose Melina if Melina does not conform and Sarah Baskin is equal to the task in allowing us to see Melina's fear that she will lose Samantha if Samantha does reach "acceptance."
Nicole Cardoni talks about the relationship between Samantha and Melina, "I think that Samantha wants to have it all and she thinks that she can have it all. We are living in this bunker and I brought Melina there for her safety and mine. The world above is just one in which the two of us could not be living together anymore. My happiness and my wellbeing are very much attached to Melina. Even taking it away from that world, love is very complicated. Sometimes you fall in love with somebody who poses a lot of challenges in your life. Do you love them any less? No you continue to love them and unfortunately that sometimes comes at a cost. In this case loving Melina is not easy. I really love that. I love that it is that which is coming across, because there is so much of the world that is being created that is not from our regular 2015 playing field. There are a lot of things that are very human, no matter how much you want to try and wipe it away and try to cover it up. These honest, human emotions are always going to bleed through. You can't wash it all away no matter how much you try. I think that is the message or one of the messages that I take from this play."
The play is not trying to take on an activist role and nor does it seek to sensationalize the sexual aspects of two women in love, but it instead allows glimpses into what is quite simply a loving relationship, where the two people cuddle and they kiss and they support one another and they have insecurities. It just so happens that the two people in love with one another are women. We are tempted to say if you are uncomfortable around gay people perhaps you should avoid seeing Three Women Mourn the Apocalypse and yet on the other hand, maybe this is the play that you do need to see. Perhaps then when Samantha says to Melina that they could not be like this out there, it will cause you to pause and ask why not?
Nicole Cardoni is becoming, if she is not already, one of Canada's best actresses. Her ability to believably segue from childlike bliss to feelings of trauma, to tender loving caresses of Melina and in one scene in which her character's behavior becomes somewhat bizarre, is not an easy accomplishment within the confines of a one act play.
Nicole Cardoni talks about her character, "Samantha is a woman who is very deserving of all that she has received in life. She knows what it is like to have gotten everything quite easily and she has not heard no very often. The world that we find her in is one of that has always affirmed that through the way that the class system is. Her relationship with Melina feeds into that, but it also challenges her sometimes. Samantha in this play ends up taking care of Samantha, with no judgement on it. At the end with Kora saying you deserve to survive, Samantha believes, I deserve to survive. It came at a very extreme cost. It is very interesting to play a character that is unapologetically going to go after what she wants and what she wants is peace and peace in whatever form, if the world was coming to an end or if it wasn't this woman would be driven to get to that end of the road. She is a very strong-willed person and I really respect her for it."
Sarah Baskin's performance is so powerful that you find yourself pulled into the ebb and flow of emotions, at times, wanting to say "no please don't," and at other times thinking, "yes that's right." Even during the more passive moments of her character's life, Sarah Baskin's performance grips you.
The intensity of the actor's performances of course comes from within, but it originates within the script and playwright Hannah Rittner says, "The thing that I love about small casts is all of the action is about relationships. I found it challenging emotionally, because everything, every moment, every beat in this play affects another character's moment in life immensely. It is a challenge I am happy to do, to tell the story."
Should you see this play? Yes. Are we suggesting that you see Three Women Mourn the Apocalypse? Yes. We would like to see a short independent film treatment for this play, but only if Nicole Cardoni, Sarah Baskin and Carol Brown are in the film, because that is where the real treasure lies.
Top Photo: L - R, Nicole Cardoni, Sarah Baskin, Carol Brown, Photo to the right: Nicole Cardoni
This review / interview by Joe Montague published September 17, 2015 is protected by copyright and is the property of Riveting Riffs Magazine © All Rights Reserved.
This interview may not be reproduced in print or on the internet or through any other means without the written permission of Riveting Riffs Magazine, All Rights Reserved. All photos are the property of Old Norman Productions and are protected by copyright © all rights reserved.