"When we moved here (California) we only had one or two relatives that lived here and they were in Huntington Beach. I didn't know anybody and I didn't want to go. We stayed in the Norwalk area. We tried to enroll me in one college, but by the time we got there the enrollment was past the limit and I couldn't get in. I wanted to go back to Chicago. While visiting one of our cousins in Huntingdon Beach they told us of a new college that was opening up and that I probably could get in there. It was called Golden West College. When I was in the enrollment line the band director, a guy named Tom Hernandez was standing there looking for people to sign up to the band. He saw me, found out I was a musician, was thrilled and he accepted me with open arms. Right away I felt accepted. He made me the assistant band conductor. I was in the concert band and the marching band.
There was a Jazz instructor there who was an influence and his name was Gerry Schroeder. I would play clarinet in the symphonic band. I would play saxophone in the Jazz band and I would double on flute and clarinet. Jim Hanna, a trumpet player in the Golden West band invited "Doc" Rutherford, the head of the music department at Orange Coast College to come to one of the Golden West College concerts. After the concert "Doc" approached me and said he would like me to come over to the Orange Coast College and play in one of their bands, where he was the head of the music department," remembers Saviano.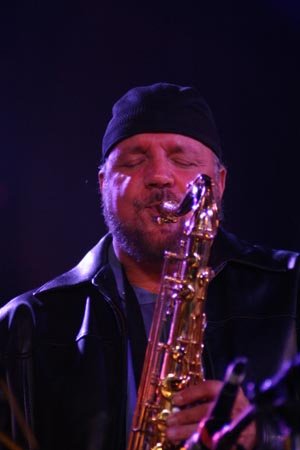 As the late 1960s rolled around Tom Saviano he found himself drawn to horns powered bands and albums like The Chicago Transit Authority's (later shortened to Chicago) first album and the second and self-titled album by Blood, Sweat & Tears, which featured songs such as, "Spinning Wheel," and "God Bless the Child."
"At that point I was what I would call a Classical Jazzer. I kept honing my arranging skills. I was also studying from another private teacher, a guy named Bill Baker who had been arranging for the Righteous Brothers and Ray Charles," he says.
Enter drummer David Jones, someone with whom Saviano is still friends with today and whom Saviano describes as being highly intelligent, articulate and a great songwriter. After Jazz band rehearsal the two of them would hang out together.
Then came Saviano's first band Churchill, and he explains how that came about, "David Jones said let's form a band like Chicago or Blood, Sweat & Tears. I said that sounds like fun. We played a few gigs around town in clubs with that band. It was okay. Then we met this other band that had a record deal with MGM, Mike Curb Records. If you heard them you would think they sounded like Grand Funk Railroad. They were wondering what they were going to do for their next album and they heard us and they said wow, horns are in vogue. We started doing gigs around town and they sounded great. We had four horn players, which was a pretty big horn section for that time, two trumpets, a sax and a trombone. It was a nine piece band. Our lead singer sounded a little bit like David Clayton Thomas. Our guitar player sounded a little bit like Sting. When our keyboard singer sang he sounded a bit like Peter Cetera. When they would blend their harmonies they sounded like Three Dog Night. We ended up covering a Jimi Hendrix song, "Dolly Dagger," with horns and I don't think there has been another horn band since that did it with horns.
Hendrix did a lot of unison lines and he would harmonize with himself using his guitar. In the studio he could overdub guitar parts, but live there were only three guys. It was a power trio and they created a sound that was full enough by using these unison lines and then jumping off and doing a guitar solo, while the bass player continued to play a line.
I imagined how Blood, Sweat & Tears might have approached that song and how they would arrange it. I would hear it in my head. Of course they never did it, so I had to imagine all of this stuff. I reharmonized some of the things for the horns to add the Jazz element into it. Maybe Jimi Hendrix wouldn't have played that type of a chord at that point. He would have played a simpler Rock chord, but I augmented it to adapt it for horns. I had to rethink the harmony a little bit. We went into the studio to record the album, including the Hendrix songs and three of them were the first three songs that I wrote ever."
Recalling the first songs that Tom Saviano wrote he takes us back to a different place and time, "My first songs were reflections of the times that we were living in. It was 1967 and the Vietnam War. There was the hippie movement. I had songs about saving the planet and how man should take a look at what he was doing to the planet. One of the songs was called "Modern Man," and it was about looking back and it was about how we are behaving. It asked how will the future (look)? I was preaching to people. One of the songs was called "Blind World." The other song I wrote for that album was a song called "Here We Are." It is a really cool musical piece. The lyrics have me talking to the audience and saying we're a band, we're here to entertain you and we are going to do our best. All three singers sing a verse on it."
Continuing to talk about Churchill he says, "Frank Zappa's manager saw Churchill playing live not long after we recorded that album. He approached us and said hey you guys were great. We told him we had just finished recording an album and he asked us for who. We told him for CURB / MGM, which was the Producers Workshop and was owned by Seymour Heller.
They (the label) had offered our band a twenty-five cent royalty to be split up between nine guys in 1971 or '72. There were not any recording advances and back in those days advances were common. I had never seen any deal or a contract before, but my brain told me something was not right about this and seemed unfair. We were not being paid for anything and there wasn't an advance. They were taking one hundred percent of the publishing, so we wouldn't own any of the publishing rights.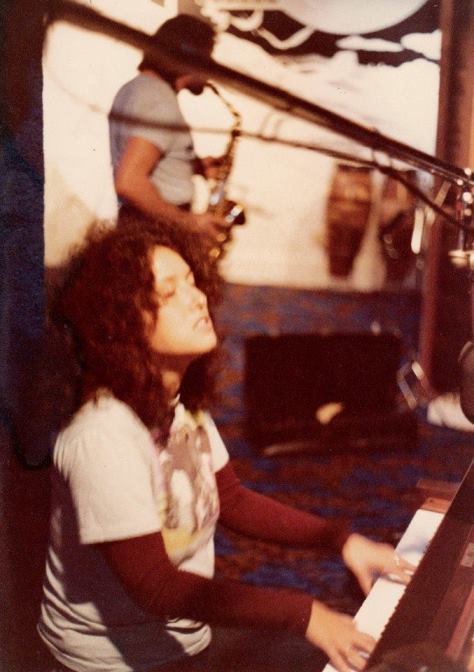 They went ahead and recorded the album without having us sign and thinking that we would just jump at the chance to sign a major label deal. They didn't realize that somebody from another label saw us and said we can get you a deal at Capricorn Records over at Warner Brothers. They are looking for a new horn band right now, because there is a new band up in San Francisco. They are becoming popular and they are called Tower of Power. They (the label) are looking for something to match up with them and we think you guys fit the bill. They offered us a sixty thousand dollar advance back in 1971. Our eyes lit up and to top it off we would be signed to Frank Zappa's management. We thought we had just died and gone to heaven. We thought we might be an opening act for some of Frank Zappa's shows.
The only problem was we would have to go in and record the whole album again and I was fine with that. The rest of the band didn't feel that way. The band broke up. The bass player and I signed a deal with Frank Zappa's management and Seymour Heller and MGM and the Mike Curb label sued us for a million and one-half dollars. It sent the band into four or five fragments, which joined other bands and the one that I joined became Odyssey. Four of the original members of the Churchill band became Odyssey. I got sued for a million and one-half dollars, because I didn't want to sign a deal that was going to hold me hostage."
Odyssey morphed into other bands and one gets the impression from speaking with Tom Saviano that this was not a particularly easy time. He had quit college and he really wanted to get into the studio and record some more music. About this time songwriter and producer Vini Poncia entered into the scene (Some of Poncia's credits include, Martha Reeves, Melissa Manchester, Kiss, Phil Collins, Ringo Starr, Leo Sayer, Manfred Mann and Dusty Springfield).
"We were discovered by Melissa Manchester's producer, Vini Poncia. Vini is responsible for Ringo Starr's early (solo) success. He wrote "Oh My My," with him and he produced him after that. Vini was part of the Richard Perry Production Company. Richard Perry is famous for so many (famous) artists. Vini and Richard knew each other from their New York days.
Vini saw me playing in a band in a nightclub in Marina del Rey called Big Daddy's. We were doing a club gig with the band. We were trying to get back in the studio again. He was up there with another gentleman by the name of Gino Cunico another songwriter who also had a deal with Clive Davis. He asked me if we would be interested in being Gino's backup band. I was skeptical at that point and I didn't know if he was telling the truth or if it was just a bunch of bull.
We were living in Orange County and we would drive up every day and rehearse with Gino in Studio City. From there Vini started using me to do horn arrangements for him on different projects. One of the first ones was David Pomerantz's first record. David Pomerantz is famous for "Trying To Get the Feeling Again," written for Barry Manilow. That is the first what I would call professional arrangement that I did for Vini.
After that, through Vini I started doing some arranging for Melissa (Manchester) and that went on for a year or two. Then he called me to do some arranging for another artist that he was producing for Arista Records. If you had success with Clive Davis you would be his guy for a long time (Tom Saviano also played on those albums).The arranging got me in the door to play. If you wrote the chart you could you could say who you want to play on it. It was built in.
The act that he called me to work with was called Arnold & Thompson. That was (ask Tom for the spelling of the names) Jeannie Marie Arnold and Christy Thompson were the female singers. They were from New York. They did a lot of the same venues that Bette Midler did back then. When they got their record deal they didn't submit a demo or perform live on stage, but they walked into Clive's office and sang in front of his desk a cappella. He signed them on the spot.
For Smokey Robinson's song "You've Really Got a Hold On Me," they called me into do a horn arrangement on that. I met Jeannie and Christy, before I went in to do the session. Vini's secretary worked at the studio and it just so happened that Jeannie and Christy were living downstairs in the apartment one floor below where I was saying in Sherman Oaks. Vini's secretary called me and asked if I could go downstairs and knock on their door and tell them what time the session was going to start. She said and you can introduce yourself, since you are working on the record anyway."
While Saviano was on the road with Melissa Manchester he was listening to Earth, Wind & Fire. He had listened to their music before, but on the tour bus he started listening to them a lot. He says that while recording a live album for Manchester it evidenced some influences from Earth, Wind & Fire and it was also during that time that the some of the first demos for his next band HEAT would come together.
He says, "I started working for David and the first album I did for him was a Paul Anka album. I did some horn arrangements and a couple of sax solos. David started throwing me some more work and other producers like Gary Klein and Nick DeCaro from the Entertainment Company wanted to use me to do rhythm charts and horn arrangements for them. Nick also got me to do some strings arrangements for him."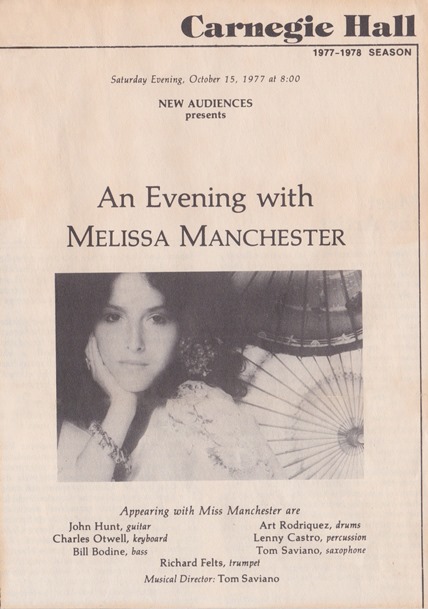 One thing led to another and Tom Saviano began to meet a lot of high profile producers. Jeannie (Arnold) and Saviano started writing songs together again. Eventually, they landed a record deal with MCA Records and HEAT was born. Although, HEAT was only together for two albums, today they are viewed as a seminal band, particularly for their use of horns.
Saviano describes those early songs as Rock with R&B influences. In fact he said when he wrote the song "It Won't Bother Me Anymore," the bass player told him that he had just written a Jazz standard.
"I was pursuing my career as a Jazz artist and I got this offer from a guy named Skip Drinkwater. He was Lee Ritenour's producer. Long story short he invited me down to a studio called Sound Labs, which is where I eventually did a lot of recording. I did a ton of work there with Melissa and Vini. It was a famous studio kitty corner from Capitol Records. If you look on a lot of records from the seventies and the early eighties you will probably see the name of that studio.
Lee Ritenour introduced me to a band that included David Foster, Jeff Porcaro (later of Toto) and Ray Parker, Jr. and a whole slew of people like that. Most of them were at the same point in their careers as me and they were just starting to surface. Foster hadn't produced a great big hit yet, but he was a great piano player.
I was blown away by all of these great musicians and then one day Lee said come back tomorrow, so I did. They were doing this song called "Isn't She Lovely," by Stevie Wonder. I was in the control room and they had the lights off in the recording room, so I couldn't see who the singer was. I thought wow, they have some really good African male vocalist in there and he is killing it. When the song came to an end Bill Champlin (Sons of Champlin, Chicago) walked out. I was blown away by Bill's performance and the chops that he has. I didn't know it then, but within the next year or two I would be working with all of those musicians. I didn't work with Skip Drinkwater, because his deal never came through. Other things started to happen. Melissa kept recording album after album. Then Melissa asked me to be her musical director, so I took the job."
We could spend a lot of time talking about the people Tom Saviano has worked with throughout the years, his accomplishments, the platinum record sales and we would be barely scratching the surface of what this wonderful arranger, songwriter and multi-instrument musician has experienced and the accolades, which have come his way. That being the case let's fast forward to recent years and what he has been up to.
He has played on and / or done the arrangements for people such as John Zaika who is producing a record for Bobby Kimball the original lead singer for Toto and who now has a band called Tribal Reasons. He did session work on the saxophone and flute, as well as creating arrangements for Stephen Bray, Madonna's producer.
I recently did two brass arrangements for Sheléa's upcoming Bergman (Alan and Marilyn) tribute album (produced by Tony Shepperd and Sheléa), which will be released on Breath of Life Records in early 2019. Sheléa is now managed by Quincy Jones productions.
Prior to those ventures Saviano says he, "had the great experience of producing Al Jarreau. I got to wear three hats on that project, as producer, songwriter and arranger, not necessarily in that order.
My connection with Al Jarreau started back in the Melissa Manchester days. I met Al at the beginning of his career when he was opening for Melissa at Avery Fisher Hall at the Juilliard School of Music. It was strange how I even ended up playing on that gig, as I got a call from Vini in '75 or '76. He said we are going to get on a red eye. Scratch out a couple of charts with me for this song and I want you guys to go with me to New York to play horns. Take two horn players with you. Three horn players got on the plane, a trumpet player, trombone player and me. That night at Avery Fisher Hall the opening act was Al Jarreau. I remember him being a kind, gentle and wonderful soul. He was a great guy who sounded great.
Jerry Levin who was a friend of mine and who was also a fan of HEAT was considering managing the band at that point and he invited us down to the Greek Theater. We got backstage passes and we met Al (Jarreau) when he came off stage. He came over to me and he said Saviano keep doing HEAT man, it's great stuff. When I look back at that moment now it is probably when I should have said, hey Al, let's try to write something together."
As our conversation came to a close Tom Saviano stopped for a few moments to reflect upon his career, "I have Ray Charles' album up here Genius Loves Company and at the time they gave me the plaque for the sales it was already over three million albums. The Sheena Easton record sold over a million and that was back in '84. On the Sheena Easton album I am a songwriter and on Genius Loves Company I am a saxophone player in the saxophone section with the greatest horn players on the planet. Dolly Parton came out in '80 with "Nine To Five," and I won a Grammy. Right after that there was the Earth, Wind & Fire album called Raise! Quincy Jones was in the room watching us play and they were talking about HEAT. Andrew Woolfolk (from Earth, Wind & Fire) leaned over and said to Quincy Jones that is one of the guys who is the sax player, arranger and one of the writers from HEAT. Of the two songs that I played on for the Raise! album one of them won a Grammy."
About his career he added one final thought, "I feel lucky."
Top Photo: promotional photo from MCA Records for the band HEAT, from L - R Ed Whiting, Jean Marie Arnold, Tom Saviano ; Bottom Photos: Melissa Manchester and Tom Saviano
#TomSaviano #MelissaManchester #rivetingriffs #rivetingriffsmagazine #HeatTheBand
This interview by Joe Montague published June 24, 2018 is protected by copyright © and is the property of Riveting Riffs Magazine All Rights Reserved. All photos are the the property of Tom Saviano
unless otherwise noted
and all are
protected by copyright © All Rights Reserved.
This interview may not be reproduced in print or on the internet or through any other means without the written permission of Riveting Riffs Magazine, All Rights Reserved