Interview with Film Director Tommy Reid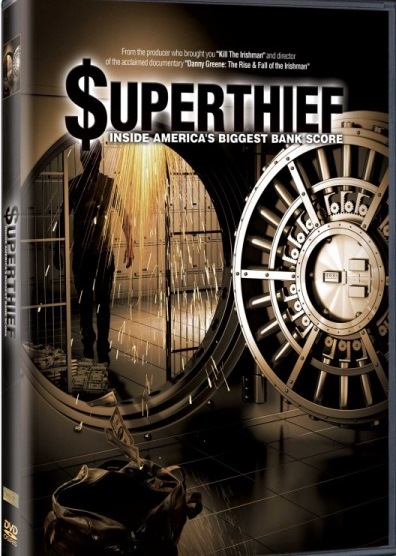 Director and producer Tommy Reid who produced the film Kill The Irishman starring Val Kilmer and Christopher Walken, a movie that depicted the life and crimes of Irish American mobster Danny Greene, has the makings of a new blockbuster film based on the life of another criminal, but this time one with a much more passive history bank burglar Phil Christopher. The groundwork has already been laid and the research has been completed in the form of Reid's documentary film $uperthief, which culminates with the 1972 record setting burglary of the United California Bank in Orange County, California. Although, the film chronicles Phil Christopher's life before and after the burglary, the suspense builds with the heist and well we do not want to spoil this for you, even if it is a documentary film, so we will let you guess at the ending. The film is narrated by John DiMaggio, Tommy Reid's business partner and the voice of Bender from television's Futurama.
Revealing that it was definitely his goal to turn this enterprise into a feature film project, Tommy Reid says, "For me doing a documentary is fantastic research to understand the material better and to get more insight into the characters. It helps you that much more when you go to talk to any actor, about what you are trying to portray. We already have the script (for the feature film) written and it has been adapted from the documentary. The guys who wrote it are very hot writers right now and they write the TV show The Blacklist, which is coming out this fall (premiers September 23, 2013) with James Spader for NBC. There is a hot hand to this project and there is some really big talent onboard. I can't say who is coming on, but we are talking to some very "A" list talent.
It (the film) definitely has the capability to be a Hitchockian (Alfred Hitchcock) type of a movie and it was one of those things where I knew it was a great opportunity to tell this type of story, because it hasn't been told before. There are some other stories out there that are different. I wanted to make our story relevant. Other stories talk about how they went to the bank and they were after Richard Nixon's milk money. The FBI told me that is a fallacy and they will not be a part of that story. I said well let me get you saying that and what isn't true about it. That is a big thing. There are aspects of the movie ($upertheif) that are third party and to get Phil Christopher to talk about it is a dream come true, because it is not an Orange County reporter and it is not a journalist. It is actually the criminal who was tried for this crime and paid his time in jail. To hear him speak about it was like getting inside the mind of a criminal to see how he would successfully pull off this caper.
I found out about (Phil Christopher) when I was making the film Kill The Irishman and it was interesting to me to hear that the biggest bank burglary in U.S. history took place in California, but all four of the criminals who pulled it off were from the Cleveland Youngstown area of Ohio. (I thought) there is a story right there. Let's go try to dig it up and see what happens. The book that Rick Porrello wrote was very factual, but I knew there was way more to the story that had to be uncovered. It is very rare that you get to speak to the subject matter himself. When most people do documentaries, the parties are deceased. It gelled in 2009 and it was like striking gold. I was able to talk to Phil Christopher exclusively about how he pulled this off. Where did his training come from and what made him tick? What motivated him? I learned a lot. He wasn't involved in the Danny Greene stuff, but he was very close to it. His associates were very close to the Danny Greene stuff. It was right there in the same time period. It was a fascinating time in Cleveland. There was a lot of history that was being made at that time.
The documentary interviews several key law enforcement officers, prosecutors and others close to the crime, investigation and trial, including Phil Christopher. During his interviews Christopher almost appears philosophical about his life of crime and at one point even suggests that really the only people who got hurt were the insurance companies.
Tommy Reid talks about Phil Christopher, "There is no question, he was a very likeable guy and even the cops had a little bit of respect for him, because he was a nonviolent bank burglar. He never carried a gun and he never did any of that. He just went against the odds when he did his crimes. He was a very good looking, fun guy to be around. He had a lot of women and a lot of people wanted to be his friend. He was very social and he is someone that you could go and have a drink with. He is actually a really nice guy."
Phil Christopher was already familiar with Tommy Reid's work and Reid says that he was a big fan of the movie Kill The Irishman. Christopher liked Reid's film adaptation of Rick Porrello's book about Danny Greene.
"(Phil Christopher) was onboard from day one and gave me access to everything that I ever wanted to ask him about and even subject matter that was difficult for him to answer. He was very, very cooperative with me. You have to understand, he already had paid his dues and he had spent thirty-seven years in jail," says Reid.
Tommy Reid wants to make it quite clear that it is not his intention to glorify the crimes or the criminals.
"When I went and talked to the FBI that is one of the things that they wanted to make sure I was not doing and that I was not going to glorify them (the criminals) whatsoever. You have to understand that the whole message at the end of the movie is that crime doesn't pay. To me that was a very big thing and I wanted to get that point across that crime doesn't pay. If you are going to do something, you are going to eventually get caught, period," he says, pointing out that in an interview Phil Christopher acknowledges that as well.
As for his interest in crime stories, Tommy Reid says, "I am from Northern New Jersey and it is heavily Irish and Italian descent, which is what my heritage is. I am a big fan of the mafia genre from Goodfellas, Casino and The Godfather trilogy. I really enjoy those kinds of movies, Miller's Crossing, and making movies that resonated with me. To me this was a good opportunity to tell a story that combines both nationalities (Irish and Italian). He put a thorn in the mafia's outlook of how to succeed and getting the criminal enterprise to the next level. Danny Greene took it upon himself to stop it and to not allow that to happen. It was a fascinating story about his resilience and what he did to take down the mafia."
As for the film Kill The Irishman, "That was my first property that I optioned and adapted to making into a feature film in 1998 and it took me thirteen years to make that into a reality. I had many producers and directors who came onboard for that project, but never enough to put the puzzle together and to trigger financing of that movie. Back in 2009 we started going into production on it and in 2011 it got released. It was a big theatrical movie that had an amazing cast and crew. We also did a documentary off of the subject matter that was bonus material on the DVD, Danny Greene The Rise and Fall of the Irishman."
One wonders what it would be like doing the research for a film like this and meeting with some of the individuals.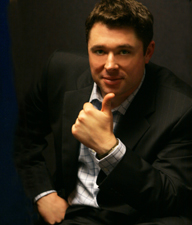 "That's a really good question. A lot of people ask me were you afraid? Were you skeptical? I was looking at it from a filmmaker's point of view that this story is going to be considered an urban legend. It is like the game Six Degrees of Separation From Kevin Bacon, but in Cleveland it is Six Degrees of Separation from Danny Greene. Everybody has someone that actually knew him or a cousin that watched his dog or someone who brought him groceries. It is truly remarkable how a city that has over one million people really has this connection to the Danny Green story whether you were on his side or on the Italian side or whatever it was. When I was actually meeting a lot of these individuals I wasn't looking at it like I was putting my life in harm's way. I truly wanted to hear what they had to say about Danny and to hear some of the stories come to life firsthand rather than hearing it second person. It was truly great to (talk to) his wife and his daughter and a guy who tried to kill Danny, Tony Hughes, a hit man. Some of the cops talked about Danny Greene, like Ed Kovacic. It was almost like a dream come true, because you actually felt like you knew Danny without knowing him," says Tommy Reid.
During the first quarter of 2014 Tommy Reid will be releasing direct to DVD the film I Know That Voice, a film that made its debut at Comic-Con in San Diego in July (2013), before more than 3,000 fans who reportedly loved the film.
"It was standing room only. This movie is not even out yet and we already have over 3,000 pre-orders of the DVD. We have over 7,000 Facebook fans and we have over a million views of our trailers on Youtube. It is a documentary that puts a voice to the faces that we all know and love. We cover cartoons and animation, video games and Anime, history of voiceover and how it came from Mel Blanc to today's creators. We covered over 150 of the top voiceover artists in the industry and it is truly a remarkable film. We are now seeking our distribution partner and we should hopefully have (the DVD) out to our fans in the first quarter of 2014. It was my partner John DiMaggio's idea and he financed the film. It truly is a great movie," he says.
Tommy Reid took an unexpected route to the film industry. He studied finance and economics at university in London and then graduated from Ohio State University with a degree in Economics, with an eye to trading on the New York Futures Exchange. He decided that career was "a little too stressful for my blood." He then attended film school in New York City.
"I knew if I wanted to get into the industry I would have to have some sort of film knowledge, so I went into an intensive directors program and I started making movies the first day. They put us into groups of four people and my group had David Faustino who was Bud Bundy on Married With Children. He became a very good friend of mine. He told me that I really needed to pay my dues in Los Angeles and that New York was not the place for me to make a name for myself, so I went to Los Angeles and I began paying my dues at a very prominent talent and literary agency. I learned the business, before I left to start my own production company, Dundee Entertainment. I named the company after my grandfather who passed away and I never got a chance to say goodbye to him. (The company was founded in 1998) It was founded to make commercial films on cost conscious budgets.
The first feature film that I directed was a film called Strike (released on DVD in America 2009) and it was formerly known as 7-10 Split (when released in Europe in 2007). It is a bowling comedy about a failing actor who couldn't make it in Hollywood, so he just decided to take his personality and shtick into the PBA (Professional Bowlers Association) bowling world, which is notoriously boring. He lit it up by making crazy costumes and changing his whole persona, creating a character where he wound up becoming the number one figure on the PBA tour. He lost his girlfriend and his best friend through his fame and success. That kind of led him back to what is important. That was my first college comedy movie. It was a fun movie and it was about a one million dollar project. It went straight to DVD," he says, also noting that his sister, actress Tara Reid starred in the film.
Strike was followed by another film, Screwball: The Ted Whitfield Story, another movie aimed at the college crowd.
Looking ahead 2014 looks to be an exciting year for Tommy Reid, with the imminent release of I Know That Voice and as he continues to lay the foundation for a feature film, about Phil Christopher and the largest bank burglary in American history.
Interview by Joe Montague, published September 15th, 2013
This interview is protected by copyright © and may not be reproduced in print or on the internet or through any other means without the written permission of Riveting Riffs Magazine, All Rights Reserved